After the 12 months we've all experienced we wanted to put together something positive and fun. So here are some of the major event coming our way. We'll be adding more once details are fully confirmed. Why not bookmark this page and come back soon.
It has been a difficult year for organisers of our major shows, productions, festivals and community events. Firstly there were cancellations, then rescheduled events, followed by more cancellations. It seems the way to go was to write-off 2020 and put all efforts into making this year our best ever. Let's only hope it works out that way.
We've put the events into categories, although some will fit into many. The best thing to do, is grab a cuppa, fire up your device, and have a look through the entire list. Bear in mind, these events will be more popular than ever after a year of very little activity.
MUSIC & COMEDY
MARISHA WALLACE set the world alight during our first lockdown with a very special video of her version of Tomorrow from the musical Annie. It's now been watched by tens of thousands and been shared all across the world. This powerhouse of a singer will be playing two dates in Wales, the Aberystwyth Arts Centre on Thursday 30th September, then the Royal Welsh College of Music & Drama on Friday 1st October. Read our feature for more. MARISHA
THE FOUR TOPS & TEMPTATIONS. These two powerhouse bands of the Motown era are set to arrive in Cardiff on their rescheduled tour date this year. And the fantastic ODYSSEY will be the opening act. They play the Motorpoint Arena in Cardiff on 1st October. Take a look at our special feature here. MOTOWN
Agnes is heading back to town in what Brendan O'Carroll is calling the MRS BROWN D'LIVE SHOW…ENCORE TOUR. Bringing D'Musical production back next year they will perform in some venues and cities that they haven't played in for many years. They are however, regulars in Cardiff and this show promises to take audiences on an exhilarating and side-splitting adventure.
Brendan told us…..
"It's the funniest thing I've ever written. Even I laugh and I know what's coming next!"
They were to get to the Motorpoint Arena in Cardiff this year but unfortunately the dates have now moved to 2022. Current tickets are still valid and you can still buy yours now. We have a special feature right here, which is well worth a read. MRS BROWN
GARY BARLOW has had quite a year with a new album, a socially distanced TV special and a rescheduled 2021 tour to look forward to. Gary has also announced that the incredible LEONA LEWIS will be joining him as his very special guest on the tour, including his two nights in Cardiff. Gary said…..
"That's right! I'm so pleased and excited to announce that we have the wonderful Leona Lewis joining us on the road next year… If you haven't already then get your tickets. It's going to be good!"
Its been a while since we had a full on tour from Leona so she is uynderstandably excited at the prospect of joining Gary.
"I'm beyond excited to be invited to join Gary Barlow next year on tour! I'm a huge fan of Gary's and I can't wait to share the stage with him and bring back the magic of a live show. I've missed performing so much and am counting down the days until I can be back on the stage singing with my fans who have continued to be amazing throughout this crazy year. See you soon."
Gary bring his ALL THE HITS LIVE tour to the Motorpoint Arena in Cardiff on the rescheduled dates – Sunday 5th and Monday 6th December. The show starts at 6:30pm. Find out more HERE
Current Strictly champion BILL BAILEY has announced a new arena tour 'EN ROUTE TO NORMAL' which brings him to the Motorpoint Arena in Cardiff this year and an extra date which has just been added in 2022. He gets to the Arena on Wednesday 15th December and he's back again in 2022 on Wednesday 12th January, which so far, is the final date on the tour before he heads to Ireland. To relive Bill's dancing highlights and find out more about the man, go HERE.
THE SHIRES – DE VALENCE PAVILION, TENBY – WEDNESDAY 13th OCTOBER
Those of us who have been fortunate enough to see THE SHIRES, on more than one occasion I might add, can tell you they are fantastic live, and have a catalogue of songs to keep you entertained all evening long.
So much so, they'll be performing their greatest hits and favourite tracks, on an intimate UK tour which brings them to Tenby's De Valence Pavilion on Wednesday 13th October.
Ben Earle and Crissie Rhodes – The Shires are the most popular and best-selling country act in the U.K having made huge waves both on home soil and across the pond becoming the first UK artists to win 'Best International Act' at the prestigious Country Music Awards.
To find our more, just go HERE.
FESTIVALS & SHOWS
FESTIVAL OF VOICE brings together unique collaborations in contemporary and classical music, opera, theatre, talks and visual art. This flagship international arts festival was all set to return to Cardiff Bay across the last weekend of October, with a new format. Sadly, along with so many other events, the pandemic put a hold on that.
We say hold, because the Festival will return, and as they say in all good publications, it will be bigger, better and more inclusive.
The FESTIVAL OF VOICE now runs from the 4th to 7th November, and although it's a while before the festival announcement line up will be made you can start saving for those early bird tickets once they become available, and we highly recommend you do. Weekend Passes are usually around £30 on the regular price. Read our special feature on the FESTIVAL.
IRIS PRIZE & LGBT FILM FESTIVAL CARDIFF – 5th OCTOBER
Iris Prize brings the best LGBT+ film from around the world to Cardiff each October. Home to the world's largest short film prize, the festival also features filmmaker Q&As, workshops, events and legendary parties. This is supported through a worldwide network of 25 partner festivals in 19 countries who nominate films each year, alongside open submissions.
The Iris Prize is supported by The Michael Bishop Foundation and continues to be the largest LGBT+ short film prize in the world. With the winner receiving £30,000 to make their next short film in the UK, Iris is exactly what film makers need – funding, support, guidance and of course a warm welcome into the Iris Prize family. To date 9 short films have been produced with the winning filmmakers of the Iris Prize, with the 10th currently in post-production.
For full details on the festival events, go here. IRIS
CHEPSTOW WALKING FESTIVAL – 23rd to 26th OCTOBER
5 days of walks for all abilities, plus events and a chance to see Chepstow and the Lower Wye Valley at its finest. They usually run the festival over the Easter period, but under the current climate that won't now happen. Walking however, is so good for us so we'd encourage you to keep an eye on their page for details of the festival return.
Chepstow lies on the border of Wales and England and is an ideal base for walking in Monmouthshire, the Wye Valley and Forest of Dean. With such a diverse landscape there is everything to offer the walker and visitor whether it be a riverside stroll or a challenging walk along a long distance trail.
To get all the information you need, go here. WALKING
WORLD HARP CONGRESS CARDIFF – ONLINE IN 2021
Believe us when we tell you this event is a really big deal. Harpists and harp enthusiasts from around the world will visit Cardiff for #WHC2020. An intensive and fun-filled week of recitals, concerts, lectures, masterclasses and workshops, all celebrating the versatility and ingenuity of the harp.
With a harping tradition that dates back to the 11th Century, Wales is proud of its rich musical and cultural heritage. The harp scene today is very much alive and flourishing, making Cardiff an ideal host city for #WHC2020.
All your harp details can be found here. HARP
USK SHOW – 11th SEPTEMBER
Like so many of our major events the USK SHOW was a victim of the pandemic. Months of work had to be put on hold, along with our lives, until it is safe to prepare for the next show. The good news is, the organisers are set and have a date in the diary.
The gates for the USK SHOW open at 9am on Saturday 11th September and you can spend all day till they shut up at 6pm. For more information about the show, getting there, tickets prices etc, go here. USK SHOW The organisers have just added some really nice 'behind the scenes' videos too, which are worth a watch.
DUBS AT THE CASTLE CALDICOT – 17th to 19th SEPTEMBER
Dubs at the Castle 2021 will be a fun-filled family camping weekend, brought to you by VW enthusiasts, whose passion and love for Volkswagens helps to bring you a VW experience like no other. Whether you're new to the VW scene or a seasoned professional, DATC creates a special atmosphere for all the family to enjoy.
The Council have given them the go ahead for DATC to take place over the weekend of 17th, 18th & 19th September THIS Year!!!
Throughout the weekend there are Live Bands, Traders, Club Displays, the ever popular Old Skool Bike Competition and of course, Show 'n Shine. Children's activities and a great selection of food stalls help to keep the little ones happy while you spend your time admiring the wonderful array of Volkswagens on display.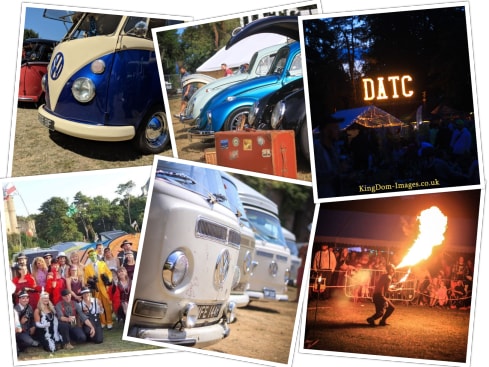 Set in the beautiful grounds of Caldicot Castle, DATC is a firm favourite in the VW calendar. They look forward to welcoming all their loyal supporters who return year after year, whilst extending an extra special Welsh welcome, 'Croeso' to new visitors..
Take a look at the DUBS site for more information. DUBS
JURASSIC ENCOUNTER, BUTE PARK – 21st AUGUST to 5TH SEPTEMBER
Bute Park in Cardiff will be transformed into a Jurassic Park as Dinosaurs roam free in the Welsh capital this year. JURASSIC ENCOUNTER is an unmissable, family-friendly event – and will be here in South Wales as part of its UK debut, touring London, Birmingham, Glasgow and Cardiff from 24th July until 7th November.
Step back in time to an era when dinosaurs roamed the earth. As you explore the park, beware the dinosaurs at every twist and turn along the route. They will be hiding in the bushes, grazing in the tree tops and towering above your heads…..
Jurassic Encounter promises to offer visitors a truly unique and amazing family day out and encounter dinosaurs of all shapes and sizes from the Jurassic, Triassic and Cretaceous periods as they stare down at you from a great height.
Jurassic Encounter is sure to be really popular with young and old. To see our feature, and interview with the organiser, go here JURASSIC.
THE HAY FESTIVAL – REWATCH THE FESTIVAL NOW
The Hay Festival brings together writers from around the world to debate and share stories at its festival in the staggering beauty of the Welsh Borders.
There's nothing quite like the Hay Literary Festival. It's a true celebration of books, storytelling and creativity featuring award-winning novelists, travel writers, Pulitzer Prize winners, children's authors, broadcasters, performers, thinkers, pioneers, artists and innovators will appear at talks, debates, performances and readings over the nine day programme.
You can follow the HAY FESTIVAL programme here and look back at the best of this years events. HAY
WALES AIR SHOW – 2nd & 3rd JULY 2022
The free WALES AIR SHOW was all set to return to Swansea Bay this July, sadly however, the organisers have had to postpone again to 2022. We wanted to keep this one included as it is such a major FREE event. With breathtaking aerobatic displays, state-of-the-art military aircraft and vintage planes from the past, it will once again thrill tens of thousands of visitors.
Last time they smashed the attendance record, the weather was perfect and the organisers felt it was the best ever! They're looking to make 20222 even bigger with even more exciting air display teams and entertainment.
Here's a look back at this year's show…..
There are not many details on the show as yet, it is very early. As soon as we have them we'll update this page. In the meantime you can check out our feature on the WALES AIR SHOW and look back at the last event, HERE.
ELVIS FESTIVAL PORTHCAWL – 24th to 26th SEPTEMBER
Every September thousands of Elvis fans descend on the Welsh seaside town of Porthcawl for a unique celebration of The King. The feature events are the Official Shows taking place in the magnificent Grand Pavilion. These include The Elvies, the World's leading award Show for Elvis Tribute Artists.
In addition, The Hi-Tide hosts over 100 shows over the weekend, many with free admission. Finally, over twenty venues in and around the Town form the Fringe Festival, making Porthcawl the largest Elvis event in Europe.
It all happens between Friday 25th and Sunday 27th September. For more details, go here. ELVIS
FOOD & DRINK
ABERGAVENNY FOOD FESTIVAL – 18th & 19th SEPTEMBER
Set within the rolling hills of Monmouthshire, Wales' best loved food will return in September, showcasing real food from real farmers and chefs.
From cooking demonstrations, to tasting workshops, cocktail making and foraging excursions to knee-slapping live bands, raucous castle parties and market stall holders selling everything from cheese, meats and chocolates to kombucha, kefir and vinegar! Plus sumptuous street food, kids cookery schools and fun farmyard activities. Abergavenny Food Festival is a place to eat, drink, learn, laugh, expand your horizons, tackle the big issues and celebrate everything about great food and drink.
For more information, go here. FOOD
THE VALE REAL ALE TRAIL – SATURDAY 18th SEPTEMBER
After a little (enforced) covid break, the REAL ALE TRAIL returns for its 5th outing this September and it really couldn't be easier to join in. A bus chauffeurs you all day through spectacular countryside to rural pubs. You can visit as many, or as few pubs as you want, and stay at each one for as long as you like. It really is that simple.
South Wales is full to the brim with some of the best pubs a real ale drinker could wish for, with its own breweries and a huge array of village pubs to visit and drink in. Sampling those pubs – and most importantly, that real ale – presents your average real ale fan with one major problem (until now): who's going to do the driving and which pubs to visit?
The REAL ALE TRAIL gives drinkers the opportunity to sample up to 8 fantastic pubs in one day without having to worry who's going to ferry them between hostelries.
For more details, take a look at our feature HERE.
CIDER & PERRY FESTIVAL CALDICOT CASTLE – TBA
The UK's biggest showcase of craft Welsh Perry and Cider returns for 2020. Set in the grounds of the beautiful Caldicot Castle and Country Park, the 2020 Welsh Perry and Cider Festival will see a great mix of live music, the best local Monmouthshire food and craft stalls, and all day entertainment.
Onsite camping facilities for tents, caravans and motorhomes will be available also with a family friendly atmosphere throughout.
For more festival details, go here. CIDER
Wales will welcome the world's best chefs next year as the country hosts the prestigious CLOBAL CHEFS CHALLENGE.
The Culinary Association of Wales (CAW) and its partners, the International Convention Centre Wales (ICC Wales), the Celtic Manor Resort and the Welsh Government, have accepted an invitation to bring the event to Newport from 23rd to 26th October. To find out what they'll be serving up in this major event, go HERE.
It seems to us there's one drink which is right at the top of the list at the moment, Gin. Now we can tell all you G&T lovers that the GIN TO MY TONIC SHOW is coming back to Cardiff, and the date has been rescheduled, again it's moved to 2022.
This is not just any show either, it's not only award winning but comes complete with unlimited tastings and over 250 varieties of Gin. The show is actually the largest gin festival in the UK, offering a rare opportunity for enthusiasts to meet-the-makers behind over 50 premium gin and mixer brands.
The GIN TO MY TONIC FESTIVAL is at the Motorpoint Arena in Cardiff on the 1st and 2nd July 2022. To find out more, and get yourself a few recipes, go HERE.
If you're expecting us to tell you this is a hot event then we aim to disappoint. This one is beyond hot, it is scorching. Back for a second year, the MARGAM PARK CHILLI FESTIVAL and MERTHYR STREET CHILLI FESTIVAL will bring you a day filled with chilli, nothing else, just chilli. Actually, there'll be plenty for the whole family to enjoy too.
They will play host to some of the most well known chilli producers from all over the UK exhibiting only the best chilli products you'll find. There'll be mild to crazy extreme chilli sauces, Naga cooking sauces, chilli plants, chilli, chilli pastes, pickles, seeds, chilli dips, chilli beer, merchandise and more.
As soon as we hear the confirmed dates we'll let you know.
THEATRE
It's been a tough time for all our theatres this year, and will continue to be so for a long while yet. So when we heard that Cameron Mackintosh's production of LES MISÉRABLES is to return to Wales Millennium Centre next June, we figured it's a sign that good things are coming. But then it was moved again and we now get it it at the end of 2022. We realise this doesn't fit into to this year's events but if you have tickets already, we thought you'd like to know the changes.
This production was at the WMC in the winter of 2019, in fact you can read our review, and see what the audience thought right HERE.
The production we get next year will be the same, and if you're asking if it stands the test of time, the simple answer is yes and most definitely yes. We cannot praise it highly enough, it is simply magnificent and flawless.
We have a special feature on the show, packed with information and facts, take a look here. LES MISÉRABLES
Here are other shows you can check out on our site……
SPORT
SWANSEA BAY 10K (Back To The 80s) – SUNDAY 19th SEPTEMBER
It feels like it's been a long time coming but runners can finally get their entries in for an 80's themed ADMIRAL SWANSEA BAY 10k.
The organisers were obviously disappointed to cancel last years event, which was also set to celebrate the 40th race. That does of course mean, there is more to celebrate this year on Sunday 19th September.
If you entered last year there is free automatic transfer to the this years 40th anniversary event. Runners with 2020 places don't have to do anything as their details will transfer across and they will be kept updated on the 2021 celebratory event as plans develop.
For full details head over to our feature here – SWANSEA 10K
CARDIFF HALF MARATHON – SUNDAY 27th MARCH 2022 (RESCHEDULED)
The Cardiff University/Cardiff Half Marathon has grown into one of the largest and most exciting road races in the United Kingdom, promising to deliver the full works for the half marathon. It is now one of Europe's largest half marathons and is Wales' largest mass participation and multi-charity fundraising event.
The event has grown significantly since it was founded by Barnardo's in 2003 when 1,500 runners took part. It now attracts a mass race field of over 27,500 registered runners alongside world-class athletes in a trio of fiercely contested men's, women's and wheelchair elite races. It hosts the Welsh Half Marathon Championships annually and has hosted the World (2016) and Commonwealth (2018) Half Marathon Championships.
The CARDIFF HALF MARATHON now takes place on Sunday 27th March 2022 but we can tell you that places are filling up already. If you'd like more details and to register, take a look at our page here. MARATHON
It's easy to say that an event will bigger and better than it's ever been, but it's a phrase which certainly applies to the JCP SWANSEA HALF MARATHON. And rightly so, having been voted the UK's best half marathon in 2017 & 18 and Wales' biggest and best summer half marathon. Only this year, thanks to the Covid crisis, it's been rescheduled, for a second time, to October. Gives you more time to train and prepare.
There are lots of ways to take part, from Elite to charity and even helping out as a volunteer. The Swansea Half Marathon at Brangwyn Hall is now running on Sunday 17th October at 10am. If you'd like to sign up and find out more details, go here. MARATHON
OUR SOUTH WALES
When lockdown number one finished, we put together a short series of features to remind us how lovely OUR SOUTH WALES is, and the fact we should be our celebrating, and enjoying this amazing area of ours. You can take a look at the features below.