The plot of BUGSY MALONE may be filled with gangsters, turf wars and Chicago scoundrels but throw in some unforgettable songs, a cast so full of energy it leaves you breathless and you have the ingredients for one of the most joyful, fun and hysterical musicals around. In fact, I defy any of the reviewers at last night's opening performance at the Wales Millennium Centre to say differently.
This is the first national touring production of the classic Alan Parker movie from 1976, although the show has been a bit of favourite with audiences and critics in London since its original appearance in 2015 when it picked up multiple awards along the way.
What is so great about the film is also what makes it a fantastic stage experience. Back in the day Alan Parker said he wanted to make a gangster movie that his own kids would enjoy. With that, he took the real life tales of Al Capone and Bugs Moran – people you wouldn't usually associate with a children's story, and adapted them into something more suited to the whole family.
We still get the machine guns and gangsters but in place of the real thing there's cream filled splurge guns and mob bosses Fat Sam and Dandy Dan, who are about as menacing as a night out with Bugsy Bunny.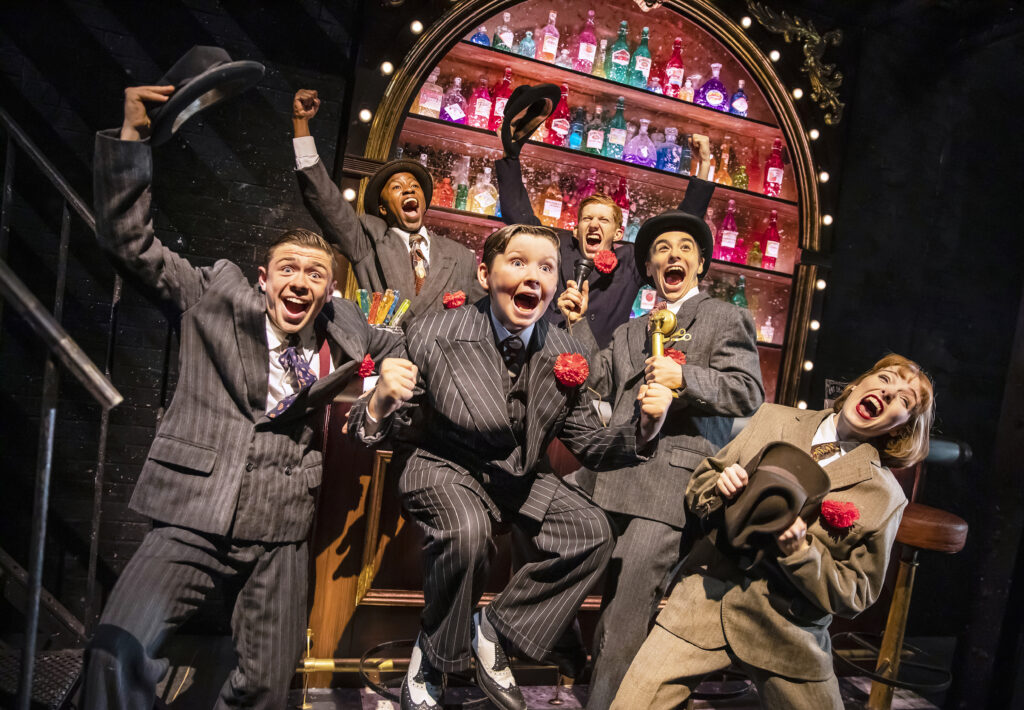 The story is set in 1929 in the Prohibition era in New York, a city full of mobsters, showgirls and dreamers. Rival gangster bosses Fat Sam and Dandy Dan are at loggerheads. The custard pies are flying and Dandy Dan's gang has gotten the upper hand since obtaining the new-fangled "splurge" gun. Now, Fat Sam and his bumbling buffoons are in real trouble!
Enter Bugsy Malone, a penniless one-time boxer and all-round nice guy. All he wants is to spend time with his new love, Blousey, but can he resist seductive songstress Tallulah and stay out of trouble long enough to help Fat Sam defend his business…?
Before we go any further, here's what last nights audience thought of the show including the suitably 'Bugsy' attired students from Ebbw Fawr School who gave us their take on the production…..
Shows like this are sometimes difficult to stage as you have a constantly rotating cast of young principal actors performing with an equally talented ensemble of, should we say more seasoned young professionals. Each and every one of them on the Donald Gordon stage last night were next-level good. Under director SEAN HOLMES, they've taken a familiar story, with songs we've known and loved for over 45 years and breathed new life into this much loved classic.
The energy of the cast is relentless with some show-stealing choreography by DREW MCONIE. Among all the tap and sporty dance steps in one of the show favourites, 'So You Wanna be a Boxer' you have some first rate singing too, none of which suffered during these frantic routines.
Becasue the cast is ever-changing, and who you might see in the lead roles could well be different to the performers we saw last night, I thought I'd direct you to the 'cast' page on the show website. There's a lot of very talented people there (39 if you're counting), so when you have a few minutes head over and see who they all are – HERE.
You can also check out our original show feature HERE to see who is who in Bugsy.
Back in 1976 the movie made stars of many of the main cast, Jodie Foster, Scott Baio, Bonnie Langford and Dexter Fletcher. I suspect this stage production will do the same for many of the cast. I'm sure it won't be too long before we see them back on our stage performing again.
I hate to single out characters who really delivered something extra special but 'Knuckles' was cracking and had us laughing loudly every time he was on stage.
As you can see from the pictures above the sets and costumes are superb thanks to JON BAUSOR. We get Fat Sam's Speakeasy which transforms into the gym and then onto the Bad Guys lair. The cast are very hands on with the wheeling on of various parts of the set. There's also a really lovely moment when Sam steps away from the show to have a little fun with us in the audience, he is really good too.
Paul Williams wrote some knockout tunes for the movie, which stand up as much now as they did back then. It was interesting watching the audience silently sing along to 'My Name is Tallulah', 'You Give a Little Love' and 'Fat Sam's Grand Slam'. There's definitely a reason why the movie is on regular repeat on ITVX and Amazon Prime.
You may know these Oscar winning songs from the movie but add a first rate live band under the musical direction of CONNOR TONKINSON and you'll find yourself loving them even more.
BUGSY MALONE is an absolute all singing, all dancing delight. What you loved about the movie you'll love even more in this incredibly impressive show. The audience loved it, the students at Ebbw Fawr loved it and we can only echo that with a massive get yourself along and catch this joyful production while it's in town.
As we said earlier, if you see any review that says differently, direct them our way and we'll set Fat Sam and his Bad Guys onto them with a round of splurge.
BUGSY MALONE is at the Wales Millennium Centre through to Saturday 21st. Performances start at 7pm each evening with a 2pm matinee on Thursday and Saturday. Tickets start at £17.50 with the show running around two hours 15 minutes. For more details, and tickets, go HERE.