MEADOW STREET COMMUNITY, a local community garden in Treforest managed by Pontypridd Town Council, has teamed-up with Coed Lleol, the Small Woods Association in Wales, to bring a range of outdoor, physical and social activities to Pontypridd. The aim of the collaboration is to improve health and wellbeing through woodland and nature-based activities and to help the Meadow Street Community grow further. 
Thanks to funding from the Welsh Government's Enabling Natural Resources and Well-being Scheme (ENRaW) Coed Lleol – Small Woods Wales is also supporting the Meadow Street site to develop into a community woodland hub and garden space, by funding the development of an all-weather structure to house activities and new and improved on-site facilities.
An Open Fun Day is being held this Thursday, 18th between 11am and 3pm at the Meadow Street Community Garden where you can find out more about the plans and learn how you can get involved. Throughout the day, local people are invited to take part in a range of activities including: bug hunting, whittling, potting and planting, nature ID and more. The Meadow Street Community and Coed Lleol – Small Woods Wales teams will also be seeking ideas and suggestions on designs and styles of the new structures from everyone who attends.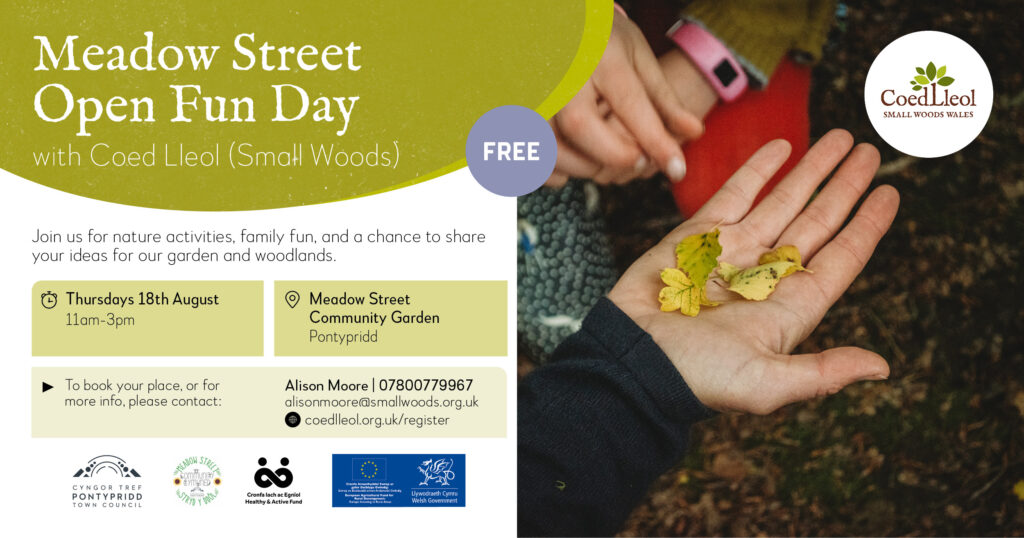 Pontypridd Town Council Community Development Officer, Helen Williams told us…..
"We are delighted to join forces with Coed Lleol, the Small Woods Association in Wales to deliver this fantastic project for the people of Pontypridd. We hope to get the community inspired by nature and to give them opportunities to experience and value nature first-hand, on their doorsteps.
Working together with Coed Lleol we are looking forward to developing Meadow Street even further with the opportunity to develop an all-weather low impact structure that will support woodland-based health and wellbeing activities, while also growing our community of fantastic volunteers, all of whom make Meadow Street the magical place that it is."
Alison Moore, South Wales Coordinator, Coed Lleol – Small Woods Wales added…..
"Working in partnership with Meadow Street and the enthusiastic team from Pontypridd Town Council involved with improving this location has been a fantastic opportunity for Coed Lleol to use a really special place, to engage local people in Pontypridd in a range of our woodland and outdoor health activities. Being able to support them to develop the site further, to become a Woodland Hub, through the ENRaW funded project, is such an exciting opportunity, we can't wait to get the local community involved with moving this forward." 
Meadow Street Community is located along a busy footpath, connecting Hawthorn and Rhydyfelin to Treforest. The land lay unattended and overgrown for almost 8 years, before being re-acquired by Pontypridd Town Council. The site was devastated by the flooding following Storm Dennis in 2020, and at the beginning of 2021 work began in earnest to clear the space.
The project is run by the Town Council and local volunteers, who are looking to add to their numbers and grow the community.
For further information and to book a place at the event, please contact Helen Williams, Community Development Officer, Pontypridd Town Council: helen.williams@pontypriddtowncouncil.gov.uk or Alison Moore, South Wales Coordinator, Coed Lleol – Small Woods Wales: alisonmoore@smallwoods.org 
For further information on the Meadow Street Community go HERE. You can also find out more about the project on their Facebook page HERE.
The Pontypridd SUMMER FUN DAY is in Ynysangharad War Memorial Park on Saturday, August 27th, all the details right HERE.