West End and television star DARREN DAY will take the role of Billy Flynn during a tour of the international musical sensation Chicago which will be staged at the New Theatre in Cardiff next June (2022), moving to Venue Cymru in Llandudno in July.
Darren is no stranger to the West End having played the title role in Joseph and his Amazing Technicolor Dreamcoat and many others.
He was also a contestant on the very first series of I'm a Celebrity Get Me Out of Here! and a finalist on Celebrity Big Brother.
Faye Brookes, who plays Roxie Hart, was fantastic on the recent series of ITV's Dancing on Ice and is best known for her role as Kate Connor in ITV"s Coronation Street for which she won a National Television Award. Her theatre credits include Princess Fiona in Shrek and Elle Woods in Legally Blonde, both on national tour, Ann/Edna in That Day We Sang directed by Victoria Wood at Manchester's Royal Exchange.
Sinitta is an absolute legend, having a string of feel-good hits to her name including So Macho, Toyboy and Cross My Broken Heart. She's no stranger to the stage either, having appeared in the West End productions of Cats, Little Shop of Horrors, Hair, Smokey Joe's Café and as the female lead in Mutiny!
"Murder, greed, corruption, exploitation, adultery and treachery" – all those things and so much more we can enjoy on a night at the theatre. We are of course talking about the international multi-award-winning musical, CHICAGO.
It's one of those shows which you really can, and believe me many of us do, watch over and over again. Yes it's the songs, the dancing, the sexiness of it all, but despite the fact it's set in the 1920s, there's something very current about the story too. If it was a story fresh from today we can guarantee it would be a tabloid and internet sensation.
The Chicago musical UK Tour is back next year. The award-winning musical is set to wow audiences, and the tickets for the two Welsh dates are now on sale. The cast have just been announced and we'll tell you who is playing who shortly.
Set amidst the razzle-dazzle decadence of the 20s, CHICAGO is the story of Roxie Hart, a housewife and nightclub dancer who murders her on-the-side lover after he threatens to walk out on her. Desperate to avoid conviction, she dupes the public, the media and her rival cellmate, Velma Kelly, by hiring Chicago's slickest criminal lawyer to transform her malicious crime into a barrage of sensational headlines.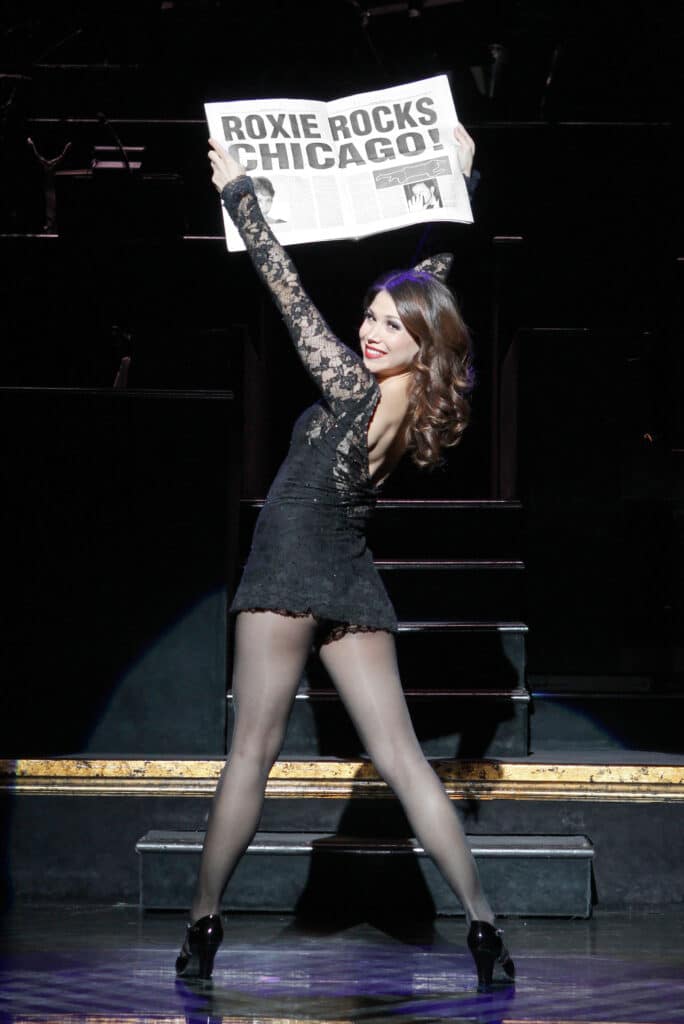 The UK tour cast is now in place, and we're in for a treat when the show gets to us.
As well as FAYE BROOKES who will play 'Roxie Hart'. We are so thrilled to see SINITTA back on stage. Not only is she a pop star, a TV judge she's is now going to be a very red hot 'Mama Morton'.
They are joined by the outrageous and super talented RuPaul's Drag Race UK star DIVINA DE CAMPO who will make her musical theatre debut as 'Mary Sunshine'. Divina is known for her high soprano and four-octave range, she's been on ITV's The Voice and the BBC's All Together Now.
Leading West End stars DJALENGA SCOTT and JOEL MONTAGUE will play the roles of 'Velma Kelly' and 'Amos Hart'.
And as we mentioned, DARREN DAY is in the role of 'Billy Flynn'.
Like Sinitta, Darren has had a fair crack at the pop star life too. In 1994 he had his first top 20 hit after signing with Simon Cowell. At that years Smash Hits Poll Winners Party, Darren was awarded the gong for Best Male Singer. He continued to work with Simon for several years, releasing singles and albums which reached the top ten, and frequently appeared on Top of the Pops.
During lockdown last year Darren reprised his roles of both Joseph and Jesus in online concerts of Joseph and Godspell for the charity Acting for Others. He also narrated an online TV comedy pilot The Fosse Forest Ballet directed by Racky Plews.
Darren's West End credits include the title role in Joseph and his Amazing Technicolor Dreamcoat at the London Palladium, Tony Parker in Copacabana at the Prince of Wales Theatre, and Danny Zuko in Grease at the Cambridge Theatre.
He played Danny Houston in Hollyoaks, David Wilde in Doctors and Will Morgan in Stella.
This year will see him in the role of Billy Flynn in the UK tour of Chicago – a role he's had his heart set on for many years. He will then go on to play the Reverend in the UK Tour of Footloose.
There is a bit of a strange coincidence with the role too. Darren was a contestant on the very first series of I'm A Celebrity Get Me Out of Here! and a finalist on Celebrity Big Brother a few years back. He spent the first 24 hours 'in the box' with John Partridge, a performer who inhabited the role of Billy Flynn 5 years ago. We saw John in the role and he was really good, just as we're sure Darren will be.
As we said, the show is all about media manipulation, PR & narcissistic celebrities who are willing to do anything for exposure and attention – does that sound very 2021 to you?
Created by the musical theatre talents of John Kander, Fred Ebb and legendary choreographer Bob Fosse, Chicago the musical's sexy, sassy score includes the show-stopping songs "Razzle Dazzle", "Cell Block Tango", and "All That Jazz". Winner of six Tony Awards, two Olivier Awards and a Grammy, Chicago is the longest-running American musical in Broadway and West End history.
"SUPERB" (Daily Telegraph)
CHICAGO "remains a phenomenon" (Sunday Express)
Chicago the musical, is based on the play by Maurine Dallas Watkins. Since it opened in New York in 1996, it has played in 36 countries worldwide, and been performed in English, Dutch, German, Swedish, Spanish, Portuguese, Russian, Italian, French, Danish, Japanese and Korean. Worldwide it has been seen by an estimated 33 million people, grossed over $1.7 billion has played over 32,500 performances.
Chicago The Musical gets to the New Theatre in Cardiff from Monday 20th to Saturday 25th June 2022. Tuesday to Saturday performances are at 7:30pm with 2:30pm matinees Wednesday to Saturday. Tickets range from £19 to £260 if you fancy a box, with various concessions along the way. You can get your tickets NEW THEATRE.
It then moves on to Venue Cymru in Llandudno from Monday 25th to Saturday 30th July 2022. Performances are at 7:30pm with tickets priced between £15.50 and £54, again with a variety of concessions. Incidentally, there is a 13+ age restriction. You can your tickets VENUE CYMRU