EVERYBODY'S TALKING ABOUT JAMIE has just finished a massive run in London, with a bit of an enforced Covid break in between, and with a new movie released, the UK tour is already packing in theatres across the UK. The dates are all rescheduled, and this 'must see' musical is with us this week at the Wales Millennium Centre.
JAMIE is one of those shows which steps past its amazing songs, top flight choreography and really funny script – yes, it is all of those, but so much more. In fact, we'd go as far as saying it's a culturally important show to see. It really is quite extraordinary.
It's not often we print what the critics say, but in this case we will…….
"It's the real deal. Everyone really should be talking, singing, shouting about Jamie now" – The Times
"A joyous punch in the air about following your dreams and being yourself" – Time Out
"Irresistible: A joyous, life-affirming Billy Elliot" – The Independent
"A True Big-hearted Crowd-pleaser" – Evening Standard
"A Chuffing Marvellous British Musical" – Sunday Times
'JAMIE' can best be described along the lines of Billy Elliott – with attitude. The show is inspired by the 2011 BBC Three Documentary Jamie: Drag Queen At 16, and I suppose that pretty much sums up the plot. In the show however…
Jamie New is sixteen and lives on a council estate in Sheffield.
Jamie doesn't quite fit in.
Jamie is terrified about the future.
He is going to be a sensation.
Supported by his brilliant, loving mum and surrounded by his friends, Jamie overcomes prejudice, beats the bullies and steps out of the darkness, into the spotlight.
The show opened in London 2017 and the reviews were instant and amazing. The cast vibrant and the songs, well, have a look at the video below and I think you'll get a feel for just how inspiring they are. The phrase 'feel good factor' gets used far too much, but in this case, it really applies.
Now the great news is, we get to talk about Jamie ourselves as it makes it's way to the Wales Millennium Centre on its rescheduled dates from 15th to 21st November. And it's Layton Williams who'll be here to deliver his fantastic performance as Jamie, which he's been doing in London's West End.
Layton is a real talent, you just have to read through his long list of credits to see that. Everybody's Talking About Jamie (Apollo Theatre), Paul in Kiss MeKate (Sheffield Crucible); Seaweed in Hairspray! (2018 UK Tour); Angel in Rent (London/UKTour); The Car Man (Matthew Bourne's New Adventures); Simon in The Lord of the Flies (Matthew Bourne's New Adventures) and Young Michael in Thriller Live (West End).
His TV and Film work includes: Rocketman(Paramount); Larry in Benidorm (ITV). Layton played series regular 'Stephen' in the BBC Comedy Bad Education series and feature film.
Layton is also the director of 'Pros From The Shows' which provides high quality workshops for young performers. They've reached thousands of students across the country hoping to inspire the next generation and nurture talent.
He also make the occasional appearance in Swansea. Take a look at our feature HERE.
Our favourite Eastender, and I'm A Celebrity finalist, Shane Richie will be here as Hugo/Loco Chanelle, a role he has already played, and is set to return to in the West End. Having worked with, and seen him on many occasions, I can tell you he's pretty incredible on stage.
Shane has balanced a hugely successful forty year career between theatre, film & TV; and he has been a regular fixture on prime time television hosting such shows as Lucky Numbers (ITV), The Shane Richie Experience (ITV), Win, Lose or Draw (ITV), Don't Forget the Lyrics! (SKY1), Reflex (BBC) and Win Your Wish List (BBC).
His numerous TV drama credits include Oliver Twist (BBC), New Tricks (BBC), We're Doomed: The Dad's Army Story (BBC), What We Did on Our Holidays (ITV), The Good Samaritan (ITV), As Good As It Gets (ITV), Skins (CH4), Moving On (BBC), Minder (CH5), Redwater (BBC), Benidorm (ITV), and Claude (Disney).
Oh yes, there's Alfie Moon in Eastenders of course.
And in the revamped I'm A Celebrity Get Me Out Of Here, he kept us all thoroughly entertained during his weeks in Gwrych Castle in Abergele.
But if you haven't seen Shane on stage, it really is an experience. We've watched him perform in Grease and Cuckoos Nest, but he was unbelievable in Scrooge, where he played the lead role.
We are really blessed to have such an amazing cast bringing this show our way next month. It's always difficult to highlight a few, but we must mention a couple of familiar faces.
You see SHOBNA GULATI and of course you think of her long standing role in Coronation Street. Or maybe, like us, as Anita in Victoria Wood's Dinnerladies. But she has also worked extensively as a dancer and choreographer in regional theatres and also in community and education settings across the UK.
While we may recognise her for the brilliant TV roles she took on, her theatre work is vast. She appeared in Cinderella (Lyric Hammersmith), Richard II (The Globe), Everybody's Talking About Jamie (The Apollo Theatre), Daisy Pulls It Off (The Park), Anita & Me (Birmingham Rep/Touring Consortium), Grease (Leicester Curve), Mamma Mia International Tour 2015- 2016, Jon Godber's April in Paris (Derby Playhouse/ National Tour). And believe us, the list goes on.
Shobna has more than a bit of history with Jamie, not only has she appeared in the show in the West End and the upcoming tour, but she's just finished filming the role of Ray in the upcoming feature film.
When you see her in the show (and she is brilliant by the way), you'll probably double take. In fact when Jamie opened again recently in Manchester Shobna posted the tweet below, saying……
"And just like that she's back #ray @jamiemusical @the_lowry coeeeeee only me!"
And then there's GEORGE SAMPSON, no longer the young teenage lad we all fell in love with on Britain's Got Talent in 2008 (unbelievably) with his interpretation of Singing in the Rain.
After the show he went onto star in West End 'Into the Hoods' and two National arena tours. George also starred as Eddie in the feature films 'Street Dance 3D' and 'Street Dance 2' where he found his love for acting. He then went onto shoot 3 series of BBC drama Waterloo Road, playing bad boy Kyle Stack, in which one series won an NTA for Best Drama. Having found a desire for screen work, George began working on Mount Pleasant playing the role of Gary and also appeared on Emmerdale, as troublemaker, Ryan.
In 2016, he returned to where it all began, Britain's Got Talent, for their 10th year anniversary show and performed alongside Diversity. And he went back again last year for Britain's Got Talent: The Champions. After a very long lockdown, he is now looking forward to playing the role of Dean in Everybody's Talking about Jamie tour.
The whole JAMIE experience is terrific and we guarantee you'll leave the theatre with every song in your head. But it extends way past what you see on stage – hence the 'culturally importantce' we mentioned earlier.
You'll leave the theatre with a message and it's one we'd like to share here.
Jamie is all about self expression and being who you are, but as we know, that can sometimes have unpleasant consequences, particularly through social media. The musical is a supporter of The Diana Award.
The Diana Award is the only charity in memory of Princess Diana and her belief that young people have the power to change the world. Her sons The Duke of Cambridge and The Duke of Sussex are advocates for the charity, which supports young people through three key programmes;
A mentoring programme for young people at risk
A youth-led anti-bullying ambassadors' campaign
A prestigious award that publicly recognises young people – The Diana Award.
Alex Holmes is the Deputy CEO for The Diana Award. He told us…….
"The show encourages everyone, particularly young people, to be themselves and educates the audience about the power of language and the need to celebrate difference."
The Charity runs the leading Anti-Bullying Campaign in the UK and Ireland, giving young people the skills, confidence and training to tackle all forms of bullying in schools, communities and online. One of their main projects is the Anti-Bullying Ambassadors programme which has trained over 32,000 young people across the UK to lead on anti-bullying campaigns in their schools and is free to schools across the UK.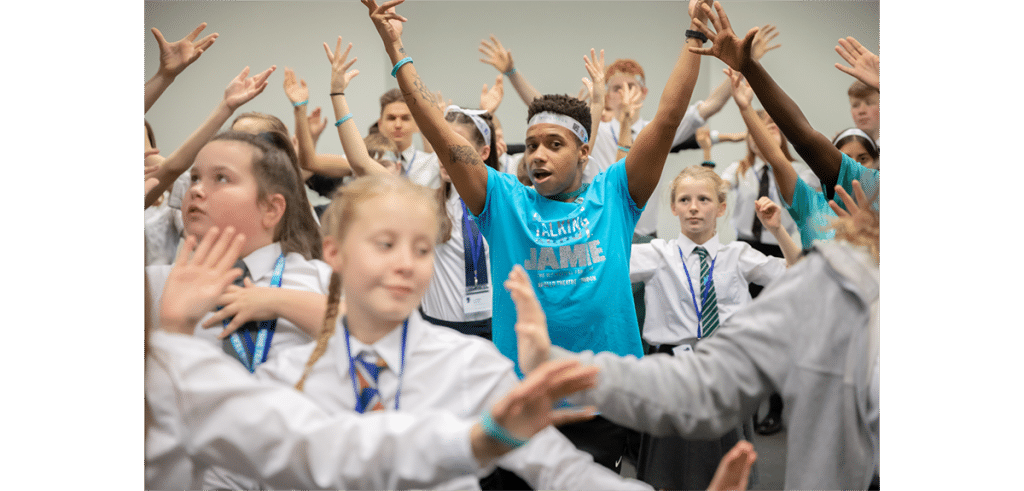 To date, EVERYBOY'S TALKING ABOUT JAMIE has raised thousands of pounds through bucket collections, held a celebrity gala evening as well as a musical theatre workshop to raise awareness for the charity during Anti-Bullying Week. The real Jamie Campbell has hosted a self-esteem and confidence workshop, marched alongside the charity at Pride and participated in The Diana Award's #Back2School campaign to support the 10 million children in school, over half of whom will be affected by bullying.
Jamie Campbell said….
"We shouldn't have to live in a world where bullying exists and the best way to tackle it is through education. Charities like The Diana Award and their Anti-Bullying programme and campaign do great work in raising the self-esteem of individuals and it is an honour to be working with this charity."
You can watch Jamie's #Back2School video here.
The team have put together an education resource pack with top tips for promoting diversity in school. It also includes information about how your school can get involved with the programme and receive free training from The Diana Award for students to become Anti-Bullying Ambassadors. You can get that resource pack right here. PACK
There is so much to love about the show. The story, the message but you will have the night of your life. Above all else, it is so much fun. Tickets for EVERYBODY'S TALKING ABOUT JAMIE are on sale now, with existing ticket holders having an automatic exchange. The show is at the Wales Millennium Centre in Cardiff from tonight, the 15th to 21st November. For more details, and to get your tickets, go here. JAMIE.
SOUTH WALES LIFE was fortunate to be at the Olivier Awards at the Royal Albert Hall a couple of years ago, and believe me Everybody there was definitely talking about Jamie. Let us share a picture we took as the stage was set ready for the cast to perform a number from the show.
Incidentally, the movie is now out, you can see it at selected cinemas or stream it free with your Amazon Prime account. It really is everything you'd expect, and so much more. We loved it.
Directed by Jonathan Butterell (in his feature directorial debut) from a screenplay by Tom MacRae based on the stage show. The film stars Sarah Lancashire, Lauren Patel, Shobna Gulati, Ralph Ineson, Adeel Akhtar, Samuel Bottomley, Sharon Horgan and Richard E. Grant, with newcomer Max Harwood in the title role.
As amazing as the movie is, as you'll see from the trailer, go and see the show. You'll get more from the story and the songs when you see it live on stage – we promise you.