It seems to us there's one drink which is right at the top of the list at the moment, Gin. Now we can tell all you G&T lovers that the GIN TO MY TONIC SHOW is coming back to Cardiff (Scroll to the bottom of the page for a few, very nice recipes) and the date has been rescheduled to next year.
This isn't just any show either, it's not only award winning but comes complete with unlimited tastings and over 250 varieties of Gin.
The statistics don't lie: The sale of 83 million bottles in 2019 compares to just 33 million bottles back in 2013 in the UK alone and there are now over 300 gin-makers in the nation – compared to just 37 in 2010.
But why such a boom? Well, other than the fact that gin is of course delicious, the team at the European Bartenders School have five possible theories for the gin craze:
It's become more accessible
Traditionally the HMRC had a problem with gin distilleries producing in small quantities, making it near impossible for new gin companies to prosper. But this all changed in 2009 when trendy West London gin distillery Sipsmith won a historic, two-year legal battle with the HMRC which gave distilleries the legal right to produce and sell gin in small amounts.
This opened the floodgates for independent gin-makers nationwide to crop up and put their own stamp on the gin market.
It's part of the cocktail culture
Cocktails were once regarded as either for only the very rich or strictly for boozy nights out on summer holidays. But this has all changed in recent years with cocktail menus becoming the norm at restaurants, bars and even pubs nationwide. Gin has fitted well into cocktail culture, as any gin fan will know its highly adaptable flavour makes it a perfect infusion for just about any cocktail. And oftentimes only a splash is needed to shape a cocktail, making it an affordable addition to the cocktail scene.
It's versatile and exciting
One of the great things about gin is that it is highly versatile and really quite exciting. Depending on the manner of which it is distilled and processed, it can take on many different strengths, tones and tastes.
Gin's flavour can also be easily transformed by adding various botanical infusions. Delicious popular infusions include: aniseed, orange peel, lavender and vanilla pods. Gin tastings have cropped up all across the UK, allowing guests to experiment with their own botanical gin creations.
It's (almost!) guilty free
Unlike calorific beer (they don't call it beer belly for nothing!), gin is surprisingly low in calories. A shot of gin has an average of 72 calories, and given the fact that gin typically has no less than 37% alcohol ABV – you can get quite merry on gin without having to sacrifice your diet or healthy lifestyle.
It's part of pop culture
Gin has long been part of British culture. While the original 'gin craze' of the Victorian era was given a bad rap and the booze was labelled as 'mother's ruin', since the 20th century gin has consistently been portrayed in pop culture as an effortlessly cool, sophisticated booze.
James Bond may be known for his vodka martinis, but in several of Fleming's books you will spot Bond and various other characters order gin and tonics. You will also see gin crop up many times across episodes of Downton Abbey, only adding to its broad appeal.
And let's not forget her Majesty the Queen is a keen gin fan, and has been spotted many times drinking the spirit. In fact the Queens favourite spirit is now available for purchase online and will also be served at royal events once the palace reopens. HERE
The GIN TO MY TONIC SHOW is actually the largest gin festival in the UK, offering a rare opportunity for enthusiasts to meet-the-makers behind over 50 premium gin and mixer brands.
It offers a very different experience to the traditional festival. No other brings together the wonderful world of gin in quite the same way, so for those looking to embark on an exciting journey of gin discovery, complete with unlimited tastings, this is most certainly the show for you.
There are well-stocked gin and cocktail bars, as well as cocktail making masterclasses, taste challenges, presentations from distilleries, tonic and garnish tutorials, and theatrical bartender performances. But the main attraction is the large variety of distilleries, artisan gin makers and tonic manufacturers in attendance, which creates what can only be described as gin heaven!
There's plenty to keep you inspired and entertained as you work the room and celebrate everyone's favourite juniper-based tipple. And whilst gin is the primary focus of the show, makers will also be showcasing their other creations including vodka, rum & whiskey.
Like what you've tried? Then you can purchase a full-size drink straight from the brand themselves, or even a bottle to take home for your collection.
There really is something for everyone!
There are various tickets, depending on your budget and taste……
Gin Enthusiasts Package £15 (reduced from £20)
Show Guide
Unlimited Tastings
Access to Classes and Workshops
Shop & Drop Facility
Tote Bag
Gin Connoisseurs Package £30-£35 (reduced from £40).
Limited availability
Fast Track Entry
Show Guide
Unlimited Tastings
Exclusive Access to the 'Connoisseurs Lounge' complete with complementary G&T
Access to Classes and Workshops
Shop & Drop Facility
Private Cloakroom
Tote Bag
The Gin To My Tonic Branded Copa Glass & Stainless Steel Straw
SESSION TIMES:
Friday 1st July 2022 6.30pm – 10.30pm
Saturday 2nd July 2022 12.00pm – 4.00pm
Saturday 2nd July 2022 6.00pm – 10.00pm
The GIN TO MY TONIC FESTIVAL is at the Motorpoint Arena in Cardiff on the 1st and 2nd July 2022. To get your tickets, just go here. GIN This event is strictly over 18's only. Terms and Conditions apply.
To get you in the mood here's a couple of SOUTH WALES LIFE favourites you can try at home. Come back each week for a new recipe to add to your collection……
Blackberry Gin
If you're looking for an alternative to a sloe gin. This blackberry gin is a cross between sloe gin and a gin liqueur, and of course, makes the most of the glut of blackberries.
900g Blackberries
1 Cinnamon Stick
450g Golden Granulated Sugar
300ml Gin Vodka (Rum and Brandy are fine too)
The method is really simple too, although it will take you around 35 minutes to make and chill.
Blitz the berries and 100g of the sugar in a food processor, then press through a metal sieve into a pan.
Add the remaining sugar and cinnamon to the pan and cook over a medium heat, stirring to dissolve the sugar. Cover and simmer for 20 minutes, then stir in the alcohol. Remove from the heat and discard the cinnamon.
Sterilise some bottles and lids, clean and upturn them – lids off – on a baking sheet. Put in the oven for 15 minutes. make sure that the bottles lie on their sides. Strain the gin into bottles, seal, label and chill.
Shake before serving in shot glasses, diluted with sparkling water and ice or drizzled over ice cream.
Best of all, they're only 45 calories per serving (and you should get 8 out of this recipe).
A Clementine '5 Minute Cocktail
This one is so easy you can whip it up and serve it within 5 minutes. Perfect if you have people round. Dry gin, Crème de Cassis and Clementine give you the perfect sweet and sour vibe.
All the ingredients you need are……
Large ice cubes 4-5
Dry Gin 25ml
Crème de Cassis 1 tsp
Clementines 2, juiced
Drop the ice cubes into the glass before pouring over the gin and crème de cassis. Pour in the squeezed clementine juice and stir once, anti-clockwise.
85 calories of pure heaven.
Elderflower Collins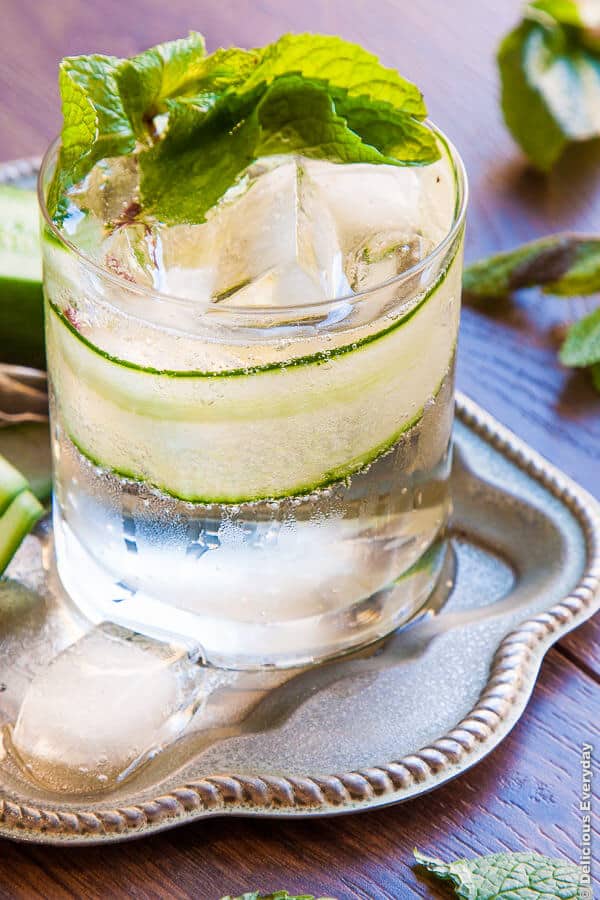 Very easy and really delicious. You'll need……
50ml Gin
20ml Lemon
10ml Sugar Syrup
10ml Elderflower Cordial
Soda to finish
Shake up the gin with the lemon, sugar and a dash of elderflower cordial. Pour over rock ice and lengthen with sparkling water. Decorate with a sprig of your favourite herb. If you're feeling like a true vagabond then top with sparkling wine to make an Elderflower Royale.
Of course, you can buy Elderflower Cordial very easily but it is so easy to make and tastes far better if you do it yourself. So, if you fancy a little go, here's a recipe which works every time. ELDERFLOWER
Martini
This one is stirred NOT shaken.
You'll need……..
60ml Gin
Vermouth to taste
Your chosen garnish
A Martini is all about personal preference. The key elements to success are ensuring your vermouth is fresh, the gin is good quality (Mr Bond wouldn't have it any other way) and the garnish is appetising. Stir your required amount of gin (here we suggest 60ml) with however much dry vermouth you like: the more you use the more herbal it will be. Stir to taste – it's about finding the perfect dilution. Don't be afraid to garnish your masterpiece with something that might seem peculiar either – you could even go for two pickled onions – trust me, it works. Ensure your glass is frozen and the liquid smooth.
Southside
Also known as a Mojito, gin-style.
You'll need…..
50ml Gin,
20ml Lime
15ml Sugar Syrup,
6-8 Mint Leaves.
Drop the gin, fresh lime juice, sugar syrup and the mint leaves into your shaker then get your arms moving. Fine strain it into a posh Martini glass that's been chilled. Hold the ice. Garnish with one slapped mint leaf and maybe some finely chopped.
Bookmark this page we have more coming.