We love us a bargain here at South Wales Life, even better, we really love something free. You have 48 hours from the time the deal begins, so you'll have to be quick or you'll miss out on one of our favourite dishes.
You can grab free chicken in exchange for a bucket from a rival restaurant as YO! launches new Japanese Fried Chicken (JFC). Simply by taking an empty chicken bucket to any YO! across the UK, as it embraces the Japanese tradition of eating fried chicken over the festive period.
Over 3.6 million buckets of fried chicken are consumed in Japan each Christmas which has prompted YO! to switch up its offering.
The YO! Bucket Exchange rewards hungry customers who bring an empty bucket to one of 50 participating YO! restaurants, delivering a free refill of a much tastier alternative – JFC.
Designed to celebrate the launch of YO!'s new festive menu, 2,000 buckets of fried chicken are available for FREE during 24th & 25th November – this Wednesday and Thursday.
The festive menu is attracting some extra-jolly visitors – the big man (and his team) have taken chicken buckets to fuel up for the busy season ahead.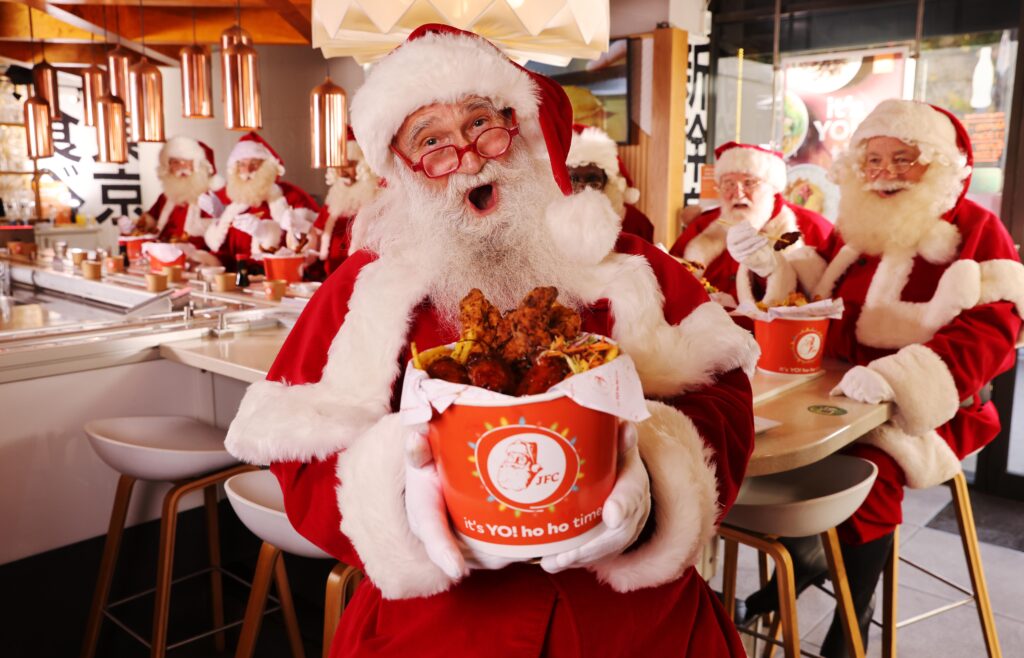 The JFC Bucket includes delicious chicken tenders which are brined in buttermilk and fried in a secret YO! spiced flour before being sprinkled with nori tinsel. The bucket (£14.95 or £29.50 for 2 people) is served alongside Korean wings, crunchy slaw, YO! fries, and the choice of miso corn on the cob or teriyaki BBQ beans and of course, a pot of katsu curry sauce.
Vegetarians and vegans don't need to miss out and can enjoy VJFC (£12.50) – featuring THIS Isn't Chicken Karaage nuggets with Korean sweet chilli sauce for dunking, dished up with YO! fries, crunchy slaw and miso togarashi corn.
Victoria Mathers, UK Head of Marketing at YO! told us…..
"Fried chicken for Christmas in Japan is a tradition going back decades. This Christmas, we're introducing Japanese Fried Chicken to give consumers an unexpected twist on the Christmas menu. Japanese Fried Chicken really is finger licking good. Our JFC Bucket Exchange is sure to send hungry foodies flocking to our restaurants, but if you miss out, don't worry – you can still enjoy the dish on our festive menu throughout December."
The holidays truly are coming with more seasonal additions to the menu:
The JFC Christmas Sando (£8.95), a special sandwich with all the JFC trimmings including a miso coated hash brown, crunchy slaw, karaage popcorn chicken skewer and katsu curry sauce.
The YO! Coke Float (£6.95) combining soft scoops of vanilla ice cream sprinkled with festive popcorn or fresh berries, a Japanese pocky stick and chocolate or raspberry sauce, topped with the fizzy drink, specially delivered along YO's conveyor belt by the iconic Coca Cola Christmas truck.
The YO! festive menu is available to enjoy until Friday 31st December. For more details go HERE.
And here are the all important terms and conditions.
UK restaurants only.
Max 1 bucket exchange per person, per day.
It must be a fried chicken bucket you exchange and in return you will receive a portion of JFC for one (value is £14.95).
Maximum 20 buckets per participating restaurant, per day, while stocks last.
Promotion runs from 12am Wednesday 24 November – 12am Friday 26 November 2021.
Claims after this will not be accepted.
Giveaway not affiliated with any third party.
Offer is non-transferable and cannot be used in conjunction with any other offer or promotion. There is no cash alternative.
You can only exchange buckets at official YO! restaurants.
Offer is subject to availability at YO! restaurants.
YO! Manager's decision is final.
YO! reserves the right to remove or amend this offer at any time.