I think it's safe to say that we all love a bit of GREASE. From the moment in 1978 when the movie burst onto our screens, along with John Travolta and Olivia Newton-John, we've sung, danced and partied to every song on the soundtrack.
So when the rescheduled tour of the show gets to the Wales Millennium Centre this week we just know every word, in every song, will be sung by the entire audience.
I think what's easy to forget is that the movie was actually nominated for an Oscar, this thing was huge. As a little treat here is our favourite trailer for the film. American, of course, and very cheesy.
Apart from being hilarious, we wanted you to see the trailer because it reminds us GREASE actually began life as a stage show, and a hugely successful one at that, winning masses of awards.
In fact, the original show took to the stage in 1971, and was very different to what we now know and love. Grease was written Jim Jacobs and Warren Casey and was named after the 1950s United States working-class youth subculture known as 'Greasers'.
The show still deals with the complexities of peer pressure, politics, personal core values, and love. In its original production in Chicago, Grease was a raunchy, raw, aggressive, vulgar show. Subsequent productions toned it down until it was transformed into the movie we still watch with regularity. And we'd like to bet you've seen it at least once during lockdown.
Which brings us very nicely to the latest tour.
After an enforced pandemic break, the show is getting back out on the road, and after the time we've all had recently, and the really tough year for our friends at the Wales Millennium Centre, there is no better show to get into the schedule.
The story, for those of you who may have been sleeping for the last thirty years, is a simple boy meets girl tale. Boy plays it very cool in front of the girl (for the benefit of his friends) but eventually – well you get the idea.
After a whirlwind summer romance, leather-clad greaser Danny, and girl-next-door Sandy, are unexpectedly reunited when she transfers to Rydell High for senior year. But can they survive the trials and tribulations of teenage life and find true love once more?
This new version is brought to life by a fresh young cast who bring energy, vitality and passion to this ultimate musical classic. Dan Partridge is back in the role of Danny. Further casting will be announced shortly, as soon as it is, we'll let you know.
Here's a few really nice pictures from original rehearsals. See if you can spot our favourite Strictly judge (and now I'm A Celebrity contestant) Arlene Phillips who choreographed the show.
Grease is directed by Curve's Artistic Director Nikolai Foster. Where do you even begin to list his achievements over the years?
He directed the world premiere productions of Riaz Khan's Memoirs of an Asian Football Casual & Douglas Day Stewart's An Officer and a Gentleman; Leslie Bricusse's Scrooge; Andrew Lloyd Webber's Sunset Boulevard (& UK tour) Winner Best Musical, Manchester Theatre Awards and Best Regional Production, WhatsOnStage Awards; Joe Orton's What the Butler Saw (with Theatre Royal Bath). And trust us, to list everything would take a page in itself.
And this time we have someone very special guesting as Teen Angel and Vince Fontaine. Nothing Mysterious about this fella. It is of course PETER ANDRE.
In writing this, I was trying to remember a time Pre-Peter, and you know, it always feels like he's been around in our lives. In fact for a lot of his fans, they have grown right alongside him over the years.
Initially he was best known for his singles "Mysterious Girl" and "Flava". But things really took off when he slipped onto home turf for the third series of I'm a Celebrity…Get Me Out of Here!, and the thirteenth series of Strictly Come Dancing, in which he was partnered with Janette Manrara.
I remember when Peter came out of the jungle and he was on that massive wave of success. There were three occasions when we interviewed him. The craziest was during an appearance at an Asda store, where he was doing a meet & greet, signing thing. I'll never forget turning up and seeing thousands of screaming fans waiting for his arrival.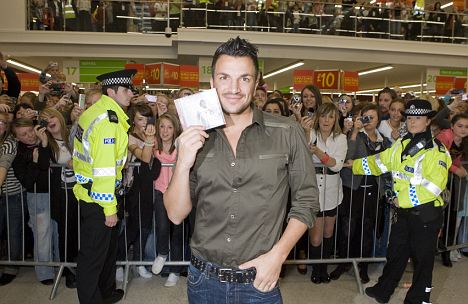 I was at the car door to meet him when he arrived, and I think it's fair to say that even Peter was blown away by the enormity of the crowd, and the noise they were making. But you know, he was gracious and humble, and spoke to as many people as he could. He was as friendly and giving of his time, from the first to last person who waited patiently to see him.
Which makes us feel bad about reliving Pete through the years, and body. By the way, replace 'feel bad' for jealousy. As you can see, pretty much nothing has changed as he gets older (annoyingly), Well, maybe the hair.
So we reckon when he turns up to Cardiff, we are all in for a treat on stage.
While the story is great, it's the phenomenal score, bursting with hits that we love. So how about a listen to the cast from the last tour singing a few of them………..
GREASE is at the Wales Millennium Centre next week, from Monday 22nd to Saturday 27th November. Peter Andre will play the role of Teen Angel and Vince Fontaine but is not scheduled to perform on either of the two performances on Saturday 27th November. Tickets are priced between £17.50 and £48.00 but we can tell you they're going fast – like Greased Lighting to be honest. To book yours go HERE
When the show was here last time, SOUTH WALES LIFE went along to watch, and find out what the Pink Ladies (and gents) thought about it. As the current tour is pretty much the same creative team, we thought we'd bring our review out of retirement for you to see.
OCTOBER 2019
There is so much we love about the musical GREASE, and a packed Wales Millennium Centre echoed that on opening night (Tuesday). The crowd were out in force for this new production, which we have to say is very different to the many we have seen before. Yes, it's still set in 1959, but now has a modern, slightly edgier feel than other productions. The dancing takes more centre stage and is sharper and actually fits really well into the story. You can tell Arlene Phillips waved her choreographic hand over them.
Before we go any further, what did the audience think – take a listen to their thoughts and a little highlight from the evenings performance.
Everyone we spoke to was full of praise for the show and what was particularly noticeable was the age range. From the very young to the not so. There were also a lot of 'Pink Ladies' who turned up suitably dressed for the occasion.
For a lot of the audience this was their first encounter with GREASE on stage, which is a testament to the show and the affection in which it's held. Apart from anything, it's a great 2 hours of escapism with a great story and songs we know and love.