Artists and visitors from all over the world will converge on Swansea this summer for the Elysium gallery-led BEEP PAINTING BIENNIAL 2022.
The long running exhibition, which is celebrating its 10th year will take place at Elysium Gallery in Swansea through till September and will run alongside exhibitions and events across the city celebrating contemporary painting.
Venues include College St Gallery, Mission Gallery, Glynn Vivian Art Gallery, Volcano Theatre. Exhibitions will also take place in Cardiff at Oriel Canfas and Umbrella.
Beep originally started life in 2012 and was conceived by artist and Elysium Gallery director Jonathan Powell. It was borne out of a desire to bring a regular series of ambitious contemporary painting exhibitions to Wales embracing the best and most vital work being created today.

It aims to bring to Wales the best contemporary painting from across the globe, highlighting excellence in content, aesthetic, technique, and materials used. Beep also provides and nurtures an informative network for painters and people interested in contemporary painting by raising awareness of artists' works and artist opportunities from across the UK and beyond.
The Beep Painting Prize 2022 exhibition features 135 artists from around the world, 31 of them from Wales. All were asked to respond to the theme of 'Nothing has changed, everything has changed'.  From a long list of over 1000 entrant the artists were selected by a panel of judges featuring Beep 2020 main prize winner Rosalind Faram, Oceans Apart gallery director and artist Keith Ashcroft, artist and lecturer Dr Catrin Webster & artist and elysium gallery Director Jonathan Powell.
The winner, announced on the opening night of the show last Friday received £1,000 and a solo exhibition with Elysium gallery. There is also a people's prize voted by the visitors to the exhibition and a Welsh prize sponsored by the Friends of the Glynn Vivian.
The main prize was split between GARETH GRIFFITH and RACHEL LANCASTER. Gareth's work is a triptych.
The Friends of the Glynn Vivian prize was split between HEATHER EASTES and DYLAN WILLIAMS.
Elysium gallery Director and Beep founder Jonathan Powell said the growing popularity of Beep should not come as a surprise…….
"Painting in Wales is extremely healthy despite being ignored in the recent past by educational institutions and contemporary galleries. I am really excited for this year's Beep as it finally feels like it is making its mark on the contemporary national and International arts scene with Wales and Swansea at the heart of it."
The Beep painting prize is a highly respected platform for painters. It is popular as it places the artists at the heart of the process and with no entry fee, age, or geographical restrictions, and absolutely democratic.
The prize is always reinventing itself and, in these uncertain times, Beep has adapted, continuing to support and celebrate contemporary painting and painters.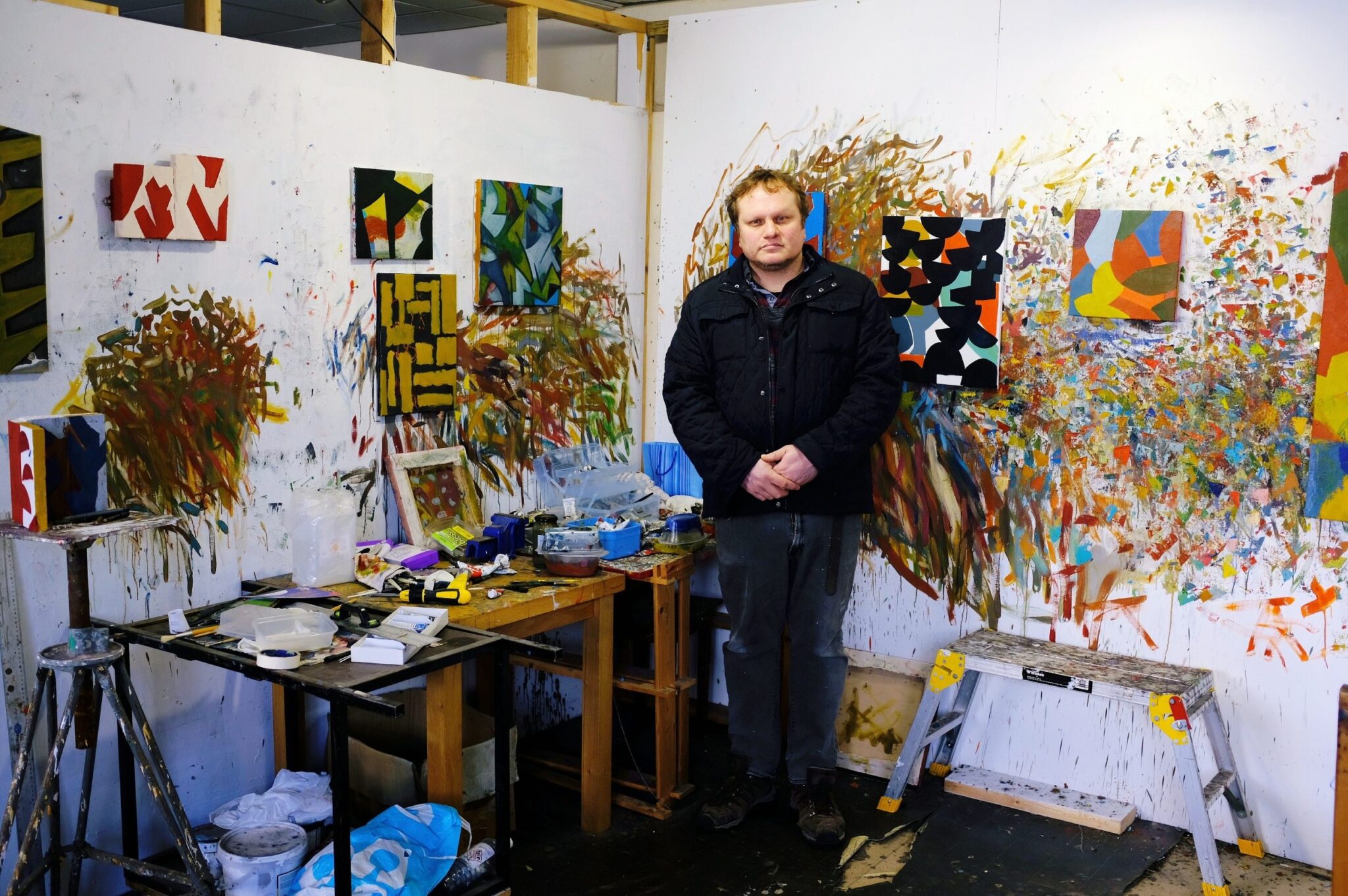 Dr Catrin Webster says she was extremely impressed by the quality, range and number of submissions……..
"There was a huge breadth of approach, from work centred on materiality, to figuration and narrative painting. Each painting invited a unique response, conveying the great generosity, creativity, integrity and individual vision of the artists, together with the plasticity of painting, which was moulded into forms expressing and responding to the breadth of human experience in our complex, contemporary, post- digital context."
And 2020's prize winner Rosalind Faram agrees……
"Looking through the entries was truly fascinating and it struck me how painting itself is such an old means of expression and yet, at the same time it can be constantly new, which fits the theme 'nothing has changed, everything has changed.
"The quality and range of entries was so impressive; the handling of paint and depth of vision behind the works very moving. I was particularly struck by the relationship to landscape; in some cases to be a part of it, in others to get well away from it or quickly pass through it and in others a kind of quiet observation of it and the man-made structures in it.
"I hope visitors will come from far and wide to Swansea to experience this diverse exhibition, which I'm confident will intrigue, challenge, nourish and amuse them and maybe even inspire them to take up painting themselves."
Keith Ashcroft added…..
"I was particularly impressed with the breadth of quality from this year's entrants. The diversity and the range of different approaches was exciting to see. I was particularly pleased to see paintings that surprised me in some way, paintings that asked more questions rather than giving definitive answers. I was intrigued by how paintings related to each other through their differences. I found the process to be extremely enjoyable and rewarding, and I look forward to seeing all the shortlisted work at this year's exhibition."
You can see the exhibition at the Elysium Gallery on the High Street in Swansea. The gallery is open Wednesday to Saturday from 11am to 9pm, with the exhibition continuing till Saturday 10th September. For more details on all the activities and venues, go HERE.