I think this is one of those reunion tours which really came as no surprise, JLS are back, and of course we are so excited, but we think it was only a matter of when, rather than if. Unbelievably it was seven years ago when they embarked on their 'farewell tour.' The announcement came, and so did the pandemic, and now the guys have made the decision to reschedule the tour to 2021. All current tickets will still be valid for the new shows.
The guys said……
"With regret we've had to make the decision to reschedule our JLS #BeatAgainTour as ensuring the safety of our incredible fans, crew and venue staff is our main priority. Our reunion tour is such a monumental moment for us that we want to make sure we are able to give the best show possible."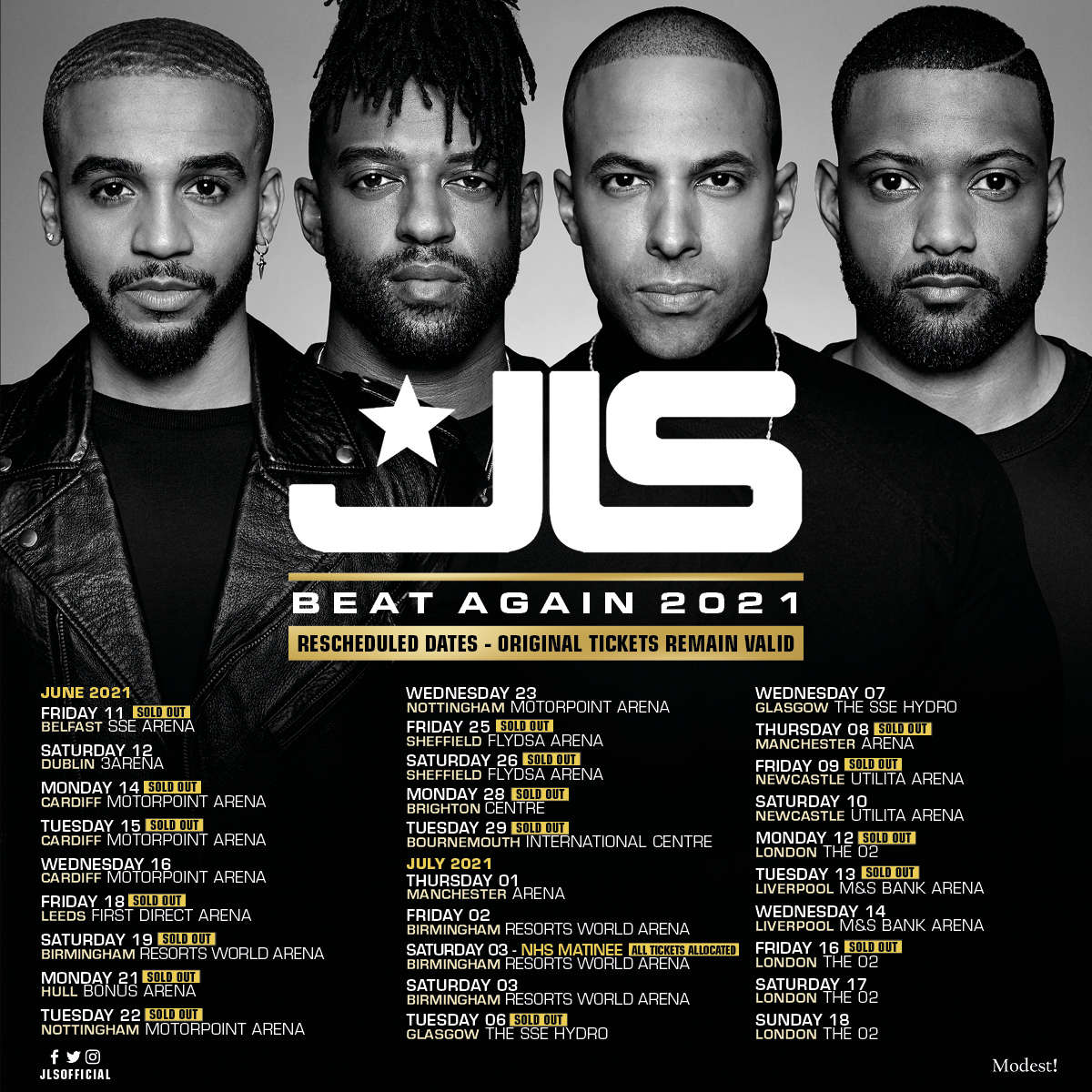 "Given the amount of time and preparation it takes to produce an event of such scale we feel we have to postpone. All tickets will be valid for the new dates, please contact your point of purchase for more information. We can't wait to see you all next year"
Understandably the reaction from fans has been filled with sadness, but also an understanding on why they had to make this decision.
Kirsty said……."Gutted but glad it's still happening next year. Love you"
Krystal was sad, but a little pleased too…."As gutted as I am, I'm so glad it has been postponed! Actually works out better for me, the show is now the day before my birthday"
Emily clearly had a premonition……"Bloody hell, I literally said yesterday I bet the concert won't go ahead!!"
You any good with lottery numbers Emily?
Ans Scarlett has a little request for the lads…….."Heya guys, I was originally doing a meet & greet for my 21st birthday, so do you mind if I still wear a birthday badge for the new date? I'm happy to still celebrate with you (six months on)!"
So, as we look forward to the new dates, here's a look at how they were for the Goodbye Tour seven years ago.
But let's be honest, this is the poster we've really been waiting to see……..
Since the band's inception in 2007, JLS breathed new life into the boyband genre and made their mark on British music through their inimitable soulful, RnB, pop sound underpinned by highly stylised choreography. When they arrived to the X Factor back then, I think it's fair to say they came as a pretty much ready to go band. What the show did, of course, was polish the act and gave them the vehicle to launch what became an incredible career.
Speaking of their highly anticipated return JLS told us…….
"We are so excited to be working together as a group again. We've always been like family, and now we feel that this is the right time for us to get back on stage and perform in front of our loyal fans. Even though it's been 7 years, you can be sure that it's going to be as high energy as ever".
Collectively the lads have amassed five Number One singles with their instantly recognisable chart hits 'One Shot', 'Everybody In Love', 'The Club Is Alive', 'Love You More' which was that year's Children in Need single, and of course Beat Again………
Back in the day, and right off the back of the X Factor, the SOUTH WALES LIFE team were doing some PR stuff with SYCO, Simon Cowell's company, which meant of course we spent some time with JLS. I'll never forget when the tour bus pulled into the car park. The waiting fans went crazy and out stepped four of the nicest guys you'd ever wish to meet. They seemed to appreciate everything that had happened and the incredible path which lay ahead.
And what a path it's been. The band are two time BRIT winners, having won Best British Breakthrough and Best British Single with 'Beat Again', which was also named the fastest selling debut single of 2009. As well as their huge commercial success and consistently dominating the pop charts, the band made a massive impact on urban music culture with five MOBO Awards and three Urban Music Award wins highlighting the astronomic affect their music had in resonating in both pop and RnB music realms.
The guys were so massive at the time that the farewell show was held on Albert Square during Children In Need. They were also in huge demand from a whole range of companies to sponsor and promote their products. You may not remember this so I thought it was time for a little trip down advertising memory lane.
But actually, the message the guys were promoting was as valid then as it is now. Marvin said at the time……..
'We came up with the idea of Just Love Safe as we wanted to send a clear message out to fans that are over 16 and sexually active – and that is to always use a condom during sex.'
'We used to get underwear thrown at us on stage, now we expect flying condom boxes! But it's important to put your love in a glove.'
JB explained this wasn't a money making exercise fo the band at all…..
'We will not be making any money out of the sale of Just Love Safe. Every penny we make from the sale of the condom range will be put into the JLS Charitable Foundation.'
The group founded "The JLS Foundation" in 2010 setting out to raise money for 6 different charities: Cancer Research UK, Rays of Sunshine, Brook, Childline, Beat Bullying and the MS Society. The foundation still exists and all members are still committed to continue its work.
Individually the band have gone on to do a variety of things. From TV and radio presenting, a tour of Strictly duty. With a bit of farming from JB, and a visit to hell and back for Oritsé, who thankfully has come out the other side with support from his band member best mates.
But now they guys are back and having carved out their own niche, with a huge fan base, who have remained loyal to the them, the band return. They'll be performing some of the massive songs from their six million record sales and four multi-platinum albums, and of course, their self titled debut album which went straight to Number One and has since sold over a million copies in the UK alone.
The tour is a chance for not only JLS, but the huge army of fans across the country to come together to enjoy the hits which continuously soundtracked the British charts for seven years running. The guys get to the Motorpoint Arena in Cardiff for the new dates on Monday 14th June, again on Tuesday 15th and the third date added is Wednesday 16th June 2021. Tickets for the first show are sold out, but you may be able to get some for the final two Cardiff dates on the 15th & 16th. You can get them right here. JLS or you can call the Box Office on 02920-224488 when things return to normality.