It's been quite a lockdown for Katherine, She performed as special VE Day concert from the Royal Albert Hall, live streamed, her 40th birthday and her new latest album CINEMA PARADISO made it to number on in the Classical Album Charts. The not so great news is that her tour dates had to be rescheduled once again to fit in with venue re-openings. The new South Wales dates are below.
Cinema Paradiso is a really fantastic collection of 15 unforgettable iconic songs from some of the world's best loved movie moments including 'Moon River' from Breakfast At Tiffany's, Pinocchio's 'When You Wish Upon A Star', 'Tonight' from West Side Story, featuring fellow Welsh star Luke Evans, as well as themes from Schindler's List, Lord Of The Rings and Dances With Wolves. The album features duets with Luke Evans, Sarah Allain, Alberto Urso and Shaun Escoffery.
Katherine said…….
'"I've always loved movie soundtracks," said Katherine Jenkins. "I wanted to create an iconic movie moment with this record – all the best film musical themes that we know and love, all together on one album. The last few albums I've made have been inspired by what's happening in my own world. This one in particular was inspired by the things that were going on around me. Having played my first movie role last year, it felt like a natural transition for me."
Katherine recently released her single, 'I'll Never Love Again' from the film A Star Is Born from her album Cinema Paradiso which went straight to the top of the iTunes Classical Chart when released. Having recently been revealed as 'The Octopus' from the ITV series The Masked Singer, this song also kick started her journey on the show.
"The hope with this album is that each song conjures up an iconic image from Cinema. A Star Is Born is quite a recent film, but the scene where Lady Gaga sings 'I'll Never Love Again' is so touching and memorable that it felt completely right to include it as one of my favourite movie musical moments. In a bid to disguise my voice on The Masked Singer, I chose songs that weren't the norm for me – and so this track is a happy experiment for me and after Ken said it was the performance of the season, I felt it deserved a place on the album!"
You can buy yourself the album, which is officially a number one bestseller. Just click on the CD cover below.
South Wales singer Katherine officially became the world's most successful Classical Singer this year, having 13 number one albums in 12 years since signing to Universal Classics at the age of 23. Then a school teacher, she burst onto the music scene in 2003 when she performed at Westminster Cathedral in honour of Pope John Paul II's Silver Jubilee. She became the mascot for her much beloved Welsh Rugby Team, singing the anthem before important international matches & had her debut performance at the Sydney Opera House.
She learned to sing as a chorister of St. David's Church choir in Neath. Her love of music was well nurtured in the Welsh Valleys, where she had the opportunity to join choral groups, perform with Welsh Male Voice Choirs as well as take part in the Eisteddfod & other musical events. She has always accredited her down to earth nature with her Welsh roots & her amazing family who she lovingly calls 'The Taffia'. Sadly, Katherine's father Selwyn passed away from cancer when she was just 15 and since then his memory has been a driving force in her life every album, every award has been dedicated to him.
Katherine has done it all, sold out tours, performed & recorded with the like of Placido Domingo, Andrea Bocelli, Jose Carreras, David Foster, Dame Kiri te Kanawa, Bryn Terfyl, Rolando Villazon, Juan Diego Florez & Il Divo. She sang 'God Save The Queen' at Her Majesty's Diamond Jubilee, performed at The Queens Coronation Concerts at Buckingham Palace and at Her Majesty's 90th birthday celebrations at Windsor Castle.
She's been a TV singing contest mentor, appeared in the BBC's iconic Dr Who Christmas Special, tap danced her way through 'Viva la Diva' with Prima Ballerina Darcey Bussell as well as, most notably, winning 2nd place in the U.S. TV show 'Dancing with the Stars' in 2012.
But it's clear that performing is what Katherine loves most. She'll be out on the road again giving us all the chance to hear songs from her new album, and of course old favourites too.
Unfortunately, she and we will have to wait a little while longer to see her live again. She has been forced to reschedule, for the second time. The tour brings her to Venue Cymru Theatre in Llandudno on Wednesday 17th November and the following night at St David's Hall in Cardiff on Thursday 18th November. For more details, and to get yourself tickets, go here. KATHERINE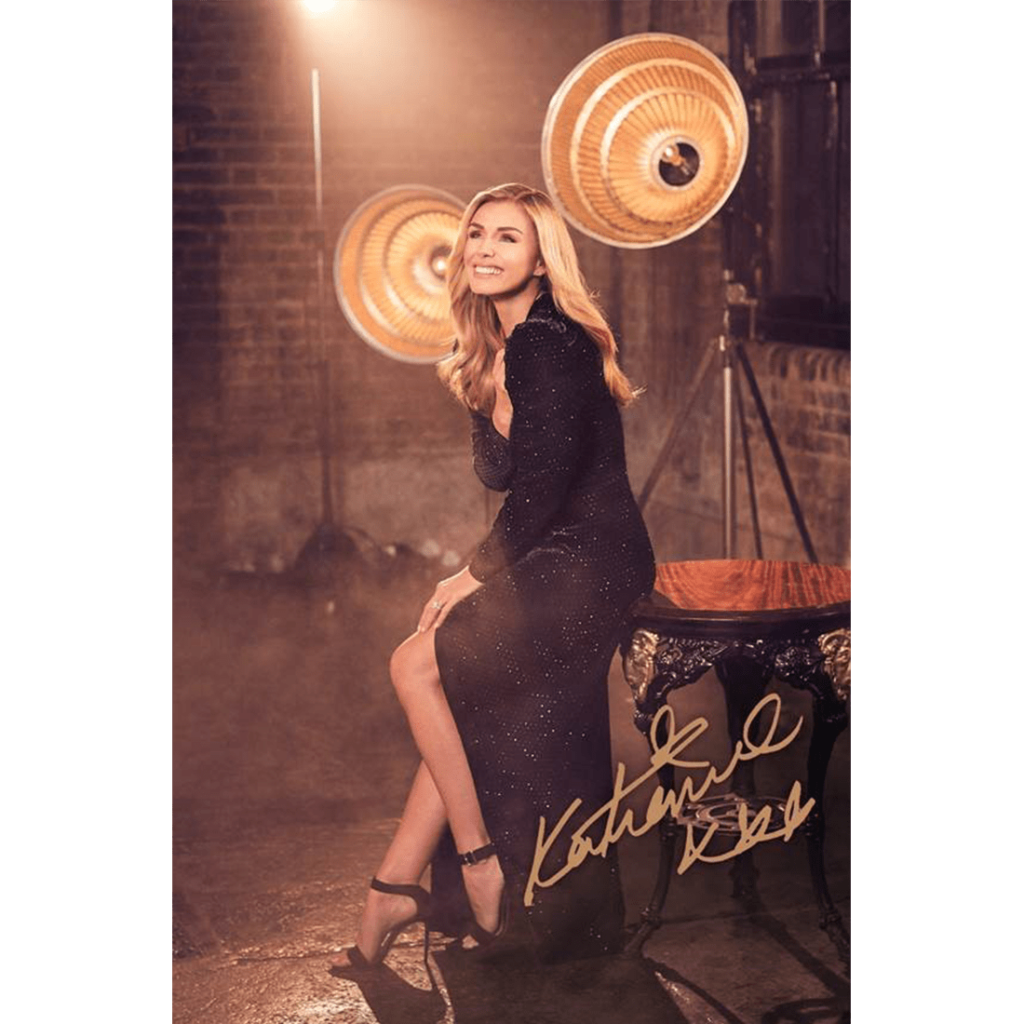 We all learned to do things a little 'differently' during lockdown, educate our kids, exercise, work and the list goes on. Katherine is no exception and has been involved in some unusual performances this last few months.
She sang to an empty Royal Albert Hall as part of the VE Day Celebration events. Incidentally, the half hour show was incredible.
And then she went on to entertain care home residents with a live streamed concert from her back garden, with Vodafone UK, and gave them a chance to hear, and join in with the songs she sang.
Thousands watched the show, either from communal areas, or in their rooms if they were isolating. Their family members were also given the chance to watch the live stream from home. Like the Albert Hall concert, people across the UK, came together to enjoy this special event, as these pictures from Sassy Films show.
The concert was broadcast from Katherines' garden where she sang songs like We'll Meet Again, 'A Nightingale Sang in Berkeley Square and You'll Never Walk Alone'. Of course, residents needed no encouragement to sing along too.
Katherine made a special birthday request from one resident, Audrey Grogan, who is 109 years old in this month. She was given a personal dedication of the the song You Are My Sunshine. Residents also returned the favour and burst into a chorus of Happy Birthday to mark Katherines' 40th birthday at the end of June.
Here's a little something which happened after the cameras stopped rolling. Perfect song for a perfect day……
It may not be how we chose to live our lives, but lockdown has presented all of us with some unusual events over the last few months and perhaps this is not something Katherine would normally get a chance to do, but she said she was delighted to have put on this performance.
"Singing is so good for the soul. I love the idea and it's such a joyful thing to be involved in so I hope everyone enjoyed it."