We know Santa and his team worked really hard last year to ensure our kids had a magical time, during very difficult circumstances. What we all missed was a visit to the man himself.
To see our children light up as they told him what was on their list, and the fact they have been extra 'good' this year, is a memory we all treasure forever.
The good news is, we can visit Santa and his Elves this year, albeit with a few Elf & Safety measures in place (sorry).
So here we go with our first dip into Sant's busty schedule. The list will grow over the coming days, so please bookmark and come back regularly. We can also tell you that many of these are selling, if not sold out already, so please don't hesitate with your booking.
Also check out our other festive feature below…..
SANTA'S GROTTO AT ST ANDREW'S URC CHURCH – ROATH
Santa has arrived at St Andrew's URC Church Cardiff so get along and see him now.
His grotto is open from 10am to 5pm and it's only £5 per family. No booking needed, just turn up and meet the man himself. He's got a busy diary ahead of him as he'll be switching on the Christmas Tree at 6pm today.
There'll be plenty to see, do and hear with a live brass band, choir, and plenty of festive stalls.
While you're there, get yourself a cuppa at St Andrew's Coffee Court! Where every charitable cuppa, helps keep this community building open.
Santa's Grotto will be open every Saturday through December from 10am to 5pm, with so much going on over the next few weeks. Take a look at the posters below. We can tell you that a lot of the tickets are either sold out, or getting pretty close, so get in quick.
St Andrew's Church is on Wellfield Road in Roath, Cardiff. For more details, go HERE.
NATIONAL SHOWCAVES FOR WALES
Now, where can you take the kids to capture that special 'magical' Christmas experience that they'll remember for the rest of the year?
You could take them to a high street store. Or perhaps to a garden centre, with Santa sitting amongst the potted plants! Or, you could take the whole family somewhere magical and certainly very different.
Just 20 minutes from the M4, (junction 45), there is a Welsh mountain, with ancient caves, whose entrances are guarded by gigantic, but very friendly dinosaurs! Kids love dinosaurs… But deep inside this mountain lie Wales' only natural Christmas grottos.
Deep inside lies Wales' only natural Christmas grottos. With huge colourful, hanging cave formations which have all been transformed by the truly stunning Christmas decorations put up by Santa's elves.
Kids will get a chance to see the hard-working elves, meet Santa himself, receive a gift, and take a photo to commemorate the moment.
The National Showcaves are in Abercraf, Swansea. To get your tickets to see Santa at the Showcaves just go HERE and follow the Book Online link.
WELSH COAL MINING EXPERIENCE – SANTA'S TOY MINE
Sorry to say this one is completely sold out already, clearly we've missed visiting the big man. We will tell you a little about it and give you a link, just on case there are any cancellations. To be honest though, unless you have a ticket, we don't think you'll get on board this Santa Experience.
Guests can enjoy a magical Christmas tour, the chance to speak to Father Christmas himself and get a sELFie with him and, of course, an age-appropriate gift for all children.
A Welsh Coal Mining Experience will once again be transformed into a Christmas wonderland – it's the perfect chance to celebrate the most wonderful time of year in a traditional, but safe, way.
As we said, it is fully booked now, but head over to their site, just on case. HERE.
GWILI STEAM RAILWAY – SANTA SPECIAL
All aboard this Christmas to experience Santa's magical steam trains at the Gwili Steam Railway every weekend of December.
Enjoy a festive train ride to see Santa, and every child will also receive a special gift.
The first trains to see Santa start on November 30th at Gwili Railway, Bronwydd Arms Station in Carmarthen.
The SANTA SPECIAL costs between £20 and £100 depending on how many in the family. We should tell you that dates are limited, so best get in now. To get on board with Santa at Gwili Steam Railway, just head HERE.
ROYAL MINT EXPERIENCE – BREAKFAST WITH SANTA
Not only can the kids meet Santa, but they get to have breakfast with him.
Head to the alpine retreat this festive season for a warming breakfast with the big guy himself!
Arts, crafts, fun and games will be available for everyone, while all children will get to meet and have a photo with Santa, sit in his sleigh and take away a special gift.
BREAKFAST WITH SANTA is at the Royal Mint Experience from 9:30am every Saturday & Sunday from 23rd November – 22nd December, plus Monday 23rd December. £9.95 per child, £5 per adult. They have lots of other festive events going on too, which you can see HERE.
SANTA'S VICTORIAN CHRISTMAS
At CARDIFF CASTLE you can enjoy a candlelit evening of festive family fun, all in the beautiful setting of the traditionally decorated Victorian apartments. Be greeted by costumed characters, eager to share ­the Yuletide traditions of yesteryear, and have your photo taken by the tree in the Entrance Hall. Follow the Trail through the Castle to the Drawing Room, where a wonderful visit with Santa Claus awaits. Gifts will be given and warming winter treats served in the Library before you head for home.
Your ticket includes…………….
The Ticket Includes:
A personal, costumed guide to show your household around the apartments and tell you about a Victorian Christmas
Treasure hunt around the rooms
A private meeting with Santa and a soft toy gift
Complimentary mulled wine and biscuits in the outdoor Ladies Walk Café.
Lantern Trail in the Castle grounds.
10% off in Castle Christmas Shop
The good news is 2020 prices have been held for this year.
Private Tour £70 (to include up to 2 Adults and 2 Children)
Additional Child £12 (Maximum 4 additional)
Additional Adult £8 (Maximum 4 additional)
For more information on the VICTORIAN CHRISTMAS, such as dates, times, and prices please visit here VICTORIAN
CELTIC MANOR RESORT – SANTA'S TEA PARTY
This is a magical festive experience where grown-ups and children alike will be fully immersed into a Christmassy wonderland as they step into the stunning Caernarfon Suite to enjoy afternoon tea with Santa, with an exciting virtual twist!
As well as their own delicious afternoon tea, children will enjoy a very special chance to see, hear and interact with the man himself when he dials in from ho-ho-home for a fun group video call from the North Pole! Find out if you are on the nice or naughty list (we're sure you have been good!), ask Santa your burning questions and hear more about his special preparations for the big day.
Our friendly elves will be on hand throughout the afternoon and will deliver a small Christmas gift for each child to your table
Minimum 4 guests and maximum 12 guests per table.
PRICES
27th November & 10th December
£35 adults, £25 children
4th & 11th December
£37 adults, £27 children
19th, 20th & 21st December
£40 adults, £30 children
17th, 18th, 22nd, 23rd, & 24th December
£42 adults, £32 children
ITINERARY
Session One
12.00pm Arrival drinks
12.30pm Afternoon Tea is served
2pm Virtual Santa experience
3pm Event concludes
Session Two
3.30pm Arrival drinks
4pm Afternoon Tea is served
5.30pm Virtual Santa experience
6pm Event concludes
ST DAVID'S DEWI SANT – MEET SANTA AND NORBERT
Sprinkle some magic on the festive season as St David's Dewi Sant welcome back its Christmas event for families with a little help from a new reindeer. Santa's Magical Reindeer Grotto opens its doors on Friday November 26th and we just know lots of children will be eager to pay him a visit.
This is not just any Christmas, after the last 18 months we've all been through, we're promised something magical and enchanting, with the return of the Christmas grotto experience but with a difference.
Children will first meet the loveable Norbert, an adorable young talking reindeer who longs to lead the sleigh on Christmas Eve and wants to share a very magical secret of his own! They'll also meet one of Santa's trusted elves, McJingles.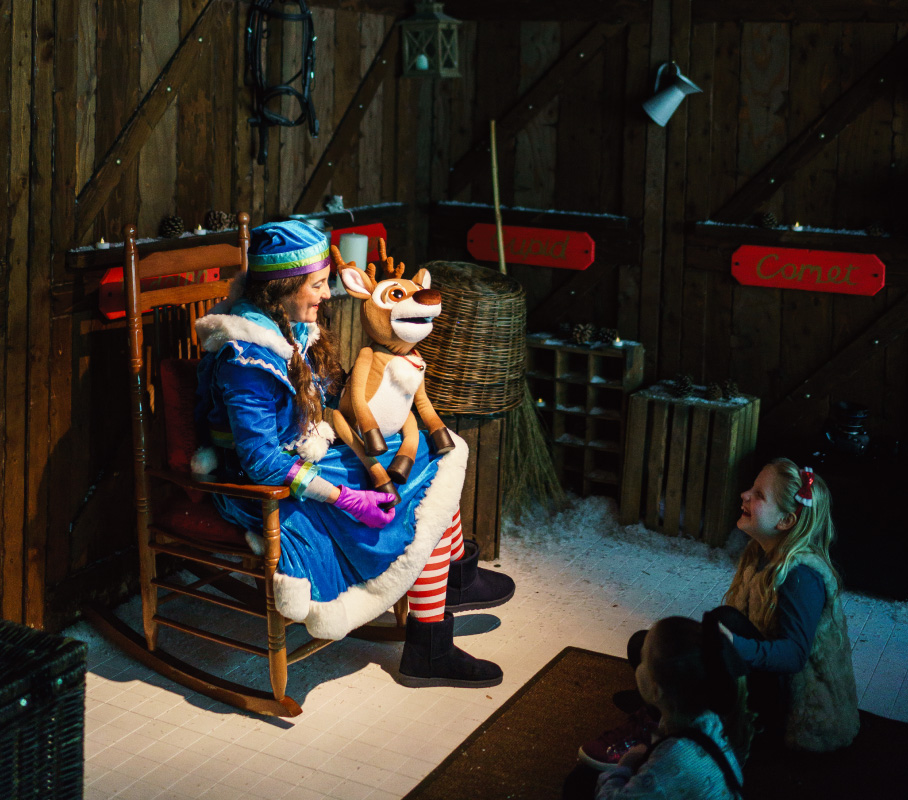 The grotto opens on Friday 26th November and runs through to Christmas Eve on 24th December. During this period the grotto is closed on these dates.
Tuesday 30th Nov
Monday 6th Dec
Tuesday 7th Dec
Monday 13th Dec
Tuesday 14th Dec
'Santa's Magical Reindeer Grotto' is in St David's Dewi Sant, located on the lower grand arcade near Hamleys and the Lego store.
Tickets to the grotto cost £12.00 per child (including a gift per child) and £5 per adult. A booking fee applies per ticket purchased – this is £1.20 per child ticket and 50p per adult ticket.
To book your tickets for this magical experience, just go here BELIEVE.
BRECON RAILWAY SANTA SPECIAL
This is like the real life version of the Tom Hanks movie The Polar Express. You get to visit Santa this Christmas and ride the railway to Santa's grotto. Seriously, this is the perfect experience for families with children.
They've been doing these a little while now, 32 years in fact and they are more popular than ever. Which means you need to get in and book ASAP.

All Children and Babies get a present from Santa. Mulled Wine and Mince Pies are served to the Adults. Best of all though, you get to travel by Steam Hauled Train from Pant Station to Santa's Grotto in Pontsticill where everyone will receive a present from Father Christmas.
The SANTA SPECIALS are really popular so if you want to book it's best to call on 01685-722988. The timetable and details are below, for more information, go here – BRECON
Santa Special Timetable
December 4th, 5th, 11th, 12th, 18th, 19th, 20th, 21st & 22nd
New dates added 8,9,15,16 (10.30 AM , 12PM, 1.30PM) 
Train Times 10.30 AM , 12PM, 1.30PM, 3.00PM & 4.30PM
Fully booked dates are 4,5,11,12,18,19,22 December
Prices£17.00 per adult
£14.75 per child 2-15
Babies under 2 years are free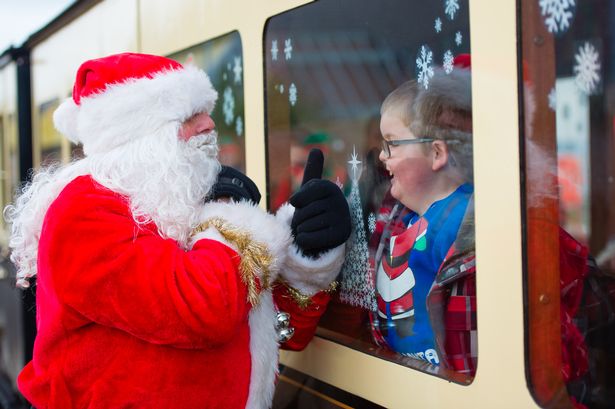 MEET SANTA AT THE LYSAGHT INSTITUTE
They have so much going on at Lysaght, one of the most popular is the Magical Christmas Experience.
Join them for a traditional family Christmas with a visit to the very special man. THIS IS Perfect for kids from 1 to 92!
Father Christmas doesn't want anybody to be ill or on the naughty list this year, so the visits will be from afar with the help of his trusted elves. Each child will receive a gift and a personalised letter from the North Pole.
£10 per child. Only children are chargeable. All children must be accompanied by an adult.
Photographs are permitted and can be taken by one of the Elves. This event takes place on two dates, Sunday 12th and Sunday 19th December. Follow the link for the date you want to book your tickets. Please ensure you select the correct date as tickets are non-transferrable.
The Lysaght Intitute is on Orb Drive in Newport.
SANTA'S GROTTO AT FOLLY FARM
Not only do they have the main man himself but you can also pay a visit to his reindeer on the zoo. And the Folly Farm elves are on hand to bring that extra little bit of sparkle to your grotto experience.
Santa's brought gifts for the little ones. Plus there's mulled wine and a mince pie for the adults which always helps spread the Christmas cheer.
There are dates available but pre-booking is best….
4th & 5th December
11th & 12th December
18th & 19th December
You can book your tickets for a visit to Santa in his grotto HERE.
Understandably, they do have some rules to help keep Santa, and us safe and well this year.
Pre-booked tickets are required for children only (not the adults) to visit Santa's Grotto – every child wishing to meet Santa and receive a gift will need a free Eventbrite ticket in addition to paying the £8.50 grotto charge per child. This includes under 2s and those children with an annual pass. Accompanying adults do not require an Eventbrite ticket.
Pre-booking to visit Folly Farm itself is not required, this is just if you wish to visit Santa's Grotto on your day out.
Timed slots to visit Santa are not required but we do encourage you not to leave your visit until the end of the day. We close the Grotto queue at 3.30pm.
Face coverings must be worn at all times inside the grotto unless you are exempt. This includes whilst queuing and when meeting Santa himself.
This year, as he's in a vulnerable age category, Santa will be behind a roped barrier so you won't be able to sit on his knee but he's still able to appear in the background of your photos.
We're applying the rule of six when entering Santa's room and this includes any accompanying adults not just the children paying to receive a gift.
Social distancing is required in the queuing area in the grotto and we've markers on the floor as a guide. Please respect other guests at all times.
Cash only – cash payments are required for the grotto visit. There's a free to use cashpoint just outside our gift shop near to the grotto.
Don't forget, Santa's reindeer can be found in the zoo at the new Asian Adventure habitat. And to complete your Winter wonderland experience don't forget to visit the magical indoor vintage fairground rides and complete the Gingerbread Trail for a chance to win a prize!
Folly Farm is in Pembrokeshire at Begelly in Kilgetty. To find out more about the farm, just go HERE.