If you're considering moving home and are open-minded about relocating to another part of the country, we can reveal some of the top hotspots right now.
The latest research from RIGHTMOVE looked at where average asking prices have increased the most over the past 12 months.
They use this as it's a strong indicator of places that are proving popular with home-movers, because the more desirable a location becomes, the more prices go up.
South Wales features only once in the research, with Neath in South Glamorgan seeing an 11% rise in prices over the last twelve months. Average prices went from £144,915 in February 2020 to £160,541 this month.
The historic Scottish town of Paisley, which borders Glasgow to the east, has seen a bigger annual increase in asking prices (+15%) than any location in Britain.
The average asking price of a home in Paisley is currently £126,903, which is £16,183 more expensive than a year ago.
However, asking prices in the Scottish town are £191,677 cheaper than the average across Great Britain of £318,580, and £34,619 cheaper than the Scottish average of £161,522.
Next on the list of asking price hotspots are Lancaster in Lancashire, and Wigan in Greater Manchester, which have both seen average asking prices rise by 12% compared to a year ago.
The Rightmove data further highlights the North West's continuing popularity, with four locations from the region making their way into the top 10 asking price hotspots.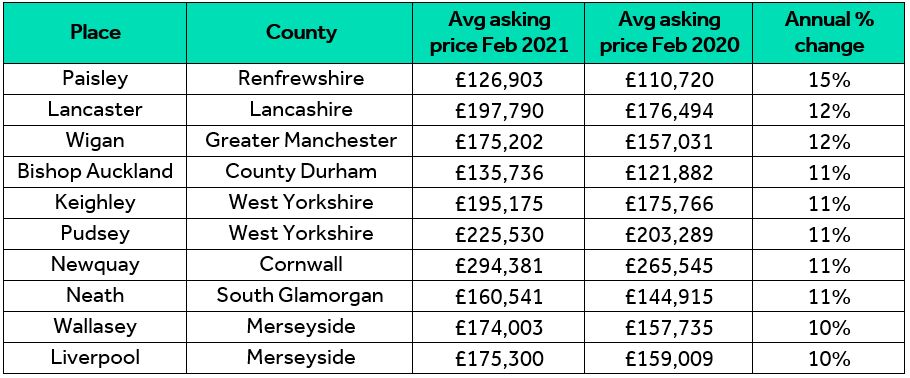 Each of the top 10 price hotspots have average asking prices that are cheaper than the national average; however, the most expensive location in the list is Newquay in Cornwall, at £294,381.
Their data analysts also found that West Norwood in Lambeth is the capital's top price hotspot, with average asking prices in the area having jumped by 12% over the past 12 months.
London's top price hotspots include places at both ends of the affordability spectrum, with Chelsea (£2,045,346) and Richmond (£1,099,288) joining Mitcham (£398,107) in the top 10.
Joel Edgerton, Director at Regan & Hallworth added…….
"We have undoubtedly seen huge price growth, especially towards the end of last year when the market was absolutely booming.
"I've been an estate agent for 23 years and it was probably the busiest six months I've ever known the market to be. Lots of properties were coming on, and then selling quickly. Every sale had at least two or three bids.
Curtis Chisholm, Director at Cochran Dickie Estate Agency, said about Paisley, which topped the list…..
"The market as a whole has risen simply because of the lack of supply, but the demand for Paisley can be attributed to the fact that you can get more for your money here than in Glasgow's West End or South Side, especially with the ease of commuting coupled with quality homes in very desirable addresses.