it was press night for RIGHT WHERE WE LEFT US, the latest offering from Cardiff based CHIPPY LANE PRODUCTIONS and COMPANY ONE right up there.
Strange as it may seem I want to give a mention to the venue first, and the reason will hopefully become apparent. CHAPTER has been at the heart of creativity in the capital for around 50 years and is an incredible space. To say they are ambitious is a bit of an understatement and that ambition couldn't be demonstrated better than in the latest work from REBECCA JANE HAMMOND.
Of course this three-handed play would work anywhere, a stage is a stage I guess. But in a setting like Chapter it somehow felt more immersive and emotional, and believe me this is highly charged story which immediately pulls you in.
Rebeccas has the ability to touch on all things real and current, and Right Where We Left Us is no exception. I need to be careful with this review because saying too much could spoil the whole experience. What is interesting, having spoken to many of the audience after the performance, is that we all had a slightly different take on the story.
Rebecca not only writes but is an actor and lecturer, which makes her well placed to understand the story from all points of view. This is a wordy piece of work and the actors performing last night were right on point, not once did they miss or skip a beat. It felt what they were saying, often filled with raw emotion, came right from the heart.
For me, it took less than a minute to be invested in our two main characters, played by HANNAH DANIEL and JACOB IFAN. The heartache of their jagged relationship and the blurred lines between a couple who not only worked together but clearly had strong, often unspoken feelings for each other.
At times, it felt like we were eavesdropping on a couples most intimate, innermost feelings, the passion, both physical and mental was intense and sometimes heartbreaking. But as I mentioned, this is a three hander and it's here I need to be careful in what I let slip. I can tell you that JONATHAN HAWKINS delivered a calm, thoughtful performance, ideally suited to his character – however you interpret who he is.
Here's the view of one of the members of the audience – no spoilers here too.
Right Where We Left Us touches on many areas of every day life which affect us all, love, work, success, failure, longing and passion. Inevitably, in a world forever touched by the pandemic, you would expect something so current to delve into that world changing experience, I won't say anymore than that for fear of adding another spoiler.
This is where things get a little complicated because it is in fact two alternating companies who take to the stage, depending on which performance you're booked into. They say this allows different examinations of the script and the characters to come to life before the audience.
We were there when Company 1 performed, who you see, and the interpretation of the story may well be a different experience to ours. All the cast, in both companies are Welsh.
Company One is comprised of HANNAH DANIEL (Keeping Faith, S4C/BBC; Hinterland, S4C/BBC; For All I Care, TW/Edinburgh Festival; Love at First Light, Shock and Awe Productions) and JACOB IFAN (A Discovery of Witches, Sky; Bang, S4C), best known for his lead role as Jake Vickers in the BBC police drama series Cuffs and fresh from filming season two of BBC's The Pact. They are joined by JONATHAN HAWKINS (The Corn is Green, National Theatre; Curtain Up, Theatr Clwyd; The Wheel of Time, Amazon Prime).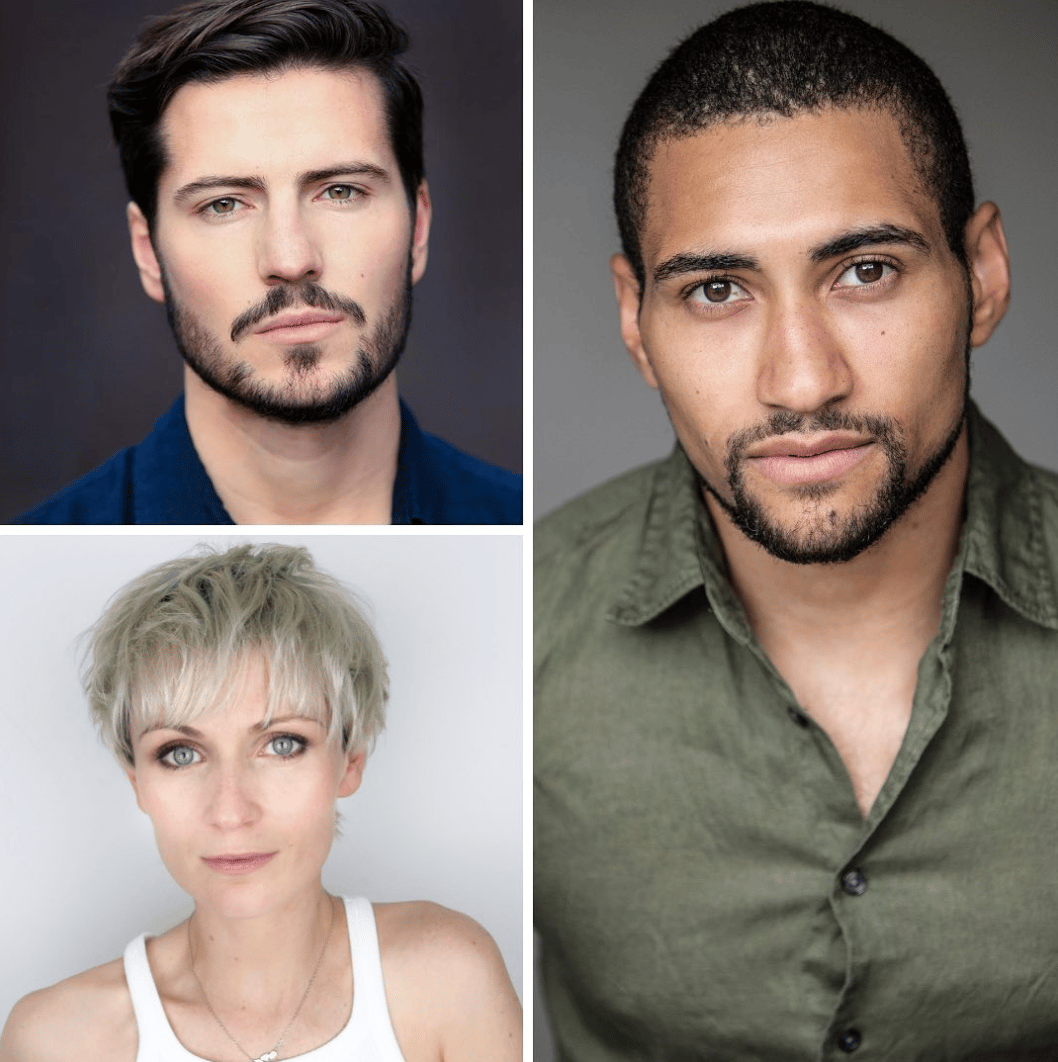 The central characters, I, P and T, are not assigned a gender in the script and the team found that the play resonated differently depending on who the performers were. The power dynamics across age, gender and class all have the power to change the experience of watching the play and add nuance and detail to different elements of the story.
Having watched Company One, I could easily recommend seeing the second company too. A different interpretation of the story would be interesting to have as a comparison.
As for the length of the show, it comes in at around 75 minutes, and for me this was perfect. Being in the depths of our characters troubled relationship for any longer would have wiped me out I think.
Even now, there is a still a thrill when you hear local places mentioned on stage and there was more than a smattering of Barry Island in this production. Even (and I quote) James ******* Corden got a mention, which for me was interesting as the story dealt with a writing partnership dealing with success and turmoil, in equal measures.
My days recently have been filled with a mix of Elvis Festival and Bat Out of Hell and although it is unlike any other production I have watched this week, I felt RIGHT WHERE WE LEFT US was the most relatable, real production I have seen for a long while. Perhaps my life is as troubled and mixed up as our main characters, or, more than likely, it's all our lives which need a bit of scrutiny.
RIGHT WHERE WE LEFT US is at the Seligman Theatre at Cardiff's Chapter through to Wednesday 5th October. There is a BSL performance on Saturday 2nd October at 2:30pm. Tickets start at £10. I would suggest you grab one and go see the production before it ends its short run. Take a few extra pennies to have a drink in the bar afterwards because believe me, it'll leave you with plenty to talk about.
As we mentioned there are two companies of actors performing on different nights, more details below.
Company 1
Hannah Daniel
Jacob Ifan
Jonathan Hawkins
Company 2
Rick Yale
François Pandolfo
Jonathan Hawkins
Thur 29 Sep: Company 2 matinee @ 2:30pm, Company 1 (Press night) @ 7:30pm
Fri 30 Sep: Company 2 (Press night) @ 7:30pm
Sat 1 Oct: Company 2 @ 2:30pm *BSL Interpreted, Company 1 @ 7:30pm
Mon 3 Oct: Company 2 @ 7:30pm
Tues 4 Oct: Company 1 @ 7:30pm*
Wed 5 Oct: Company 1 @ 2:30pm, Company 2 @ 7:30pm
There'll also be a 30-minute post-show talk on the 4th October, 15 minutes after the performance finishes. The talk will be with a panel made up of the cast for that evening – Hannah Daniel, Jacob Ifan, Jonathan Hawkins and director Chelsey Gillard.
For ticket details and more on the production, take a look at our original feature HERE.