As our schools and colleges reopened last month students were facing challenges they could never have imagined. Back to school meant something very different this term.
Education is always a stressful time in any young persons life, but it is clear that anxiety spiralled out of control and engulfed the lives of many young people.The challenges of living, learning and working in the middle of a global pandemic are beyond comprehension.
At COLEG GWENT, as they welcomed thousands of new and returning learners through the doors of their five campuses for the start of another academic year, they had plans in place to help ease the concerns and stress of students.
Following an unusual summer of Coronavirus restrictions and feelings of uncertainty for everyone, they've been working tirelessly to put the safety of their learners and staff first by making the campuses safe for the return to learning, and it seems they are settling into the new term well.
They've created a one-way system, installing hand sanitising dispensers, deep cleaning classrooms, and displaying posters and resources to help make Coleg Gwent COVID secure. Of course they are following all Welsh Government guidance and encouraging everyone to maintain a 2 metre social distance, wash their hands regularly and avoid gathering in large groups. A change of routine is difficult for all of us and takes some getting used to, on campus it appears the majority are complying and helping each other by following the rules.
Coleg Gwent have gone one step further and provided all learners with a free COVID-19 hygiene kit during the first term to prepare and equip them for being on campus. These include two re-usable face masks, hand sanitiser and cleaning wipes to further reduce the risk of spreading Coronavirus. Most of all, it's the reassure learners and staff have that everything is being done to keep learning going while keeping everyone safe.
First year learner Libby from Blaenau Gwent Learning Zone likes the fact that the college has a one-way system for safety and everyone must always wear masks. She commented that there are noticeable precautions in place and it's very well organised.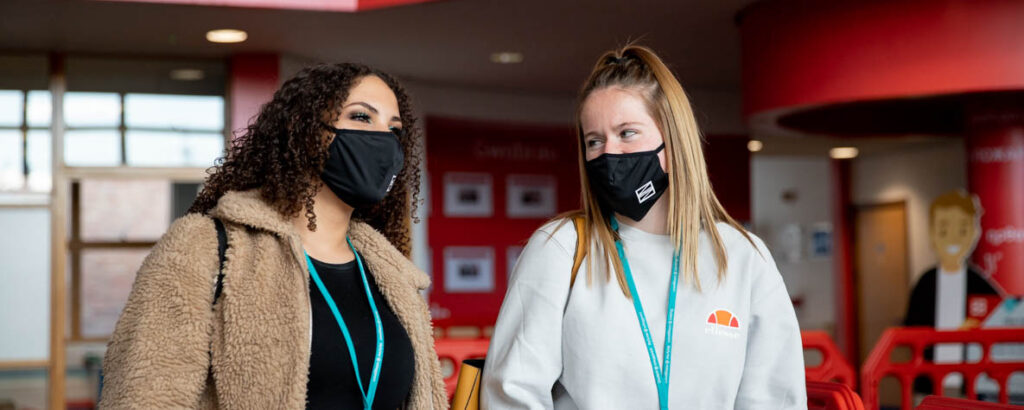 Similarly, Ethan, Level 1 Plumbing learner at the City of Newport campus thinks it's been well managed on campus and it's great that facemasks were supplied for learners.
In total, they distributed over 15,000 face masks to learners, more than 10,000 hand sanitisers and around 7,500 packs of cleaning wipes. Alongside other safety precautions, it's made many feel safer and more confident on campus.
There were significant reports of spikes in depression and anxiety throughout the pandemic, just as students began remote learning.
While their self-reported anxiety and depression lessened slightly over time, a recent study found that their overall anxiety and depression levels remained consistently higher than in previous years.
Study author Jeremy Duckins told us……..
"We observed a large-scale shift in mental health and behaviour compared to the observed baseline established for this group over previous years."
"This was an atypical time for these college students. While spring and summer is usually a period of decreased stress and increased physical activity, 2020 was stressful and confining for the students participating in this study. We suspect that this was the case for a large number of college students across the country."
It's not only a stressful period for students of course, parents and siblings have anxieties too. The work Coleg Gwent has carried out over the summer, to ensure a safer learning environment, will help ensure a less stressful learning experience for all.
You can visit the COLEG GWENT COVID page for more information and the latest COVID-19 updates.