You may have seen it on TV, but there is nothing quite like the adrenaline rush of seeing these real-life GIANTS carry, lift, hulk, drag and throw barely believable weights, mere feet from your seat!
When we say this tour is going to be Bigger, Better, Stronger, we can pretty much guarantee it. The 2022 World's Strongest Man Arena Tour dates are all in place with a stop at the Motorpoint Arena in Cardiff tomorrow, and it's definitely bigger, better – and stronger than ever!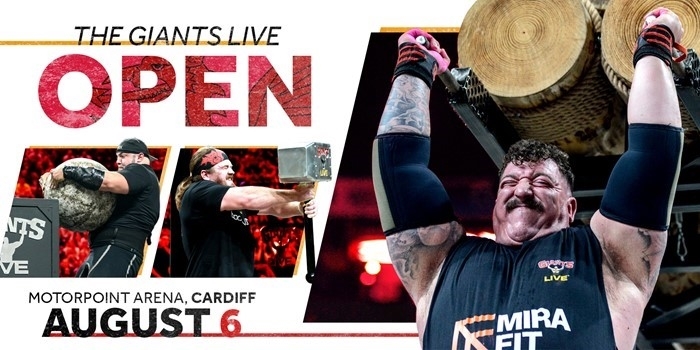 In another twist. the tour will feature a completely different show format – The World's Strongest Nation which will be held in Liverpool. This team event will see the World's Strongest Women join the stage alongside the World's Strongest Men!
The tour kicks off next February with Britain's Strongest Man and will stop at 7 of the UK's biggest arenas. Starting with the Utilita Arena in Sheffield, then visiting Leeds, London, Motorpoint Arena in Cardiff, the Arnold Sports Festival UK in Birmingham, Glasgow, and finishing with the team event finale in Liverpool.
Darren Sadler is the Giants Live Director, he said………….
"After the lockdowns in 2020, everyone was just so happy to come back, so to be able to put on a full 6-show tour in 2021 and see strongman fans really getting behind the athletes again – it was something special. This year we're adding two new arenas that we've never been to before (Cardiff and Liverpool).
As well as that, we're also launching a really exciting new team event called World's Strongest Nation where we'll have the World's Strongest Women getting involved as well. Our goal at Giants Live is always to keep growing the sport and making things bigger and better – and that's exactly what we'll be doing this year."
The world's biggest and best strongman athletes will be joining the tour, including the likes of World's Strongest Brothers Luke Stoltman and Tom Stoltman, 55-year old strongman legend Mark Felix, USA's Evan Singleton, Iron Biby, and a host of international strongman superstars – all competing for their place at the World's Strongest Man finals.
Back in July 2021, almost 18 months since the last live audience arena show, the roar of the crowd finally returned to strength sports.
And what a roar it was!
5,000 strongman fans witnessed strength sports history: an astonishing world record, a fierce battle for the title and some nail biting strongman drama, all showcased inside the iconic 150 year old Royal Alert Hall.
Strongman returned to the big stage with a bang. STRONGMAN RETURNS.
The Giants are coming to the Motorpoint Arena in Cardiff tomorrow for the Giants Live Open! We get to see the heaviest show on earth in Wales for the first time ever!
See the World's Strongest Men perform scarcely believable feats of strength- from lifting massive weights, throwing huge barrels and even carrying cars- in front of your very eyes!
The 2021 Giants Live Open was won by American sensation Evan Singleton who will be giving his absolute everything to defend his title in Cardiff in 2022. He'll face tough competition from World's Strongest Man legends such as 2020 World Champion Oleksii Novikov and 2020 Britain's Strongest Man Adam Bishop- both of whom were hot on Evan's heels in 2021.
Emerging Welsh superstar Gavin Bilton will be hoping to put on a show for his home fans in Cardiff- imagine the absolute scenes in the Motorpoint Arena if Big Gav manages to clinch victory on home soil!
Gavin is quite a man, he's served in Afghanistan, protected the Queen at Buckingham Palace and even played rugby at the Principality Stadium. So when he gets back to home turf, all eyes will be on his performance, which we know will be spectacular, especially with friends, family and fans behind hi,.
Gavin comes from Caerphilly, and although he's been active in his professional and private life, he only began weightlifting seriously three or four years ago, and in that time has had great success. years ago and has already tasted success.
He's six foot six inches tall and a peak weight of 474lb (215kg), he is the heaviest ever World's Strongest Man competitor and well-deserving of his nickname. He has previously lifted twice his body weight, can you even imagine that?
Maintaining the weight can be a challenge in itself, he previously said……
"It does take a lot. I aim to eat 7,000 to 10,000 calories a day – mainly protein like steak, chicken, mince and eggs. In the lead up to a competition, I up my intake and carb load."
So, let's give you the GAVIN 'THE BULL' BILTON stats…….
Gavin has often stated that he believes he will win the World's Strongest Man title one day and emulate his fellow countryman, Gary Taylor, the former Olympic weightlifting silver medallist, who won the title back in 1993, in Orange, France.
CAREER
Gavin is a former professional rugby player who has played at several top clubs, including London Irish, Newport and Swansea. Playing at second row, Gavin was unusually strong for a rugby player, even at a slender (by comparison!) playing weight of 120kg/264lb. After 3 years in the Welsh Premiership, Gavin began to focus on gaining weight and strength and soon entered, and won, his first strongman contest.
The Bull took a couple of years to emerge from the shadow of fellow Welshman Ben Brunning, from Bala, who beat Bilton to the Welsh title in 2018 and 2019. Once domestic competition restarted in 2020, following the covid lockdown, Bilton had begun to compete internationally, finishing 8th at the 2020 Europe's Strongest Man, and qualifying for his first World's Strongest Man final after capturing the UK crown.
During a highly strenuous, closely packed run of contests in 2021, Gavin suffered some heart issues as a result of him using excessive amounts of caffeine to combat fatigue and prepare for contests. During the enforced medical break Gavin completed numerous, thorough medical examinations before being given the all-clear to compete. The break came at a time when The Bull was building momentum, following his second appearance at World's Strongest Man, in 2021, and his Welsh record of 425kg/937lb in the deadlift. Bilton returned to competition at the 2022 Europe's Strongest Man contest in Leeds, where he placed 11th.
BEST TITLE
The Bull has twice captured the Wales's Strongest Man title, as well as the UK's Strongest Man crown. Internationally, his best result came at the 2021 Giants Live World Open and World Deadlift Championships, in Manchester. Gavin placed a creditable 6th place and managed to claim the Welsh record in deadlift with a superb lift of 425kg/937lb. It was a lift that was overshadowed by a bevy of men completing 1,000lb/453.5kg lifts, but was nonetheless an incredible lift and an astonishingly heavy weight.
COMPETITION RESULTS
World's Strongest Man: Qualified 2021 (4th in heat) and 2020 (5th in heat)
Europe's Strongest Man: 11th place 2022, 8th place in 2020 & 2022
Giants Live

 World Tour Finals: 10th place 2021
World Open: 6th place 2021
Strongman Classic: 8th place 2021

Wales's Strongest Man: Winner 2021, runner-up 2018 & 2019
UK's Strongest Man: Winner 2021 & 2020
Best Lifts
COMPETITION LIFTS
Deadlift: 425g/937lb (Welsh record)
Silver Dollar Deadlift: 460kg/1,014lb
Log lift: 170kg/375lb
Axle press: 170kg/375lb
TRAINING LIFTS
Deadlift ladder: 300kg/661lb – 380kg/838lb (weight rising in 20kg/44lb increments)
Log lift: 200kg/441lb
Push press (from front): 190kg/419lb
PRESENT DAY
The Bull's biggest and most immediate goal is to reach the World's Strongest Man final, ideally in 2022, in Sacramento. Now that his forced break from the sport has ended Gavin will be looking to push hard and regain the upward trajectory his strongman career was on throughout 2020 and 2021.
In 2022, Gavin has set himself the target of extending his Welsh deadlift record beyond the magical 1,000lb (453.5kg) barrier, when the Giants Live Open and the World Deadlift Championships make their debut in Wales, in Cardiff's Motorpoint Arena, in August.
Gavin has become a fan favourite and is well known on the strongman scene from his appearances at World's Strongest Man and the Giants Live WSM Arena Tour events, all of which are aired over the festive period on Channel 5, in the UK.
Gavin has recently guested on the Giants Live Strongman podcast, where he discussed his ambitions in strongman and his fascinating background with hosts Radzi Chinyanganya, Colin Bryce and Darren Sadler.
Bilton's social media presence is a growing one and he can be located on Facebook under the name Gavin "The Bull" Bilton. Similarly, on Instagram, he can be found under @gavin_the_bull_bilton, where he has some 36.6k followers.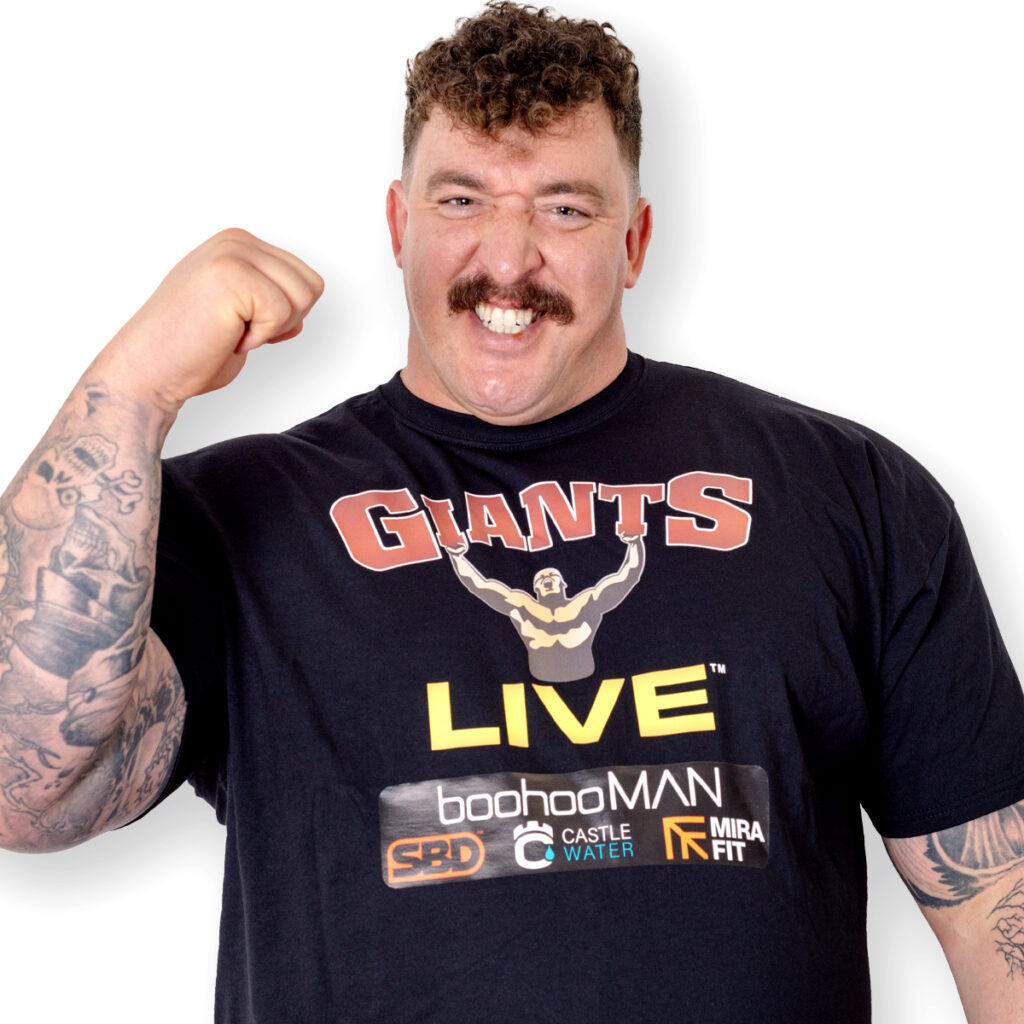 This is expected to be a sell-out event with the World's Strongest Men going head-to-head in 5 tests of strength, speed and raw power to claim the Giants Live Open title and along with it, a golden ticket to the World's Strongest Man competition.
Jaw-dropping, inspirational and larger than life – this is live strength sport and entertainment at its absolute biggest and best! There is only one World's Strongest Man Arena Tour and this is it!
As the official World's Strongest Man qualifying tour, the competitions will be filmed for Channel 5 for its World's Strongest Man series.
Jaw-dropping, inspirational and larger than life – this is live strength sport and entertainment at its absolute biggest and best!
VIP tickets come with the chance to meet your favourite strongmen and women! Those, and general sale tickets are available right now from HERE.
Here are all the dates for the Giants Live World's Strongest Man Arena Tour 2022, with the South Wales visit right in the middle.
The Giants Live Open – Motorpoint Arena, Cardiff – 6th August 2022
Arnold Strongman UK – Arnold Sports Festival UK, NEC, Birmingham – 24th September 2022
World Tour Finals – OVO Hydro, Glasgow – 8th October 2022
World's Strongest Nation – M&S Bank Arena, Liverpool – 26th November 2022