A statue to honour Betty Campbell MBE, Wales' first black headteacher and champion of equality and diversity was finally unveiled in Cardiff city centre following a campaign by the Monumental Welsh Women group.
On a bright and windy day the permanent immortalisation in bronze of the inspirational and pioneering daughter of Butetown was unveiled, and we can tell you, it was quite a celebration.
Mrs Campbell (as she liked to be known) was more than inspirational. She was an educator, a pioneer and definitely a rule-breaker. As a race relations campaigner she met Nelson Mandela and stood side by side with royalty – but as we stood and watched the unveiling today, it was clear to us, that Betty was all about family, and her very proud family was there to see it revealed for the first time.
This is the first ever statue of a named, non-fictionalised woman to be erected in an outdoor public space in Wales. Today was special in many ways, and for us to be a part of that was a great honour.
The choir from Mount Stuary Primary, where Betty was Headmistress, sang a version of 'Something Inside So Strong', the Labi Siffre song which meant so much to Betty and her family. In fact a special video message from Labi was played to the crowd prior to the unveiling.
It has been designed and created by renowned figurative sculptor Eve Shepherd, who is known for her bold, beautiful and powerful work.
The sculpture was commissioned following the Hidden Heroines campaign organised by Monumental Welsh Women, broadcast on BBC Wales. Betty Campbell topped a public vote to decide who would be the first ever statue of a named, non-fictionalised woman in Wales.
The other women on the shortlist were Margaret Haig Thomas (Lady Rhondda), Elaine Morgan, Elizabeth Andrews and Sarah Jane Rees (Cranogwen)
Helen Molyneux, founder of Monumental Welsh Women told us……
'Our Mission is to celebrate female ambition and success by commemorating the achievements of great Welsh Women – and to inspire the next generation of great Welsh women.
We were thrilled when Betty Campbell was chosen by the Welsh public to be the first Welsh woman to be commemorated with a statue in Wales. Betty's impact during her life was incredible, but, as with so many women throughout history, likely to be forgotten or overlooked by future generations unless something was done to bring her to people's attention. The monument created by Eve Shepherd will certainly achieve that. It is a truly iconic, beautiful piece that will attract the world's attention to Cardiff.'
So let's come on to the statue unveiling. As you can imagine there were many speeches all celebrating the life of this incredible woman, but when the unveiling finally took place in Central Squarethere were audible gasps from the huge crowd gathered in . The statue is really something very special.
Monumental Welsh Women have a mission which is inspired by the fact that in Wales, there is not one single public statue commemorating the achievements of real Welsh Women. Welsh girls can't see what they could be. They aim to change this.
FIVE WELSH WOMEN • FIVE STATUES • FIVE YEARS
Born in Butetown in 1934 and raised in the poverty of Tiger Bay, Betty Campbell's mother struggled to make ends meet after her father was killed in the Second World War. A studious child who loved learning, she won a scholarship to Lady Margaret High School for Girls in Cardiff, but Betty Campbell was told by her teacher that a working-class black girl could never achieve the academic heights she aspired to. She proved her doubters wrong in the most inspirational way and this permanent monument in the heart of Cardiff city centre is a testament to her endeavours in the face of adversity.
Speaking back in 2016, Betty talked about her early life…..
"All I wanted to do was wear a nice uniform."
"One thing I really loved was being in the tennis team. I never had my own racket but you'd have one from the school and I used to walk down Bute Street carrying my tennis racket and think I was top of the pops."
And she was always proud to have lived by her Mother's mantra…..
"You're no better than anyone else but then again no beggar's better than you either."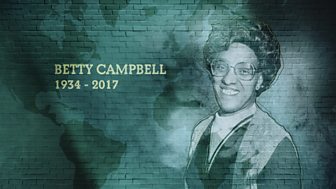 Elaine Clarke is Betty Campbell's daughter, she told us…..
'The family is extremely proud and privileged to have our mother remembered in such a wonderful and iconic way. Through her sculpture, Eve encapsulates Betty's legacy of determination, aspiration and inspiration that reflected her passion for diversity and equality making her a truly positive role model for many in the community and beyond.
The monument is a powerful piece that maps out in sculpture not just a likeness of Betty Campbell, but also the community she lived in and championed as well as the people and things that she drew inspiration from throughout her extraordinary life.
Eve Shepherd is the sculptor of the Betty Campbell Monument, she told us…..
'I have had the total privilege and honour to create a monument which is a celebration of inclusivity and diversity. I hope this sculpture is a fitting tribute to Cardiff and Tiger Bay, the richly diverse community in which Betty grew up in and loved. I aimed to continue through this monument, the education in which Betty felt so passionately about, especially black education. Finally, I hoped to pay homage to Betty, the precious and formidable woman, to allow her legacy and memory to live on.'
Betty Campbell championed her nation's multicultural heritage throughout her professional teaching career and in her community; she provided a sense of belonging and identity for young people and her wider community. Under her leadership, Mount Stuart Primary School in Butetown became a beacon for best practice in equality and multicultural education throughout the UK, a legacy that continues today.
During her time at Mount Stuart Primary School, she became inspired by the US civil rights movement and taught her pupils about slavery and black history. Nelson Mandela sought her out on his only visit to Wales.
A commemorative poem has been composed especially for the unveiling ceremony by Taylor Edmonds, the Future Generations Commissioner for Wales's Poet in Residence.
The support for the project has been incredible, as you can read in the messages below……
"Sir Robert McAlpine is proud to support the statue of such an outstanding champion of multiculturalism. We admire and take inspiration from Betty's passion to achieve her dream of becoming a teacher against a background of prejudice."
Clare Gallagher, Sir Robert McAlpine Project Director
"Betty Campbell's innovative ideas in education and inspired teaching have left an immense legacy to Cardiff's cultural history and the battle for racial equality. "
Laura Mason, CEO Legal & General Retirement Institutional
"We're delighted to have supported the creation of the Betty Campbell statue. This is another important step in the redevelopment of Central Square."
Jon James, Operational Improvement Director, ISG
"It's an honour for Hugh James to be supporting such an inspirational project, which celebrates some great Welsh women. As Wales' first black headteacher, Betty Campbell was a real-life monumental woman and we look forward to seeing her iconic statue displayed for generations to come."
Alun Jones, Senior Partner, Hugh James LLP
Messages of support have also been received from HRH the Prince of Wales, Michael Sheen, Labi Siffre and Charlotte Church amongst others, which will be played at the ceremony.
Betty Campbell influenced Welsh life through a series of public appointments, serving as an independent councillor for Butetown, a board member for BBC Wales, a member of the Home Office's race advisory committee and a member of the Commission for Racial Equality. She helped to create Black History Month and in 2003 was awarded an MBE for her services to education and community life.
The monument has been made possible thanks to the support of Monumental Welsh Women's funders and partners and generous donations by members of the public.
You can see the Betty Campbell Monument in Central Square, Cardiff, and as her daughter said, take time to really look and take in every aspect of this important piece of history.