Moving home is one of the most stressful things we'll do, especially in the current crisis. There are lots of things you might not have accounted for – from finding the fuse box in your new home to letting your broadband supplier know you're moving. No wonder we are forgetting things in the process.
We all had a "Lost Belongings" box at school – the equally sad yet intriguing collection of random items that were always a bit of a question mark. The most intriguing part of all was thinking about how people managed to lose just the one sock or who on earth could make use of sunglasses with just one lens.
Spinning one of the least fun aspects of selling and buying a new home (moving, of course!), leading home buying company WeBuyAnyHome asked the nation about their knack for leaving things behind. Not stopping there, they've also asked the Welsh to reveal the most common and weirdest items they've been greeted with when arriving at their new home.
Those in Swansea revealed as the "Most Forgetful": 24% of the country have revealed that they have forgotten something behind in a move before.
23% of the Welsh admitted to purposefully ditching unwanted items in a house move. That's almost half of the country, either forgetting or ditching their belongings behind.
PLANTS are the most common discarded 'items', with 35% of new residents finding plants left behind.
A wedding dress, a banjo and china dolls are just some of the weirdest items left behind by the Welsh when moving home.
WHO'S THE MOST FORGETFUL OR WASTEFUL OF THEM ALL?
Whilst 24% of the country have revealed that they have forgotten something behind in a move before, when posed the question of how many have left something behind intentionally, another 23% admitted to purposefully ditching their unwanted items on poor unsuspecting new residents. That's almost half of the country, either forgetting or ditching their belongings behind. Millennials have been revealed as the most wasteful, with 43% of those admitting to leaving things behind intentionally, being aged 25-44.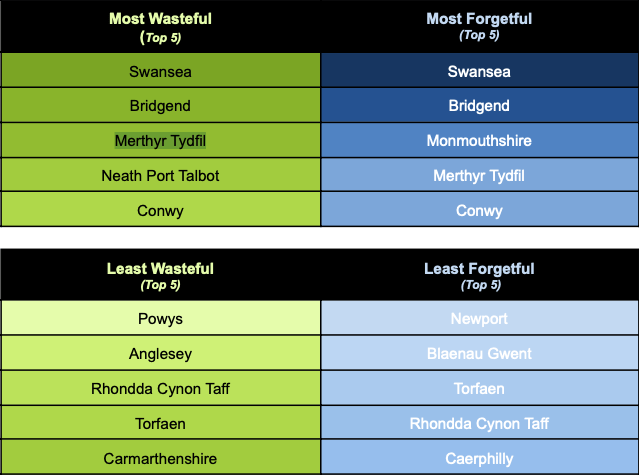 Splitting survey results by county, the study has revealed the most to least forgetful and wasteful in Wales. Swansea wins the title of "Most Forgetful" and the "Most Wasteful", whilst Newport has been revealed as the "Least Forgetful" and those living in Powys are the "Least Wasteful".
THE ITEMS MOST COMMONLY 'LEFT BEHIND'
Polling 2,000 adults on the most common items found left behind when moving in, an overwhelming majority have declared 'Greenery' as the most discardable item in a home move, with over a 1⁄3 of the Welsh discovering abandoned Plants when arriving at their new 'digs'.
Arguably, some of us may need to improve on recycling our unwanted belongings and keeping track of our stuff when moving home, but who can blame you when moving is easily one of the most stressful situations you'll face in life.
On the bright side, whether these 'lost belongings' are being left behind intentionally or not, leaving that random item or two behind can either turn into a really good story to tell or give your unwanted belongings a second life – but please don't leave your underwear behind, no one should be re-using that.
For more details on We Buy Any Home go HERE.
If you are moving home anytime soon here's ten questions you need to ask the previous owner…..
Where's the main stopcock (to shut off the water)?
Where are the gas and electricity meters?
Do any surfaces need special cleaning products, eg wooden floors?
What day are the bins collected?
Do you have any old tins of paint in the same colour as the walls?
Do you have any instruction manuals or warranties on electrical items?
Where did the kitchen and bathroom tiles come from?
Where did any fixed furniture come from, eg, kitchen cabinets?
Which company supplies the energy, broadband and home phone?
Where is the thermostat?