So much has been said and written about Whitney Houston that, occasionally, it's easy to lose sight of what an incredible talent she was. There really was only ever one Whitney, and being fortunate enough to see her live many years ago, when she was at her absolute peak, is something I'll never forget.
WHITNEY: QUEEN OF THE NIGHT is a stunning celebration of the music and life of one of the greatest singers of our time. It is a proper homage to the musical talent, the likes of which we'll never see again.
This Whitney Houston tribute show has been around for a few years now, touring Europe and a residency in London. Queen of the Night recreates her best songs but also Whitney's most famous looks on stage. It's the full works as well, with a live band and three top backing singers and the incredible Elesha Paul Moses who is the total embodiment of Whitney herself.
The singing we'll come to in a moment, but some of the costumes are something else. When you see a tribute to Whitney you also want the clothes she wore in those iconic videos, and of course The Bodyguard.
The riffs of Whitney's most famous songs are incredibly well known, right down to the tiniest ornamentation, but Elesha Paul Moses, our Whitney for the night, strips these away and makes the songs her own. This is bad news for the karaoke fiends in the audience, who struggle to sing along. But, when it comes to the really big ones – like I Will Always Love You – Elesha sings it with the passion of Whitney, and she's amazing.
So what of the QUEEN OF THE NIGHT Elesha Paul Moses?
Well, she has more than paid her dues over the years and it does seem that all roads have led to this. She's been on the doorstep of success in the music business for 20 years, through damn hard work and TV talent shows. In fact she appeared on The X Factor in 2010, alongside One Direction, winner Matt Cardle and in the same category as the big-haired, bongo playing wild card contestant Wagner. She then reached the battle rounds – twice – on The Voice, working with will.i.am in a duo in 2013 and Tom Jones as a solo act a year later.
And now, she's taken her singing career to a new level starring in this critically-acclaimed international stage sensation Whitney: Queen Of The Night. travelling the country throughout 2020. The latest tour follows five sold-out performances at The Savoy Theatre in London's West End and performances across the UK, Europe and Brazil during 2019.
We asked Elesha what drew her to the show in the first place…….
"I've been touring with the show since 2018, initially understudying Whitney and as a backing singer, then moving into the lead role, which continued throughout 2019 – including the amazing West End shows and some gigs in Brazil. I just love that feeling of being on a big stage."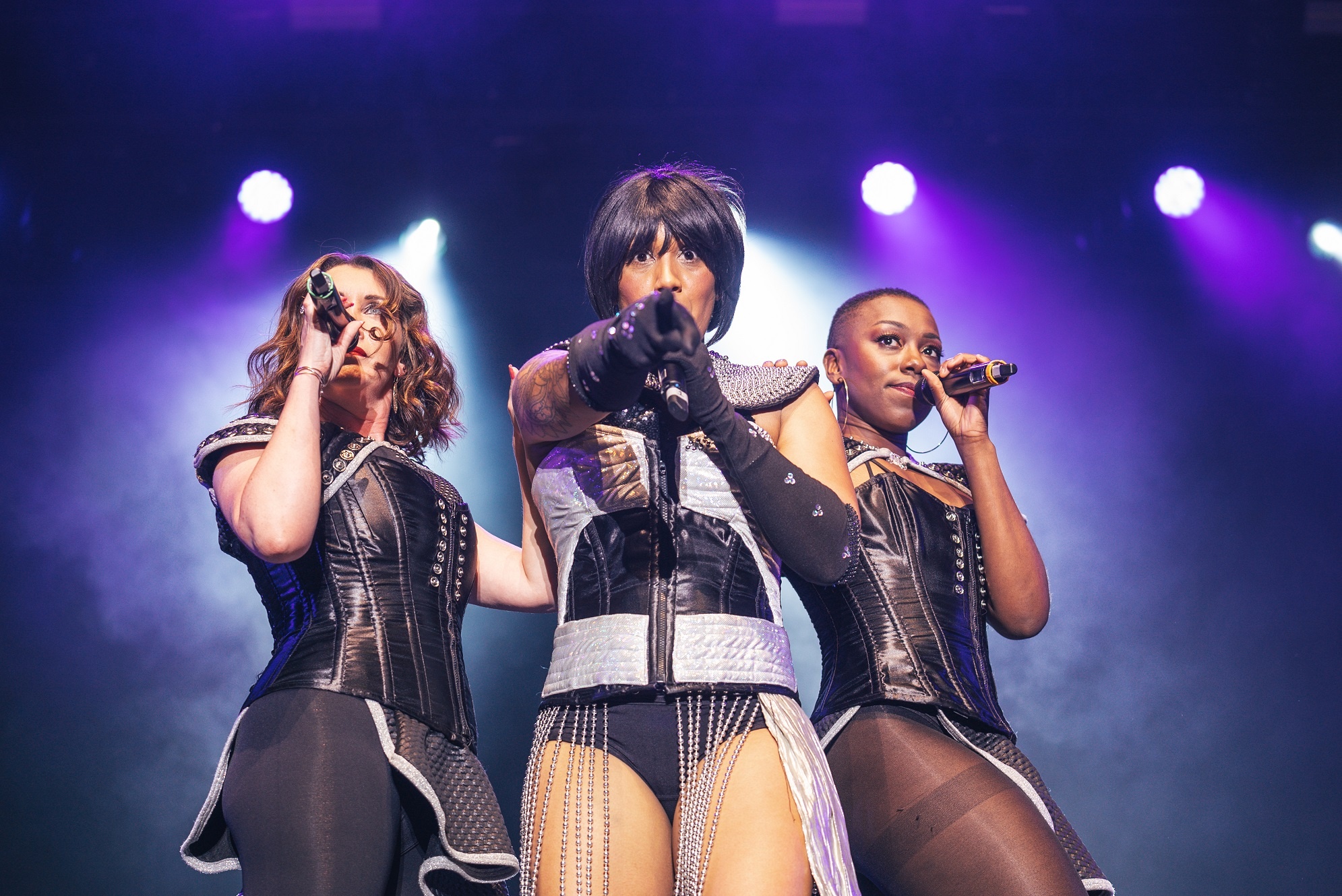 We know why we love Whitney but what about Elesha, why does she think Ms Houston is seeming as popular now as ever……..
"I'd say Whitney audiences are 80 or 90per cent female – it's people getting together for a real girls' night out. Her songs have never gone away. People still know the hits, I Wanna Dance With Somebody or I Will Always Love You. You do those songs and they're all over it, it's not fading away."
"It's such a shame that Whitney's life ended too soon. I sometimes wonder what it'd be like if Whitney had come through her problems, if she was still alive and I was able to see her live."
And we couldn't let Elesha go without asking about her time on the TV Talent Shows……
"When I did X Factor – in 2010, 10 years ago, wow – I was in the year of One Direction and Cher Lloyd, and Wagner, he was in Louis Walsh's Overs category with me, but I went home after judges' houses."
"I was asked to audition for The Voice, and I first went when I was pregnant with Kookie – but I realised the live shows would be on when I was due with her so had to back out. But I auditioned again in 2013 as part of a duo (getting to the battle rounds in Team will.i.am), and again in 2014 (again, getting to the battle rounds with Team Tom)"
The QUEEN OF THE NIGHT isn't a karaoke of Whitney songs, this is a proper gig, with all the songs we know, love and actually want to singalong with ourselves, and they don't disappoint.
There will be times throughout the show when the costumes grab your eyes, the music fills your ears and your favourite song is taking you back to the day. I defy you, for the briefest of moments, not to think the spirit of Whitney is in the room.
We all have a favourite Whitney song. Whether it's the falling in love, falling out of love, fancying someone and dancing with them back in the 80s, The show will take you on a magical rollercoaster ride through three decades of nostalgic hits. They will all be there: I Wanna Dance With Somebody, One Moment In Time, I'm Every Woman, I Will Always Love You, My Love Is Your Love, So Emotional Baby, Run to You, Saving All My Love, How Will I Know, Million Dollar Bill, The Greatest Love Of All, and so many more.
Incidentally, I do love all of those, but my absolute favourite, without any doubt is this one. Incidentally, 69 million have watched this video to date – ITS NOT RIGHT.
This show is all about the songs and the icon. There is also a little chat in between, we hear a few facts about how many records she sold etc, but mostly this is a real celebration of the true QUEEN OF THE NIGHT. We promise you will be swept along with every moment of the show.
The show will be an unmissable evening paying homage to the Queen of Pop with a sensational cast and a stunning live band.
Having already played a couple of sold out South Wales dates, the tour gets back here at Castell Roc at Chepstow Castle on Sunday 28th August. Tickets for that one can be had HERE.
Towards the end of the year it gets to Venue Cymru in Llandudno on Wednesday 2nd November from 7:30pm. Grab your tickets HERE.
Finally, it moves over to St David's Hall in Cardiff on Sunday 13th November from 7pm. Tickets for the Cardiff show can be had HERE.
If you'd like to find out more about the show, just head to their website HERE.