There are so many things to love about the festive season and this year is no exception.
It's become a bit of an annual pilgrimage for JOOLS HOLLAND AND HIS RHYTHM & BLUES ORCHESTRA, and let's be honest, they are the perfect outfit to see on a cold winters night.
He's a good one that Santa as he's not only made our wish come true but he's dropping Jools into Cardiff less than a week before the big day so we can have a right good R&B knees up.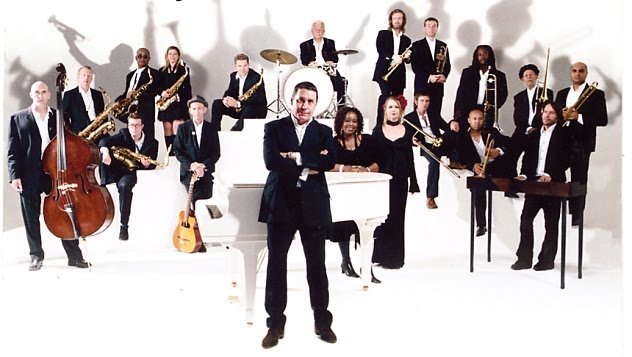 It's a big old tour as well. Yes, they're off to the Concert Hall, the City Hall, the Symphony Hall and two nights at the Royal Albert Hall but at the risk of being selfish, it's the night at the Motorpoint Arena on December the 19th we're interested in. But when we tell you who Jools is dragging along for this show, you'll be snapping up tickets faster than Rudolphs chomps on a carrot.
Hold onto your baubles though, you'll have to read on a little more yet.
Jools never stops; with CD's, the TV stuff and of course the long tours with the orchestra. SOUTH WALES LIFE asked him why he keeps going and appears to enjoy it more and more……
"I like touring, I like playing. The best bit of touring is the fact that you get on stage, and of course that's the shortest part of it. The longest part is travelling to where you're going. But I don't mind the travelling and seeing stuff. But the highlight is being on the stage, and hearing different people in my orchestra, hearing the guests, being able to try and figure out the mystery that is playing the piano each day, and sometimes you feel as though you get a bit better, and sometimes you feel as if…for every five steps forward, you take four back, and you keep going on like that."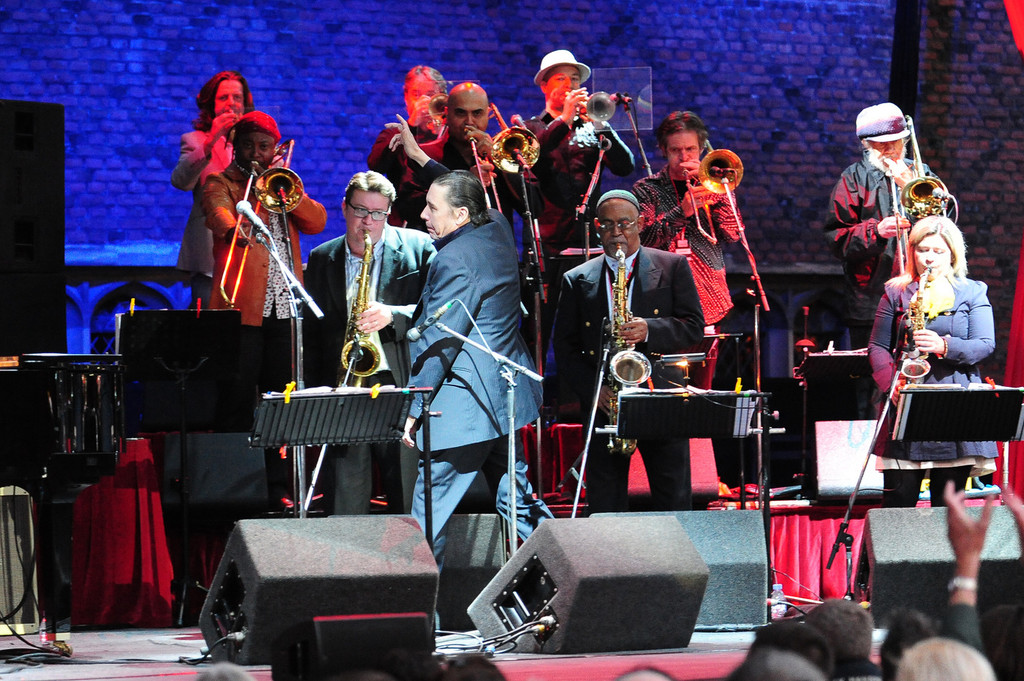 For those of us that come to see you often – and some come slightly more than that. You always seem to add a new element to the show with your 'special guests.' Jools said…
"So what has evolved with the big band and their shows is, of course, the guests. Ruby Turner is the first person, one of our guests, and she's become part of the orchestra because of the strength of what she does and because we've written so much together. So she finishes off the show but is so amazing, she's like a person from another age, in having that gospel and blues and boogie-woogie sensibility that was around in the 1930s, that beginnings of it and the greatest flowering of it, in many ways."
Accompanying Jools with the Rhythm & Blues Orchestra on their annual excursion around the UK (as Jools said) will be the supremely talented Ruby Turner, with her breath-taking gospel, soul and rhythm & blues vocals. Louise Marshall, with her beautiful soul and jazz tones. And, for us old Squeeze fans, original band member and drumming supremo Gilson Lavis – obviously on the drums!
In addition, for the very first time, the tour will be joined by singer-songwriter Leo Sayer – who is playing the Cardiff date. Chris Difford (Squeeze) is playing some of the other tour dates. We also understand Ali Campbell and Astro from UB40 will join Jools and his orchestra on the remaining dates. Obviously with the current situation, these are subject to change.
We tell you all that as we know some of you like to see Jools and his Orchestra in other venues as well as Cardiff, in particular the Royal Albert Hall, the dates there are Friday 19th and Saturday 20th November.
But thank heavens we have Leo Sayer, that's a very big deal we reckon. He is an extraordinary global musical success story with his first seven hit singles all reaching the Top 10. A prolific songwriter, he is responsible for writing songs such as "When I Need You", "You Make Me Feel Like Dancing", "Thunder In My Heart" and many other hits covered by artists all over the world.
The team here at SOUTH WALES LIFE interviewed Leo at the height of his success in, a little bar, right next to Newcastle City Hall. Not only was he a thunder of energy but the people in the pub went crazy for him and we know you will too when you see him with Jools.
Followers of Jools Holland will be familiar with his Squeeze co-founder, sometimes songwriting and touring partner, Chris Difford. As well as his work with Glen Tilbrook in Squeeze, he's written with Elton John, Paul Carrack, Lisa Stansfield, Bryan Ferry, Helen Shapiro, Elvis Costello and, of course, Jools Holland, who describes him as 'the John Lennon of London, the John Betjeman of Blackheath and the Alain Delon of Deptford'.
As for Ali Campbell and Astro from UB40 what haven't they achieved? Of course, they've had and continue to enjoy incredible success with live touring and recorded music over the last five years, including top ten albums Silhouette and Unplugged, and in 2018 they reached number two in the charts with the critically acclaimed A Real Labour, which was really fantastic.
A couple of years ago the guys got together with Virgin to show that the Caribbean is still a vision to behold, despite the damage caused by the hurricanes at the time. The islands are still some of the most beautiful destinations in the world and the impact, while catastrophic to some areas, is now minimal.
But it's Jools and his incredible Orchestra we get on the Cardiff date in December and Leo Sayer joining them.
We spoke to Jools about the joys of touring and how he loves visiting new places – like South Wales, although it's anything but new to him now. He also touched on the band sneaking a look at their phone and iPads.
You can listen to what Jools told us below.
We worked with Jools and his band on a huge charity event aboard a cruise ship from Southampton to the Isle of Wight, they we're so good and we raised almost £2 million over that weekend. We have an admission as well, we were at the very first ever broadcasts of THE TUBE at the City Road studios in Newcastle. We could tell you so much about that night but maybe another time. All we can say is Jools and the Orchestra put on one hell of a show.
Jools is currently recording his next album which will focus on his piano stylings, some duets and collaborations with other top instrumentalists. Watch out for it later in the Autumn.
With a tremendous collection of Jools tunes and his styling of Ska, Boogie Woogie and Blues, this UK tour promises to be an extraordinary and unforgettable night out that will have you weeping and on your feet!
Tickets for JOOLS HOLLAND AND HIS RHYTHM & BLUES ORCHESTRA are priced from £29.50 (+ booking fee), except the Royal Albert Hall concerts with tickets priced from £19.75 (+ booking fee) upwards. They get to the Motorpoint Arena in Cardiff on Sunday 19th December, the penultimate date on the tour. To get your tickets, go here. JOOLS