Here is the SOUTH WALES LIFE guide to everything Christmas. We make no excuses for it being long, we are a huge region and there's so much going on. It's Christmas though (well almost), so grab an early mince pie, a little drink to ease you along and enjoy our comprehensive guide to the festive season.
A little tip. Bookmark this page and come back regularly. You can bet it's going to expand over the next few weeks. It's very simple, either look through the entire page, or click on a particular area and see what's going on. It would also be a great help to us if you let your friends know it's here. Our team have worked hard on this and would like lots of you to see it.
Not every area has events as yet, but they are coming soon.
Why not check out our other seasonal features too……
ABERGAVENNY
CHRISTMAS LIGHTS SWITCH-ON
Abergavenny Town Centre will come alive once with its annual Christmas lights, as yet we haven't had confirmation of what is going and when. The usual form is to have the switch on at 6pm. You can join the lantern procession, see Father Christmas on his sleigh and enjoy the music and street market in the Market Hall.
These aren't usual times however, so things may be a little different.
Whatever happens, Abergavenny looks lovely as darkness falls, if you're close by, make sure you visit.
Last year the big switch on was virtual – take a look below.
ARTISAN FARMERS CHRISTMAS MARKET
Delight your senses with the aromas and tastes of Christmas! Come and join in at the indoor and outdoor Christmas Artisan Market, and discover a fantastic selection of food and drink, including licensed vendors, whilst choosing from a gorgeous array of artisan crafts and gifts.
The ARTISAN CHRISTMAS FARMERS MARKET is on Thursday 23rd December in the Market on Cross Street in Abergavenny between 10am and 4pm, admission is FREE.
BARRY
PUGH'S CHRISTMAS SHOP
Marvel in the magic of Christmas at Pugh's! You can wander down walkways of beautiful baubles and dazzling decorations and soak up the festive ambience. Give your Christmas some extra sparkle and get yourself ready for making magical memories with your family this festive season.
The Christmas Shop is now open, nice and early this year. For more information just go here PUGH'S. They also have another centre in Cardiff offering the same thing.
ENCHANTED ADVENTURES
Throughout December Fonman Castle will bring you the most festive events. You'll find a Santa Show, festive lights, themed walks, rides and a festive market, alongside their existing popular medieval and dinosaur attractions.
Tickets Start at £12.50 and you can get yours HERE.
BRECON
BRECON SANTA SPECIAL
This is like the real life version of the Tom Hanks movie The Polar Express. You get to visit Santa this Christmas and ride the railway to Santa's grotto. Seriously, this is the perfect experience for families with children.
They've been doing these a little while now, 32 years in fact and they are more popular than ever. Which means you need to get in and book ASAP.

All Children and Babies get a present from Santa. Mulled Wine and Mince Pies are served to the Adults. Best of all though, you get to travel by Steam Hauled Train from Pant Station to Santa's Grotto in Pontsticill where everyone will receive a present from Father Christmas.
The SANTA SPECIALS are really popular so if you want to book it's best to call on 01685-722988. The timetable isn't published yet but to keep a check on it, just go here BRECON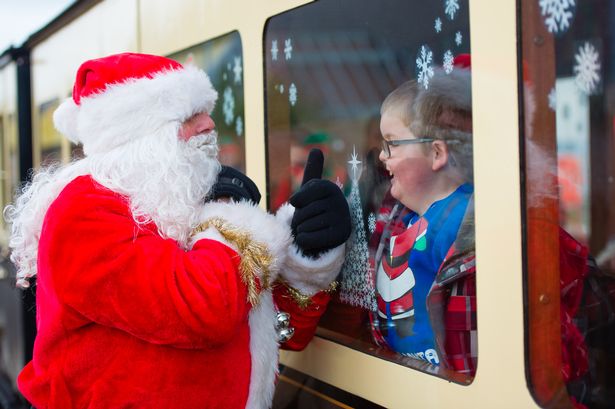 CHRISTMAS SANTA EXPERIENCE
Cantref Adventure Park is located in Brecon, so just under an hours drive from Cardiff. If you've not been before it's a massive adventure farm and park, with loads to do for the whole family.
This year, at their CHRISTMAS SANTA EXPERIENCE you can meet the elves and have fun in the workshop. They'll then take you to meet Santa. Obviously he'll check his official Naughty and Nice list, but we know you've all been very good – haven't you? We're referring to Mummy and Daddy here by the way. If you have been very good, Santa will present you with his magical golden key which opens the Present Room where you can choose your own gift!
There is so much more to do at Cantref Adventure Park which is great as your MAGICAL WINTER WONDERLAND ticket includes Farm Park entry from 10am to 5pm. For more details just go here CANTREF
BRIDGEND
FESTIVE DINING WITH SANTA
Two things we all love will be on offer at the Heronston Hotel. They have a range of dining events throughout December, including Breakfast with Santa, Sunday Lunch with Santa, and Festive Afternoon Tea with Santa.
SUNDAY LUNCH WITH SANTA
The December dates are……
Sunday 5th, 12th & 19th
Enjoy a Festive 3 course Sunday Lunch plus coffee and chocolate mints with a special visit from Santa with a gift for the children!!

£22.50 per adult, Children 2 to 12 years £14.50
AFTERNOON TEA WITH SANTA
The December dates are…….
Saturday 11th
Sunday 5th & 19th
Wednesday 22nd December
It's a 3:30pm Afternoon Tea With Santa!! Children come dressed as their favourite superhero or princess!! With a visit from Santa and a gift for all the children!!

£18.95 per adult – £12.95 per child under 12 years
You can check out all the details on the Heronston Hotel site HERE.
BREAKFAST WITH SANTA
The December dates are……
Saturday 18th
Sunday 12th & 19th
Monday 20th
Tuesday 21st
For a delicious cooked breakfast which includes tea/coffee and juice followed by a visit from Santa with gifts for all the children!!
£13.95 per adult – £9.50 per child under 12 years
CARDIFF
CHRISTMAS AT THE CASTLE
The place to see spectacular Christmas lights is at CARDIFF CASTLE. If you're heading into town for some shopping or to take in WINTER WONDERLAND of the CHRISTMAS MARKET, then you definitely have to wander over, with your camera, for the lights.
SANTA'S VICTORIAN CHRISTMAS
At CARDIFF CASTLE you can enjoy a candlelit evening of festive family fun, all in the beautiful setting of the traditionally decorated Victorian apartments. Be greeted by costumed characters, eager to share ­the Yuletide traditions of yesteryear, and have your photo taken by the tree in the Entrance Hall. Follow the Trail through the Castle to the Drawing Room, where a wonderful visit with Santa Claus awaits. Gifts will be given and warming winter treats served in the Library before you head for home.
Your ticket includes…………….
The Ticket Includes:
A personal, costumed guide to show your household around the apartments and tell you about a Victorian Christmas
Treasure hunt around the rooms
A private meeting with Santa and a soft toy gift
Complimentary mulled wine and biscuits in the outdoor Ladies Walk Café.
Lantern Trail in the Castle grounds.
10% off in Castle Christmas Shop
The good news is 2020 prices have been held for this year.
Private Tour £70 (to include up to 2 Adults and 2 Children)
Additional Child £12 (Maximum 4 additional)
Additional Adult £8 (Maximum 4 additional)
For more information on the VICTORIAN CHRISTMAS, such as dates, times, and prices please visit here VICTORIAN
CARDIFF CHRISTMAS MARKET
The Cardiff Christmas Market will return to the pedestrian streets of Cardiff City Centre in St John Street, Working Street, Hills Street, Trinity Street and the Hayes with yet another exciting and eclectic mix. There are both new and returning exhibitors as their original, hand made products are the essence of what makes our market so different and special every year.
This well established Christmas Market sited in the heart of Cardiff City Centre has been organised and successfully in excess of 20 years. It is a unique visitor attraction and offers an alternative shopping experience as you are buying original work directly from the makers themselves. Each year they have an extensive rolling programme of over 200 individual businesses selling a wide variety of diverse arts and crafts interspersed with seasonal food and drink.
CARDIFF CHRISTMAS MARKET runs from Thursday 11th November until Monday 23rd December. The trading hours will be: Monday to Saturday 10am to 6pm and Sunday 10am to 5pm. If you're in town, especially in the evening, it's always worth a visit. To find out more, go here. MARKET
WINTER WONDERLAND
With an undercover ice rink, seasonal activities, bars and food stalls, all against the backdrop of the iconic civic centre and spectacular lights you really don't want to miss a visit (or two) to the WINTER WONDERLAND.
You can enjoy some Ice Skating. Look out for the penguins these are there to help younger children enjoy the ice with confidence (suitable for children under 1.2m and should not be used as an aid for skating – subject to availability).
It's not just about the skating! Cardiff's WINTER WONDERLAND has a funfair including a wide range of games and rides, including familiar favourite, the Big Wheel. The Sur La Piste bar has two floors and is the perfect place to catch up with friends and family over a mulled wine – or just sit back and relax on the sofas while enjoying a hot chocolate. The authentic wooden chalet is guaranteed to get everyone in the festive mood.
New for this year is Cardiff's coolest spot – the Ice Bar experience! This Instagram heaven is chilled to minus 10 degrees and literally everything is made of ice… More information on how you can pre-book tickets for our Ice Bar will be available soon / Tickets are now on sale to experience the Ice Bar.
It's free to enter the WINTER WONDERLAND, but there is a charge for additional activities. To avoid disappointment it's advised that you book ice skating tickets in advance at WONDERLAND It runs from Tuesday 16th November to Sunday 2nd January 2022.
Monday – Friday 16th November – 17th December: 13.00 til 22.00
Saturday & Sunday and weekdays after 17th November: 11.00 -22.00
Xmas Eve: 11.00 -20.00
Xmas Day & Boxing Day: Closed
New Years Day: 11.00 -20.00
CHRISTMAS AT THE CATHEDRAL
Tŷ Hafan is bringing some festive sparkle to Llandaff Cathedral on Thursday 2nd December, with doors opening at 7:00pm for a 7:30pm start.
Join them and start off your seasonal celebrations with an evening of outstanding performances from Treorchy Male Choir and St Johns College Cathedral Choir and festive readings from Tŷ Hafan guests.
Christmas at Llandaff Cathedral on Cathedral Close in Cardiff is from 7:30pm and 9pm. Tickets are between £7.50 and £15 for this magical evening, and you can get yours HERE.
CHRISTMAS PARTY NIGHTS
Celebrate Christmas at St Peters Hall Cardiff for an evening of festive festivities (yes, they are that festive here that we want to see how many times we can use the word festive!)
The Christmas Party Nights offer a fun filled festive evening for family & friends, colleagues, clients to let their hair down and party the night away with us here at St Peters Hall!
The evening consists of a fabulous 3 course festive feast and great entertainment to party into the evening.
Tables can be booked as an 8, or places can be added to mixed tables if required.
18:00 Doors Open
19:00 Starters Served
21:00 Entertainment
23:45 Bar Closes
00:30 Carriages
Christmas party nights are at St Peters Hall in Cardiff (in the Great Hall) and are held on the 10th, 11th, 17th and 18th December. Just click on the date to book your tickets. Prices are between £40 and £320, depending on your table size.
WINTER ADVENTURES AT DYFFRYN GARDENS
Create moments to remember as you explore the gardens this winter. With the seasonal trails to guide you, there's plenty to see as you wander through the grounds.
They know Christmas is a special time of year at Dyffryn Gardens, and can't wait to welcome you for the winter season. Enjoy their winter trails, stop for a spot of Christmas shopping, or warm up with a bite to eat in the Gallery Café. The gardens will be open every day, except on the 25th and 26th December.

Like many charities, they're facing unprecedented challenges due to the Coronavirus pandemic. Therefore, they are focussing on providing safe and enjoyable visits during an uncertain time over winter, and as such have made the decision not to hold Father Christmas events this season. They hope that you'll join them as we watch the gardens transform with the seasons during this magical time, and very much appreciate your continued support.
PERCY THE PARK KEEPER'S WINTER WANDER TRAIL
Dates: 4th December – 9th January, 10am – 4pm
Price: £2 per trail, in addition to normal admission fees
There's a lot to do over winter in the gardens at Dyffryn, so Percy could do with a helping hand. Have a go at some winter tasks and activities around the gardens with Percy's animal friends. A note from Percy will guide you on your way, and once you've finished, there'll be a prize waiting for you to collect.
WINTER WALKS
Dates: 9th December – 28th February, 10am – 4pm
Price: Free, but normal admission fees apply
Although winter may not seem like peak season for gardens, here at Dyffryn the grounds are far from dormant. This self-guided walk will take you to our seasonal highlights. Find out how the gardeners are working to conserve the historic grounds, see the early blooms begin to flower or discover how we're encouraging biodiversity across site. With the gardens changing as the weeks go by, there'll be something new to see each time you visit.
The Christmas trail runs from 16th November to 25th December. You can Meet Father Christmas there from 6th to 15th December. It costs £8 per child. Tickets will be going on sale from the 1st October. For more details, or to book, just go here. DYFFRYN
If you'd details on any of these lovely events, just go HERE.
ST FAGANS CHRISTMAS AT HOME
Christmas will soon be here – and some mischievous elves are busy getting ready for the big day. There's so much to do and they really need your help!
Join the elves, Mother Christmas, and Father Christmas himself, for an afternoon full of sparkle and festive magic. All from the comfort of your own home!
St Fagans have gone digital this Christmas
Here's what's on their Christmas list:
Father Christmas LOVES gingerbread! Mother Christmas will be in her kitchen to teach you how to make her very special recipe.
Find out more about some cool Welsh Christmas traditions
Join a live video call to meet some real reindeer in a Secret Forest in Lapland
Are you hoping for snow? Visit the Elves at their workshop to make paper snowflakes and snow globes.
Sing along to some of our festive favourite tunes with the Christmas Crew
Settle down for story time with Father Christmas in front of the fire
For ticket and event information head over to our National Museum of History, ST FAGANS
SANTA AT THE STADIUM
This is the perfect gift for any Rugby fan who also love a bit of festive cheer. The Principality Stadium opens its gates for some very special Santa Experiences. It's not confirmed as yet but we know the stadium are working with the Welsh Government to try and get these back in pace
They usually run through December – Christmas Eve at the Stadium, amazing. The cost last time is a follows.
£12 Children (U16s) includes a free gift from Santa!
£8 Adults
£36 Family
For more details and to book one of the tours come back here regularly and we'll try and get more details ASAP, or go here. STADIUM
SANTA & ELF DASH
Poor man will need to work off all that food so this is the perfect way to do it. The SANTA & ELF DASH will see thousands of people dressed as Santa for this fun spectacle at Cardiff Bay. It's basically a 5K race to raise money for Welsh Hearts.
Get along early for the warm-up at 11:30am, with the race heading off at noon from Roald Dahl Pass. It's all perfectly safe, ELF & safety have checked it out.
Cheer and watch, as lots of festive costumes pass you by. Take some pictures too, it looks brilliant. Most of all this is supporting a great cause, so if you see someone with a bucket, make sure you have change (or notes) to drop in.
, Cardiff Bay
December 5th, 2021
10:00 am: Festivities will begin
11:30 am: Warm-up
12:00 pm: Dash begins
The SANTA & ELF DASH is on Sunday 5th December at Roald Dahl Plass, Cardiff Bay. Running is from 12noon to 4pm. For more details just go here DASH
VIVALDI THE FOUR SEASONS – BY CANDLELIGHT
Touring their ever-popular festive programme, London Concertante travel the length and breadth of the country presenting treats from across Europe to get you in the mood for mulled wine, mince pies, and baubles.
The UK based chamber orchestra, London Concertante, regularly perform up to and over one hundred concerts per year, making it the busiest ensemble of its kind in the country. Regularly selling out venues such as St. Martin-in-the-Fields and Southwark Cathedral, the ensemble performs in some of the most prestigious venues around Britain and abroad, with recent tours taking them to USA, Finland, Germany, Holland, Ireland, Spain and France. With their numerous recordings reaching great critical acclaim, the ensemble is continually regarded as one of the finest groups in Europe since their founding in 1991.
Programme Includes……..
Corelli – Christmas Concerto
Handel – Messiah Overture
Bach – Violin Concerto in A minor
Vivaldi – The Four Seasons
If you don't consider yourself 'in the know' about Vivaldi, fear not, this is the orchestra for you. The London Concertante boasts an impressive audience record in which an impressive 50% of spectators are first time classical concert goers! We promise they'll have you laughing at jokes, gasping at virtuosity, moved by gorgeous string playing, and leaving with a smile on their faces.
VIVALDI THE FOUR SEASONS – BY CANDLELIGHT is at Llandaff Cathedral in Cardiff on Friday 19th November from 7:30pm Tickets are from £21.08 and you can get yours here CANDLELIGHT.
SIMPLY SINGERS – CAROLS BY CANDLELIGHT
This will be such a lovely way to get ready for your festive activities.
The Simply Singers have a celebration of song and get into the festive spirit whilst enjoying a carefully selected repertoire of Christmas favourites.
They'll be at Pontyclun Athletics Club on Castan Road in Pontyclun on Tuesday 14th December from 7:30pm. Tickets are priced £5 to £7 and you can get yours HERE.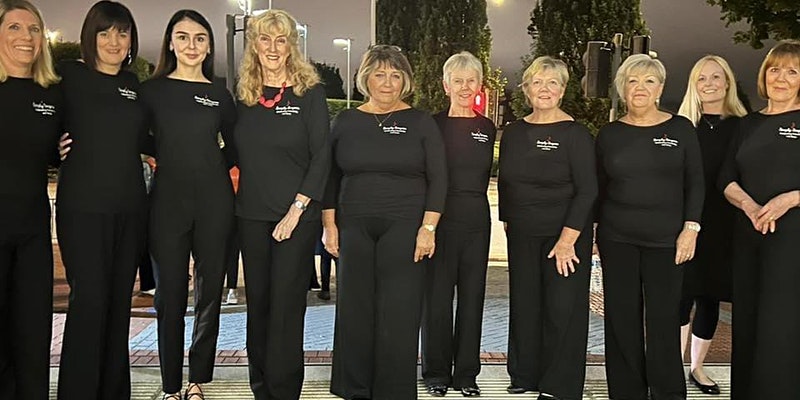 CHEPSTOW
ST DAVID'S CHRISTMAS FAYRE
We have been to this event a few times over the years and can highly recommend it.
St David's Hospice Care are pleased to welcome back the very popular Christmas Fayre that takes place at St Pierre Marriott Hotel & Country Club.
The venue will be bursting at the seams with everything festive so come and immerse yourself in the sounds, smells, and sites of Christmas. There will be many types of stalls including crafts and art, delicious cakes, original gift ideas, jewellery, refreshments, and much much more.
The 2021 Christmas Fayre will be £3 entry (under 10's free). Due to the high numbers of attendees in the past and to ensure we give everyone a chance to come in and browse safely, you have the option to attend 1 of 3 sessions throughout the day. The sessions will be split as follows:
10.00am to 12.00pm
12.00pm to 2.00pm
2.00pm to 4.00pm
This year's event will be on Sunday 28th November between 10.00am and 4.00pm at St Pierre in Chepstow. The last time it was on it completely sold out, so grab your tickets nice and early. Pick your session and book HERE.
CRICKHOWELL
EBBW VALE
GOVILON
VICTORIAN CAROL WALK
The Victorian themed walk goes round Govilon village. Starting at the bottom of Elms Road at 6pm and ending at Christchurch for light refreshments.
ALL ages welcome for this family-friendly even, and Victorian costume optional! This really is the perfect way to get in the Christmas mood! Once the date is confirmed we'll let you know.
LLANTRISANT
LLANTWIT MAJOR
MERTHYR TYDFIL
NEATH
LUMINATE WALES
Margam Country Park Winter Light Trail.
Following a sell-out debut year in 2019, Luminate Wales returns to Margam Country Park and Castle this winter. A spectacular, illuminated trail, full of wonder and intrigue, to delight and enthral your senses.

As darkness descends, join us on our enchanting journey, as we weave a captivating light trail through the stunning, historic gardens of Margam Country Park and Castle. Immerse yourself in our mesmerising mile long walk, encapsulating some of your highlights from 2019 along with stunning new elements, added to re-amaze you for 2021.
A Timeless experience to be enjoyed by all, young and old alike.
The trail is open nightly from Thursday 18th November until Friday 24th December at Margam Country Park in Neat, Port Talbot.. Tickets must be pre-booked, online in advance.
For more details, and to book tickets, go HERE.
VICTORIAN CHRISTMAS
We all have our own Christmas Traditions, well how about celebrating a TRADITIONAL VICTORIAN CHRISTMAS. You'll need to wrap up warm for your visit to Aberdulais (and take a torch) to take a candlelit walk to the waterfall – it's truly an amazing sight at night all lit up.
Children can write their letter to Father Christmas before posting it at their woodland grotto. Inside you'll be greeted by Mr and Mrs Claus where you can listen to some festive stories. Take home a Victorian Christmas treat, and make a traditional Victorian decoration to hang up at home.
Then why not cozy-on up in the tea-room with a hot drink and mince pie. Sounds absolutely perfect to us.
The VICTORIAN CHRISTMAS should be running this year, but we are waiting for confirmation. When we know, we'll let you know. For more details, go here. ABERDULAIS
NEWPORT
CHRISTMAS CINEMA NIGHT
If you're looking for a festive evening out, then a trip to the cinema is always a goodie. As for the movie – well, it just has to be THE HOLIDAY. This screening will not only be a great evening out but you'll also be supporting St David's Hospice Care in Newport.
Hosted by St David's Hospice Care at Cineworld, Newport Retail Park (Spytty) on Wednesday 8th December, there will be refreshments on arrival as well as a fantastic festive raffle during the evening.
£15 per person includes ticket price as well as refreshments on arrival
The age rating for the film is 12A
All Under 16's must be accompanied by an adult
This would be a perfect Christmas get together for friends and family with tickets available for only £15 per person. Seats are limited so book early to avoid disappointment. THE HOLIDAY screening is at Cineworld on Spytty Park in Newport on Wednesday 8th December. To get your tickets, go here. HOLIDAY
CHRISTMAS AT TREDEGAR HOUSE
They have so much going on at Tredegar House over the festive period, there is simply too much to mention. So, we'll go through the highlights and point you in the direction for more details.
COTYLEDON'S CHRISTMAS FOOD AND CRAFT MARKET
Cotyledon will be returning with their food and craft market, just in time for some Christmas shopping!
With a variety of stalls selling local produce, the market is the perfect place to collect some unique Christmas gifts.
The Christmas Market is on Saturday 11th and For more details, go HERE.
TWELVE DAY OF CHRISTMAS TRAIL
Explore the festive gardens with our Twelve Days of Christmas trail. While you're wandering through the trees and wintery borders, look out for our trail markers and join in with the activities to get you in the holiday mood.
The trail runs from the 26th November, for details, go HERE.
SELF-LED CHRISTMAS CRAFT
Stop by the orangery for some festive Christmas craft! They'll provide everything you need to make your own creations, all you need to do is have fun and let your imagination run wild. This is a self-led activity and adult supervision is advised.
The crafts are free and begin on Saturday 27th November between 11am and 3pm. For more details go HERE.
YULETIDE EVENING TOURS
For those wishing to escape the hustle and bustle of the weekend, why not join us after hours for a guided tour?
Expert historians will take you on a journey to Christmases past with the Morgan family, to find out more about festive traditions in years gone by while you explore the mansion house.
To find out more, and availability on these popular tours, go HERE.
PERCY THE PARK KEEPER'S WINTER WANDER TRAIL
This winter, treat your little ones to a world of adventures at Tredegar House on Percy the Park Keeper's winter wander trail.
Join in the fun with Percy and his animal friends and give nature a helping hand. The trail will take place between 4th – 22nd December, so come along and explore the beautiful gardens of Tredegar House.
For more details, go HERE.
Christmas at TREDEGAR HOUSE is always special, and a lovely place to visit anytime. To see everything they have on offer, go here – TREDEGAR.
CHRISTMAS AT THE CELTIC MANOR RESORT
Even if you only go for a walk through and a drink at the CELTIC MANOR RESORT you will feel incredibly festive when you leave, they always do Christmas very well and this year is no exception. To get you in the mood, take a look at the video below.
Obviously things are not back to pre-pandemic so not ice skating this year. They do however have so much for the whole family.
It's difficult to go through everything, but here's a few highlights……..
SANTA'S TEA PARTY 4TH – 24TH DECEMBER
This is a magical festive experience where grown-ups and children alike will be fully immersed into a Christmassy wonderland as they step into the stunning Caernarfon Suite to enjoy afternoon tea with Santa, with an exciting virtual twist!
As well as their own delicious afternoon tea, children will enjoy a very special chance to see, hear and interact with the man himself when he dials in from ho-ho-home for a fun group video call from the North Pole! Find out if you are on the nice or naughty list (we're sure you have been good!), ask Santa your burning questions and hear more about his special preparations for the big day.
Our friendly elves will be on hand throughout the afternoon and will deliver a small Christmas gift for each child to your table
Minimum 4 guests and maximum 12 guests per table.
PRICES
27th November & 10th December
£35 adults, £25 children
4th & 11th December
£37 adults, £27 children
19th, 20th & 21st December
£40 adults, £30 children
17th, 18th, 22nd, 23rd, & 24th December
£42 adults, £32 children
ITINERARY
Session One
12.00pm Arrival drinks
12.30pm Afternoon Tea is served
2pm Virtual Santa experience
3pm Event concludes
Session Two
3.30pm Arrival drinks
4pm Afternoon Tea is served
5.30pm Virtual Santa experience
6pm Event concludes
CHRISTMAS PARTIES
Following a year where fun times and joyful occasions were harder to find, take advantage to party like never before and make up for those missed moments!
Take your pick from an array of exciting themed party nights, from Gangsters & Molls and Prosecc Ho-Ho-Ho Party to our glittering White Christmas Party and Masquerade Ball.
The calendar for the parties is absolutely enormous, but we've checked, and a lot of them are already completely sold out. To see the full list, go here – PARTIES.
FESTIVE STAYS
Choose your perfect setting for an unforgettable Christmas filled with magical moments. They have everything on offer, to suit most pockets, at a variety of locations.
Of course a family Christmas is right up there, but the resort also provide adult only signature stays if you want time alone, or maybe away from the kids.
For more details of what's on offer, go HERE.

FESTIVE FOOD
The resort is famous for it's superb dining, but we're really pleased they are also sticking with the 'at home' dining they started during lockdown.
GOURMET TO GO CHRISTMAS LUNCH – 25TH DECEMBER.
Put down the veg peeler, pop the bubbly on ice and let the award-winning chefs prepare your gourmet Christmas lunch with all the trimmings!
Simply order your chosen hand-prepared gourmet dishes online, then collect on Christmas Eve and take home to wow your family and friends on the big day.
Enjoy succulent traditional turkey or prime rib of beef, all fully prepared by the chefs, together with a gourmet selection of fully prepared and pre-cooked accompaniments to simply heat up and serve alongside.
HOW TO ORDER
Simply place your order and pay online by 12pm on 20th December.
COLLECTION
Collect between 10am and 2pm on 24th December. On arrival at the Celtic Manor Resort, please follow the 'Gourmet to Go Collection' signs to International Convention Centre Wales (ICCW) where your order will be waiting for you.
To see all the menus on offer, go HERE.
One thing they are doing this year, and we really love this idea, is to have a CRACKERLESS CHRISTMAS.
The festive season always goes off with a bang at Celtic Manor but this year there will be one bang missing… Christmas crackers! To reduce the impact on the environment, they have decided to host a 'Crackerless' Christmas for the first time. As well as helping us reduce waste, we will also make a donation to Hospitality Action – a much more valuable gift.
For full details on all of these, go here. FABULOUS FAMILY FUN
At their new venue, ICC WALES, they also have the Imperial Ice Stars production of THE NUTCRACKER ON ICE. To read our feature on the show, go here. NUTCRACKER
CLASSIC CHRISTMAS PARTY & MORE – LYSAGHT INSTITUTE
The LYSAGHT INSTITUTE is one of the most iconic venues in Newport and provides a stunning backdrop for any event. The rooms are very special decorated in a 1920s Art Deco style, with original balconies and beautifully landscaped gardens.
Join us this festive season with family and friends at a classic Christmas party in our luxurious ballroom.
Enjoy a festive cocktail on arrival
Enter the beautiful iconic ballroom to enjoy
2 course seasonal dinner served to your table.
Free range Chicken wrapped in locally sourced bacon served with winter vegetables in a peppercorn gravy
Chocolate brownie served with brandy ice cream and praline crumble.
All served with half a bottle of wine per person
A Prosecco per person to toast the festive season.
Dance the night away to the amazing sounds of ACAB with the DJ playing songs of the decades until 12am.
The CLASSIC CHRISTMAS PARTIES are held on Saturday 4th and Saturday 11th December at the Lysaght Institute on Orb Drive in Newport. Tickets are £40 each and to get yours, just click on the relevant date.
MAGICAL CHRISTMAS EXPERIENCE
They have so much going on at Lysaght, one of the most popular is the Magical Christmas Experience.
Join them for a traditional family Christmas with a visit to the very special man. THIS IS Perfect for kids from 1 to 92!
Father Christmas doesn't want anybody to be ill or on the naughty list this year, so the visits will be from afar with the help of his trusted elves. Each child will receive a gift and a personalised letter from the North Pole.
£10 per child. Only children are chargeable. All children must be accompanied by an adult.
Photographs are permitted and can be taken by one of the Elves. This event takes place on two dates, Sunday 12th and Sunday 19th December. Follow the link for the date you want to book your tickets. Please ensure you select the correct date as tickets are non-transferrable.
The other events include……
Or to see everything going on over Christmas just head to their festive site here LYSAGHT.
PEMBREY
TRADITIONAL CHRISTMAS FAYRE
Pembrey Country Park & Beach is always a hive of activities throughout the year and this festive season is no different. The TRADITIONAL CHRISTMAS FAYRE has everything you'd expect and so much more. There'll be lots of Christmas gift ideas along with a variety of refreshments. Santa will be in the park both days along with his reindeer and local choirs will entertain you with Christmas Carols.
The TRADITIONAL CHRISTMAS FAYRE is at Pembrey Country Park on Saturday 4th and Sunday 5th December between 10am and 4pm each day. For more details go here PEMBREY
PONTYPOOL
SANTA RUN
Hitch up your sleigh for TORFAEN'S SANTA RUN and bring a flash of red to Pontypool Park with hundreds of runners dressed as Santa Claus. Back for it's 5th year, this brilliant event is not only great fun but is raising awareness and funds for Age Connects Torfaen. They are an organisation who reduce isolation and loneliness amongst older people.
Taking place on Sunday 1st December, you will join hundreds of others, in their best festive fancy dress to run, jog or walk 5k or 2k (depending on how many mince pies you've had) around Pontypool Park. The route consists of 1 or 2 laps of the already measured Pontypool Parkrun route.
Festive entertainment will be provided around the route, which is suitable for dogs and buggies. All participants will receive a medal and goody bag.
The SANTA RUN is on Saturday 5th December from 12 noon at Pontypool Park. To get more details and to sign up, go here RUN
PONTYPRIDD
RAGLAN
LATE NIGHT SHOPPING
One of the nice things about the festive season is that we get to enjoy a bit of LATE NIGHT SHOPPING. Well, at Raglan Castle, they offer just that and assure us it will be stress free Christmas shopping. Drop in to the visitor centre for a mince pie and an opportunity to select high quality and unusual gifts for those special people on your list.
They have Christmas gift ideas and stocking fillers for the whole family: toys, books, tapestries, Welsh wool blankets, Pembrey pottery, Penderyn whiskey (evening includes Penderyn tastings!).
There will be a 10% discount on purchases, and for Cadw members a 20% discount (discounts exclude Penderyn). You can actually become a member on the night. For more details on LATE NIGHT SHOPPING at Raglan Castle, which is on Wednesday 24th November between 5 and 8pm go here. RAGLAN
YULE MOOT
Same venue. Put on your Christmas jumper and get into the festive spirit. With seasonal refreshments and a visit from the man himself!
Wrap up warmly and, whatever the weather, festive fun, carols and Santa await.
Christmas starts here! For more details go the YULE MOOT on Saturday 20th and Sunday 21st November, go HERE.
RHONDDA
SWANSEA
A CHRISTMAS BLINDER
By order of the management, this is a night out with a 'Blinder' feel. Plenty of food and drink
£45.00 per person
Gin-tastic Cocktail on arrival
3 Course Christmas Meal
Rodeo Horse
Cheeky Peeky Photo Opportunities
Resident DJ
Live Band
Themed Room
A CHRISTMAS BLINDER is on Friday 17th and Saturday 18th December at the Swansea.com Stadium. Tickets are £45 each, with a minimum number of 6. For more details, go HERE.
CHRISTMAS FAIR
They are hosting a Christmas Fair in the liberty church (old Siloh church) they'll have lots of local produce and gifts ready for Christmas. Also refreshments, and entertainment to get you into the Christmas spirit .
Entry is free to this one on Saturday 27th November between 10am and 3pm. Just head along to the old Silos Church in Swansea.
WRITE A LETTER TO SANTA & CHRISTMAS CARD MAKING
The kids will love this one. Go along with the family to write a letter to Santa and post it off in their Special Delivery Mail Box.
Also join in the fun in the craft corner with making Christmas cards.
It's happening on Wednesday 8th December from 4pm at Hen Dderwen on Sketty Park Drive in Swansea. More details HERE.
THE REFLEX – CHRISTMAS 80's THEMED PARTY
We all love a bit of the 80's so why not make a Christmas even ing of it at this themed party.
It's all happening at the The Towers Hotel & Spa on Ashleigh Terrace, Jersey Marine in Swansea on Saturday 11th December.
Here's the full line up of Christmas party nights…..
Package price £110.00 per person (based on 2 people sharing a room)
Saturday 27th November – Soul & Motown Tribute
Friday 3rd December – Freddie Mercury Tribute
Saturday 4th December – Tribute to the 80's with The Reflex SOLD OUT
Friday 10th December – Tina Turner Tribute
Saturday 11th December – Tribute to the 80's with the Reflex
Friday 17th December – Party Night with The Di Salvo Sisters
Saturday 18th December – Tom Jones Tribute
They also have some tribute nights lined up which are £30.00pp for Show & Meal or £70.00pp for Show & Stay package.
Thursday 9th December – Party Night with The Hat & The Fiddle
Sunday 12th December – Ed Sheeran Tribute
Thursday 16th December – Ed Sheeran Tribute
For more details, go HERE.
WINTER WELL BEING DAY FOR WOMEN
Women of South Wales, join Cassie and Kirsten on this cosy winter day for a sumptuous afternoon, of nourishing plant based food, juices, transformative yoga, mini Rapid Transformational Therapy Session, a gong bath, essential oils, more mini workshops and a gorgeous goody bag to go home with.
You will leave feeling renewed, full of self love and ready to snuggle down ready for Christmas.
The WINTER WELL BEING DAY is on Saturday 11th December between 1 and 8pm at The Swansea Wellbeing Centre on Burman Street. The cost is between £60 and £75. For more details, go HERE.
CHRISTMAS CARDS AND MOVIE MAGIC
Rhos Community Centre are having Christmas Cards and Movie Magic! as part of the Fun Fridays.
They are offering a Christmas Card Making Craft activity and in the afternoon, Christmas movie magic with a movie on the giant screen! There will be popcorn, hot chocolate and marshmallows.
Free for Monthly Members
£7 for Pay as You Attend Families
CHRISTMAS CARDS AND MOVIE MAGIC is at the Rhos Community Centre in Swansea on Friday December 10th at 11:00am to 3:30pm. Get more details HERE.
SANTA'S GROTTO AT DAN-Yr-OGOF
In the meantime, you can head to their site HERE. For more information and to book, go here. SHOWCAVES
SANTA LUNCH AT OXWICH BAY HOTEL
This is such a lovely hotel and a perfect setting to spend time with Father Christmas. The OXWICH BAY HOTEL, right on the coast, will be hosting afternoon and evening sessions where you can Visit Santa in his grotto, have your photo taken and receive a gift.
The dates aren't confirmed as yet, but we're told they are coming. They do book up very quickly. Watch this space for more. OXWICH
TALBOT GREEN
TREORCHY
USK
CHRISTMAS FESTIVAL
The USK CHRISTMAS FESTIVAL (also known as Usk Winter Festival) should return again this year, thank goodness, for the annual celebrations. There'll be the usual mix of craft stalls, food & drink, & entertainment in Twyn Square, followed by Father Christmas' Reindeer Parade through the town.
We'll bring you more details once we have them confirmed.
20 THINGS TO DO ON CHRISTMAS EVE
Spend Time With Loved Ones
Sing Christmas Carols
Go For a Walk To Look at Christmas Lights
Close The Curtains and Turn On The Christmas Lights
Take Pictures and Post Them
Open ONE Pressie
Make a Special Meal
Dress Up Like It's a Special Evening (which it is)
Get Snuggled Up On The Sofa
Watch A Festive Movie
Follow Santa – There are Apps Which Let You Track His Progress
TV Off, Christmas Music On
Leave a Mince Pie For Santa & Carrot For Rudolph
Drop In On The Neighbours
Bake. Whatever You Make, It's A Great Time to Get in the Kitchen With the Kids
Go To Church – If That's What You Do, Plan It Into Your Evening
Make A Hot Chocolate With All The Extras. It's Christmas After All.
Build A Snowman (If We Have Any Snow That Is)
Prepare What You Can For Christmas Dinner
Go To Bed Early
ALTERNATIVE CHRISTMAS DAY
Go For a Dip In The Sea
On Christmas Day, all across South Wales and indeed up and down the country, people are putting on their Santa hats, maybe fancy dress, or unbelievably, a swimming costume. They then race into the freezing sea for fun and charity. Like the lovely folk in Tenby.
Get Out On Your Bike
If you get a bike off Santa, or maybe you have one collecting dust in the shed, Christmas Day (weather permitting) is the perfect time to take your two-wheeler out on the streets.
Go To A Christmas Service or Concert
If you've had enough of the TV and kitchen, then one of the many services and Christmas concerts are a really good thing to do. It's sociable and incredibly festive. And really no one minds if you can't sing, just join in.
Help Others
There are so many charities in need volunteers all year round, but especially at Christmas. If you have a few hours free and want to do something different and very good, why not offer to lend a hand. It could even be dropping in to a neighbour who is alone on the day.
Tour South Wales
I know what you're thinking, how ridiculous. Actually, there is no better day to tour this amazing region of ours. Very few cars, relatively empty streets, what's not to enjoy? Our parks, beaches and countryside are all yours (almost).
Borrow a Dog
If you don't have your own, trust us, a friend will gladly lend you theirs. While they veg-out, you can lead-up their pet and get out for a long walk in the fresh air. The dog will love you for it and you'll probably love yourself enough to have another mince pie.
Pamper Yourself
This is precisely what it says on the tin. If you don't want to leave the house why not flip things on their head and instead of pigging out in front of the TV, pamper yourself. Nice bath, music, candles, the whole works. All day Christmas PJ's are so last year.
A LETTER FROM YOU KNOW WHO
We don't know if this will help but it's here for you to do as you please. We're sure you know what we mean………
MAKE A SNOW GLOBE
The shimmering magic of snowfall is always transfixing, whether it's outside your window or inside this classic toy. Homemade globes let you create a wintry scene straight out of your own imagination. Thanks to Martha Stewart, here's a simple way that you and the kids can make your own globes. They are really easy too.
FAVOURITE CHRISTMAS SONGS
CHRISTMAS TOP TEN
Christmas wouldn't be the same without a good old festive tune. Noddy Holder has made a pension out of it for goodness sake. We walk into a shop and the same old favourites will be ringing out, but no matter what you think, I can guarantee you'll be singing along to every one of them/
Here at SOUTH WALES LIFE we've been around the music game for a lot of years, and I mean a lot. While we would never disagree with any favourite festive song list, we think ours are real classics…….
And to finish off, here are 20 Christmas Favourites to enjoy. Just press play and away you go……..
CHRISTMAS RECIPES
COMING SOON………