Having played a sell out gig in Cardiff recently pop chart-topper GEORGE EZRA is heading back to South Wales for an exclusive weekend of live music this summer at Chepstow Racecourse.
The BRIT Award-winning and multi-platinum selling artist – whose latest album Gold Rush Kid topped the charts on its release in June – will play the venue on Sunday, July 2nd, as the final night in a weekend of special gigs.
If you've not seen George live before, you really have to. He is something really special on stage, with a fantastic band to keep you partying all night long.
An acclaimed live performer, George was the first headline act announced for a weekend of live music at the prestigious Welsh course – with LIONEL RICHIE added soon after.
George's summertime show at Chepstow follows his sell-out UK tour in 2022, off the back of his third Number One album release Gold Rush Kid, which features the hit singles Anyone For You and singalong anthem Green Green Grass.
After two blockbuster albums – Wanted On Voyage (2014) and Staying At Tamara's (2018), both of which reached Number 1 in the UK and sold millions around the world –Gold Rush Kid marked a return to heart and hearth, as George wrote and produced the album entirely in London with longstanding collaborator Joel Pott.
George first appeared on our radar after releasing two of his extended play records 'Did You Hear the Rain?' and 'Cassy O' followed by the hit single, 'Budapest' which went on to top music charts in numerous countries. When his debut album 'Wanted on Voyage' came out in 2014, it became an instant hit in the UK. It then stood at the numero uno spot not only in the UK but also in seven different countries.
Known for his deep, bluesy and soulful music, George is clearly following the path paved by musicians Bob Dylan and Woody Guthrie. In fact, he was so fixated with Dylan that he even looked up for earlier American folk and blues artists.
His second album, 'Staying at Tamara's', which released in early 2018, tabled at the No. 1 spot in the UK. It also featured in the top ten list of eight other countries. George's single 'Paradise' from the album wasted no time in claiming second spot in the UK music charts while his following single 'Shotgun' made its way to No 1 in the UK, Ireland, and Australia.
We said this series of concerts in Chepstow is world-class and that's exactly what George is. His growing popularity led him to make appearances on American variety shows 'Saturday Night Live' and 'The Late Show with Stephen Colbert'.
Here's our Five Fast-Facts you may not know about George…….
George made his stage debut at the age of 13 by singing the female wordings of the song 'Teenage Dirtbag'.
While studying at BIMM music college, George Ezra ran into a wall which resulted in the inch-long scar on his forehead, just above his right eyebrow.
His inspiration behind his debut record 'Wanted On Voyage' is Paddington Bear who he considers his hero.
His younger brother, Ethan, is also a musician and performs under the stage name 'Ten Tonnes'.
George once said that the word 'Petan' coined by him, for his fans, does not have any specific meaning and can be used for anything good or bad or just randomly.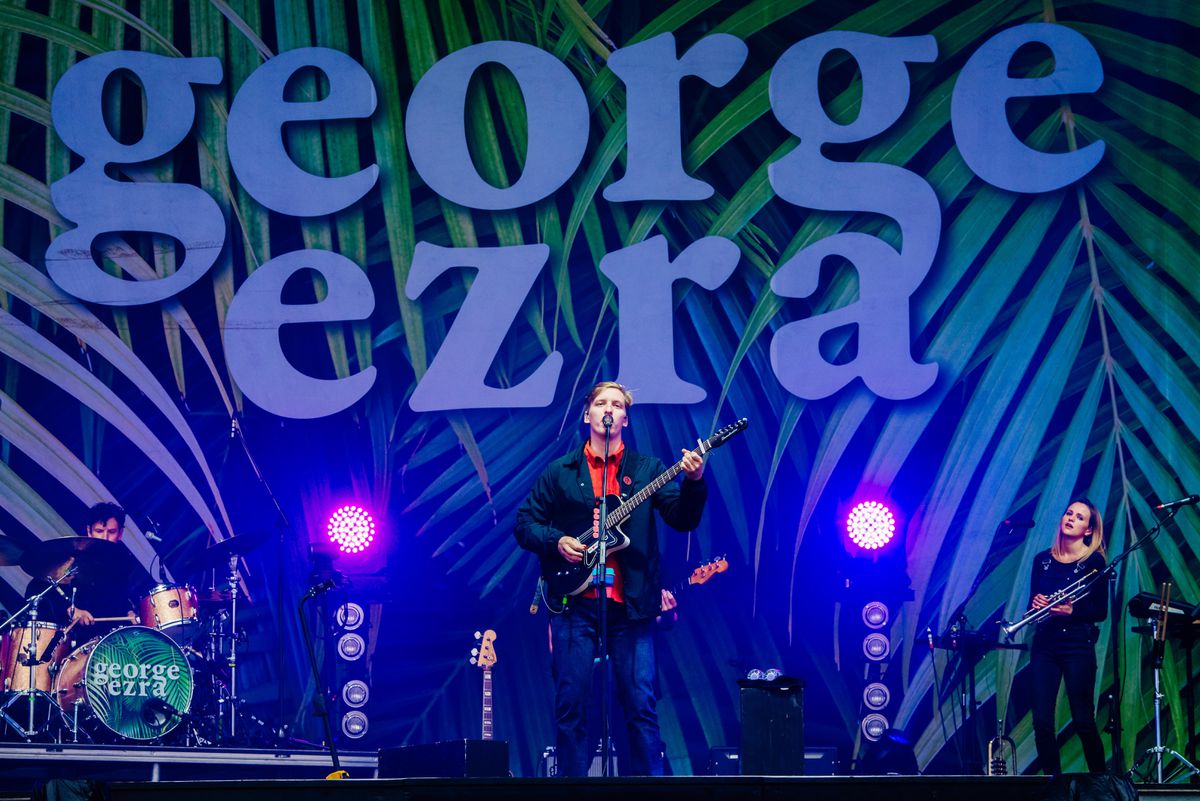 The setting for the summer gigs couldn't be any better with great parking and public transport into the racecourse. Last year Paloma Faith played a fantastic gig there to a huge crowd.
It is also announced today that TikTok breakthrough star and triple BRIT Awards 2023 nominee CAT BURNS will be supporting George Ezra.
BRIT School alumni Cat Burns – who will perform her smash 2022 hit single Go on tomorrow night's BRIT Awards – went from busking on London's Southbank to becoming a TikTok sensation during lockdown, with inspiration taken from pop, gospel and guitar-led indie music.
Also joining George Ezra will be Mercury-nominated indie rockers The Big Moon. The alt-pop four-piece released their third album Here is Everything to critical acclaim last October and have dates across the UK festival calendar this summer.
The weekend of gigs is presented by Chepstow Racecourse with live music promoters Live Nation and Cuffe and Taylor.
Promoter Peter Taylor from Cuffe and Taylor told us…..
"We are absolutely delighted to reveal George Ezra is heading to Chepstow Racecourse as the first of three fantastic headline artists announced for a special weekend of music.
"George Ezra is one of the UK's most acclaimed talents and his 2022 UK tour was a sell-out. This night will be the perfect way to round off what will be an incredible weekend of live music for fans of all ages."
Chepstow Racecourse executive director Phil Bell added…….
"We are thrilled to be welcoming George Ezra to Chepstow next summer, and to be working with the team at Cuffe and Taylor and Live Nation, in hosting what promises to be an amazing weekend here in the Welsh borders."
Tickets are on sale now from HERE and you can get more details on the whole event HERE.
To see what else Chepstow has on offer this year take a look at our feature HERE.