GREEN MAN FESTIVAL, Wales' largest music, science and cultural festival which celebrates its 21st year this August, is the first 2023 UK festival to have sold out in a record time of just four hours.
The 25,000 capacity a day festival tickets went on sale at 10am on the 29th September and by 2pm in the afternoon, all tickets had been sold – a record time for the festival, which sold out in three days the previous year..
So, you have your tickets, the dates are in the diary, all you need to know now is who will be entertaining you in the epic surroundings of the Black Mountains deep in the heart of the Brecon Beacons from the 17th – 20th of August.
Headlining this year's edition are beloved Swedish indie folk sister duo FIRST AID KIT, legendary space rock band SPIRITUALIZED and new wave pioneers DEVO. We actually saw Devo way back in the day and can tell you they are next-level good. We can also tell you that the band have announced this visit to the UK is their farewell tour.
Following their sold-out 2022 UK tour and their recent BRIT Awards nomination for International Group of the Year, First Aid Kit will return to the Brecon Beacons for the first time in almost a decade, this time to headline the Mountain Stage. The globally acclaimed duo will play a career-spanning set, including tracks from their glorious new album Palomino.
The J Spaceman-fronted outfit Spiritualized are set to headline Green Man for the second time after their unforgettable 2008 set. From their seminal 1997 record Ladies and Gentlemen We Are Floating in Space to last year's revered Everything Was Beautiful, the band have been endlessly influential, and their timeless blend of neo-psychedelia, gospel, shoegaze and more is sure to make for a mesmerising beginning to the weekend.
Now entering their sixth decade together, the legendary Devo will be playing Green Man for the first time ever. One of the most innovative bands in new wave, the Ohio-based collective have continued to develop creatively and influence contemporary rock since the '70s with their satirical social commentary and off-kilter, kitschy take on rock and synth-pop.
The line-up is brimming with some of the finest talent from the UK and Ireland, including Irish folk four-piece Lankum, apocalyptic space funk trio The Comet Is Coming, London-based rockers Warmduscher, leftfield electronic duo Jockstrap, Brighton post-punk five-piece Squid, Nigerian-born, London-based futurist Obongjayar as well as Green Man favourites and Welsh natives Melyn Melin who will be playing the festival for the third year in a row.
Fellow Welsh acts also confirmed for the 2023 event include The Gentle Good, H Hawkline and The Bug Club. Dylan Morgan, member of Welsh Music Prize winning act Boy Azooga, will also be bringing his new project DD Darillo to Green Man for the first time in 2023, alongside SISTER WIVES who will also be bringing their own brand of psychedelic folklore to the Black Mountains event too.
The magic of Green Man lies not just in its scenery and music. Made up of 10 individual areas, the festival also offers a diverse range of events to accompany its incredible line-up, boasting art installations spread throughout the tranquil valley, a beer and cider tent to enjoy a crisp Welsh pint, an Ancient Egypt-themed area of discovery and exploration for the little folk, a relaxation and workshop space for the teenagers, plus science engagement area Einstein's Garden. Further line ups of music, science, film, comedy & literature will be revealed in the coming months.
More details on the Ten Areas of the site further down the page…….
Festival goers who have purchased a Settler's Pass, a special ticket which includes discounts on local heritage sites, galleries, castles and more, will arrive on Monday 14th August for a week in the Welsh valleys as part of their Green Man 2023 experience.
Also set to make their Green Man debuts are Melbourne-based, '70s rock-inspired punk four-piece Amyl & The Sniffers, known for their unruly performances, and the Mercury Prize-winning trio Young Fathers, who will be playing tracks from their widely acclaimed new record Heavy Heavy.
Renowned British producer and DJ Daniel Avery will keep the energy moving into the early hours following his acclaimed 2022 album Ultra Truth, which solidified his position as one of the most important names in techno. Shoegaze icons Slowdive are sure to captivate with their atmospheric live set, Confidence Man will go down a storm with their outrageously fun show following a year of packed festival sets, and modern post-punk heroes The Walkmen return to the Welsh mountains for the first time since 2012 for their only UK show of 2023.
Elsewhere, Snail Mail, Sudan Archives, PVA, The Delgados, Bob Vylan, Special Interest and Sorry amongst many others are sure to prove as highlights from across the rest of the weekend, with plenty more names across all stages to be announced over the coming months.
This August's 20th anniversary edition was the perfect encapsulation of why Green Man has been one of the most beloved festivals in the UK for the past two decades, and 2023 will see the festival return for an incredibly special weekend packed with celebration and surprises.
Green Man also houses a pioneering science engagement area, Einstein's Garden, which will again showcase discussions, stalls and experiments for kids and adults alike. As well as a health and wellness area, arts exhibitions, performing artists, comedy, literature, children's areas, and, of course, Green Man's very own Welsh beer and cider festival at The Courtyard where more than 150,000 pints will be served across the weekend and an amazing range of food stalls serving Welsh fresh ingredients.
The festival really is one of those special events, with a reputation for being non-corporate and incredibly ethical, it can rightly call itself one of the most successful festivals in South Wales. On top of that, it's multi-award winning and has been given 'major event' status by the Welsh Government due to the festival's positive impact and wealth creation.
What we really love about GM however, it's just incredible fun for the whole family.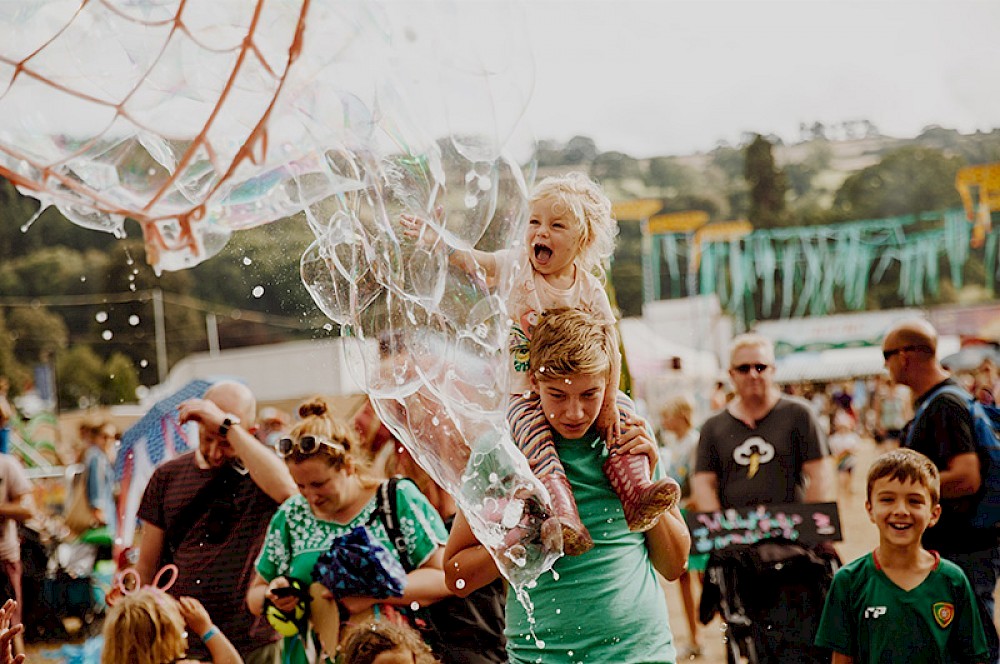 The magic of Green Man lies not just in its scenery and music. Made up of 10 individual areas, the festival also offers a diverse range of events to accompany its incredible line-up, boasting art installations spread throughout the tranquil valley, a beer and cider tent to enjoy a crisp Welsh pint, a mini-beast themed area of discovery and exploration for the little folk and a relaxation and workshop space for the teenagers. Further line ups of music, science, film, comedy & literature will be revealed in the coming months.
There is so much live music, alternative, indie, folk, dance and so much more. But it's everything around the music which makes this a truly inclusive event. There's literature, film, comedy, theatre and poetry. In fact 1,500 multi-arts acts perform across 17 stages over 10 areas, each offering a unique festival experience. There's even all-night bonfires and secret gigs.
The setting couldn't be any better either. Nestled within the majestic Brecon Beacons, the Settlement is your opportunity to explore miles and miles of mountains, forests, waterfalls and rivers. You can camp for a whole week to really discover the incredible beauty of the Welsh surroundings.
Immersing yourself in the GREEN MAN community of Settlers couldn't be easier – host barbecues with produce sold daily (from the local butcher), team up for the legendary Settlement Pub Quiz, cuddle up around the Settlement bonfire or enjoy live music, workshops, outdoor adventure and family fun.
Here's Huw Stephens' guide to all that is Green Man……
Whatever kind of festival-goer you happen to be, there's bound to be an area that floats your boat, be it for the laughs, literature, art, science, mischief or music. So whether it's revelling in the thumping tones of a new band, catching some illuminating literature or soaking up the sunshine with a pint of Welsh beer, you're sure to unearth some serious magic.
If you're looking for a quiet retreat you can actually find one in Nature Nurture. The Courtyard and Fortune Falls, with each area featuring a mixture of local beers and ciders, yoga and mindfulness workshops and hot tubs (one's even on top of a double decker bus!), as well as the natural beauty of the Welsh countryside.
Green Man has grown to be one of the can't-miss fixtures of the summer festival season. Now welcoming more visitors than ever, the line-up inevitably reflects all of our varied tastes. Whether you're a fan of twinkly indie, traditional folk, pulsating garage rock or ear-melting electronica, there's probably something on the bill for you. There's also a comedy tent, pretty gardens, kids' areas and wellbeing zones, so you can chill out before the burning of the Green Man himself on the last night.
The Settlement is the campsite for guests with Settlers Pass tickets, and features a stage curated by an act or organisation from within the Welsh music industry.
The family friendly festival has two areas specifically for younger guests, with the Little Folk area featuring activities and entertainment for young children, and Somewhere hosting a number of workshops in the creative arts aimed at a teenage and young adult audience.
Mountain's Foot holds the main stage, while Far Out will feature a mix of high energy performances and the relaxing Cinedrome, perfect if you're after a quiet escape. You can watch a number of different films on the big screen.
Smaller artists capturing Green Man's ethos can be found in the Walled Garden, and a fusion of science, art and nature is located in Einstein's Garden.
Being green is absolutely fundamental to the Green Man festival (it is one half of their name after all). So here are some of the ways in which you help keep Green Man green! GREEN TIPS
As we mentioned, tickets for this years festival sold out in two days back in September following a triumphant weekend in the Welsh Mountains in August. The festival runs from Thursday 17th to Sunday 20th August. For more information, go here – GREEN MAN