Two things to say before we make a 'splash' about this special day. First of all, yes, there really is an INTERNATIONAL BATH DAY, and second, we don't want certain members of the household to think it's the only day of the year you should choose to have a bath. Let's be honest, if that was the case, social distancing would fast become the norm we reckon.
Some people prefer to shower while others, like me for example, would choose a bath every time. In fact if I go away on holiday or business trips, I would only stay in hotels that can offer a room with a bath. There's something therapeutic about the whole process. From the moment you put the plug in and turn on the taps, to mixing the bubbles or bath bomb. It's a ritual that can't be beaten.
In fact, it's not about bathing at all. For some, a bath is just a way to clean the parts other methods just can't reach, for most of us however, it's a complete escape from the outside world.
It can be a way to unwind after a very long day at work, or perhaps you are trying to collect your thoughts and look for some sort of inspiration, especially in these confined times. Of course, add a few chocolates and a little glass of something and your bath becomes a whole other realm.
There is actually a bit of history behind INTERNATIONAL BATH DAY.
Legend tells us that on 14th June, Greek mathematician, scientist, and scholar, Archimedes, discovered while taking a bath that an object's volume could be accurately measured by being submerged in water! Unable to contain his excitement over this discovery, Archimedes leaped out of the bathtub and yelled, "Eureka, Eureka!" as he ran through the streets of Syracuse. Since the exact date of Archimedes' birth was unknown, the day chosen to commemorate is the day that is believed he had that Eureka moment in the bath – June 14th.
We reckon that's what a bath is all about. It's the perfect chance for kids to learn and discover. Their toys teach them all about science and physics, even though they think they're just playing. It really is the ideal time for learning. It's the whole empty/full/float/sink/heavy/light, and the cause and effect, all while having fun in the tub!
Some of our best and most precious memories are those of our kids smiling and looking silly in the bath. I have a really special picture of me sitting in a small plastic bath, by the fire, looking into the camera. All I know is that my late Mum would have been there and the smile on my face lets me know how happy that made me. I won't share because there weren't really any bubbles in the bath, and I'm shy.
Bath time is something to look forward to, drawing a nice bubble bath is perfect. It is all getting very hi-tech now though with jets for a hot tub like experience. They reckon over the next decade or two, things will advance even more with a temperature regulator for your bath. Which means we'll never be pained with a cold bath ever again.
Okay, are there any rules to having a bath? Well obviously not, but we have some do's and don'ts we always stick to. First of all sharing. Well, of course a bath run for two is perfect, as long as you agree who is having the tap end and who gets to lie on who. Sharing however is for humans…….
The best bath is one where you go it alone, especially if you are in the house 24/7 with family during lockdown. Give strict orders that bath time is YOUR time. Close the door, get out the candles, grab a book, play some music and drift away.
By the way fellas, that includes you too…….
We like it simple though. Hot water, nice and deep. Bubbles or oil and we don't even mind the addition of epsom salts if the muscles are aching. We asked our friends at LUSH to give us some suggestions for the perfect bath and gift to give our loved ones.
Be it International Bath Day, a birthday, pay day or any other kind of day – why not make it a bath day? And a happy one at that! Whether you fancy blowing bubbles, fizzing bombs, or just a little fun, these six bathing beauties will bring the party right to your bathroom.
Turn down the volume, lift the lid on herbal harmony and submerge into a dreamscape of the serene. Day turns into night, lavender oil soothes, and tonka absolute comforts, so lie back and enjoy a bath brimming with silky soft bubbles. Lather up with calming oat milk and carrageenan extract and let lavender flower infusion and ylang ylang wash your worries away.
Happy daze and long summer nights, this groovy box is filled with psychedelic delights. Groove on into the week with scents of tangerine – not for the meek. So Fizzbang away into the next day, floral ylang ylang will make you feel okay. Vibrant and fun, with candy that pops, with Happy Daze the fun never stops!
Little Green Bag gift (£35.00)
This gift, filled with naked goodies to pamper you from head to toe is great for the person who's on the road to a zero-waste lifestyle. Products to shampoo, shower and soften all wrapped up in a Knot Wrap made from recycled PET plastic. Be ready to answer the call of the wild at the drop of a wrap.
When it comes to INTERNATIONAL BATH DAY, it doesn't matter if you are a man or woman, whether you work or not, this day is all about you. Take an hour out of our crazy lives and escape from the world and celebrate the day.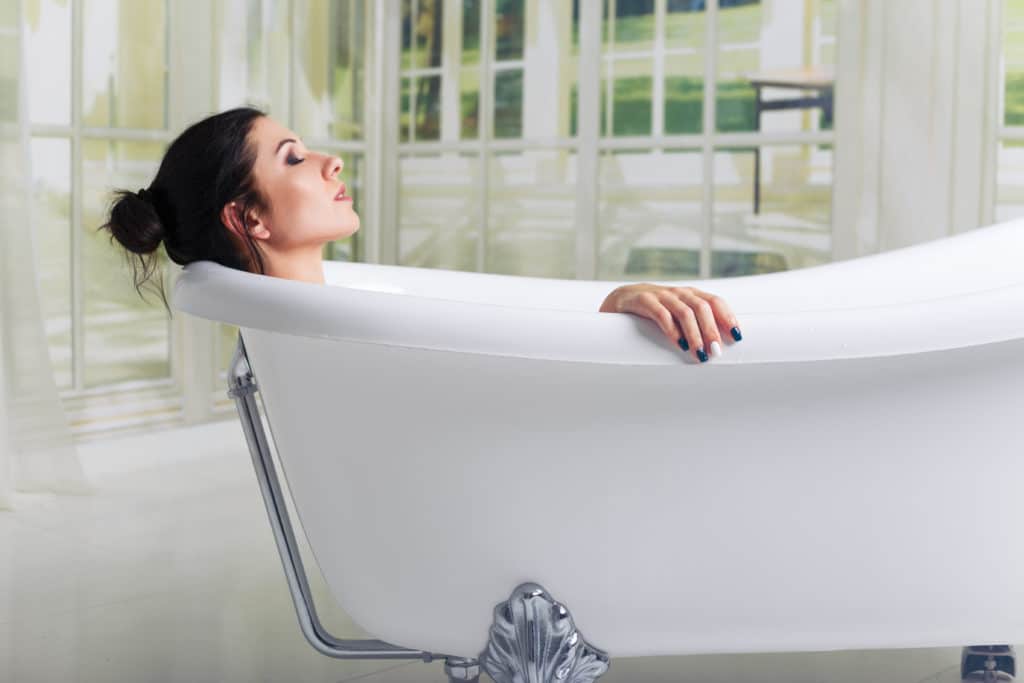 By all accounts, here in South Wales we average around 100 hours in the bath and shower each year, and several more hours arguing over the bathroom ritual.
Twenty per cent of men become irritated by the long showers and baths taken by their partners, while 15 per cent of women admit it causes tension between them.
Women spend around nine and a half minutes on average in the shower, while men take just nine minutes.
Younger people are spending more time washing themselves, as 18 to 24 year-olds take 13 minutes to shower and spend 22 minutes in the bath.
People aged 65 and over spend just seven minutes in the shower and 17 minutes in the bath.
Which means, those aged 18 to 24 are spending 25 per cent longer in the bath and twice as long in the shower compared to those in their later years.
Now you know how much we enjoy singing here in South Wales? More than a quarter of us listen to music in the shower, and almost a fifth sing to themselves. Our music choice for showering is overwhelmingly mainstream as more than half listen to pop or classics. We can highly recommend SOUTH WALES LIFE RADIO, you'll get all of those, completely uninterrupted, 24 hours a day. Listen here or download the APP to your phone or tablet.
One of our readers, Andy, told us about his partner……
'It is frustrating when I add up the time that she spends washing. She's in the shower for at least ten minutes and spends almost 30 minutes in the bath.'
On INTERNATIONAL BATH DAY we say forget it all. Run a bath, hop in and relax and let the troubles of our crazy world just wash over you.
Incidentally, on Wednesday 22nd June 2022 it is also WORLD BATHING DAY, something very different. The day will draw attention to our connection with the environment and the state of the world's water in which we all bathe, as well as drawing awareness to the plight of people for whom bathing is not yet an option and rallying actions to create a world where bathing is possible for all. Whether you run a business within the hot springs tourism and bathing industry or just love bathing, there's many ways for you to get involved.
If you'd like more details about the day, go here. BATHING