Sprinkle some magic on the festive season as St David's Dewi Sant welcome back its Christmas event for families with a little help from a new reindeer. Santa's Magical Reindeer Grotto opens its doors on Friday November 26th and we just know lots of children will be eager to pay him a visit.
This is not just any Christmas, after the last 18 months we've all been through, we're promised something magical and enchanting, with the return of the Christmas grotto experience but with a difference.
Children will first meet the loveable Norbert, an adorable young talking reindeer who longs to lead the sleigh on Christmas Eve and wants to share a very magical secret of his own! They'll also meet one of Santa's trusted elves, McJingles.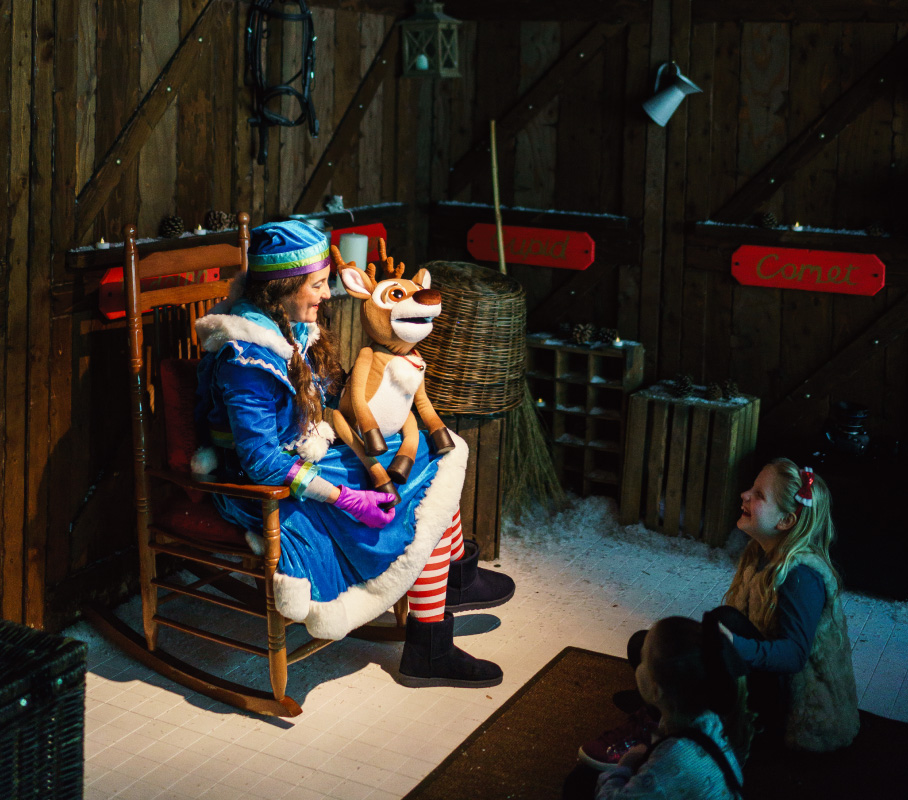 Before meeting Santa, children are invited to gather some magical reindeer food and take it home to sprinkle outside on Christmas Eve to help Norbert's reindeer friends fly the sleigh.
After greeting Norbert with a song – and discovering one of his many charming surprises – guests will be invited to make extra-special reindeer food to take home and leave out to fuel Santa's helpers on their Christmas Eve journey.
Immersed in the festive spirit, little ones will then be invited into Santa's enchanting grotto to enjoy a one-to-one with the man in red himself, receiving a gift of an age-appropriate book and the opportunity to take away a photo of the occasion.
We've had a little word with the big man in red and he told us…..
"I've really missed seeing all the children at Christmas. This year is going to be extra special for all of us – special and magical."
St David's has made sure everything is in place to ensure visitors can enjoy the experience without concern.
We really applaud Santa, Norbert and the team for setting up Autism Friendly – 'Inclusive Relaxed Sessions' for any families with special needs – the sessions are adapted in a variety of ways, including a more relaxed attitude to noise and lighting effects, in order to reduce anxiety and ensure a safe, enjoyable visit. 
During an 'Inclusive Relaxed Session' the team will try to help everyone feel comfortable enough to talk, sing, dance and even shout out at any point during the experience.
The sessions are on Saturday 4th, Sunday 5th and Wednesday 15th December and are highlighted in green when you select your timeslot. 
If you require further information email the team at tickets@eskimojoevents.co.uk. If you are unable to attend one of these sessions then we recommend booking a weekday or earlier times at the weekend. 
Just make sure you complete the special requirements section in the booking process and they will try to accommodate you wherever possible.
The grotto opens on Friday 26th November and runs through to Christmas Eve on 24th December. During this period the grotto is closed on these dates.
Monday 29th Nov
Tuesday 30th Nov
Monday 6th Dec
Tuesday 7th Dec
Monday 13th Dec
Tuesday 14th Dec
'Santa's Magical Reindeer Grotto' is in St David's Dewi Sant, located on the lower grand arcade near Hamleys and the Lego store.
Tickets to the grotto cost £12.00 per child (including a gift per child) and £5 per adult. A booking fee applies per ticket purchased – this is £1.20 per child ticket and 50p per adult ticket.
To book your tickets for this magical experience, just go here BELIEVE.