There are so many things to love about the festive season and this year is no exception.
It's become a bit of an annual pilgrimage for JOOLS HOLLAND AND HIS RHYTHM & BLUES ORCHESTRA, and let's be honest, they are the perfect outfit to see on a cold winters night.
He's a good one that Santa, he's dropping Jools into Cardiff less than a week before the big day so we can have a right good R&B knees up.
Former Squeeze piano man and presenter of the legendary Later with Jools Holland. Since learning to play fluently at the tender age of eight, Jools has gone on to become one of our most proficient jazz and blues pianists. Having toured extensively with his Rhythm and Blues Orchestra, his charismatic personality, impeccably good taste and accessible music have made him one of the nations most well-respected, and well-loved, musicians. Jools was awarded an OBE in 2003 for his services to the British music industry.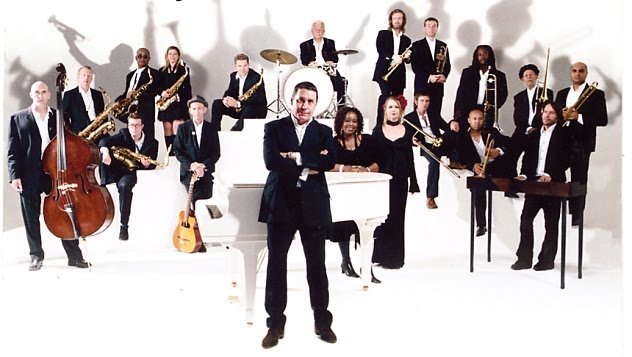 It's a big old tour this one, in fact it's been on the road since April this year. Yes, they're off to the Concert Hall, the City Hall, the Symphony Hall and two nights at the Royal Albert Hall but at the risk of being selfish, it's the night at the Motorpoint Arena on December the 18th we're interested in. But when we tell you who Jools is dragging along for this show, you'll be snapping up tickets faster than Rudolphs chomps on a carrot.
Hold onto your baubles though, you'll have to read on a little more yet.
Jools never stops; with CD's, the TV stuff and of course the long tours with the orchestra. SOUTH WALES LIFE asked him why he keeps going and appears to enjoy it more and more……
"I like touring, I like playing. The best bit of touring is the fact that you get on stage, and of course that's the shortest part of it. The longest part is travelling to where you're going. But I don't mind the travelling and seeing stuff. But the highlight is being on the stage, and hearing different people in my orchestra, hearing the guests, being able to try and figure out the mystery that is playing the piano each day, and sometimes you feel as though you get a bit better, and sometimes you feel as if…for every five steps forward, you take four back, and you keep going on like that."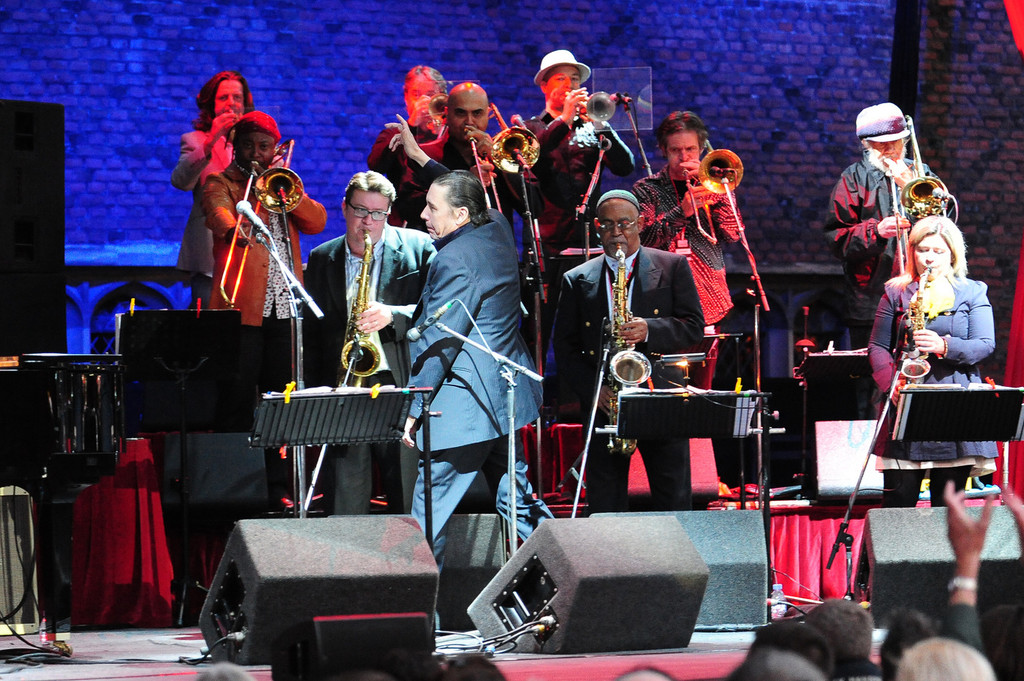 For those of us that come to see you often – and some come slightly more than that. You always seem to add a new element to the show with your 'special guests.' Jools said…
"So what has evolved with the big band and their shows is, of course, the guests. Ruby Turner is the first person, one of our guests, and she's become part of the orchestra because of the strength of what she does and because we've written so much together. So she finishes off the show but is so amazing, she's like a person from another age, in having that gospel and blues and boogie-woogie sensibility that was around in the 1930s, that beginnings of it and the greatest flowering of it, in many ways."
We spoke to Jools about the joys of touring and how he loves visiting new places – like South Wales, although it's anything but new to him now. He also touched on the band sneaking a look at their phone and iPads.
You can listen to what Jools told us below.
Accompanying Jools with the Rhythm & Blues Orchestra on their annual excursion around the UK (as Jools said) will be the supremely talented RUBY TURNER, with her breath-taking gospel, soul and rhythm & blues vocals. LOUISE MARSHALL, with her beautiful soul and jazz tones. And, for us old Squeeze fans, original band member and drumming supremo GILSON LAVIS – obviously on the drums!
What you may not know about Gilson is that he is a really talented artist as well, doing mainly acrylic on canvas portraits and sketches. That side has always seemed to stay in the background with his music career taking the lead.
His art is exhibited across the world — his "In Tune with The Portraits" series was recently unveiled at the Salomon Arts Gallery in New York. You can take a look at his work HERE.
Ruby Turner is one of our finest Soul and R&B Singers. She is constantly touring, not only with Jools and the band, but playing live dates in between with her own Band.
Louise is again another powerhouse of a singer who made a name for herself with The National Youth Choir of Great Britain in 1990. Since then, and her scholarship to The Guildhall School of Music and Drama, she's performed with pretty much all the greats – Beverley Knight, David Gilmour, Michael Ball, Marti Pellow, Robbie Williams, Bryan Ferry, Ronnie Wood, Van Morrison, Russell Watson, Steve Winwood and Paul Young, to name but a few.
Jools is renowned for adding some extra special guests to his tours, and this year is no exception. Heading to Cardiff in December will be the phenomenal JOSS STONE. Incidentally, her current album, Never Forget My Love, is outstanding and definitely worth a listen. Head to her website HERE. She wrote the album with the equally incredible Dave Stewartm need we say more?
It's hard to believe that Joss has been on our radar for almost 20 years now since her multi-platinum debut album, The Soul Sessions, which made the Mercury Prize shortlist. Her second album, the similarly multi-platinum Mind Body & Soul, topped the UK Albums Chart and spawned the top-ten single You Had Me.
With Grammy nominations and years of incredible live shows under her belt, it'll be a joy to see Joss on the Jools tour.
We actually have bit of history with Jools and his band. We worked on a huge charity event aboard a cruise ship from Southampton to the Isle of Wight, they were so good and we raised almost £2 million over that weekend. We have an admission as well, we were at the very first ever broadcasts of THE TUBE at the City Road studios in Newcastle. We could tell you so much about that night but maybe another time. All we can say is Jools and the Orchestra put on one hell of a show.
With a tremendous collection of Jools tunes and his styling of Ska, Boogie Woogie and Blues, this UK tour promises to be an extraordinary and unforgettable night out.
Tickets for JOOLS HOLLAND AND HIS RHYTHM & BLUES ORCHESTRA are priced from £43.80 (+ booking fee). They get to the Motorpoint Arena in Cardiff on Sunday 18th December, which is pretty much a year to the day since his last visit. To get your tickets, go here – JOOLS.