For many of us Lockdown meant stressed out – uncertainty with jobs, kids at home (partners at home), and you know the rest. Now restrictions are easing we are all looking for ways to de-stress and have a bit of much deserved 'me time' after the last 18 months. Of course with work back on the agenda, and the kids in school, the thing we had an unlimited supply of, time, is now a little more precious.
So, as we go from tearing our hair out during all the madness, it's time to give our hair and scalp a bit of TLC.
The team at LUSH are just about to introduce a TANGLED HAIR SPA TREATMENT which will not only leave you feeling revitalised and fresh, but you can have it done during your lunch break or when you're out shopping in town – £40 for 25 minutes.
This Japanese-inspired scalp experience includes cold stones and an exclusive menthol temple balm and incorporates soothing, uplifting soundscapes featuring a Shakuhachi bamboo flute to help the client drift into a deeper state of consciousness.
This treatment was first launched in Japan, at the opening of Asia's largest anchor shop Lush Spa Shinjuku in August 2019 followed by Lush Spa Kyoto in December 2020. The treatment will be available in the Cardiff Lush Spa from Saturday 10th July. Vouchers for the treatment are now available online from LUSH and also in Lush shops now.
Alanda Colegate is with Lush Spa Training……..
"The Tangled Hair treatment was created by our Japanese Spa and is inspired by their culture and music. The poetic and enchanting sound of the bamboo flute plays whilst your therapist works to relax your scalp with a firm stress relieving massage. A welcomed rest in a busy day will leave you feeling invigorated and refreshed."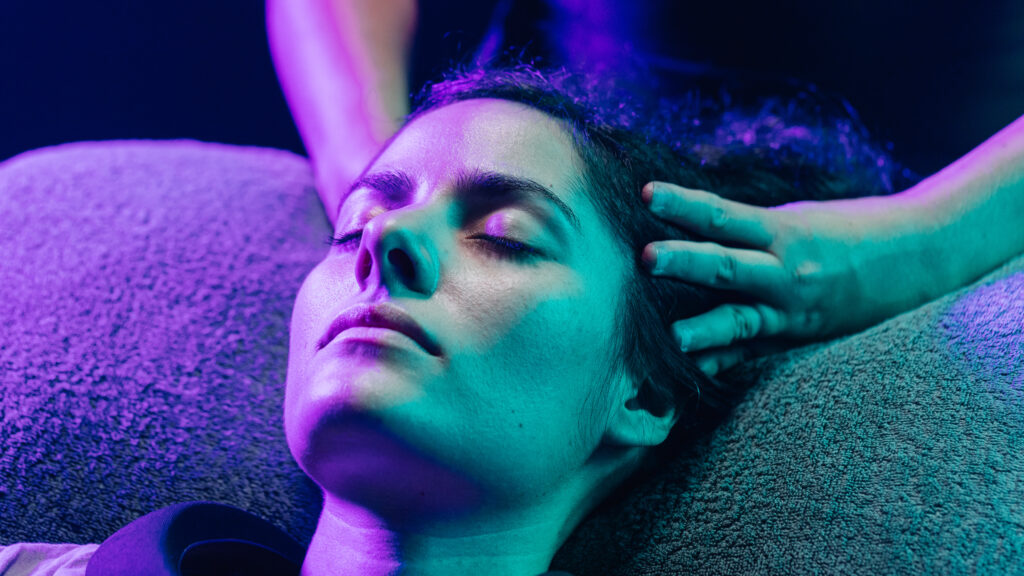 Lush therapists release tension within the scalp and create a deep state of relaxation with pressure points and deep massage movements. The treatment includes massage movements across arms, shoulders, the scalp, face and ears. Throughout the treatment, the Lush Spa therapists use cold stones and an exclusive menthol temple balm to refresh, uplift and awaken the client.
The music for the Spa treatment is an integral part of the whole experience, it was created by the Fresh Handmade Collective. Simon Emmerson, Lush's creative music director worked with composer Richard Evans to create a hedonistic piece of music for a self indulgent scalp treatment featuring musicians that have their creative roots deep in the heart of Japan's music culture including BBC 3 radio presenter, Nick Luscombe, the Japanese violinist Midori Komachi and a Shakuhachi bamboo flute player to help the client drift into a deeper state of consciousness.
The soundtrack was inspired by the Japanese Lush Spa therapist who invented the treatment. When the Spa therapist was on maternity leave she noticed the importance of sleep and started seeking for a solution. She came up with the idea of a treatment which leaves the client both emotionally and physically refreshed and energised, allowing the client to have a bit of space so that you can regain energy.
You can get a feel for the music and see what's on offer below……
The TANGLED HAIR SPA TREATMENT launches in the Lush Spa Cardiff on Saturday, 10th July at a cost of £40.00 for 25 minutes. If you'd like more details just go HERE.
You can also take a look at our previous feature when we visited the Lush Spa – HERE.
All therapists are fully trained in Covid related Health & safety procedures. Lush will also be asking all customers to complete a Covid wellness form before they arrive. To view the treatments available and procedures and policies in place to ensure that every customer has a magical experience at the Lush Spa in line with government guidelines.