The passing of MEAT LOAF was a shock to us all. The man, who along with JIM STEINMAN shaped the world of rock music with the ground-breaking album Bat Out Of Hell, holds more records for this classic work than most other artists.
It is one of the best-selling albums of all time with over 43 million copies sold worldwide. It is certified 14x Platinum and is the best-selling album in Australia – ever. Here, it has spent close to 600 weeks in the UK Albums Chart, the second longest chart run by a studio album, and no doubt will be back in their following Meat's passing. Rolling Stone ranked it at number 343 on its list of the 500 Greatest Albums of All Time.
Now, the musical, which stands as a tribute and testament to both Meat and Jim Steinman, who wrote this ground breaking album and also sadly died last year, is heading out on the road – all revved up and ready to head to South Wales.
More on the show shortly and all the ticket details for both the New Theatre in Cardiff and Swansea Arena at the bottom of this feature.
First, we put a Zoom call in to the South Wales born Musical Director of the show lestyn Griffiths. Not only an MD but a Keyboardist and Founder & Director of THE WEST END OF WALES. The charity was formed in 2020 as an idea for the Welsh professional musicians they knew to perform "virtually" at a time when the Arts had been devastated by Covid-19.
The first three projects had over 100 thousand views on social media and has raised over £800 for the charity "Help Musicians". That was only the beginning, lestyn and co-founder Laura Llewellyn Jones were named and awarded BT unbreakable Heroes.
We spoke about that, the tour, his obvious excitement at coming to South Wales in his professional role and the early days of studying in Cardiff.
The Bat Out of Hell album was actually developed from a musical, Neverland, a kind of futuristic rock version of Peter Pan, which Jim wrote for a workshop in 1974. It was eventually recorded during 1975–1976 at various studios, and since it's release it made a true mega-star out of both Meat and Jim.
Which makes the musical based on this classic album even more relevant.
BAT OUT OF HELL – THE MUSICAL is a breathtaking production which includes powerhouse songs such as You Took The Words Right Out Of My Mouth, Bat Out Of Hell, I Would Do Anything For Love (But I Won't Do That) and Two Out Of Three Ain't Bad, as well as two previously unreleased songs, What Part of My Body Hurts the Most and Not Allowed to Love.
Don't for one minute think this is just a bunch of Jim Steinman songs sung in tribute style, this is a full-on, proper tale, which had MEAT LOAF as a producer.
Join the eternally young Strat and his wild gang, The Lost, as they roam the streets of Obsidian, a post-apocalyptic Manhattan, ruled by the wicked and tyrannical Falco. When Strat first sets eyes on Falco's daughter, Raven, who has been locked away in the palace towers, he sets out to rescue her from her evil father's clutches in a full throttle tale of teenage love, youthful rebellion and living the rock and roll dream.
Killian Thomas Leferve as Tink, Kellie Gnauck as Valkyrie, Danny Whelan as Ledoux and the Cast of Bat Out Of Hell (Photo: Chris Davis Studio)

Rob Fowler as Falco and Sharon Sexton as Sloane in Bat Out of Hell (Photo: Chris Davis Studio)

Glenn Adamson as Strat and the Cast of Bat Out Of Hell (Photo: Chris Davis Studio)
As you can imagine it's been a tough time recently over the passing of Meat, something we touched on in our interview. The cast posted this picture and said……
The company of Jim Steinman's Bat Out of Hell the Musical here in the UK is deeply saddened to hear of the passing of their great friend and producer, MEAT LOAF.
The beat is yours forever.
At the first performance following his death the cast collectively paid tribute to him on stage at the New Theatre in Wimbledon…..
'He was a man with a big heart, a bigger personality and the iconic voice that made Jim Steinman's music fly.
'He was a huge inspiration to Jim, a huge inspiration to this show and a huge inspiration to all of you and all of us.
'We've dedicated this to his honour and we promise you, Meat, wherever you are, that we are going to keep the flame of rock and roll burning.
They finished by declaring: 'Meat Loaf, we love you, and may the beat be yours forever.'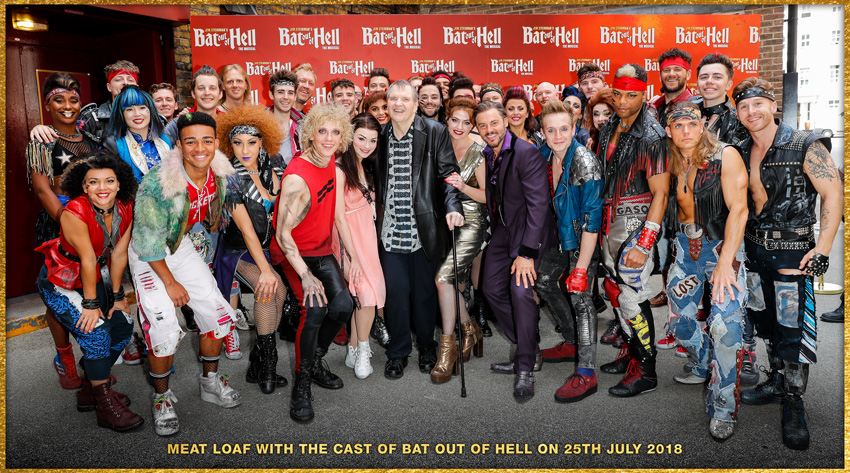 So, as we all play the classic album as a celebration to the great man, now is the time to get your tickets for the show, they are sure to fly out the door – like a………
BAT OUT OF HELL – THE MUSICAL gets to the New Theatre in Cardiff from Tuesday 27th September to Saturday 1st October. Performances are at 7:30pm with 2:30pm matinees on Thursday and Saturday. You can get your tickets HERE.
It then roars back into South Wales at the Swansea Arena from Tuesday 6th to Thursday 15th December. For more details head over to their site HERE.
We ought to tell you that a lot of the performances are sold out, Keeping checking in on the relevant sites to see what becomes available.