It's definitely time for us to bring back our Adventure Golf feature. With many places now reopened, it's a great chance to get out (or in) and do some family/friend bonding over a game of 'Crazy Golf."
These are our top 11, with more to follow this year.
TREETOPS
SMUGGLERS COVE
CELTIC MANOR
MUMBLES
TEE-REX CARDIFF
GNOLL PARK
SWANSEA FOOT GOLF
SINGLETON PARK
HEATHERTON
PAR 59
GOLF FANG
What you have, is a guide to Adventure Golf around South Wales, which we hope we can all get out and enjoy really soon. Scroll down the page, find your favourite, and have fun.
I think what we all love so much about Crazy, Mini, Adventure or whatever sort of golf you want to name it, is that, if you've ever or never played before, everyone has a chance to be champ. We've seen many so-called proper golfers being beaten by a six year old who's barely able to hold the club. Oh come on – it's hilarious isn't it?
In any case, here at SOUTH WALES LIFE and inspired by a lot of parents who have mentioned to us how much they struggle through the summer holidays, we've put together a simple list – apologies if it's 'below par', of a few of our Adventure Golf places for you to visit. If there are any more you think we could include, let us know.
TREETOP ADVENTURES – CARDIFF
You can play one of their two indoor, 18-hole mini-golf courses (or both). Tackle the Tropical Trail or Ancient Explorer then brave the bonus 19th hole to win a free round.
For their 6th birthday celebrations the jungle residents have made some home improvements . Check out their new bar – The Thirsty Toucan, grab a seat in The Market and take a swing on two new holes – the Toco Toucan Technicolour Temple and The Pitz Bug Hotel.
The TROPICAL TRAIL you set off on an 18-hole jungle trek.
Navigate your way through the rainforest canopy, chat with cheeky toucans, head past the Towering Trees, watching out for thunderstorms and lightening as you go. Oh, and listen out for the singing barbershop frogs as you wade though the murky swamp.
On the ANCIENT EXPLORER discover 18 holes of mystical magic. You'll be welcomed to the Cloud Village by The Sacred Mask and Chief Slumber – just make sure you don't upset them! Putt through a Towering Tree to stir up the ancient spirits of the mist, but watch out for the thunderstorm gods as you pass the Mystic River.
In real golf the 19th hole is the bar, at Treetops however, every player the chance to test their skills and win a free round. But beware, any shonky shot makers will get a generous helping of Bob's famous banter.
The bar and cafe will be open too, the perfect place to chill after the kids have just beaten you at a round of golf.
To find out more, just head here. TREETOP
ADVENTURE GOLF – CELTIC MANOR RESORT
Well you might enjoy the occasional round of golf. 18 holes, 4 or 5 hours around the course and yes, that is a fantastic day out. Occasionally though you just want an hour of fun, with a bit of golf, shared with family and friends.
You get to experience some of the most famous holes in golf including St Andrews, Pebble Beach and Augusta, or enter the dragon's lair and float across the lake on a Celtic-inspired raft!
So, whether you want to try your hand at golf for the first time or you are a seasoned pro, Adventure Golf is not to be missed.
There is no need to pre book. Just turn up, pay and play between 10am and 6pm.
Individual (all ages)
9 holes £9
18 holes £13
Family (4 players)
9 holes £28
18 holes £42
During school holidays and weekends the Adventure Golf Hut is open daily to collect putters and balls. During the week outside school holidays, putters and balls can be collected from Forum Reception.
Opening times are…….
Monday- Sunday: 10am – 5pm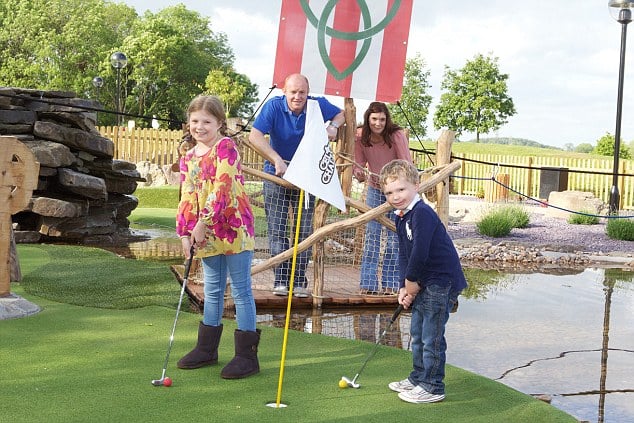 Don't forget, they also have a wide range of activities going on for children of all ages, even the big kids amongst us. It's the usual thing of, the more you buy, the better the deal. We can highly recommend a whole day of fun with their ACTIVITY PASS package.
To find out what's on offer at the Celtic Manor Resort, just go here. RESORT
SMUGGLERS COVE – BARRY ISLAND
SMUGGLERS COVE ADVENTURE GOLF is always a great place to play, with so much to see and do all around you.
Smugglers Cove is right in the centre of all the fun of Barry Island. A day at the beach, Ice Cream, chips and a round of adventure golf. Sounds like a perfect day to us. It is of course a Pirate Themed Mini Golf Course (but we're sure you worked that one out) at the heart of Barry Islands fantastic promenade.
Opening Times
Weekdays from 11am Weekends / Holiday from 10am
For more information, take a look at their Facebook page. SMUGGLERS
MUMBLES ADVENTURE GOLF
The golf is situated in Southend Gardens, a lovely community park in Mumbles which has so much more than just adventure golf. You can sit back and enjoy the scenery over Swansea Bay whilst the children have fun on the excellent play facilities.
Mature trees and informal flower beds provide a pleasant setting for the playground, French boules area, crazy golf and tennis courts.
Facilities include…..
Children's play area
Tennis courts
Boules area
Picnic tables
Bowling club and pavilion
Crazy golf
But this page is all about the crazy golf, so here goes.
Open every weekend from 8 April to 4 September, and open daily during the school holidays;
Easter: Friday 8 April – Monday 25 April
May: Friday 3 June – Monday 13 June
Summer: Friday 22 July – Sunday 4 September
Standard – £3.50
Concession (under 16's, Student and Senior citizen) – £3.00
PTL – £2.50
Family ticket (2 adults and 2 juniors) – £10
There's easy pedestrian and wheelchair/pram access from Cornwall Place, directly adjacent to Mumbles Road.
Head towards Mumbles on Mumbles Road, go through Mumbles village. The gardens are located on the left hand side, opposite Village Lane. For more information, go here. MUMBLES
BUNKERS – SWANSEA
BUNKERS is a little different to your traditional Crazy Golf course. In fact some of the holes are beyond crazy.
Bunkers is more of a night out thing, although they do have sessions where it's under 18s only, which is a great idea.
With two crazy golf courses, ping pong and electro darts, all topped of with amazing cocktails and tasty grub you'll have a bunkers time!
Featuring grown-up entertainment with extravagant theming and spectacular lighting, BUNKERS! is the perfect setting for some cheeky fun with friends with a great offering of cocktails, food and entertaining activities set to generate a lively atmosphere.
The tricked-up fairways and crazy layout will be sure to catch punters out, as each hole on the exciting courses poses a fearsome challenge with plenty of surprises thrown in for good measure.
Golf Prices
| | | |
| --- | --- | --- |
| Golf | 1 game from £8.00 | 2 games from £12.50 |
| Golf Under 16's | 1 game from £7.00 | 2 games from £11.50 |
For more details go here – BUNKERS.
TEE REX GOLF – CARDIFF
At TEE-REX ADVENTURE GOLF you can play the 18 hole crazy golf amongst the huge dinosaurs, volcano waterfall, cave and raft. And this course is suitable for all, not just old dinosaurs (sorry), whether you are 3 or 93 you will love playing. No golfing or previous Jurassic Hunter experience is needed to take on the TeeRex course.You realise if the kids win you'll get in a right LAVA…….

Under 14 years olds must be accompanied by a parent or guardian age 18 or over at all times. They are open every day of the year apart from Christmas day. In the event of extreme weather we will notify you of closure. Teerex golf is also fully wheelchair accessible.
Junior £5.50
Adult £7.50
Family of 4 £22
They also have FOOTGOLF on offer, which is pretty much what it say's on the tin.
Where two great sports come together Foot Golf is simple. You kick the ball from the tee to the hole in as few a shots as possible. It's the perfect game to play with friends or family.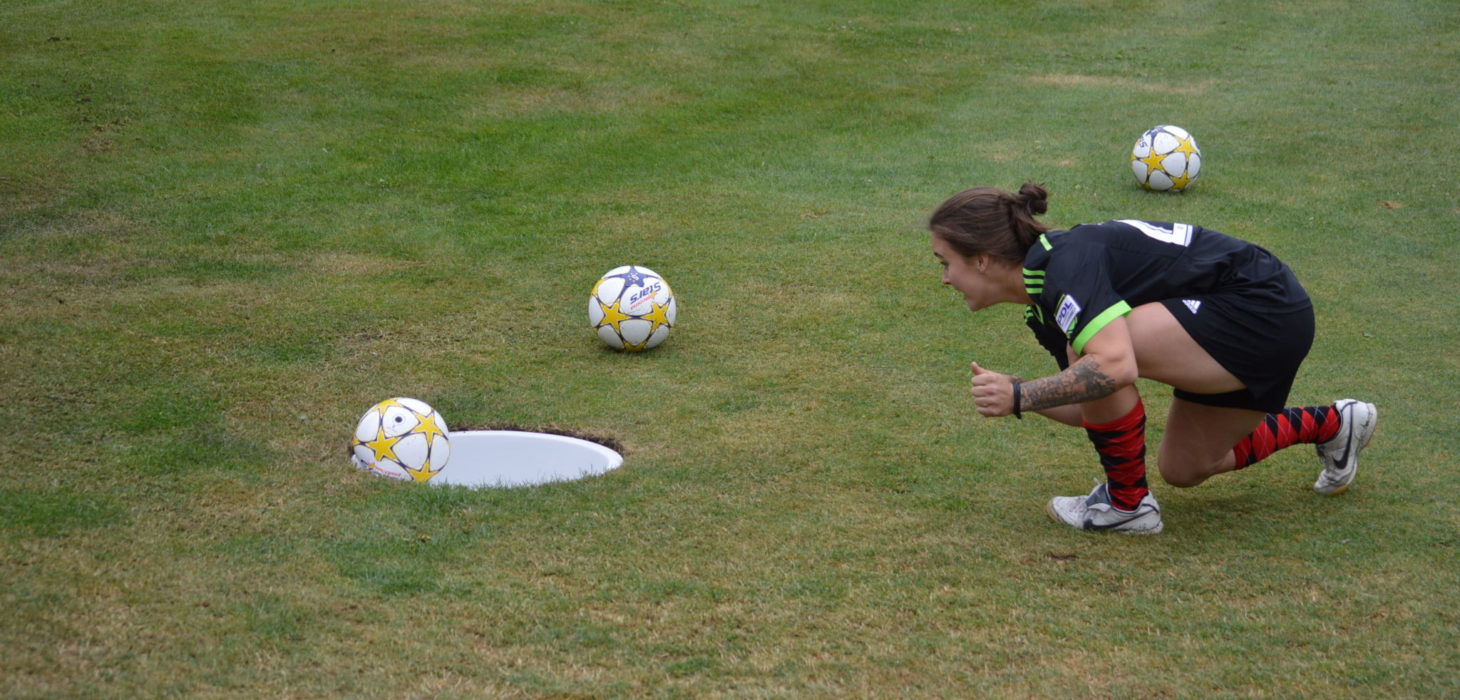 They supply the balls so you just turn up and play. The 9 hole course offers a challenging and fun time. There is no dress code but they do love to see what outfits you turn up in.
It's Wales' national sport and so they had to build the first Rugby golf course in South Wales. The same as footgolf but an egg shaped ball. If you fancy yourself as a bit of a hot goal kicker or a long passer of the ball, you can take on the course.
Junior £6.00
Adult £8.00
Family of 4 £24
You don't need to book any of the golfing activities, just turn up and play. if you are a big group then contact the team to make arrangements.
They are located in South Wales Cardiff Just off the M4 at junction, close to St Mellons, Pontprennau, Rumney and Marshfield. Easy access from Newport, Llantrisant, Swansea and surrounding areas.​ They have loads of free parking available, and are open from 9.30am to 7.30pm weekdays, 9.30am to 6.30pm on the weekend.
For more details, go here. TEE-REX
FOOT GOLF
FootGolf, one of Britain's fastest growing sports, it combines the best of football and golf, two of the most popular sports in the world. It is played on a golf course using a size 5 football.
The aim of the game is to get the ball into the hole using only your feet in the fewest number of shots possible.
GNOLL PARK
A nine-hole par three pitch and putt course lies to either side of the main access road to Gnoll Estate Country Park. It has recently been improved with funding from the Ryder Cup legacy fund.
Adults: £ 6.00 per game
Concessions: £4.00 per game
Club Hire: £5.00 (Deposit)
Tickets to play and the hire of equipment can be purchased at the café. More details HERE.
As for the estate itself, well that is absolutely stunning, and if you're going to play golf, then you have to make a proper day visit out of it.
Rising above Neath Town Centre, the grounds of the park lie in their original rural setting long famed for its picturesque beauty. The grounds of the estate once served Gnoll House, sadly demolished in 1957. The grounds are now owned and managed by Neath Port Talbot County Borough Council. The Gnoll Estate has become a major attraction for both locals and visitors.
The landscape of the Gnoll consists of a combination of industrial and ornamental features. Landscaping was carried out during the eighteenth century over several phases, including the exceptional early 'transitional layout' by Thomas Greening, in the style of Stephen Switzer, with formal and informal elements, including the formal cascade, which was renovated in 2010.

Later landscaping phases include an outstanding informal cascade of the 1740s in Mosshouse Wood, and the later eighteenth-century follies of a rock-hewn grotto, adjacent to the water course. The Ivy Tower, however forms a prominent, and perhaps most well known landmark at the the beginning of the Neath valley, although the shell now stands in a rapidly decaying state. EXPLORE.
If you want to check out everything they have on offer, for golfers and visitors alike, go here. GNOLL
SWANSEA FOOTGOLF
The first Footgolf-only course in Wales is in Swansea. You can go along to play the new sport that combines the best of football and golf for people of all ages and skill levels.
We've taken a look at the website and they are insistent that 'No Studs' allowed. We're sure they mean football boots and not the other sort.
The opening times for last year year were as follows. Once they have published this years times we'll let you know……
1st April to 30th April
11am to 6pm (every day of the week)
1st May to 31st May
11am to 7pm (every day of the week)
1st June to 15th July
11am to 7.30pm (every day of the week)
16th July to 4th September
10am to 7.30pm (every day of the week)
5th September to 6th November
11am to 5pm (every day of the week)
7th November to 31st December
11am to 3pm (Wednesdays & weekends)
Please contact them via the following methods to book your slot :
Via Facebook Messenger
By emailing info@swanseafootgolf.com or
By calling 01792 207544
Tee-times will be every 8 minutes.
There are various prices depending how many are in your party. They start at £12 for two of you (£4 cheaper than last year), going right through to £216 for a party of 36. There are of course lots of prices in between.
Swansea Footgolf is played at Ashleigh Road in Sketty. Parking is available in Sketty Lane and Blackpill pay and display car parks. They will discount your group by £1 if you use either car park and on photographic evidence of your ticket. For more details, go here. SWANSEA
SINGLETON PARK – SWANSEA
While you're in Swansea, they also have crazy golf in the beautiful Singleton Park.
Open every weekend from 8 April to 4 September, and open daily during the school holidays;
Crazy Golf Prices
Standard – £3.50
Concession (under 16's, Student and Senior citizen) – £3.00
PTL – £2.50
Family ticket (2 adults and 2 juniors) – £10
Boating Lake Prices
30 minute ride, price per pedalo
Pedalo Standard – £8
Pedalo Concession (under 16's, Student and Senior citizen) – £6
Pedalo PTL – £4.50
The park itself is stunning and is actually the largest urban park in the city of Swansea. It is located in Sketty.
There's 250 acres of land in all with an ornamental garden located to the south, near the entrance to Swansea University, and a walled botanical garden in the centre of the park. On the south-western corner, past the hospital and the university, there is a boating lake with pedalos available, as well as the Crazy Golf course.
For more information, go here. SINGLETON
HEATHERTON WORLD OF ACTIVITIES – TENBY
They not only have regular golf, and a driving range but 18 challenging putting holes which will test your skill and patience – but are you skilled enough to figure out which direction to take?
Blackbeard the evil pirate will try to put you off so be on your guard. Once you go in, there is no turning back!
The only one of its kind in Wales, the popular 'Pirates of the Caribbean' adventure golf course is fantastic fun for all the family and not to be missed!
They reckon it's suitable for 3 years plus and will take you around 40 minutes to an hour to complete, but of course this depends just how many are in your group. That will leave you plenty of time to explore the huge list of activities they have on offer at Heatherton.
Individual price is £6.50pp, or £5.50pp for groups of 4+.
Putter and ball are provided.
Under 14s require adult supervision.
So just what else do they have on offer? Pretty much everything for a full-on family day out. With four fantastic Activity Zones, they offer a great day out in Pembrokeshire for the WHOLE family – even the dog!
Many activities are under cover so they are also a great wet weather attraction for rainy days.
Check out their Activity Zones, and you can also go here for a full activity list showing the number of credits required for each one, minimum ages and any other requirements.
Heatherton World of Activities are based at St Florence in Tenby. To see everything they have on offer for a fun-filled day out, including your crazy golf, go here. HEATHERTON
PAR 59 – CARDIFF
And that brings us to PAR 59.
It's a collaboration between Gareth Bale's Elevens Group and Cardiff's The DEPOT, Par 59 brings the competitive world of golf to Cardiff city centre. Inspired by elite performance, the underground venue is custom designed to bring people together.
It's home to a premium bar, independent kitchen, space for laid-back, casual dining, and two custom-designed mini-golf courses boasting 9 holes each.
OPENING HOURS
Monday 17:00 – 00:00
Tuesday 17:00 – 00:00
Wednesday 17:00 – 00:00
Thursday 17:00 – 00:00
Friday 12:00 – 01:00
Saturday 12:00 – 01:00
Sunday 17:00 – 00:00
Mini Golf
A round of mini golf (9 holes) – £10.00
Mini Golf + Drink
A round of mini golf + 1 drink voucher to redeem at the bar. Choose from a range of wines, beers, spirits and soft drinks – £18.00
PAR 59 is Located in the heart of St Mary Street, Cardiff and is the perfect place to socialise, relax, and feed your competitive edge. For more details, go HERE.
GOLF FANG
Put together some seriously crazy golf, cocktails, DJ's and Street Food in an art infused environment that showcases the very best street art, its writers and its culture and you've pretty much summed up GOLF FANG.
This is crazy golf like you've never experienced before. It's weird and wonderful and up until now we've had to travel to one of their other locations – but not anymore.
They pride themselves on being disruptive, diverse and different. They never accept average and push the boundaries in everything they do. Their talented teams work together to create jaw-dropping, socialisation concepts with plenty of character and collaboration, capturing the hearts and minds of everyone that enters our venues.
If you need proof, South Wales Life was invited to take a look around the Cardiff venue just ahead of its opening in March.
You can check our full GOLF FANG feature HERE.