Green Man Festival, Wales' largest music festival today announces the first details of next year's 20th anniversary edition, taking place from 18th-21st August 2022. Last month's triumphant return reminded festival goers why Green Man is one of the UK's most beloved festivals and next year will see the festival return for an incredibly special weekend packed with celebration and surprises.
Managing director and owner of Green Man festival Fiona Stewart says
"We're so excited about Green Man's 20th birthday and we're planning to celebrate his big anniversary with lots of wonderful surprises and the best party ever!"
Ticket details follow at the bottom of the page, at least they did until they sold out in record time. But the great news is the first headline act is announced, and after a cancellation in 2020, MICHAEL KIWANUKA is back in as the first headliner.
The Brit Award nominee is definitely one to catch anytime following on the success of his current album Kiwanuka. His previous, Love and Hate, gave us the lead track Cold Little Heart, the opening for the award-winning series Big Little Lies starring Nicole Kidman and Reese Witherspoon.
It was a pretty big deal for Michael but he said he didn't even remember signing off on it at the time the show premiered.
"What's Big Little Lies? I had completely forgotten about this thing. And then my friend a few weeks after that was like, 'You know, Cold Little Heart: it's the opening credits of that show.' And I was like, oh, wow!"
Hear it and you'll recognise it immediately.
GREEN MAN is one of those special events, with a reputation for being non-corporate and incredibly ethical, it can rightly call itself one of the most successful festivals in South Wales. On top of that, it's multi-award winning and has been given 'major event' status by the Welsh Government due to the festival's positive impact and wealth creation.
What we really love about GM however, it's just incredible fun for the whole family.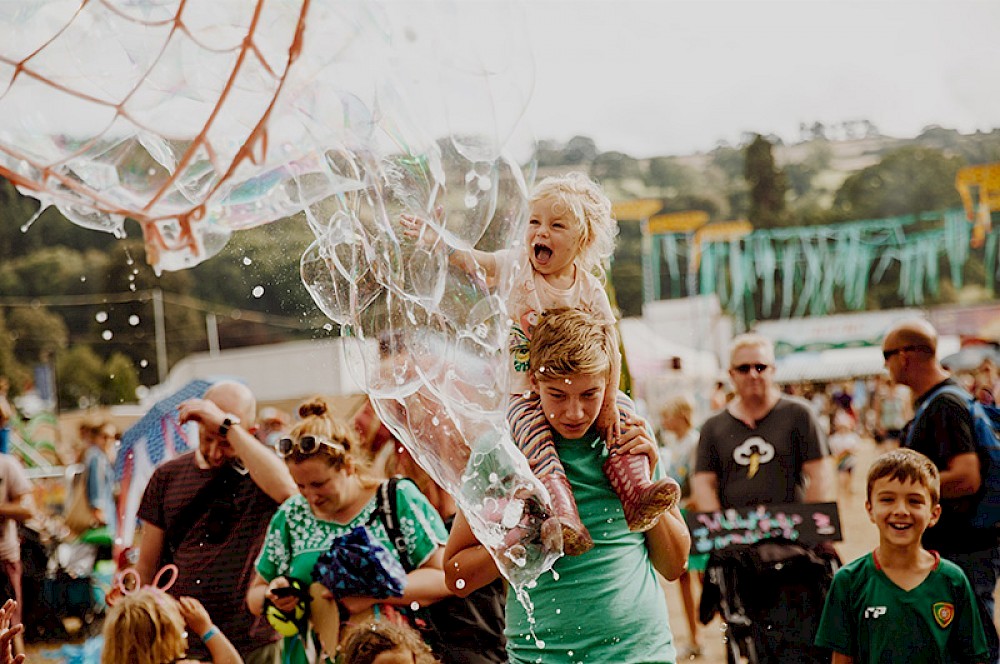 GREEN MAN is an independent music and arts festival. With more than 20,000 people attending over the 4-day event, it really is a highlight in the Crickhowell calendar.
There is so much live music, alternative, indie, folk, dance and so much more. But it's everything around the music which makes this a truly inclusive event. There's literature, film, comedy, theatre and poetry. In fact 1,500 multi-arts acts perform across 17 stages over 10 areas, each offering a unique festival experience. There's even all-night bonfires and secret gigs.
The setting couldn't be any better either. Nestled within the majestic Brecon Beacons, the Settlement is your opportunity to explore miles and miles of mountains, forests, waterfalls and rivers. You can camp for a whole week to really discover the incredible beauty of the Welsh surroundings.
Immersing yourself in the GREEN MAN community of Settlers couldn't be easier – host barbecues with produce sold daily (from the local butcher), team up for the legendary Settlement Pub Quiz, cuddle up around the Settlement bonfire or enjoy live music, workshops, outdoor adventure and family fun.
Here's Huw Stephens' guide to all that is Green Man……
Whatever kind of festival-goer you happen to be, there's bound to be an area that floats your boat, be it for the laughs, literature, art, science, mischief or music. So whether it's revelling in the thumping tones of a new band, catching some illuminating literature or soaking up the sunshine with a pint of Welsh beer, you're sure to unearth some serious magic.
Green Man has grown to be one of the can't-miss fixtures of the summer festival season. Now welcoming more visitors than ever, the line-up inevitably reflects all of our varied tastes. Whether you're a fan of twinkly indie, traditional folk, pulsating garage rock or ear-melting electronica, there's probably something on the bill for you. There's also a comedy tent, pretty gardens, kids' areas and wellbeing zones, so you can chill out before the burning of the Green Man himself on the last night.
If you're looking for a quiet retreat you can actually find one in Nature Nurture. The Courtyard and Fortune Falls, with each area featuring a mixture of local beers and ciders, yoga and mindfulness workshops and hot tubs (one's even on top of a double decker bus!), as well as the natural beauty of the Welsh countryside.
The Settlement is the campsite for guests with Settlers Pass tickets, and features a stage curated by an act or organisation from within the Welsh music industry.
The family friendly festival has two areas specifically for younger guests, with the Little Folk area featuring activities and entertainment for young children, and Somewhere hosting a number of workshops in the creative arts aimed at a teenage and young adult audience.
Mountain's Foot holds the main stage, while Far Out will feature a mix of high energy performances and the relaxing Cinedrome, perfect if you're after a quiet escape. You can watch a number of different films on the big screen.
Smaller artists capturing Green Man's ethos can be found in the Walled Garden, and a fusion of science, art and nature is located in Einstein's Garden.
Being green is absolutely fundamental to the Green Man festival (it is one half of their name after all). So here are some of the ways in which you help keep Green Man green! GREEN TIPS
Tickets for 2022's Green Man festival sold out in record time and were a very limited number of early bird tickets available for the weekend, and once these are gone, general sale tickets will become available, so keep a watchful eye out!
We'll leave all the prices up for reference – not to make you upset you missed out.
For those looking for the full Green Man experience, the Settler's Pass turns the festival into a week-long holiday, allowing early access to the site from Monday 15th August, and includes workshops, music, discounts on local heritage sites, galleries, castles and more.
Green Man 2022 ticket prices
Weekend Tickets – Early Bird
Adult £195
Student £170
Teen Tier 1 (13-17) £130
Little Folk (5-12) £30
Infant (0-4) £0
Settler's Pass – Early Bird
Adult £245
Student £220
Teen Tier 1 (13-17) £170
Little Folk (5-12) £40
Infant (0-4) £0
General Weekend
Adult £210
Student £183
Teen Tier 1 (13-17) £140
Teen Tier 2 (13-17) £210
Little Folk (5-12) £32
Infant (0-4) £0
Campervan £150
Motorhome £200
General Settlement
Adult £264
Student £237
Teen Tier 1 (13-17) £183
Teen Tier 2 (13-17) £264
Little Folk (5-12) £43
Infant (0-4) £0
The tickets sold out really quickly this year, so you really will need to be quick to get yours, especially at the Early Bird prices.The festival runs from Thursday 18th to Sunday 21st August 2022.
For more information, go here. GREEN MAN