With National Hot Tub Day coming up on Tuesday (March 28th), Brecon Beacons Holiday Cottages have put together a top ten of the best and quirkiest hot tub retreats in the Brecon Beacons. Ranging from the quirky, a hot tub shaped like a teacup for example, to the unusual, a woodfired 30 tonne excavator bucket hot tub, to ones with spectacular views across the national park, and everything in between. 
Hot tubs have unsurprisingly hugely increased in popularity over recent years. After all, there's little more luxurious or relaxing than soaking in the soothing bubbles, especially after a busy day exploring the local sights.
Whether you're wanting to enjoy a hot tub with friends on a long summer night with a glass of wine in hand, or warm up on a chilly morning with your loved one on a romantic winter break, we have the perfect hot tub holiday for you.
Here's a few of our favourites……….
The one that's shaped like a tea cup – Trewyn Coach House 
Sleeps 7 + 2 dogs
Without a doubt one of the quirkiest hot tubs in the Brecon Beacons, at Trewyn Coach House you can relax in a giant teacup. We bet that's a new one for your bucket list!
Alongside the quirky wood-fired hot tub, there's a beautifully converted coach house that sleeps seven, set within mature gardens at the foot of the Black Mountains near Abergavenny. 
Details HERE.
The one that's an excavator bucket: The Hot Tub Hideaway 
Sleeps 2
Quirky barely covers this fabulous hot tub – it's a wood-fired tub created from the bucket of a 30-tonne excavator machine! Now, that's an unusual place to relax at the end of a busy day! And the unique hot tub is perfectly complemented with unique accommodations.
Set in the ancient hay meadows of the Welsh border, these hand-crafted shepherds' huts are charmingly rustic, with wrought-iron details, reused scaffold boards, and antique furnishings. Perfect for a romantic break, The Hot Tub Hideaway offers total privacy for evenings in the hot tub and around the fire pit. 
Details HERE.
 
The one with spectacular Black Mountain views: Penydre Farm Cottage 
Sleeps 4
If you like to sit back in a hot tub while admiring an amazing view, then Penydre Farm Cottage is the one for you! Hop into the hot tub morning, noon, and night to make the most of the incredible outlook over the Black Mountains. And to match the wonderful hot tub, there's a wonderful holiday home.
This gorgeous, traditional cottage has been updated with a stunning, contemporary twist, perfect for a family holiday in the Brecon Beacons.
Details HERE   
The one that's inside: Llys Faen 
If you hate the chilly flip-flop and towel-wearing run between the hot tub and your home, you'll love Llys Faen with its indoor hot tub. Dating back to the 1800s, this lovingly converted barn offers bags of traditional character with a modern twist.
Situated close to the banks of the River Wye and the book town of Hay-on-Wye, you'll find plenty to do for the whole family, before spending nights curled up in front of the wood burner or soaking in the hot tub.   
Details HERE.
The one surrounded by trees: Under the Lime Tree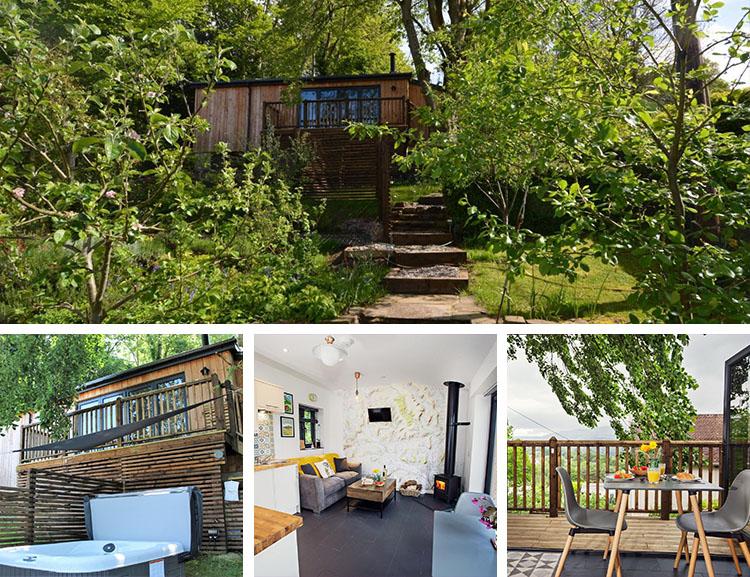 Sleeps 2 + 1 dog
A beautiful hot tub, a beautiful view, and a beautiful cottage to match; this detached lodge is just perfect for a romantic escape. Trees line the property, giving it a private escape-from-it-all feel.
Take breakfast on the enclosed veranda, and enjoy days out exploring the national park, before evenings back at the lodge in the hot tub soaking up the views of the mountains.
The one that's next to an army truck: Big Daf
Sleeps 4
The wood-fired hot tub may not be particularly quirky, but the property that it's part of sure is: Big Daf is a converted army truck! Sleeping two adults and two children, this eccentric holiday home is sure to delight adventurers, big and small.
Have your morning coffee in the truck's cab, and dinner alfresco under the stars on the picnic table. Set within fields (filled with friendly neighbours comprising cows, sheep, and goats), you're guaranteed peaceful evenings to relax in your private hot tub.  
Details HERE.
The one that brings you closer to nature: Tub for Two
Sleeps 2
Step back in time and enjoy the rustic charm of this beautifully converted railway carriage and its matching rustic wood-fired tub.
Set in a totally secluded private location, surrounded by ancient wildflower meadows, it's an idyllic romantic retreat for couples who want an off-grid digital detox. Enjoy lazy days relaxing in the hammock reading books and enjoying the peace, and romantic date nights in the spring-water-filled metal hot tub.
Details HERE.
To find out more about these fantastic hot tub retreats in the Brecon Beacons, please take a look – HERE.