It's always nice when we can share new work with you and perhaps introduce you to a thriving venue in Cardiff which maybe hasn't been on your radar (it most definitely should be), although there are changes for the company on that front soon too.
HUNO is the debut play of local playwright TAMAR WILLIAMS. It interweaves English and Welsh, myth and reality, the epic and the personal, as we bear witness to the life of one woman caught in the wake of the endeavours of men.
Tamar is a multi-award-winning storyteller based right here in South Wales. She has told stories in pubs, schools, libraries, festivals and the top deck of the number 45 bus in Birmingham. She was the recipient of the Gwobr Esyllt Harker Award for an emerging Welsh storyteller by Beyond the Border in 2016.
She has this brilliant knack of being able to bring tales together by interweaving story and song. As for Huno……
Branwen and Math are united in love. But as nations war and oceans rise, can their hope for a life together survive? Can love protect us from seismic world events? Can the land under our feet ever match the home in our hearts and the language in our souls?
It was never our job to fix the world. Only to live in it.
The production stars LOWRI IZZARD an actor and a writer and currently appearing in the new comedy feature film 'Brian and Charles' in cinemas across the UK. Also DAVID CRAIG, a graduate from the Royal Welsh College of Music and Drama. He recently finished a Northern Ireland tour with the Lyric Theatre – an eco project encouraging young people to be mindful of the environment, performing in primary schools.
Photos are by KIRSTEN MCTERNAN.
The production, which runs through to the 31st July, is an invigorating take on the second branch of the Mabinogi, and tells the story of one woman caught in the wake of the endeavours of men. Writer Tamar Williams told us……
"Branwen's story, one of the great Welsh myths, is one that I've returned to time and time again. It feels universal, like it's echoed across the centuries. It's both incredibly epic and very personal: at its heart, it's one woman caught up in a war between men, and the national and international repercussions of a marriage failing. I wanted to explore a contemporary retelling of the story through one couple and their relationship: the joyful, fizzy honeymoon stage through to the cracks that start to appear when the world beyond their love is too much for them to handle.
The first draft of this play was written two years ago, during lockdown. It has since grown and changed as the landscape of our society changes around it – and as I change too. As we enter rehearsals, I'm halfway through my first pregnancy, and Branwen's story – the story of a wife and a mother – has taken on a new significance again. The more we've workshopped the play as a team, the more it feels relevant to our time: a time of uncertainty, war, societal fracture.
I want Huno to ask the questions a lot of us ask ourselves: do we look at the world around us, do we let it in, or do we keep ourselves protected? Do we turn inwards or look outwards? How do we find joy in the smallness of our lives when the world seems to constantly be demanding action?
Most of all, I want Huno to offer one telling – of thousands – of Branwen's story, a figure of Welsh mythology, whose story has been told so many times before, and who will continue to linger in our collective imaginations."
Here's some pictures from the rehearsals of Huno…….
The Other Room's Artistic Director Dan Jones will direct Huno, he told us……
"Tamar first came to our attention when she submitted her work to our New Page open submission programme in 2020. We were taken by her boldness. For a first-time playwright to tackle the big ideas and important issues of our time was inspiring. As Wales' fringe theatre, it is our job to take a different perspective on bilingual theatre.
Through pushing the envelope we compliment the great tradition of Welsh and bilingual work and expand the horizons of Welsh language theatre on offer. The hope is for Huno to follow in the footsteps of A Good Clean Heart by Alun Saunders and Hela by Mari Izzard, offering some fresh ideas on how Welsh and English can coexist on stage in a creative, authentic and imaginative way.
Personally, this will be my first production since 2019. I'm feeling blessed that The Other Room is still here, and I'm feeling inspired by the vision and grit of our cast and creatives."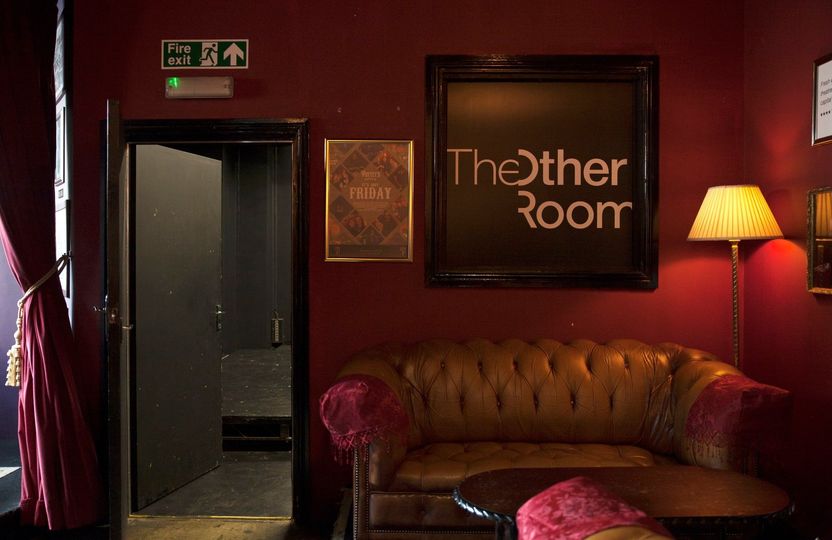 HUNO will be one of the last productions at The Other Room in the current venue, as the Porter's lease comes to an end in October.
Dan said……
"We still can't say too much about the next chapter of The Other Room come October – but we are working closer than ever before with our friends at Porter's, and exciting plans are underway. Keep checking in with us on our socials, as we're going to be running a campaign celebrating The Other Room's story so far – and of course, we want as many people as possible to come and see Huno as one of the final productions in what was the original venue for Cardiff's first pub theatre."
HUNO is at THE OTHER ROOM in Cardiff and runs through to the 31st July. Tickets are available now from HERE.
To keep updated you can also follow the team on Twitter @TORtheatre, or Facebook FACEBOOK and INSTAGRAM.
The poster to Huno is worth a second look – The picture show's a woman's face, with her eyes turned downwards. This shot is out of focus and in the background, casting shades of bronze and reds. In the foreground the shot focuses on several water droplets. Within these droplets we can see the woman's face, refracted and reflected in different ways.
The Other Room is a world-class producing house, making visionary, distinctive theatre like nothing else in the Welsh capital. It is a small space where young artists have the freedom to take big risks; that celebrates Wales as a bilingual nation; and where new Welsh plays go toe-to-toe with the most exciting modern drama.
Founded in 2014, The Other Room is Cardiff's first pub theatre. Within our purpose built space we run a year-round programme. We produce and curate plays, and our emphasis is on supporting the very best in Welsh and Wales-based artists. We are an intimate theatre of just 45 seats, and we bring audiences back to the live experience with an intensity no other venue in Cardiff offers.
The Other Room presents new work and great modern plays from 1950 onwards, working with actors, writers, designers and directors of international quality, to make brave, bold theatre deserving of their talents.