Cameron Mackintosh's production of LES MISÉRABLES is to return to Wales Millennium Centre this month and this reschedule visit is going to be an incredible Christmas and New Year offering.
This production was at the WMC in the winter of 2019, in fact you can read our review, and see what the audience thought right HERE.
The production we get will be the same, and if you're asking if it stands the test of time, the simple answer is yes and most definitely yes. We cannot praise it highly enough, it is simply magnificent and flawless.
Joining this incredible cast are SIOBHAN O'DRISCOLL (Heathers UK tour and American Idiot in New Zealand) as 'Éponine', and Welsh star of the West End LAUREN DREW will play 'Fantine' (Legally Blonde, SIX, Heathers, Evita, Kinky Boots, The Voice UK 2021)
The set and orchestra are superb. What is on stage is everything you would expect from a show like LES MISÉRABLES. It is vast and contemporary and in some way almost 'movie like.' It really does feel like you're in the centre of a massive blockbuster film at times and it's that element which has brought the show bang up to date.
Cameron Mackintosh said this production is what inspired the movie with Hugh Jackman, Eddie Redmayne and Anne Hathaway, and you can see how. Yet around all of this none of the shows heart and emotion is lost.
"Since I first conceived the new production of "Les Misérables" to celebrate the shows 25th anniversary in 2009, this production has taken the world by storm – more than matching the success of the original, which can now only be seen in London. I am thrilled that modern audiences have embraced this production as Les Mis for the 21st century and it is playing to packed houses all over the world in many languages. It also inspired the hugely successful movie version starring Hugh Jackman, Anne Hathaway and Eddie Redmayne."
"This latest version comes hot from its recent Broadway triumph (now once again on a sell-out tour of North America) and is even more spectacular than the original. I am very proud that this extraordinary Boublil and Schönberg musical remains as fresh, thrilling and exciting as ever – and people are still storming the barricades for a ticket."
This is a big piece too, you'll in the theatre for over three hours as the cast take you through this powerful tale, without missing a beat. Of course the lead character, Jean Valjean, is the most demanding and DEAN CHISNALL (he's back in Wales next year) carries it off with captivating brilliance. His voice is more than impressive. He brought a lot of us to tears with his rendition of Bring Him Home. NIC GREENSHIELDS (he's back too) as Javert is equally commanding in both voice and stature.
You can read our interview with Dean and Nic HERE.
Based on Victor Hugo's classic novel, Boublil and Schönberg's magnificent score of includes the songs, "I Dreamed a Dream", "On My Own", "Stars", "Bring Him Home", "Do You Hear the People Sing?", "One Day More", "Empty Chairs at Empty Tables", "Master Of The House" and many more. Songs we know and love and can enjoy in Cardiff.
With glorious new staging and dazzlingly reimagined scenery inspired by the paintings of Victor Hugo, as Sir Cameron said, this breathtaking new production was conceived in 2009 to celebrate the 25th Anniversary and broke box office records throughout the UK followed by productions in North America, France, Canada, Australia, Korea, Japan, Spain, Manila, Singapore, Brazil and Dubai. The production returned to the Imperial Theatre on Broadway for a run of over 1,000 performances.
We put together a 'Behind The Scenes' special last year. You can watch it, and meet the cast, HERE.
The original production of LES MISÉRABLES opened on 8th October 1985 at the Barbican. The first West End cast was pretty spectacular too. It starred Colm Wilkinson as Jean Valjean, Patti LuPone as Fantine, Roger Allam as Javert, Michael Ball as Marius and Frances Ruffele as Eponine.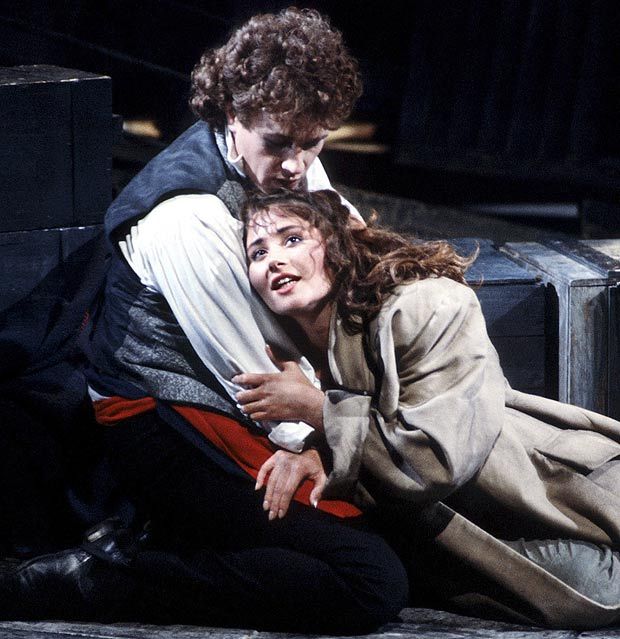 While the reviews now are incredible, always five star right across the board. Initially, critics didn't like it. In fact the show had some pretty scathing reviews. One critic even stating it was 'witless and synthetic', doing little in testament to the Victor Hugo novel it was inspired by. Hmm, wonder what that critic is doing now?
Audiences loved the musical however. The show transferred to the Palace Theatre in December 1985, where it lived for over 19 years. Playing to larger audiences, the musical quickly gained momentum to become a must-see show across London theatres.
We love this video. It's from American TV's 20/20 segment on Les Mis circa 1987. Featured are original London cast members Colm Wilkinson, Frances Ruffelle, Michael Ball, and Peter Polycarpou. The performances are from the London Company and the Broadway rehearsals – HERE.
It's now played all over the world, over 40 countries in fact. It's been translated into 22 languages and picked up more awards than we could mention here. So to say it's going to be a popular stay in Cardiff is a little bit of an understatement. To find out more about the history of the show go HERE.
Here's the trailer for the latest tour.
In the meantime, here are the SOUTH WALES LIFE – LES MISÉRABLES Facts – nice to share with your friends during the interval…..
After West End success, the show transferred to Broadway, opening in March 1987 at the Broadway Theatre, running to May 2003. During this time, it became the second longest-running musical in Broadway history.
The show did not pick up the Olivier Award for best new musical in 1985, losing out to Me and My Girl.
Patti LuPone, Colm Wilkinson and Alun Armstrong all received Olivier nominations for their performances.
The show moved to the Queen's Theatre in April 2004, where it has been ever since.
In the West End production, there are 392 costumes that feature throughout, including 85 wigs and over 5,000 separate pieces of clothing.
As well as its global presence, the book and lyrics have been translated into 22 languages, including Hebrew, Castillian, Flemish and Mexican Spanish (to name four).
In celebration of Les Miserables' continuous run, Queen Elizabeth II requested the musical to be performed to commemorate the Anglo-French alliance. Jacques Chirac watched 40 minutes of Les Miserables at Windsor Castle, with Cameron Mackintosh claiming the musical "is the most successful and most exciting artistic collaboration between France and England ever".
Les Mis became the longest-running musical on 7th October 2006, with The Phantom of the Opera. The show is currently the third longest-running in the West End, behind The Mousetrap and The Woman in Black respectively.
The production celebrated its 10,000th performance on 22nd January 2010.
It has won two Audience Awards for most popular show in 2012 and 2014 respectively.
Actually, Michael Ball was back in LES MIS recently – sort of. The Staged Concert returned to the Sondheim Theatre last year playing a limited season. There was a spectacular company of over 50, featuring acclaimed West End stars of Les Mis including Jon Robyns, Bradley Jaden, Dean Chisnall and Lucie Jones.
MATT LUCAS (Little Britain & Bake Off) was also in the original concert version along with CARRIE HOPE FLETCHER and JOHN OWEN-JONES.
Here's a little treat from the Gala Opening of the staged concert, almost two years ago now. Sir Cameron Mackintosh, Alain Boublil and Claude-Michel Schönberg at the Gala Premiere on the 21st August. With Michael Ball, Alfie Boe and the full company and orchestra singing "One Day More."
LES MISÉRABLES is at the Wales Millennium Centre from Tuesday 13th December to Saturday 14th January 2023. There are various performances, evening and Matinee with tickets starting at £23 through to £65. If you want to check the ticket situation either call the Box Office on 02920-636464 or go HERE.