As we continue our mini series, the latest OUR SOUTH WALES takes us to Mumbles. Technically, it's a community in the city and county of Swansea, but it's got so much to offer we wanted to show it on its own.
Let's talk about the name first. Mumbles (although it is hard to say it without THE) is unusual to say the least, and is actually thought by some to have been named by French sailors, after the shape of the two islands which make up the headland. We won't go into specific details but basically the word "Mumbles" may be a corruption of the French les mamelles, meaning "the breasts." There's also a possibility it could be derived from Mamm or Mamma, implying a local river goddess, which seems to fit quite nicely.
There is so much history, and you certainly feel it as you walk along the sea front. The pier was opened in 1898 at the terminus of the Swansea and Mumbles Railway, which was the worlds first public passenger train service, it was horse powered back in the day.
The lifeboat station has been operating in Mumbles since 1866. In 1947, the entire lifeboat crew was lost at sea, attempting to rescue the crew of the SS Samtampa, in what has become known as the Mumbles lifeboat disaster. The nearest church, All Saints' Church, Oystermouth, has memorials to the crew.
The Mumbles Lighthouse was built during the 1790s, and was converted to solar powered operation in 1995.
On the day we visited the horn was blaring, as the mist was coming and going. The lifeboat team were maintaining the slipway, and you felt they were a safe body on hand whenever they are needed.
Mumbles is officially a fishing village, but it is much larger than the other villages in the rest of Gower and when you see the variety of shops, cafes, wine bars, pubs and restaurant, it does feel more like a small town.
We visited on what was a misty and relatively quiet day, but in effect Mumbles isn't ever quiet. During the height of the tourist season you can see the Mumbles Land Train ferrying people to and from Swansea.
Young and old enjoy all it has to offer, whether it's cycling, and there are lots of bikes around, to water sports, fishing and tourists simply sitting and watching the bustle around them. You are never far from an ice cream parlour, and we saw as many people enjoying those as there were cyclists.
Mumbles Pier really is something very special, as you can see from our video. There is renovation work going on right now but still a must do on you visit.
On their website they're collecting Digital Memories, and they have an ever expanding collection which they are adding to all the time. They can only do this with your help. They say………
Mumbles Pier is going through changes and as time goes on we want to salvage and look after all of our fond memories of Mumbles Pier, as we continue to make some more happy and fond memories for the future. To do so we are hoping to collect as many memories as we can through our webpage and onsite so we can store them online in our Digital Memory for us all to treasure.
Do you have a photo of you by a band stand on Mumbles Pier? Or can you remember riding down the Helter Skelter or swigging back the drinks in the Collectors Bar, The Toby or Cinderella's. As a child can you remember a visit to the amusements with mum or dad, or are you young enough to ride the train to the Pier Station or lucky enough to meet the love of your life at a Mumbles Pier dance?
To submit your memory to Mumbles Pier Memories Collection, please use the form below or in one of our Memory Archives. Once we've approved it, we'll move it into the most relevant Memory Archive.
Alternatively visit our Beach Hut Café and fill out your own Memory Card or email memories@mumbles-pier.co.uk
And don't for one minute think Mumbles is just a place to enjoy through the day, the place is alive at night (when life is normal) when people head to the exclusive restaurants and what is known as the "Mumbles Mile" – lots of pubs all within easy walking distance.
Within a short drive or walk, are some of the most beautiful, secluded bays you'll find anywhere. It was misty when our team photographed but still really warm. It didn't take long before the sun had burst through and added a different dimension to them.
BRACELET & LIMESLADE BAYS – Bracelet is the first small bay you get to as you travel around the coast. Limeslade is a short distance away. Driving is an option, but if you can manage the walk up the very steep hill, the views are spectacular, even on a misty day.
Bracelet & Limeslade Facilities
Car park (pay and display)
Toilets
Lifeguard (during season)
Places to eat & drink
European Blue Flag Award
Seaside Award
There is a dog ban on Bracelet and Limeslade Bays between 1st April to 30th September.
ROTHERSLADE & LANGLAND BAYS – These are both really popular with families and surfers alike. Langland is largely unspoilt and has easy access from the promenade.
Facilities include:
Car park (pay and display)
Toilets
Lifeguard (during season)
Disabled access
Places to eat & drink
Seasonal dog ban
Perfect for water sports
European Blue Flag Award
Seaside Award
Long rows of little beach huts that are hired privately from the Council each year line the front and, as I'm sure you can imagine, are always in great demand.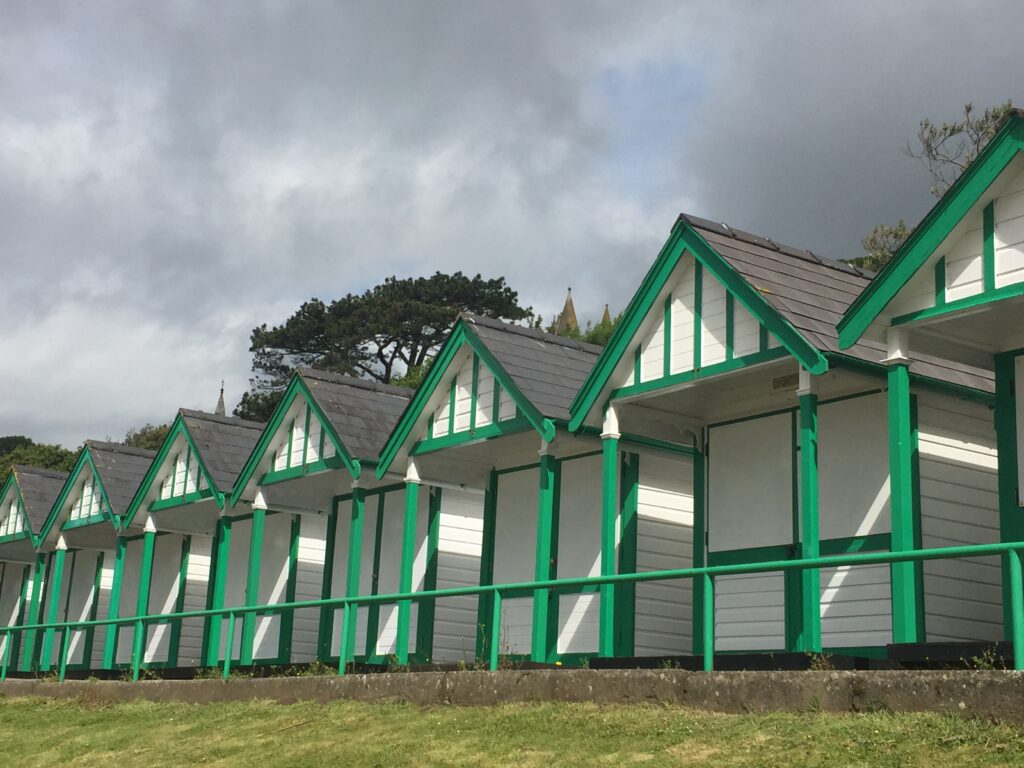 In 2018 Mumbles made it into the top ten places in the UK to live, sharing the honour with the likes of York, Bristol, Frome and Tynemouth. It has been given a facelift in recent years, with redevelopment of the foreshore and headland by Mumbles Pier, which pushed it into the top ten, and the average property value up to £246,000.
Most people around those parts know it as the birthplace of Catherine Zeta Jones and Ian Hislop, Mumbles was also a place that Dylan Thomas would take his friends.
RHOSSILI BAY – Voted the best beach in the UK in 2010. Since then it has received countless awards, including best beach in Europe and within the top 10 best beaches in the world.
BLUE POOL BAY – A secluded, rocky inlet. Perfect for bird watchers and on a clear day you can see Llanelli and Burry Port across the estuary.
DYLAN THOMAS CENTRE – is simply a celebration of the life and work of Swansea's world-famous poet with recordings, manuscripts, photos and year round events.
MUMBLES PIER – You visit the Mumbles, then you have to stroll along the pier.
CAFE PLAY BY DAY – Does what it says on the tin. It's a soft play area and fully licensed cafe in the heart of Mumbles. You eat and play.
CAFE PLAY BY NIGHT – When it gets dark, Cafe Play is a late night bar which aims to be the cultural hub of Mumbles.
LOVESPOON GALLERY – Every Welsh home need a lovespoon, and every visitor need to take on back as a souvenir. These are the original specialists offering the largest collection of lovespoon designs.
VERDI'S CAFE – As ice cream parlours go, this is right up there, just look at the queues in our video.
COPPERFISH – Traditional fish and chips at Mumbles Pier.
BEACHES & CREAM – A traditional Sweet Shop with everything from your classic Welsh Mint Cake to a huge selection of Seaside Rock.
BEACH HUT CAFE – This pavilion cafe is the perfect place to grab a bite to eat.
They even have their own award winning MUMBLES BREWERY, and why wouldn't you, there's plenty to celebrate and a good local tipple is definitely the way to do it.

The very first batch of Mumbles Gold was the first beer to sell out at the 2013 Swansea CAMRA Annual Beer and Cider Festival, becoming the brewery's best selling beer. Other regular beers are Mumbles Mile, Lifesaver, Oystermouth Stout (using real oysters supplied by Mumbles Oyster Co) and India Pale Ale.
Finally, enjoy our gallery and check out each of these places on your next trip to Mumbles, it really is a very special place.