In the latest of the OUR SOUTH WALES series we drop in on TENBY, undoubtedly one of our best seaside towns. Tens of thousands of us visit each year, and with lockdown restrictions easing, and with a 'Staycation' holiday being the choice of many, the town is likely to see many more visitors over the coming months.
Tenby's beaches are stunning, the town is warm and welcoming and the properties really are something very special.
Tenby has grown to become Pembrokeshire's most popular tourist destination. Dinbych-y-pysgod is the Welsh name for Tenby which translates as "Little fort of the fish" and its main attraction is definitely the magnetism of the beaches that surround this little town.
Although there is plenty to do in and around Tenby, many choose to settle down on the powder soft golden sands, sheltered by the harbour walls and take in the view, atmosphere, and hopefully some great weather. The beaches in Tenby are ideal for families of all ages.
If you want to eat while you're in Tenby we can guarantee you will find something for everyone. There's a wealth of bars, restaurants, cafes and stalls selling everything from quick and easy sandwiches to traditional fish and chips. When we were there the smell of fried fish filled the air, attracting long queues of people to the grab a lunchtime snack.
Although you can spend money in the town, and most of us do, what we enjoy most are the incredible view as you walk around. Take a look at our short film to see more.
There is so much to see and do in Tenby. Attractions include the two sheltered, sandy beaches and the coastal boat trips to Caldey Island. St Catherine's Island is tidal and the site of St Catherine's Fort a 19th centuryPalmerston Fort. In August 2016, the fort faced an "uncertain future" and was closed to the public. Tenby has shops, pubs and restaurants to cater for visitors. The Sunday Times rated Tenby's Castle Beach the best beach in the UK in 2019.
Tenby railway station serves the town on the Pembroke Dock branch of the West Wales Line operated by Transport for Wales Rail, who also manage the station. Trains run in each direction; westwards towards Pembroke and eastwards to Whitland, Carmarthen and Swansea. During peak season, trains run direct from Paddington to Tenby.
Our team of amazing photographers have put together a few snaps which give a flavour of how beautiful and unique Tenby really is.
Of course, Tenby is steeped in sporting history too. Tenby United RFC, has been around since 1876.
In 1970, the Tenby Sea Swimming Association started the Boxing Day Swim. It is Tenby's main Christmas attraction now, with approximately 600 swimmers, most in fancy dress, watched by thousands of onlookers. Each swimmer who enters for a charity receives a medal. The Osborne family has been associated with the event from the beginning and Chris Osborne, chairman of TSSA has seen it take place in every weather condition, from brilliant sunshine to freezing winds.
Tenby hosts the Welsh Ironman Triathlon in September. There is also the Tenby Aces Cycling Club and the 18-hole Tenby Golf Course that provides links golf by the coast.
During the colder months, the beach is opened up for dog walkers – and with the pastel coloured buildings as your backdrop and the sea ahead, this picturesque spot is the perfect place for those crisp winter walks.
There are many visitors to the town but the most unusual was earlier this year. On 19th March, an Arctic walrus was spotted on the rocks of Broad Haven South beach, after initially making the journey over from Ireland. During its' time in Tenby, it was primarily on the new RNLI Lifeboat Tenby slipway.
Named WALLY THE WALRUS experts believe that the walrus is a three year old female, who made the long journey over from the Arctic on an ice floe. The RSPCA believes this is the most southernly sighting of the species, occasionally they can be seen in Scotland.
Despite spending most of her days resting and scavenging for food, she has been causing some mischief. It was reported that she capsized a dingy and damaged a fishing boat trying to board the vessels.
PLACES TO VISIT
Below are a few links to help you navigate your way around Tenby. With some amazing attractions too which are well worth a visit.
Step back through the mists of time to the land that time forgot at THE DINOSAUR PARK in Tenby, and whether you're a toddler or teenager, granny or granddad, or anything in between, there are hours of great value family fun (and fear) waiting for you, lurking around every corner…
FOLLY FARM is now reopen and attracting lots of visitors, whilst following all Government guidelines. That does mean spaces are limited, and of course selling really fast.
They've got lots of measures in place for your safe and enjoyable return to Folly Farm. You can read more HERE. Please make sure you've secured your visit date HERE before purchasing admission tickets online or you can pay on arrival at the entrance tills.
What is so great about FOLLY FARM is that it is actually owned and run by proper farmers. Now however, it's much, much more than a farm. They have animals from around the world in the zoo, adventure play and a vintage fairground too.
They are though still very much a family business, so nurture and care are important in everything they do. They are Wales' biggest independent visitor attraction, and rightly proud to have won a number of awards.
A lot of the holiday dates are now fully booked but you can still reserve a spot around those times. For more details go here FOLLY FARM.
MANOR WILDLIFE PARK is Wales' only walking safari! With Pet giant rabbits, watch lemurs jump about, hand feed wallabies and much more!
Its mission is to protect and secure endangered species ecosystems. Ex-situ animals have been introduced to a natural Pembrokeshire landscape. Single and multi-species enclosures have been cleverly created with as few apparent boundaries as possible, to give visitors the impression of free roam while ensuring the safety of both human and non-human animals.
A visit to Tenby must include a trip to OAKWOOD, one of the top 10 theme parks in the UK. There is fun for the whole family, including the gentler Tree Tops Roller Coaster to Megaphobia – the biggest wooden roller coaster in Europe!
At Oakwood there really is something for everyone to enjoy, and the great news is, it's set to reopen at the end of April.
You can explore the wonderful world of Neverland, with themed rides and indoor soft play area. Hop aboard the child-friendly rollercoasters for children 2 years and above. Plus rollercoasters for braver children – and adults!
HEATHERTON WORLD OF ACTIVITIES are now partly reopen, you can find out what they are offering right now, in our ADVENTURE GOLF feature.
They have it all at BLUESTONE NATIONAL PARK RESERVE. The birds are singing, flowers are in bloom, and very soon, and they are open once more! Nestled amongst the trees, and in the heart of nature, Bluestone is a special place where you can run, play, feast, and enjoy the freedom of the great outdoors, with those people who are special to you.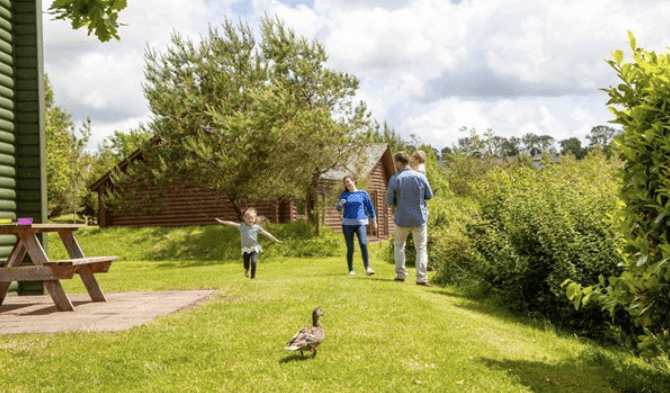 We have lots of other OUR SOUTH WALES features to look at below…….
And we can't let this page end without a mention of our friend, Great British Bake Off contestant, and South Wales baker Michelle Evans-Fecci, who is Tenby through and through. Michelle not only lives, but is an active supporter of all that goes on around the town. She even braves the water for a bit of a Boxing Day Dip – which proves she is also slightly mad, but we love her.