When we first wrote this review (March 2020 pre-pandemic), we were full of Easter tradition, eggs, hot cross buns and chocolate – lots and lots of chocolate. Well of course that is still the same, but now you can throw into the mix the seemingly well timed release of a PETER RABBIT movie. And let's be honest, it's just what we need to complete the whole Easter package.
That was then, this is now, post-pandemic, and wouldn't you just know it, the Bunny Boy is finally back again in PETER RABBIT 2: THE RUNAWAY. It was always going to happen, of course, especially as the first movie took almost £350 million worldwide.
It's been a long time coming, but as our cinemas finally OPEN, we all get to see the movie on the big screen.
SOUTH WALES LIFE got to see it nice and early and I can tell you straight away, we'll be back to see it again now it's released, we loved it. The lovable fluffy rogue is back in style.
In the sequel, Bea, Thomas, and the rabbits have created a makeshift family, but despite his best efforts, Peter can't seem to shake his mischievous reputation. Let's be honest, he's a very cheeky and naughty boy and that's what the kids, and us adults, love about him. Adventuring out of the garden, Peter finds himself in a world where his mischief is appreciated, but when his family risks everything to come looking for him, Peter must figure out what kind of bunny he wants to be.
The cast are all back, with a few additions to the ever expanding family (they are rabbits after all).
Damon Herriman (Tom Kitten)
David Oyelowo (Nigel Basil-Jones)
Domhnall Gleeson (Thomas McGregor)
Elizabeth Debicki (Mopsy)
James Corden (Peter)
Margot Robbie (Flopsy)
Rose Byrne (Bea)
So what did we think is the question? I think you already know the answer to that one. Peter is his usual loveable, cheeky, determined, independent rabbit self, who leads his gang of friends on the adventure of a lifetime to the 'Farmer's Market.' Yes, a whole market filled with more food than a rabbit – hedgehog – pig – duck – cat -mouse – badger, oh you get the idea, can handle. And when Peter utters those immortal words, 'Trust me, I would never put you in danger" you just know they're all doomed.
And when Cottontail discovers, and devours a jar of jelly beans, it'll remind you of the times when your kids had just one or two more e-numbers than they should have……
The film takes Peter and Co out of McGregor's garden and back into the big wide world, which is a good thing as it leads to more hilarious mishaps, which only the interaction with us humans can bring. This is not a criticism of the movie at all, in fact it's high praise. In these days where we have to endure hour after hour of seemingly padded out films, sometimes just for the sake of it. Peter is 85 minutes long, and all the better for it. He starts, he makes us laugh and we leave happy. Perfect for a family movie.
Do I have any negatives? Well not really I suppose, but I still struggle with James as Peter. Don't get me wrong, he's great and brings all the cheekiness we've come to love about the character. But its Smithy isn't it, and hot on the bunny tails of the Christmas Gavin and Stacey, I sat there for a little while thinking about that. Nevertheless, the film is great fun and everyone in the screening with us today loved it too.
PETER RABBIT 2: THE RUNAWAY is released here right now (at last) at cinemas right across the country, although we do hear there are some earlier preview screenings on the 21st and 22nd March.
Maybe what you don't realise is just how forward thinking Peter's creator Beatrix Potter really was. The things she did way back then, were groundbreaking to say the least. So, here are the SOUTH WALES LIFE facts about Beatrix to take you into the new movie…….
BEATRIX POTTER ACTUALLY HAD A PET RABBIT NAMED PETER
THE TALE OF PETER RABBIT FIRST APPEARED IN A LETTER BEATRIX WROTE TO A FRIEND'S SON
BEATRIX HONED HER DRAWING SKILLS WHILE STUDYING NATURE
THE TALE OF PETER RABBIT WAS ORIGINALLY SELF-PUBLISHED
PETER RABBIT WAS THE FIRST CHARACTER TO BE FULLY MERCHANDISED
WALT DISNEY WANTED TO MAKE A PETER RABBIT MOVIE
Beatrix Potter really did have a rabbit named Peter, whose first name she borrowed for her main character. He was a Belgian buck rabbit named Peter Piper. She originally wrote about Peter in 1893 to entertain 5-year-old Noel Moore, who was ill.
After Beatrix sent the Moore children (including Noel's siblings Norah and Eric) two more illustrated letters, one about a squirrel named Nutkin and another about a frog named Jeremy Fisher, the children's mother, Annie, suggested she turn them into children's books. So she reworked The Tale of Peter Rabbit, doubling its length and adding 25 new illustrations. Six publishers rejected the story, in part because they didn't agree with her vision for the work. They should have listened.
She wanted the book to be small for children's hands, and the publishers wanted it to be bigger, and therefore more expensive. Beatrix refused, saying she would rather make two or three books costing 1 shilling each than one big book because………
"little rabbits cannot afford to spend 6 shillings on one book, and would never buy it."
In December 1901, she self-published The Tale of Peter Rabbit. The 250 copies sold out in a few months and she ordered a reprint.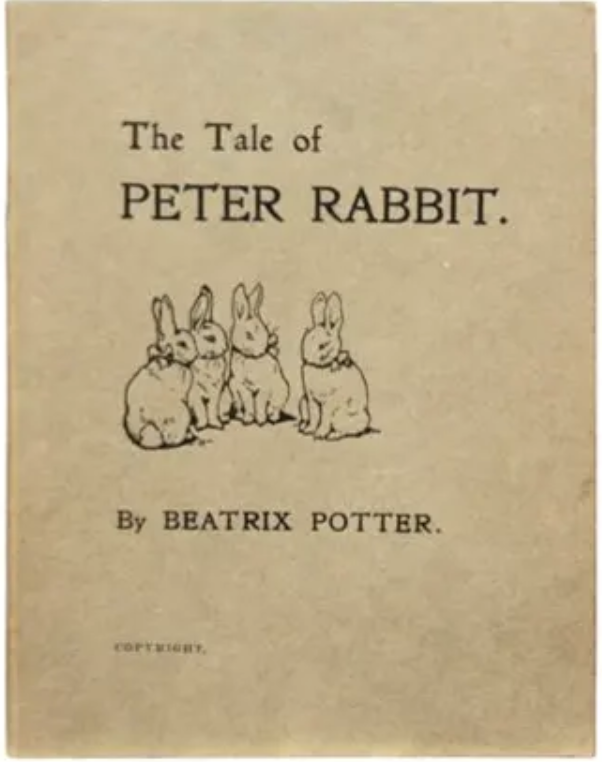 And it was Beatrix Potter's idea to merchandise Peter. In 1903, seeing the popularity of The Tale of Peter Rabbit, she began to sew a doll version for Warne's niece, she said……..
"I am cutting out calico patterns of Peter, I have not got it right yet, but the expression is going to be lovely; especially the whiskers—(pulled out of a brush!)"
She patented the doll, too, which makes Peter Rabbit the oldest licensed character.
Of course it was only a matter of time before Disney would want in on the rabbit action. Around the time of Snow White and the Seven Dwarfs, Walt Disney approached Beatrix about making an animated version of The Tale of Peter Rabbit. She refused. Some accounts say this was because she wanted to remain in control of the rights to her work.