It was a glorious day with perfect race conditions at Wales' first marathon road race of the year! The 2WISH GREAT WELSH MARATHON, organised by FRONT RUNNER EVENTS saw athletes gather at Pembrey Country Park to take on both the half and full marathon distances.
Hailed a great success, with both male and female records smashed in the marathon by Swansea Harrier's, Blair Mcwhiter and Kelly Dicks. Blair set a new course record, shaving a total of 10 mins 18 seconds off the quickest elite runner to date. Kelly was equally impressive, by achieving the first female to run the distance on the course in under 3 hours.
The half marathon results were also extraordinary, with previous record holder Dewi Griffiths, beating his own time by almost 5 minutes, setting a new course record of 1:03:48. First female, Hannah Munday managed to beat last year's half marathon record by 2 minutes 42 seconds, making it a day of wins all-round.
Tash Smith, Race Director told us…..
"We are absolutely blown away by the performances shown by everyone. Race conditions played a big part in runners achieving such incredible finishing times and there were hundreds of PB's reported by runners of all abilities across both distances. We would like to thank our lead charity 2wish for showing such support and encouragement to our participants throughout the day, as well as our incredible volunteers and crew."
The provisional results from the event were:
MARATHON
| | | | | | |
| --- | --- | --- | --- | --- | --- |
| Male | Club / Category | Gun Time | Female | Club | Gun Time |
| Blair Mcwhirter | Swansea Harriers | 02:28:48 | Kelly Dicks | Great Western Runners | 2:58:28 |
| Jack Pickett | Wolverhampton & Bilston | 02:30:12 | Joanna Callan | | 3:04:13 |
| Steffan Walker | Sarn Helen | 02:36:57 | Rhiannon Baxter | Stilton Striders | 3:11:35 |
HALF MARATHON
| | | | | | |
| --- | --- | --- | --- | --- | --- |
| Male | Club / Category | Gun Time | Female | Club | Gun Time |
| Dewi Griffiths | Swansea Harriers | 01:03:48 | Hannah Munday | | 1:26:36 |
| Will Munday | Swansea Harriers | 01:11:26 | Emma Baxter | Swansea Harriers | 1:27:08 |
| Mark Thomas | Crofty Ambrey RC | 01:13:00 | Becky Nicholas | 3M Gorseinon Road Runners | 1:29:13 |
| Rob Bugden | Wheelchair | 04:07:57 | | | |
In addition to the incredible finishing times, records of a different kind were also being broken. The event saw the first wheelchair participant, Rob Bugden take to the course, alongside his crew who were there for the duration to help and support him over the 13.1 mile distance. Rob suffered a spinal cord injury c5/6 and completed the race for the charity challenge #5for5. Rob is an RAF veteran & former England & GB international runner, so the team at Front Runner Events were honoured to welcome the athlete to the event.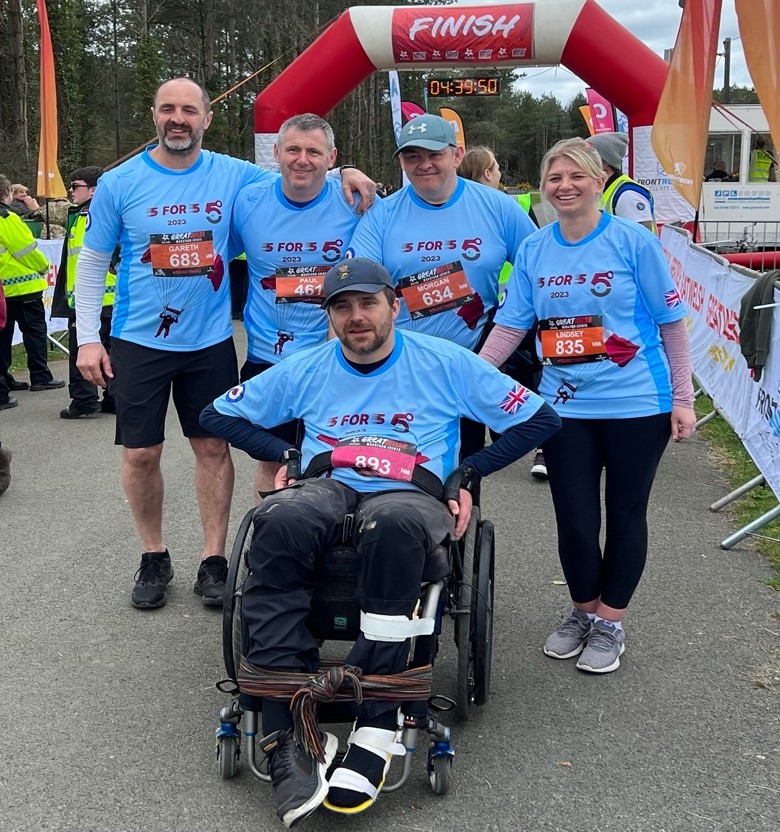 The team at Actif Sport & Leisure won the Celf Creative Corporate Challenge. What's more, there were hundreds of charity runners, fancy dressers, a Guinness World Record attempt and smiles all-round. Runners enjoyed a fantastic route that offered the very best of coast and country, with miles of beach and woodlands that seemed to set them on their way to hitting their best times.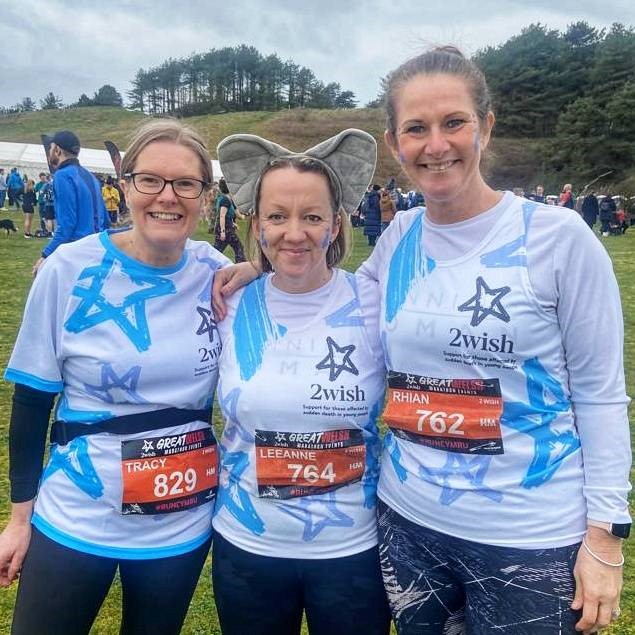 Rhian Mannings, MBE and founder of 2wish told us…..
"Thank you so much to everyone who came and supported 2wish and our runners. We had an incredible day from start to finish! It was an absolute pleasure seeing so many of you come out to support us and everyone taking part. We can't wait to see you all back in 2024 for what will be an incredible event once again!"
To find out more about the charity or if you want to be part of the 2wish team next year go HERE
Entry to the event in 2024 is already open and EARLY BIRD entries start at just £28 for the half marathon and £36 for the full distance. GENERAL ENTRIES will then open on the 1st of June so make sure you get your early bird place to #RunCymru in 2024 just head HERE. To stay ahead of race day pictures and more, like the Facebook page – HERE or follow @WelshMarathon #RunCymru #BeYourBest on Twitter.