To say this has been a challenging period for any student would be an understatement, with months of lockdown, online learning, and the uncertainty of exams and the subsequent results. Today was an important one for students across the UK as the all important A-Level results were announced.
And once again it seems it was a record breaking year. Almost half of grades were at A* or A – an all-time high, after exams were cancelled for the second year in a row.
That now means more young people are applying to university and officials have warned that clearing is likely to be "more competitive" for students.
South Wales Life was invited along to Coleg Gwent today, to meet students and staff after a very difficult year for education.
And there was good news, and lots of smiles this morning as learners have come out on top with another year of outstanding A Level and BTEC grades on results day. They also achieved the best A* – C grades ever, with a 4.6% increase with several learners successfully securing places at Cambridge University in September!  
1,329 A Level results were received electronically today, with over 80% of these achieving A*- C grades. The college is also celebrating a 100% pass rate in 57 A level subjects – an impressive increase from 46 subjects last year. 
Across Coleg Gwent, Level 3 vocational and BTEC learners also received their grades with exceptional outcomes. Coleg Gwent is very proud of the hard work, resilience and dedication their learners have shown, despite the challenges they've faced since the pandemic hit.  
For a lot of students not being in class, and arounds friends, made learning a very different experience, something the staff at Coleg Gwent recognised and supported whole-heartedly.
We met up with a few of them to find out more…….
This is the first academic year that the state-of-the-art Torfaen Learning Zone has been open to learners and impressive A and AS Level results have been attained already, with over 84.6% of A Level learners achieving A*- C grades. Meanwhile, students at Blaenau Gwent Learning Zone benefitted from the teaching expertise of their A Level team who recently won the Bronze accolade as Pearson Team of the Year in 2021, enjoying an exceptional 99.1% overall pass rate in grades A*- E. While learners and staff at Crosskeys campus also celebrated with a fantastic 97.2% overall pass rate.
Principal Guy Lacey told us……..
"Congratulations to all our learners on another set of outstanding results this year – we're very proud of your hard work and achievements! This year we're proud to be issuing results to our newest group of A Level learners at the newly opened Torfaen Learning Zone, as well as our learners from Crosskeys Campus and Blaenau Gwent Learning Zone. The hard work and dedication of the class of 2021 will set them in good stead for their next steps after college. We wish them the very best of luck for the future."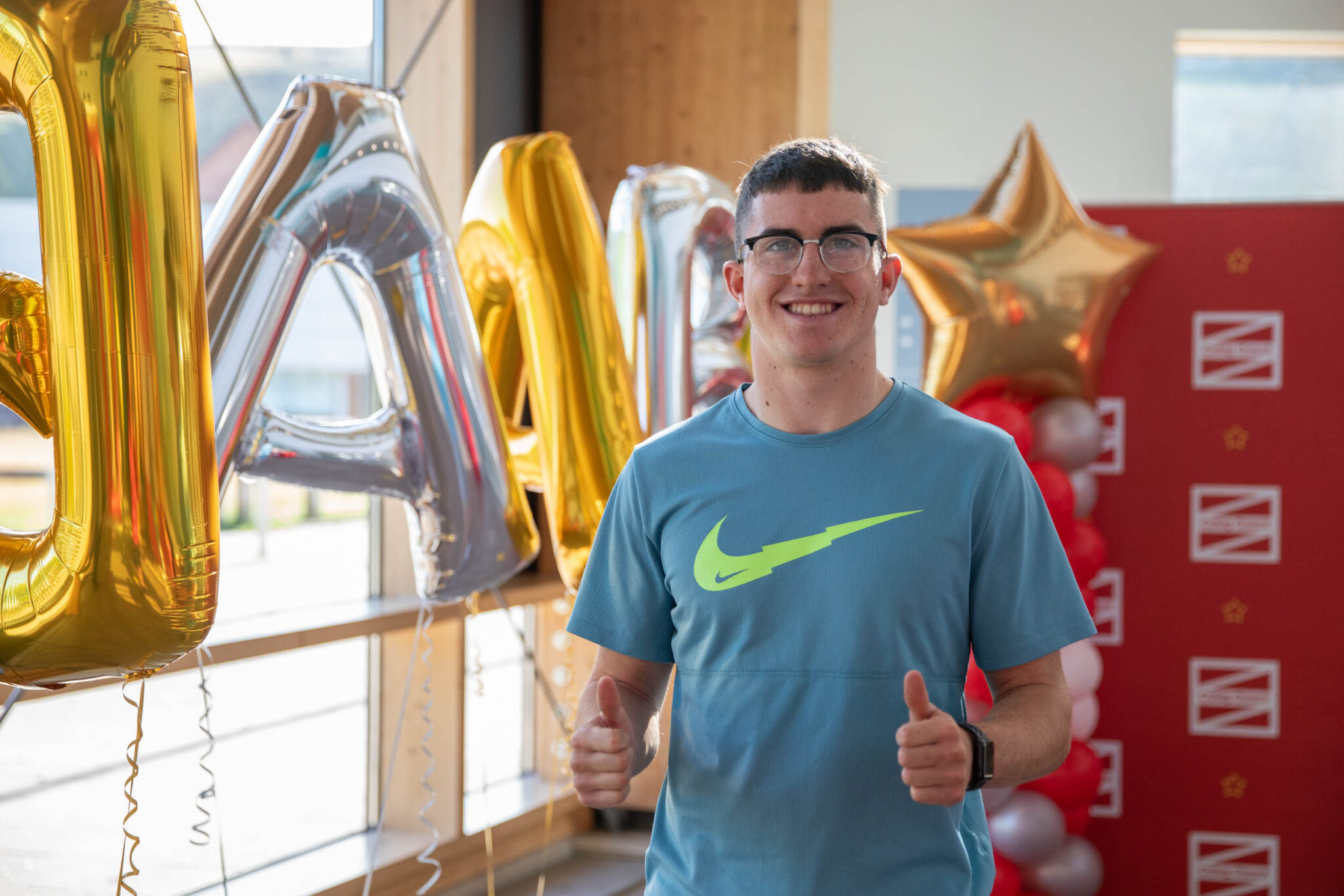 There are some incredible stories right across Coleg Gwent…..
Crosskeys Campus 
After working extremely hard, A Level student Lyra Jannetta from Oakdale, achieved incredible results with five A* grades in Physics, Maths, Further Maths, Chemistry and the Welsh Baccalaureate, cementing her place to study Natural Sciences at the prestigious Cambridge University. With a passion for STEM subjects, Lyra hopes to discover her scientific niche and pursue a PhD. She's been both excited and apprehensive for her results, as she's been waiting to find out if she met the conditions of her offer to study at Cambridge. Results day has been a huge success for Lyra!
BTEC Applied Science learners, Abigail George, Hollie Williams, Joel Chick, Tristan Lee, and Shalini Suansing achieved top grades – Distinctions and Merits – in their vocational studies. Abigail found that the BTEC course was "a great alternative to A Levels. It was heavily coursework based and allowed me to still get good grades to get into a great university without having as much pressure and stress of exams." She's now excited to study Biomedical Science at Cardiff University in September. Meanwhile, Joel, who aspires to become a Physiotherapist, thought the BTEC was "a great choice if you're looking for a job involving science, as it gives you so many options and there's lots of support from tutors." Joel is looking forward to studying Physiotherapy at Cardiff University.
Adult learner, Kristian Day, completed his IMI Motorcycle Repair diploma despite numerous set-backs during his studies. He said:
"My results are important to me as it demonstrates my determination to succeed and how much I've enjoyed my time at college. I'm disabled, as I have arthritis in my legs… so, I was only able to come back to college and complete my qualification as a direct result of the help and support I got from tutors!" 
Blaenau Gwent Campus
After studying the same A levels at Blaenau Gwent Learning Zone, identical twins Sujana and Sujina Balendra from Beaufort have achieved double success and two well-deserved places at Cardiff University studying Biomedical Science.
Sujana told us……
"My career aspiration is to become a doctor. I know that I've done my best in each subject thanks to the help and support that I've received from my teachers and I'm going to study biomedical science which will help me progress to study medicine at graduate level!"
Meanwhile, Sujina found that…….
"Coleg Gwent has provided me with confidence that I will be able to achieve my goals and by studying biology and chemistry, this has provided me with important lab skills which I will use in the future in my university course." 
Gareth Burchell from Ebbw Vale achieved 3A* and an A and secured a place to study Psychology at Cardiff University. He explained; "Coleg Gwent provided me with an extensive foundation of skills that I can further build upon, and I'd now like to pursue a career in psychology!" The future is also looking bright for SEREN learner Hannah Davies from Tredegar, who scored three A* grades in PE, Biology and Psychology and is going on to study Psychology at Bath University! 
With a wide choice of courses at Blaenau Gwent Learning Zone, successful learners are going on to study a diverse range of degrees at top universities across the UK. Liam Williams from Tredegar, is preparing to go to Liverpool University to study Architecture with outstanding A*AC grades. BTEC Sports learner, Hywel Evans from Blaina, hopes to work in the sports industry one day. He achieved a Distinction and will be studying Sports Management at Cardiff Metropolitan University. While Joe Nash from Ebbw Vale, worked hard to achieve AAB in Welsh, Spanish and Biology and is now looking forward to a degree in Modern Languages at Swansea University.