Are you searching for the best Halloween events. Maybe looking to find the most spooktacular local fun and things to do in South Wales.

Here's the SOUTH WALES LIFE guide to all that is spooky near you. If you want ideas on things to do at home, we have those here too. This guide will be expanding over the next few weeks so bookmark it and come back regularly for the latest spooky happenings.
ABERDARE
MONSTERS OF THE MINE – 4 HALLOWEEN NIGHT PASSES AT ZIP WORLD
Halloween returns to Zip World Tower this year, with the infamous Monsters of the Mine immersive experience. Not just any old scare-fest; the terrifying horde of underworld monsters and the petrifying, unique adventures in the dark make this an event you won't forget in a hurry, nor will you find one quite like it anywhere else. Eerily set in a former coal mine and with 4 different Night Passes available from just £25, look no further for a truly terrifying Halloween experience in South Wales.
This intense horror experience will provide you with all the frights you need this Halloween with the option to book on to the Cursed Climber – which towers over the site at 21m high – and Fear Flyer, our zip line for your mini thrill-seekers.
TERROR COASTER & CURSED CLIMBER NIGHT PASS
If you prefer to stick within the thick of the action, this Night Pass is for you. Centrally located, both of these twisted adventures are conveniently set right next to check-in and will place you in the thick of the Monsters' paths. With the rewarding challenge of the Cursed Climber and the sit-back-and-enjoy nature of the Terror Coaster, this pass is a good all-rounder for someone who wants the best of both. All Night Passes include access to the site and the Monsters all evening too.
TERROR COASTER & FEAR FLYER NIGHT PASS
Perfect for those who're looking to stay within the thick of the action; the Terror Coaster a Fear Flyer combo will see you soaring along the site's lower level on a zip and on a track. With the Monsters roaming and playing their tricks all the same, the Terror Coaster will have you darting and weaving around the site in your 2-seater cart, whilst the Fear Flyer will have you zip-lining along 3 separate zones while the Monsters roam below. All Night Passes include access to the site and the Monsters all evening too.
PHOENIX NIGHT PASS
This Night Pass is the ultimate option for an adrenaline-junkie. Our 620m zip line in the dark will be sure to get your heart racing, not to mention the monsters lurking around the start and finish…
SPECTATOR NIGHT PASS
Not keen on adventuring? Spectator's Passes are available for those who'd like to come along and soak up the Halloween spirit, from just £5. You'll still get to watch the carnage unfold on the adventures, get up-close and personal with the Monsters of the Mine, and enjoy some cocktails. If you change your mind, you can always include an added extra to your Spectator's Pass.
Price: A £25 pass gives entry to the site and a ride on Phoenix. A £5 spectator pass will get you entry to the site and you can add Tower Climber and Tower Flier to either pass as optional extra
So, if you fancy joining them for a night of frightening fun, which runs from the 13th October to 1st November head over to their website and book your Monsters of the Mine night pass before it's too late – HERE 
SPOOKY SCARY MONSTER BASH
Welcome to the Halloween event, be in for a trick or treat.
Party games, dancing, sweets, what a fun treat!!
The event is to be held at Capcoch Primary School in Aberdare on Friday 27th October at 4pm and is £3. The school has all the details.
ABERGAVENNY
SKIRRID MOUNTAIN INN GHOST HUNT
The oldest known reference to one of the Most Haunted Pubs in Wales, which nestles within the shadow of the Skirrid Mountain, is in 1110 when John Crowther was sentenced to death for sheep stealing and was hanged from a beam of the inn. The Beam is there to this very day.
Over the next eight hundred years 182 felons would meet a similar fate, dangling by the neck over the buildings stairwell at the Inn.
An unusual style of customer relations you may think, until you realise that, as well as serving up frothing tankards to thirsty travellers, the premises also doubled as a courthouse. Until, in the mid 19th century, it pulled out of the execution business altogether and has since dedicated itself to the sustenance of the living.
Needless to say, with such a sinister pedigree, The Skirrid Mountain Inn can offer many a ghostly tale to chill the blood. The spirits of those executed here, are said to make their presences felt in a rather direct and disturbing way.
Many Locals & Guests at the Inn have felt the overwhelming sensation, of an invisible noose being slipped around their necks and have been alarmed to feel it getting tighter & tighter. Although, they always manage to break free from the strange grip, they bear the distinct impression of the marks of the rope for sometime afterwards. Another ghost to haunt the old and, in parts, spooky property is that of woman who, although never seen, is both felt and heard by staff as she rustles invisibly past them, her progress marked by a distinct chill in the air. This lady is suppose to be an Victorian Landlady called fanny price. you can still visit her grave in the local graveyard.
Haunting Nights looks forward to welcoming you to this very haunted location. This Event come with a 2 Course supper included (Fish&Chips) or Home Made Streak & Ale Pie and Vegetarian option available on request. Please contact the team at the time of your booking.
Take a look at their video HERE.
If you are brave enough to stay at the location overnight contact the team for more information. Tickets for the evening, on 15th October are £53.42 – they do have dates throughout the year as well. To Book yours, go HERE.
ABERYSTWYTH
TERROR MOUNTAIN
We think it's fair to say this is Wales' BIGGEST Halloween event and it's back this year to scare the bejeebers out of us once again. They tell us, it's bigger, better and scarier than ever. What are we talking about? TERROR MOUNTAIN. Set in a creepy Victorian silver mine just outside Aberystwyth (the Silver Mountain Experience), it boasts 5 LIVE ACTION HORROR ATTRACTIONS filled with a whole host of nightmare inducing creatures. Whether bringing your family, friends or colleagues, they guarantee it will be a terrifyingly fun night out! If you've got NO BODY to go with, they may let you stay.
They've got two new attractions this year –
HAUNTED LIVE – Join them for the latest instalment of HAUNTED: LIVE, where popular vlogger 'Haunted4Lyfe' is exploring one of the buildings in our the Victorian mine. You don't have to be a believer to feel spooked, and you never know, you might just find something that goes 'bump' in the night!
THE COVEN – As the sun sets, Witches gather in the darkness of the forest. They practice the dark art of Necromancy and Diablerie. To feed their power, they must provide 'the dark one' a living sacrifice to consume once a year. Legend states that this sacrifice has taken place every year since 1655, and this year is no different. Are you a believer in legends?
If you're still not convinced why not turn the lights out, turn up the volume, set your device to full screen and watch this 2022 video. Go on, we dare you TERROR
There are various times and dates you can visit, with tickets are on sale NOW, and they will sell out, so make sure you pre-book to guarantee your night of thrilling frights and fun.
As usual with these things you get the best deals if you book in advance and of course, for a lot of us, it may be a bit of a journey, so check they have space before you leave.
TERROR MOUNTAIN is part of the Silver Mountain Experience at Ponterwyd just outside Aberystwyth. For more details and get tickets go here MOUNTAIN
BARRY
HALLOWEEN AT FONMON CASTLE
They have plenty lined up at Fonmon Castle this halloween, with day and noght time events for the whole family.
Fonmon Castle Paranormal Investigations
Are you brave enough to join the paranormal investigators on the Fonmon Ghost Hunt? they do not suggest that under 16s attend our Paranormal Investigations.
Join the experienced team of Paranormal Investigators on a terrifying behind-the-scenes ghost hunt at Fonmon Castle.
On each eveing you will engage in a series of ghost tours, ghostly tales and Paranormal Investigations.
You will be granted access to parts of the castle that are not available to the general public on a daily basis.
WARNING – These investigations are atmospheric and thrilling and can at times produce feelings of fear and dread, it is therefore advised that you undertake these investigations at your own discretion.
Halloween Daytime – Adults and Children
Come and enjoy a Toddler's Halloween Visit at Fonmon Castle.
Halloween Daytime 2023 – Adults and Children Come and enjoy a Toddler's Halloween Visit at Fonmon Castle. All the normal areas, playgrounds, dinosaurs and costumed staff to help you enjoy the day. Meet costumed characters and join in our "Spooky Disco Competition.' Take a photo with our Ghostbusters and Ghostbusters car (ECTO-1).
Follow the story of Fon & Mon as they embark on a Halloween Adventure. We have a new 'less-scary' skeleton garden for our younger thrill seekers. Make your way through the "Halloween Run", but not to worry as this is daytime and won't be scary and will definately be safe ! Live music in the Dino Dome , the farm will be alive with Owls and activities.
They have a varied Halloween inspired menu for all ages – Here you can get hot food and hot / cold drinks. If you are hunting scary action then please visit the evening attraction but if you want a quieter safer day with a Halloween twist, safe for very small children – then this is for you. This event closes at 3pm sharp. Last entry is at 1pm
There will be the following here on a Nightly Basis !!
"The Ghostbusters" along with Ecto 1 outside the main entrance of the castle.
"The Horror Magician" – Our local magician Patrick will be here to amaze you with his tricks.
"The Owls" – We have our local group of Owl Handlers here for you to interact with at the medieval farm.
"The Scare Run" – We all love a good scare ! This years run will be located at the start of the ' Hangman's Orchard' and will take you through several areas of Horror. you will be able to enter the scare run at any time you wish during our opening hours !! Last entry for the Scare Run is at 9pm. Please be aware that there will be queuing at peak times.
Full of mazes and things that will jump out at you !! (we won't say what) – it gets worse and the evening gets darker !!
"The Skeleton Gardens" – Just in case you are too terrified to complete the Scare Run, we have a gentle horror themed garden walk. Perfect for the timid among you.
"Kids Halloween Story Trail" – You can follow the interactive story of how Fon and Mon survived Halloween at the castle. A bit like "once upon a time" but with a kick !
"Dino Haunted Woods" – As part of the Scare Run, you can enjoy a spooky walk through our dinosaurs but be prepared for ' jump scares and thrills at any point.'
"Horror Farm" – Wander around the Medieval farm in its new Horror Themed design. Take time to browse our shops, visit our animatronic Raptors in the Raptor Pit, or meet some spooky characters. If you feel brave enough you can even pay to have your fortune told. We will also have our resident "Fair Ground for Little Ones" open during this event.
"Themed Shops" – Enjoy a purchase from our themed Horror Shops. Everything from Wicca to Wizards.
*Please note, we do not set a lower age limit for this event but warn parents that some areas are more 'fearful' and could upset younger visitors. We fully trust that parents/guardians are able to make a choice as to what is best for their children.*
*The Scare Run is designed for an adult audience.*
Fonmon Castle is in the Vale of Glamorgan (Barry). To book tickets, with concessions in place, just go HERE.
BRECON
HALLOWEEN SHEEP WALK
Join a spooky sheep walk this half term!
Help to dress your sheep in their halloween costume before heading along the halloween trail with your new four-legged friend.
A unique chance to go sheep trekking in the Brecon Beacons National Park! Choose your sheep from our friendly flock to take on a picturesque trek towards the Black Mountain with scenic views of Pen-Y-Fan and the Beacons. Each sheep is fitted with its own little halter and he will lead you and retrace the footsteps of the drovers of the past hen making your way back to the farm. It really is a chance to get up close and personal to sheep and a chance to get your #SheepSelfie on point.
Our Autumn/Winter walks are following a slightly different route. Due to the wonderful unpredictable Welsh weather and muddy ground we are not able to walk in all the normal sheep walking fields.
Undated vouchers can be bought and then redeemed by the recipients.
All people attending the trek require a ticket. Children age 3 and under are FREE. If you would like to attend without a sheep then you will require a spectator ticket
More details on the Halloween Sheep Walk HERE.
SPECSAVERS CHARITY HALLOWEEN PARTY
Specsavers Charity Halloween Party – Celebrating 20 years of Specsavers Brecon! Grab your best Halloween costume and come raise money for a great cause!
Let's raise money for a great cause!
The night will be filled with great food, great music, great costumes and more.
Special guests Northern Ruins, Beacons Disco and Class Act Catering and more.
Charity raffle to win great prizes!
For more details and tickets, give them a call, or pop in. The poster has all the contact info…..
CARDIFF
CARDIFF PUMPKIN FESTIVAL 
The CARDIFF PUMPKIN FESTIVAL runs from Saturday 14th through to the big night itself, the 31st October.
With over 30,000 pumpkins in every shape and size imaginable, thrilling fairground rides, enthralling maize trails, captivating live entertainment, mouth-watering food, play areas and an array of pumpkin games, the Daytime Pumpkin Festival is the ultimate halloween destination. The organisers have promised us days filled with laughter, excitement, and a touch of spooky magic!
​When the sun sets, the adventure continues with the Twilight Pumpkin Festival experience. Roam through the pumpkin-lit pathways, surrounded by the warm glow of fire pits and mesmerising fire display. And be prepared for some extra spooky surprises that will send shivers down your spine! It's an enchanting evening for the whole family to enjoy.
You read our feature on the festival HERE.
TREETOP ADVENTURE GOLF
Swing by for an epic mini golf adventure with two indoor, 18-hole courses, plus cracking coffee, tropical cocktails and tasty jungle grub.
Not strictly Halloween, but very much half term fun and it will raise your SPIRITS (sorry).
Tackle the Tropical Trail and navigate your way through the rainforest. Visit Grandma Oak along the Mystic River, chat with cheeky toucans and listen out for our singing barbershop frogs during your stay at The Pitz Bug Hotel. Or maybe you'll brave the magic of the Ancient Explorer, with its crumbling temples and scenic views. Learn all about the Legend of the Technicolour Toco Toucan Temple as you navigate your way around. The Sacred Mask can't wait to meet you, but try and not wake Chief Slumber!
Whichever route you choose, don't forget to step up to the challenge on the bonus 19th hole (if you're feeling lucky).
The rainforest is open seven days a week, for everything from family days out to student hang-outs, date nights, work mate get-togethers and client celebrations.
For mini golfers who prefer a calmer game, there's a hush in the rainforest on the second Sunday of every month. There'll be no background buzz or strobe lightning, and even the Sacred Mask takes it down to a whisper. Read more HERE.
There's no need to book – just turn up and tee off! TREETOP ADVENTURE GOLF is in St David's Cardiff – to see what's on offer, go HERE.
CASTELL COCH HALLOWEEN TOURS
Join them for a dim and dark exploration after hours around the fairytale castle. Wander inside the walls of the Marquess of Bute's Victorian gothic fantasy home and listen to chilling tales of ghostly episodes from our expert guides.
Join them, at 6pm or 8.30pm for a two-hour tour within the castle.
Please note, these tours will take place in all weather conditions and due to the Gothic spiral towers, will be full of stairs! The ground will be uneven in places – so please wear appropriate shoes and clothing.
Bring a torch too, because you'll be exploring some very dark places around the castle.
Tickets: £22
(suitable for adults only – please book your tickets in advance).
The tours are on Saturday 28th and Tuesday 31st October. For more details, and to book, go HERE.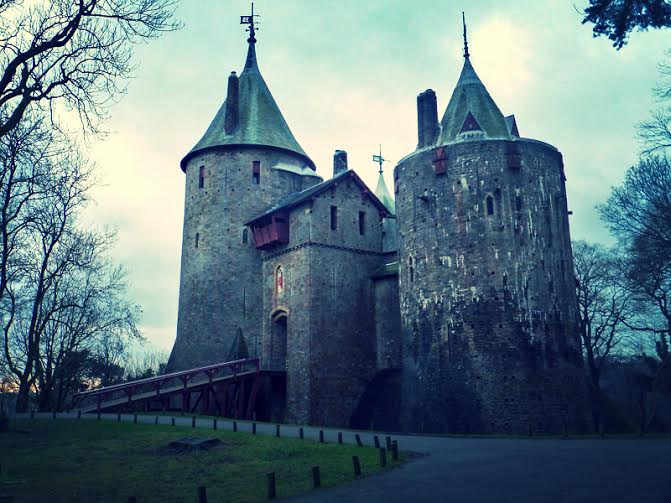 History of Castell Coch
Delve into the history of Castell Coch and it becomes very clear as to why this location is a ghost hunters dream. The land on which this majestic Red Castle sits has been used since as early as the 9th Century as a form of defence by the Normans.
The earth motte remains of the Norman fortification were used as the foundations for a stone castle which was constructed throughout the mid 11th Century and is believed to have been used until the early 1300's before its demise.
The ruins remained dormant until 1848 when the new owner of the land, the 3rd Marquess of Bute, plotted a lavish plan to build an occasional retreat from his already extravagant Cardiff Castle. Architect William Burgess was employed to create the masterpiece we see today – Castell Coch.
Despite its opulent decor and rich furnishings, Castell Coch was rarely used and in 1950, his grandson who inherited the Castle, gave control of the estate over to the Welsh Heritage Agency.
COCH'S CREEPY HALLOWEEN
Collect your treat by completing the Halloween quest!
This event will be running daily through the half term school holidays from the 28 October to 5 November.
There will also be spectacularly spooky and seasonal craft activities for kids and adults alike on the 28th and 29th, October and 4th & 5th November.
For details on the Creepy Halloween go HERE.
RUMMER TAVERN
No event as such here, but if you're out for a drink in the city, then this is a great place to go at Halloween.
This is a chance to visit the oldest pub in Cardiff, directly opposite the Castle. THE RUMMER TAVERN dates back to the early 18th century, making it well over 300 years old. Let's be honest, that gives it the right to be classed as a spooky place to visit on Halloween and not only for the spirits (sorry).

The façade gives the building a Tudor appearance, its long narrow shape indicates it was built on a medieval burgage plot. There are many reports of ghostly presences, most often in the cellar and toilets, the most known is that of a jealous sailor who died in the building soon after finding his wife in bed with another man……. Was it murder, suicide or a broken heart that killed him? Perhaps this is your chance to find out?
The RUMMER TAVERN is on Duke Street and is now a Cardiff City supporters pub with a great menu and all the sports. You can check out their Facebook page HERE.
CHEPSTOW
CHEPSTOW CASTLE HALLOWEEN
They have a couple of events at Chepstow Castle….
Mini Pumpkin Decorating
Get creative at Chepstow Castle this Halloween!
First you must enter the spooky castle prison to pick a mini pumpkin. Then, take your chosen pumpkin to our decoration station and transform it into a spooky Halloween decoration to take home.
There's no messy carving here; just felt pens, stickers!
Please be aware there is a £2 charge to take part in the activity.
For more details on the decorating, which runs from Thursday 26th to Tuesday 31st October, go HERE.
An Evening of Ghost Stories
Wrap up warm and join them behind the gates of Chepstow Castle for an evening of local ghost stories and legends, recounted by their storytellers.
Tickets include a complimentary hot drink on arrival. Adults only.
Sessions at 6.30pm & 8.30pm please arrive 15 minutes before start time.
Numbers for this event are limited so advanced booking is essential. The stories will be told on Friday 13th October, for details go HERE.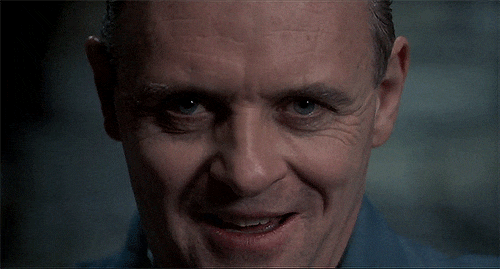 LLANTWIT MAJOR
HALLOWEEN MOVIES AT ST DONATS CASTLE
For a fangtastic day out for all the family, come along to the eerie St Donat's medieval Castle on Saturday 28th and 29th October.
Arrive from 2pm and be seated in the grand Dining Hall to feast on a Halloween-themed afternoon tea as pianist Sharon Richards plays various Halloween songs, frightfully well.
You will then be guided to enjoy Hocus Pocus under the glowing lights and vaulted wooden ceilings of the Bradenstoke Hall.
Dress for the occasion in your spookiest Halloween costumes, or come as you are if you are scary looking enough!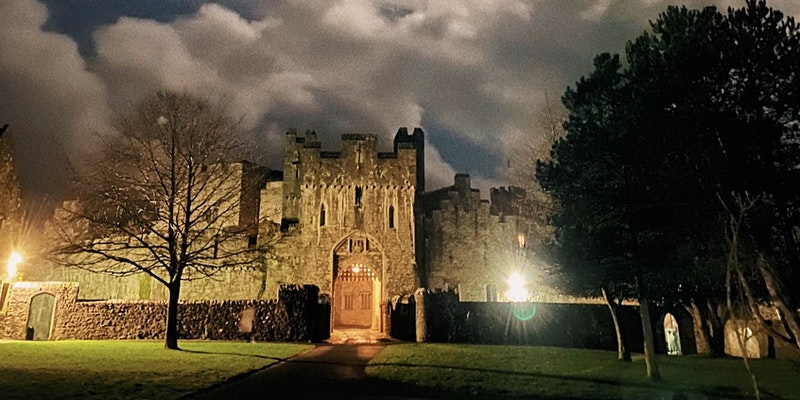 Things to know…
Please arrive between 2-2.15pm (you will not be permitted access to the car park earlier than 1.45pm)
A bar will not be available for this event. A selection of tea, coffee and squash is included in the ticket
Booking in advance is required. Booking closes 5-days before the event date or when the event is sold out
Please note you will be seated on long tables with other groups. If you wish to sit together as a group, please book together or email events@uwcatlanticexperience.com
Please note there is no space at the tables for pushchairs and prams. Please leave these in the dedicated area of the castle
Highchairs are available on request subject to availability
This event is recommended for ages 3+
For babies aged 2 and below that do not require catering, please book a free baby ticket.
Please specify any special dietary requirements on the booking form. We can only cater for allergens and special dietary requirements notified in advance
Included in the event is a Halloween-themed afternoon tea, tea and coffee, squash and a screening of Hocus Pocus.
UWC Atlantic is a College on private grounds and adheres to a safeguarding policy which can be read here
You are not permitted in areas on campus outside of what is being used for this event
A Halloween classic, HOCUS POCUS is a treat to be enjoyed with friends and family.
After moving to Salem, Mass., teenager Max Dennison (Omri Katz) explores an abandoned house with his sister Dani (Thora Birch) and their new friend, Allison (Vinessa Shaw). After dismissing a story Allison tells as superstitious, Max accidentally frees a coven of evil witches (Bette Midler, Sarah Jessica Parker, Kathy Najimy) who used to live in the house. Now, with the help of a magical cat, the kids must steal the witches' book of spells to stop them from becoming immortal.
HOCUS POCUS starts at 2pm, there are various tickets prices, and you can get them here HOCUS.
An all-time family favourite, CASPER! is the perfect film to enjoy with your little terrors being screened at 2pm on Sunday 29th October.
Casper is a kind young ghost who peacefully haunts a mansion in Maine. When specialist James Harvey (Bill Pullman) arrives to communicate with Casper and his fellow spirits, he brings along his teenage daughter, Kat (Christina Ricci). Casper quickly falls in love with Kat, but their budding relationship is complicated not only by his transparent state, but also by his troublemaking apparition uncles and their mischievous antics.
All the relevant information is the same as above…..
Tickets are available now and you can get them HERE.
They also have a Halloween Special with a Castle Tour and Scream Tea on Sunday 29th October.
Meet your local historian to be taken on an adventure through time as you explore the secrets of the mysterious and medieval St Donat's Castle.
Lose yourself in the hair-raising tales of the past as you creep through the corridors and eerie halls of St Donat's Castle. You may even hear of a ghost or two!
The tour will last approximately 90-minutes where you will then retreat to the Dining Hall to indulge in a spooktacular scream tea.
Each tour has a maximum capacity of 25, to allow a more personal experience.
Please book one of the following schedules:
TOUR 1
9.30am – 11am – Spooky tour of St Donat's Castle
11am – Cream Tea
TOUR 2
10.30am – 12pm – Spooky tour of St Donat's Castle
12pm – Cream Tea
Details on the Halloween Special can be found HERE.
NEATH
NEWPORT
PUMPKIN CARVING WORKSHOPS – TREDEGAR HOUSE
They have PUMPKIN CARVING going on at Tredegar House.
Spark your creativity by personalising your pumpkin – will it be smiley, spooky or silly? The choice is yours! We'll provide everything you need, so just turn up on the day with your artistic thinking hat on, ready to let your imagination run wild.
Saturday 28th October, 11am, 12pm, 1pm & 2pm
Sunday 29th October, 11am, 12pm, 1pm & 2pm
Monday 30th October, 11am, 12pm, 1pm
Tuesday 31st October, 11am, 12pm, 1pm
This activity is run on a first come, first served basis.
It's a turn up and do it thing. Obviously there will be the usual charges at the house itself.
The cost is £4 per person. Normal admission fees apply. For more details go here CARVING
They also have a Spooky Sightings Spotter Trail running from Saturday 30th September through to 6th November.
How many spooky sightings can you discover in the house? Take a wander through Tredegar house mansion this autumn season and see if you can find them all.
It's a free event which needs no booking, just turn up and enjoy. More details HERE.
PEMBREY
PEMBREY COUNTRY PARK
They have plenty of Halloween events at Pembrey, however, some are already sold out.
Pirate Pumpkin Prowl 28th & 29th October (SOLD OUT)
Take a walk through the woodlands, follow the clues to find the answers but, who knows what you may come across just a few days before Halloween! HERE.
Spooks on the Train 28th October
Join them this Halloween for Spooky train rides. Keep your wits about you, there might be some surprises along the way – HERE.
Bat & Nature Walk 28th October (SOLD OUT)
Help the Rangers to try and identify the different species of bats found in Pembrey using our bat detectors whilst also keeping an eye out for the other nocturnal wildlife here in the park – HERE.
Spooky Hallowing Crazy Golf 28th October – 1st November
A mesmerizing crazy golf course illuminated by eerie lights, while mischievous spooks lurk in the shadows. It's a Halloween golf extravaganza you won't want to miss! So dust off your clubs, summon your courage, and join us for a wickedly fun game of Crazy Golf. Just make sure your swing is as sharp as your witty banter! – HERE.
Zombie Trail (SOLD OUT)
The Zombie Trail at Pembrey Country Park is an exhilarating adventure that will put your bravery to the ultimate test – HERE.
It may be worth checking the Pembrey site for any returns but we think these are so popular, they'll remain sold out.
PENARTH
PONTYPOOL
BLAENAVON IRONWORKS HALLOWEEN
Head along to the Ironworks for a spooky trail, and storytelling.
Listen to spooky Welsh legends, tales, and ghost stories. And throughout the week there will be a free Halloween trail for children in the spookily themed cottages, with a chocolate prize.
Opening Times
| Day | Times |
| --- | --- |
| Saturday 28th October | 11:00 – 16:00 |
| Sunday 29th October | 11:00 – 16:00 |
| Monday 30th October | 11:00 – 16:00 |
| Tuesday 31st October | 11:00 – 16:00 |
| Wednesday 1st November | 11:00 – 16:00 |
| Thursday 2nd November | 11:00 – 16:00 |
| Friday 3rd November | 11:00 – 16:00 |
If you'd like more details just head along to their site here IRONWORKS.
HAUNTED HISTORY AND FOLKLORE EVENING TOUR
Join an evening tour of Blaenavon Ironworks – with ghost stories, spooky tales, historic folklore and ancient legends of Blaenavon and Blaenau Gwent. 
Hear tales of Welsh myths and the legends of the Black Mountains, and local ghost stories of the Ironworks. Followed by hot drink refreshment and a Welsh cake.
please arrive 15 minutes before the event starts
bring a small pocket torch
bring wet weather gear and sturdy shoes in event of weather as event will be mostly outdoors for up to 90 minutes.
Tour is suitable for adults only.
The price is £10 and they happen on Sunday 23rd and Sunday 30th October between 7 and 9pm. More details HERE.
J
SWANSEA
SPOOKS IN THE CITY
From 11am, St David's Place (near the former Iceland shop) is transformed into a spooky spectacular!
This FREE event will feature ghoulish good fun including themed entertainment, face painting, Halloween arts and crafts and live shows from Swansea dance schools.
Dress up, come along and have a terrorific time!
SPOOKS IN THE CITY is at Castle Square on Saturday 28th October, for details, go HERE.
A HAUNTING HALLOWEEN AFFAIR AT PLANTASIA
Embark on a nocturnal Halloween jungle adventure on Tuesday 31st October and follow the mesmerizing spider trail through the dark. Conquer spooky challenges along the way to earn your stripes. And don't miss the chance to meet Wednesday and Enid, who'll guide you in perfecting your eerie dance moves. It's a night of enchantment where mystery meets dance under the moonlit sky.
Tickets include your general admission to the zoo, your spider trail, and a meet & greet dance experience with Wednesday & Enid.
Pre-booking your tickets online is essential.
The Haunting Halloween is on Tuesday 31st October from 6pm – 9:30pm (last entry at 8:30pm). For details and to book, go HERE.
HALLOWEEN FUN AT THE GOWER HERITAGE CENTRE
Come down to the Heritage Centre for some Family Halloween Fun.
ome down to the Heritage Centre for some Family Halloween Fun.
Hear Julia Donaldson's story " Room on the Broom" in our magical theatre.
Meet some of the characters
Halloween scavenger hunt
Halloween craft
Carve your own pumpkin
Enter best witch drawing competition
Take party in our Halloween duck race.
They are launching Halloween at the Gower Heritage Centre on Sunday 29th October at 1pm.
Tickets for the Halloween events MUST be pre-booked using this link HERE
MARGAM COUNTRY PARK – SPOOKFEST
Throughout the year, the park hosts various events ranging from Living History Weekends to Children's Craft Activities to Bank Holiday Fun Days to Charity Walks. Halloween is a big thing for the team at Margam, and this year they have really pushed the broomstick out.
MARGAM HALLOWEEN DANCE TRAILS
HALLOWEEN FUN WITH FRIENDS OF MARGAM PARK
ZOOLAB CREEPY CRITTERS
PAINT YOUR OWN HALLOWEEN POTTERY
HAVE A GO AT ARCHERY
SPOOKS SCHOOL
KELLY AND DEBBIE SPOOKTACULAR MAGIC SHOW
And so much more.
They have a two page leaflet available with all the details, you can download it to your device HERE.
They also have a bunch of spooky movie screenings with…..
BEETLEJUICE – FRIDAY 20th October at 6pm
HOCUS POCUS – SATURDAY 21st October 5:15pm
GHOSTBUSTERS – Sunday 22nd October 5pm
All the details on the movies HERE.
MARGAM CASTLE PARANORMAL NIGHTS
Ghost Hunts at Margam Castle are certainly not for the faint hearted, Margam Castle is available for private hire, this allows you exclusive use of the castle to carry out paranormal investigations.
Deep growls and groans are experienced in the many empty eerie rooms, strange unexplained lights and mists have been witnessed on the grand staircase. The gothic style building is said to be haunted by an extremely angry and violent spirit of the gamekeeper, there are also reports of visitors seeing his ghostly figure wandering through the woodlands. Margam Castle is situated in Port Talbot, South Wales . Can you face your fears and hold seances and vigils here ?
The Ghosts of Margam Castle
This is a truly eerie and spooky building that is said to house an extremely violent and angry spirit of a gamekeeper, reportedly murdered by a poacher. Many people have claimed that this extremely angry presence can be felt upon entering this huge Castle.
With its grand staircase, many rooms and dark corridors, ghost hunts at Margam Castle are frightening and this has become an extremely interesting location to investigate. Will you dare enter the castle doors with the paranormal eye team ?
Margam Castle is known for its paranormal activity, Over the years there has been many reports of dark shadows seen many people claim it appears to resemble a man, he has been seen in the grounds as well as the Castle itself.
This Location is a must for anyone wanting a real intense investigation.
History of Margam Castle
Margam Castle is a large Victorian era country house, built in Margam, Port Talbot, Wales, for Christopher Rice Mansel Talbot (1803–1890). It was constructed over a ten-year period, from 1830 to 1840, on a site which had been occupied for some 4,000 years and which from the 11th century until the dissolution of the monasteries was an abbey.
Although called a "castle", the building is really a large comfortable country house, one of many "mock" castles built in the 19th century during the Gothic Revival.
After making a Grand Tour of Europe as a young man, Talbot returned to south Wales and from 1830 he set about redeveloping the family estate at Margam. The new castle was designed in a Tudor Gothic style by the architect Thomas Hopper (1776–1856), while Edward Haycock Snr (1790–1870) was supervisory architect and designed parts of the interior and exterior of the house, the stables, terraces and lodges. Talbot also took a keen interest in the project, encouraging his architects to borrow elements from Lacock Abbey in Wiltshire(ancestral home of the Talbots and home to his cousin William Henry Fox Talbot) and Melbury House in Dorset (home of his mother's family, the Fox-Strangways, Earls of Ilchester).
William Henry Fox Talbot was a frequent visitor to Margam, and the castle featured as an image in some of his early photographic experiments. Margam's links with photography also include being the location of the earliest known Welsh photograph, a daguerreotype of the castle taken on 9 March 1841 by the Reverend Calvert Richard Jones.
After the death of Emily Charlotte Talbot, the daughter of its first owner, the castle passed to her nephew and continued to be used by the Talbot family until 1941, when it was sold. David Evans-Bevan, who bought it, found it too large to live in, but could not find any public organisation interested in taking it on, and it fell into disrepair. For many years it belonged to the local authority, but was not open to the public. In 1977, a fire caused substantial damage, and it was only after this that a restoration project began in earnest.
Today Margam Castle is a Grade I listed building and is in the care of Neath Port Talbot County Borough Council.
For details on the Paranormal nights, go HERE.
TO DO AT HOME
FAMILY STUFF
HALLOWEEN PICNIC (INDOORS)
If it's all a little too scary out there for some members of the family, why not have a halloween themed picnic, indoors. Set out a picnic blanket and basket of food and eat your spooky dinner as though you were having a picnic. Things like this are often the catalyst for a surprisingly fun-filled evening.
A HALLOWEEN SCAVENGER HUNT
A little like the Easter Egg Hunt, only this time with all things Halloween. Sorry Mum & Dad, this will involve a lot of sweets. Everyone (kids & adults) loves hunting for hidden things. Write or type up a list (or print the one above) of things that need to be found and give a copy to everyone. Put a time limit on how long they have to locate the articles. You could even place the odd scary spider or plastic skeleton in appropriate, hidden places.
HALLOWEEN COOKING SHOW
You've seen these cooking shows on TV, now you could film your own, with the kids starring in it. Get them to pretend they are hosting their own cooking show and video it. Make sure the whole family participates, in one way or another. Watching it back while you all eat the ghoulish goodies they've made will be such a laugh.
MAKE A SCARY SCARECROW
Very easy this, get some clothes from the wardrobe (maybe Dad's 80s classics would do) and make a suitably scary scarecrow. It'll take a while if you spend time planning, designing and getting the materials. Of course, you also have a ready to go addition to your Bonfire activities as well.
A FEW FOR THE GROWN-UPS
HORROR MOVIE MARATHON
There's nothing better than settling down, lights off and lots of junk food, to enjoy scary movies on the most horrifying night of the year. If you get Trick or Treaters you may be interrupted but if not, be brave and settle down. If you are feeling really brave, perhaps you could work through the 50 BEST HORROR MOVIES YOU'VE NEVER SEEN.
Here's a few of our favourites for young and old to enjoy……
This film is an absolute classic, from a brilliant director (Robert Wise). THE HAUNTING was released in 1963 and ranked by The Guardian as the ranked it as the 13th-best horror film of all time. 13 is a great position to be placed for horror we reckon. Have a look at the trailer HERE and you'll see what we mean. It's so creepy.
HOCUS POCUS: It's Halloween in Salem, Massachusetts. A teenager accidentally summons three evil witches from the 17th Century, and it's not long before they're terrifying the entire town. Disney's spellbinding classic stars Bette Midler, Sarah Jessica Parker and Kathy Najimy.
SCREAM: "Do you like scary movies?" This is one of the defining films of the 90s, another classic from horror legend Wes Craven. The 'Ghostface' killer is stalking the residents of Woodsboro, and knowing the rules of the genre may not be enough to save them.
THE ADDAMS FAMILY: They're creepy and they're kooky, mysterious and spooky, they're all together …… you get the idea. Anjelica Houston, RaulJulia and Christina Ricci star in the titular tribe's first freaky feature, this screening is by popular demand!
E.T. THE EXTRA TERRESTRIAL: Elliott, a lonely suburban kid, discovers a lost alien in his shed. They soon become unlikely friends, and Elliott introduces 'E.T.' to trick-or-treating, Reese's Pieces and the joys of BMX biking. But danger is coming, and E.T. needs to phone home. Steven Spielberg's amazing adventure is one of the most beloved and successful films of all time and to see it at the Castle will bring a whole new life to the movie.
THE NIGHTMARE BEFORE CHRISTMAS: Jack Skellington, the Pumpkin King of HalloweenTown, discovers a portal to Christmas Town and decides to celebrate its traditions his own way. A dazzling animated feature from the crazy mind of Tim Burton.
GHOSTBUSTERS: The year is 1984. There's something strange in your neighbourhood. Who you gonna call? Bill Murray, Dan Aykroyd and Sigourney Weaver star in the original spooky blockbuster. For us, the original is without doubt the best.
HALLOWEEN: This is the latest in the HALLOWEEN series and they took a pretty good swipe at it we reckon. It's October 31st. Exactly 40 years after their first bloody encounter in Haddonfield, Laurie Strode and Michael Myers must face each other again. Jamie Lee Curtis returns to her most iconic role.
THE LOST BOYS: Sleep all day. Party all night. Never grow old. Never die. It's fun to be a vampire. Starring Jason Patric, a young Keifer Sutherland and both Corey Feldman and Corey Haim, this cult 80s horror comedy is a big audience favourite.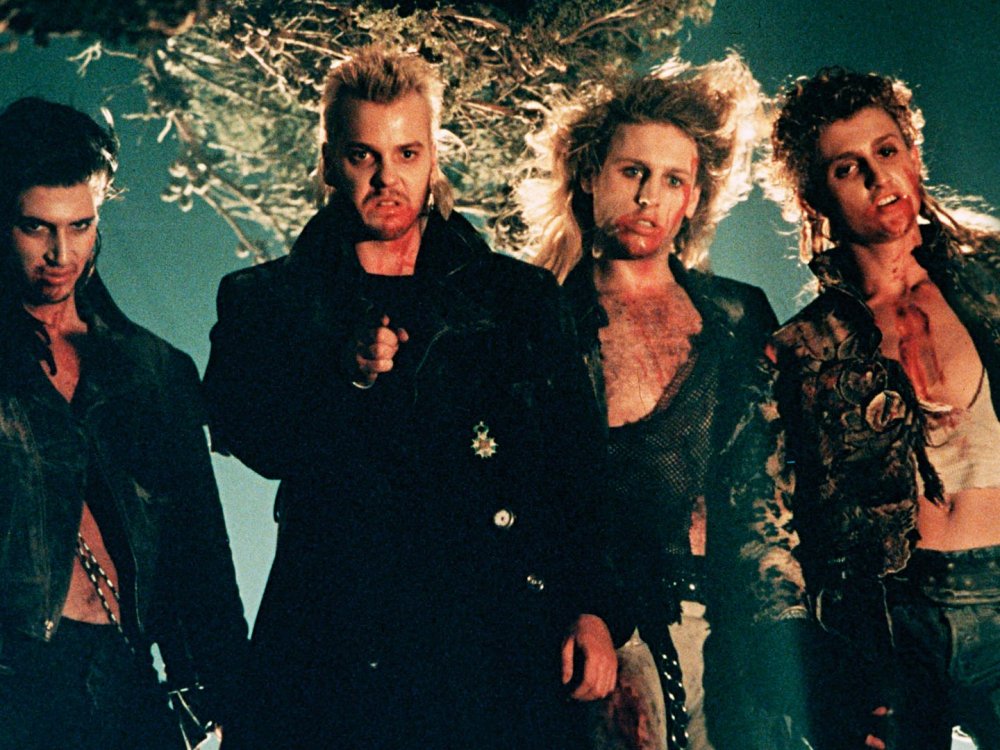 FRIDAY THE 13th: Again, original is the best scenario here. Welcome to Camp Crystal Lake! A group of young people arrive to start their new summer jobs, unaware of the site's deadly history and the terrible danger they're now in. One of horror's most unkillable series begins, featuring a fresh-faced and imperilled Kevin Bacon.
THE CRAFT: Sarah is a troubled teenager. After moving with her family to a new city and enrolling at an intimidating new school, she falls in with a group of fellow outcasts. Rumours spread that they might be witches. This 90s cult classic stars Fairuza Balk and Scream's Neve Campbell – her from Scream.
ELSA DRINKING GAME
This is a new one to us but we kinda like it. It's been going around on Facebook and Instagram and I'm totally doing it. It's not a tricky one, every time you see Elsa, have a drink. We're not advocating large amounts of alcohol here. It could be a soft drink, alcohol free or something else. Your game, your choice.
HAVE A SPOOKY DINNER PARTY
If you're staying home then why not do something other than a party. Have friends over for dinner. Now we dont mean eat them, like Hannibel Lecter would, have friends over to eat your food. We just want to clarify that.
There is so much you could do. Halloween Hummus. Pumpkin and Lentil Soup. Spiced Roasted Apples. You get the idea. Just have a look at Pinterest and you'll find a ton of suitable recipes.
PLAY A SCARY VIDEO GAME
There are so many creepy video games out there these days. Our favourite is probably, RESIDENT EVIL. Same rules as the movies. Lights out, sound up and away you go.
TAKE A BLOOD BATH
We don't mean real blood, of course. Draw a nice warm bath and throw in a red bath bomb or maybe even an eyeball bath bomb and BOOM! Perhaps a red bulb in your light or some suitable candles would add to the mood.
FOR COUPLES ONLY
Halloween is so good for cuddling up together and enjoying a spooky evening. It can though be so much more. So, here are the SOUTH WALES LIFE ideas for couples – once the kids are tucked up in bed.
Thing to do together…….
Carve a pumpkin – together
Bake a scary Halloween cake – together
Make a Bloody Mary cocktail, then drink it – together
Decorate your room – together
Get dressed up in matching costumes
Let's make it romantic…….
Share scary stories with a sexy spin
We hear there's a good range of Glow-In-The-Dark body paint
Try a Halloween-inspired romantic meal
Surprise your partner with a sexy costume
Experiment with edible clothing (you know what we mean)
I HATE HALLOWEEN
So, you are at the point in life where you are either all done with the Halloween thing or you are the proverbial Halloween Grinch. If that's the case, here's a a few alternatives to help you on your way.
SUPERMARKET SWEEP FOR REDUCED PRICE SWEETS Chances are Halloween candy will already be on sale. So you can stock your sweetie stash for the year at a fraction of the price. It happens at Easter so we're certain Halloween will be the same.
GO ON A DATE WITH ANOTHER HALLOWEEN HATER Trust us when we say you won't be the only Halloween Hater out there. This is a perfect ice-breaker and who knows where it might lead. It's the ultimate anecdote to awkwardness.
GO SEE A MOVIE It doesn't have to be a scary movie of course but going to the cinema gives you a chance to splash out on all the treats, sit in the dark, munching and watching. Perfect.
HIT THE GYM The older you get, the more likely you are to store all those sugary candy calories as fat. I know, I'm an expert. After you dig into whatever Halloween sweets you crave, put your sugar high to good use at the gym. It's one place you don't have to feel like a spoilsport for showing up undisguised.
TAKE YOUR NEPHEWS/NIECES TRICK-OR-TREATING Just because you don't enjoy it doesn't mean your loved one's won't. Bite the bullet, grab your phone for some spooky snaps and get out and become your nephews (or nieces) unofficial hero for the night.
STAY AT HOME AND EAT SWEETS Be like the Halloween Scrooge, stay at home and eat all the sweets yourself. I've done it. Not because I don't like Halloween, I love it. I just love sweets even more. Trick or Treaters won't be happy but you will.
GO SHOPPING If you're not indulging in the Halloween thing just think of the money you've saved. Go out, get away from the knocking on the door, and buy yourself a little treat.
HAVE A CHRISTMAS PARTY You don't like halloween so you must enjoy Christmas. Why not throw the first festive party of the season. Not as mad as you think. Just ask Mr Christmas. Yes, he really exists, we know him. His name is Andy Park and he celebrates Christmas every single day of the year. MR CHRISTMAS and we mean EVERY DAY without fail.
CLEAR THE SKELETONS OUT OF YOUR WARDROBE If you don't enjoy wearing costumes anymore, why not use the night to clear out your wardrobe. If they're anything like ours, most of the clothes are far scarier than anything you'd buy anyway.
WEAR AN UNSUITABLE HALLOWEEN COSTUME Or don't is our advice. There are some unbelievably ridiculous, inappropriate costumes for sale on pretty reputable sites. No explanation, we're sure you get what they're supposed to be. Please don't wear them.
CARVE A LANTERN – OUT OF SOMETHING DIFFERENT Nothing says 'up yours Halloween' than a lantern carved out of something strange. Pineapple is particularly good.
FREE PUMPKIN TEMPLATES
Our team have put together a bunch of pumpkin templates for you to download, print and use as you feel. Just click on the link below and they'll download to your device.
And if you want a bit of help with the carving, this video is easy to follow and fun – HERE.
PICK YOUR OWN PUMPKINS
OR IS IT……….