After a complete covid-cancellation last year, it is so nice to see events back this year. Sadly, still not as many as usual, but there are some in place for us all to enjoy.
Because there are fewer events, there will be greater demand on the tickets – our advice is to book early if you can.
There are so many events still to be confirmed so maybe you should bookmark this page and pay it a regular visit to check on what's happening where you are. We know a lot of you like to get your tickets early (to save a few quid), so here is what we have so far.
If you have something to add to this, or any or event you'd like featured, email: events@southwaleslife.com
ABERGAVENNY
ROUND TABLE FIREWORKS EXTRAVAGANZA
This one is always really popular as the Round Table get ready for a night to remember as we they up the skies above Abergavenny with a dazzling array of colours! We've got music, food and drinks, light up toys and a small funfair for the kids. All proceeds will go to charities and good causes in the local area.
Again, prices are pretty reasonable……
A few things to note before you go. No alcohol, weapons, drugs, fireworks or sparklers are permitted in the park. Anyone found to be in possession of these will be removed from the event. No pets, ONLY assistance dogs allowed.
Also (very important) THERE IS NO PARKING AT THIS EVENT. Town car parks are free to use after 5pm and are just a short walk from the park. Gates open at 5pm with the Fireworks at 7pm sharp. The FIREWORKS EXTRAVAGANZA is on Friday 5th November at Belgrave Park in Abergavenny.
For more details and tickets, go HERE.
ABERYSTWYTH
ABERYSTWYTH ROUND TABLE FIREWORKS DISPLAY
Aberystwyth Round Table usually hold their annual fireworks display at Aberystwyth Town Rugby Club. The event was cancelled in 2020, understandably, there are hopes it will go ahead this year, but as yet, no confirmation.
They really go to town with their displays too. They get together with local businesses to provide hot food, gourmet hot drinks, a fun fair and much more.
If it does go ahead, we suspect it'll be the usual venue at Aberystwyth Rugby Club on Plascrug Avenue. We're still waiting for final details so come back to this page soon for an update.
BARRY
FAWKES FEST
Fawkes Fest takes place leading up to, and including, Friday 5th November, Guy Fawkes Day and Bonfire Night.
Enter your guy (or gal!) into their competition and display it along the promenade for all to see at the outdoor Fawkes Fest Guy Gallery.
Wrap up warm and pop down to roast some favourites on the Marshmallow Firepits whilst watching a Firedance show with the ocean behind.
The Build a Guy (or Gal) competition will form the main part of a Fawkes Fest celebration. The competition will be open, not only to to all primary schools in the Vale, but to the general public including all uniformed groups, playgroups etc as well as individual families.
The community will be able to get involved and we will be encouraging the creation of green guys (and gals) using materials we can recycle after the event and showing them in a gallery on the railings along Barry Island Promenade. Your creations will then be judged by the public as they place 'a penny for the Guy' of their choice.
Full details of how to create your Guy (or Gal!) and register to be a part of the competition can be found HERE. Make sure you read the 'How to GUIDE before you start.
The marshmallow firepits will create a ring of fire and will be manned by members of the South Wales Fire Service. They will be lit between 4:30pm and 8pm on Friday 5th November. Public are welcome to bring their own marshmallows for roasting or can get them on the night.
The amazing Damazo will be there on the 5th with a 20 minute firedance show spectacular which will start at 7pm as part of Fawkes Fest. So grab a chair or picnic blanket and come and watch the sparks fly on the coast. Eastern end of the promenade.
‍Firework Face painting: Available from 4:30pm to 6:30pm
Fire Engine Special Appearance: The south wales team are bringing their engine for the kids to see and play games from 12:30pm to 4:30pm.
Fancy dress highly encouraged to add to the atmosphere.
Best of all, the whole event is completely FREE – well done Vale of Glamorgan. For more details and to get all the timings, just go here FAWKES FEST.
CAERPHILLY
CAERPHILLY CASTLE FIREWORKS
Sadly not taking place this year, the council made the following announcement……
The Welsh Government published the review of the Health Protection (Coronavirus Restrictions) (No 5) (Wales) Regulations on 14th July 2021. An updated Coronavirus Control Plan has been published indicating a move to a new alert level zero on 7th August 2021. However Covid risk assessments will remain a legal requirement for businesses, employers and event organisers.
Due to the nature of the Town Council events implementing measures to manage the risk of coronavirus presents logistical difficulties. The Town Council is also mindful of the increasing case rate in Wales and the uncertainty this brings. The Town Council has reluctantly decided not to go ahead with the following events this year:
Fireworks Display at Caerphilly Castle
Christmas Lights Switch On Event
Christmas Lantern Parade
Hopefully these events will be back in 2022.
Admission is usually FREE for the Caerphilly fireworks. There will be charity collections happening for local charities so please do give as generously as you are able to, next year of course.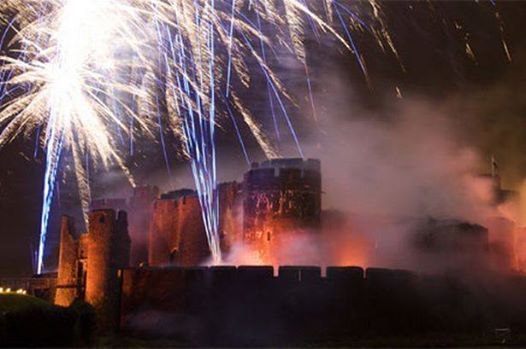 CARDIFF
SOPHIAWORKS AT SOPHIA GARDENS
Sophia Gardens is delighted to announce that Sophiaworks will return this year on Bonfire Night!
After missing out last year due to the pandemic, this will be the 3rd year the venue has held Sophiaworks after sell-out events in both 2018 and 2019.
Sophia Gardens' excellent catering outlets will be available with an array of different food options for all the family.
Join them at Sophia Cardiff on Friday, 5th November from 5.30pm for an exciting evening of family entertainment with our spectacular fireworks display starting at 7.15pm. We can tell you that tickets are selling fast, so get in now while you can. For details and to buy yours, go HERE.
If you want to make it something a little special, they have this deal available…..
Upgrade your evening to the comfort of their amber energy® lounge…
Pitch-facing view from the lounge
Access to an indoor bar from 5.30pm
Burger & Chips or Hot Dog & Chips
1 drinks token to be redeemed for a (to be redeemed for a Beer, Cider, House Wine or Soft Drink)
Fireworks display from 7:15pm with access to reserved seating outside of the lounge
Adult tickets are only £20 per person and £15 for children (only available in advance).
Email hospitality@glamorgancricket.co.uk or call 02920 419 359 to book.
SPARKS IN THE PARK
Cardiff Round Table have announce that Sparks in the Park won't be going ahead for the second year running – they said…..
"Unfortunately, we have been unable to obtain sufficient sponsorship to finance the event which left us in the unenviable position of needing to raise ticket prices significantly, reduce the event to something that was less than our loyal customers would expect or run at the risk of a significant loss which would create undue risk for our ticket holders, suppliers and our own charity."
CARMARTHEN
Carmarthen Round Table has announced that it will be going ahead with the Charity Firework Bonanza on November 5 this year. Gates open at 5pm and the event will take place at Carmarthen Town Park.
The organisers said…….
"Come along to Carmarthen Park on Friday the 5th of November 2021 for a fun packed evening of Spectacular Fireworks, Children's Funfair, Stalls, Hot Food Stands and Much More!Carmarthenshire's biggest fireworks event of the year!We are gauging interest for this even post COVID-19. Things are continually improving and restrictions are easing which is fantastic news for everyone. We hope all will go ahead as planned and it will be a fantastic night for everyone!Ticket Prices and Online Ticket sales TBC!!"
• Gates open at 5PM
• Children's display starts at 7PM
• The Main Fireworks Display starts at 8PM
All the money raised on the night goes back into the local community, helping and supporting groups and individuals alike achieve their goals and aspirations in whatever they choose to do in their lives.
They give back to the community and provide the chance for people of all ages to try something new – making an enormous difference to hundreds of lives every year.
The FIREWORKS EXTRAVAGANZA is on 5th of November @ Carmarthen Park!! For details, go HERE.
Carmarthen Round Table No80 #DoMore #RTBI #Carmarthen #Caerfyrddin
CWMBRAN
FIREWORKS AT THE STADIUM
Cwmbran Stadium always put on a bit of a display but as yet, no new on whether it will happen. They have lots of HALLOWEEN happenings, which look great fun, but we hope they manage to get the display up and running this year.
As soon as we know, we'll post the details here.
HEREFORD
HEREFORD ROUND TABLE FIREWORKS
Hereford Round Table have decided against a fireworks show at the Racecourse this year. The vent was cancelled last year because of the pandemic, sadly this year, it's the finances which have caused the cancellation….
"Unfortunately the event was becoming increasingly expensive for us to continue putting on. As a charity trying to raise money for local causes we have decided to invest our time on other events that will raise funds."
LLADUDNDO
LLADUDNO FIREWORKS DISPLAY
The Town Council has said this years event will take place on the 7th November on North Beach, Llandudno at 6:20pm. If the weather is bad, they'll move it to the next day at 5pm. Fingers crossed all is good for the 7th.
You can get all the details you need from the Town Council website HERE.
Please note that both dates are subject to the weather permitting, and subject to change or cancellation if there is any change to Covid-19 regulations.
This beach event is very tide dependent, with up to 1.5 hours being required in advance of the display to safely set up on the beach (at around 150 metres from the promenade) and a suitable time following the approximate 20-minute display to safely remove equipment from the beach. Tides and operating times are, therefore, carefully, and thoroughly assessed.
LLANELLI
PARC Y SCARLETS FIREWORKS
They always say they are more than just rugby at Parc y Scarlets. While the squad may light up the pitch, each November they light up the sky!
Join them with your family and friends and enjoy the best Fireworks display in West Wales.
It all happens at the rugby club on November 5th, for now you can register your interest on the HERE. We understand they have the option to enjoy the display with seating and a meal.
MONMOUTHSHIRE
MONMOUTH ROTARY FIREWORKS DISPLAY
We really love this one, the combination of a burger, and ice cream while watching the fireworks from a lovely location, is a great way to celebrate the evning with family and friends.
The firework display at Monmouth Rowing Club takes place on November 5th between 6 and 8pm, and yes, you can buy those burgers and ice cream as you enjoy the fireworks on the River Wye.
For more details, head over to their website HERE.
NEWPORT
CELTIC MANOR FIREWORKS SPECTACULAR
The Celtic Manor won't be hosting their annual firework event again this year. As you can imagine, it's always something very special at the Resort.
The good news is, all plans are to go ahead in 2022 and they're suggesting you get signed HERE for the 2022 Fireworks Spectacular. As the display usually sells out ahead of time, we suggest you register early.
PEMBROKESHIRE
The Milford Haven Round Table have just about recovered from an amazing Beer Festival and we hope they'll be moving in to their annual Fireworks Display at Milford Waterfront. It was cancelled last year, along with pretty much everything else, so we hope for a return this year. which was cancelled last year due to the pandemic.
We hope the Beer Festival is a good sign. We'll keep in touch with them over the next few weeks, best thing to do however, is head along to their FACEBOOK page for more.
PONTYPRIDD
PONTYPRIDD BIG BANG
Pontypridd and Rhondda Roundtable have cancelled their BIG BANG event this year saying…..their Big Bang event this year.
"The health and ongoing safety of our spectators, supporters and suppliers, as always, must take precedence."
To manage the thousands of spectators attending the event to ensure compliance, in the dark, where crowds will inevitably gather is going to be a massive challenge: "We have no desire to become a super-spreader event."
They are firmly on track to bring it back next year and have suggested you get the date in your diary ASAP – Saturday, November 5, 2022 in the diary.
PORTHCAWL
HI-TIDE FIREWORKS
Hi-Tide have just got over another fantastic ELVIS weekend and are looking forward to some great events for the rest of the year. They have a HALLOWEEN weekend in place but as yet, no details on the annual annual fireworks, but we understand it will be going ahead.
To check on things at Hi-Tide, take a look at their site HERE or head over to their FACEBOOK page.
SWANSEA
The Swansea fireworks display was cancelled last year and so far they haven't confirmed or otherwise if it will go ahead this year. We'll keep our eyes open and let you know if we hear anything.
The main event is always huge but we've found a smaller, but nevertheless fun display at Bishopston Community Council on Murton Green Road in Swansea at 6:30pm. Not much more to say right now, head over to their Facebook page for details.