I can't say that I've ever seen any ballet before. As a theatre fan, I feel like it's something that should definitely be on my bucket list. So, I was quite excited when the opportunity arose to see THE NUTCRACKER at the Cardiff Castle Christmas Festival at the Spiegeltent. 
It was a breath-taking show from start-to-finish. The intimate venue pulls you in. You really feel a part of the action. From the dazzling costumes (Rhiannon Matthews & Jacob Steed) to the beautiful dance performances on stage, this a production that will entertain and delight the whole family.
This isn't your typical version of the Nutcracker. This is a retelling with a special Welsh twist.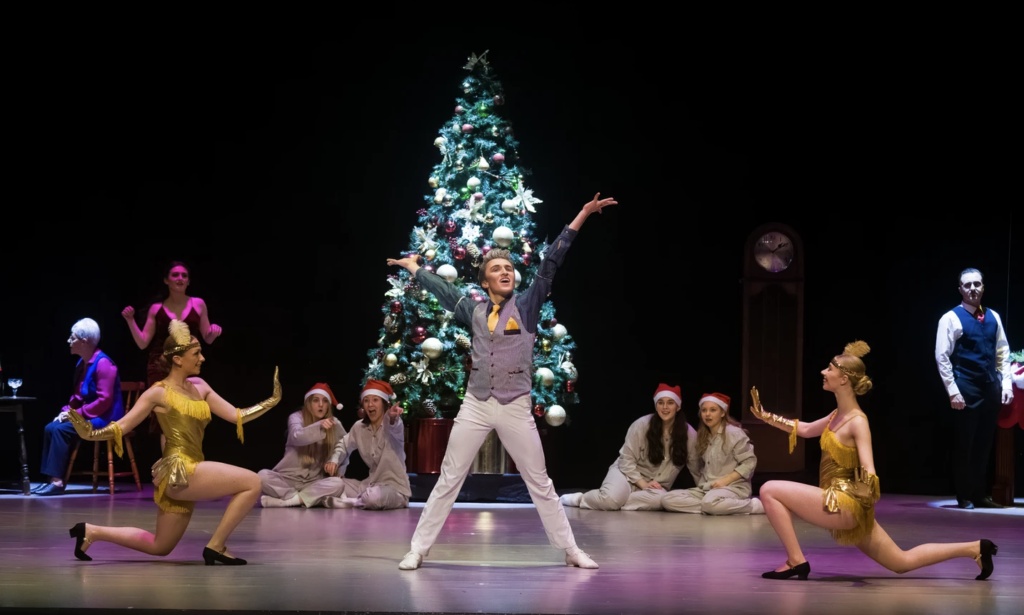 We follow Carys (Ffion Elmer), a young girl celebrating a lively Christmas with her family. After her brother, Fysil (Luke Bafico) breaks her nutcracker toy (Zach Parkin) and her family fight and squabble through the festivities, Carys falls asleep and dreams romance, action, magic and a particularly memorable snowstorm. 
Carys battles with The Mari Lwyd, her parents (Amber Howells and Cameron Everitt) rekindle their romance and her Grandad (Owen Morris), Bopa Shelia (Sheila Williams) and Bopa Linda (Linda Sims) find their dancing feet. Her Uncle Idris (Constant Vigier) puts on a variety show with her little sister, Mari (Thea Martin), dazzling with her ballet skills while Tegwen (Chloe Davies) and Teleri (Rebecca Long) stun with their jazzier performances. 
All-in-all, it's a pretty eventful dream.
Some of the audience gave us their reaction to the opening night performance, and thoughts on this new Christmas venue at Cardiff Castle.
Every performance was notable. Every character had their own style and big presence on stage. For such an intimate venue, the moves and sequences seemed to carry across the room in a way that made the place feel special.
It would be impossible to single out any performances because they were all fantastic. Although, I have to say Bopa Linda and Bopa Shelia did bring a smile to my face, you could really see how much joy they had from the show and it definitely rubbed off.
Without spoiling too much, the show is truly a retelling of the much-loved story.
Even the icon music itself is refreshed. It blends the traditional Tchaikovsky score, we all know, with the Ellington jazz suite. It becomes something more than a traditional ballet. It's a fun departure that keeps the audience on their toes, not knowing what to expect next.
Although the stage was simple, the warmly festive design (Jamiel Laurence, Kathryn Williams) was matched perfectly with the striking lighting by Elanor Higgins.  
The show was so wonderfully directed and choreographed by Jamiel Devernay Laurence. Jamiel's passion for Welsh dance shines throughout this production and I think that it was clear from the audience's reaction that they felt it too. It's a unique production but it remains a familiar and beloved show that every member of the family will enjoy this Christmas. You can read our interview with Jamiel HERE. 
The first in three shows at the Cardiff Castle Christmas Festival, The Nutcracker isn't one to be missed. It's a celebration of Welsh dance that is entertaining, fun and, above all, festive.
Performances of The Nutcracker will be held at 2:30pm and 7pm on Saturday and 2pm and 6:30pm on Sunday. Tickets can be purchased HERE.