Valentine's Day falls on Tuesday 14th February, which means it may be the weekend of the 11th/12th you'll be celebrating. The day itself is celebrated in 53 countries, if you live in Columbia however, you have to wait till the 19th October. Even here in Wales we celebrate Saint Dwynwen, the Welsh patron saint of lovers, on January 25th. More of that later.
This SOUTH WALES LIFE guide to Valentine's Day will be expanding over the coming weeks so bookmark the page, tell your friends and come back regularly.
HISTORY
Many of us celebrate by showing the people we love or adore just how we feel or appreciate them. You may (under normal circumstances) take them out for a romantic meal or a night away in a hotel, some even choose this day to propose or get married. Traditionally though we would give cards, chocolates, jewellery or flowers, particularly roses.
It's not the same all over the world though. In some places it's all about appreciating our friends. For example, Valentine's Day in Finland refers to "Friend's day", which is more about remembering all friends rather than focusing on romance. In Guatemala it's known as Day of Love and Friendship. It's pretty similar to Valentine's Day with our customs and traditions, but it's also a time to show appreciation for their friends. and we really like that side of it.
So when did this Valentine's thing all start? The truth is, we're not really certain. Some reckon it comes from the story of St Valentine, a Roman priest who was martyred on or around February 14 in the year 270 CE. How he became the patron saint of lovers remains a mystery but one theory is that the church used the day of St Valentine's martyrdom to Christianise a pagan festival held around the middle of February.
It was a strange old ceremony which included putting girls' names in a box and letting the boys draw them out. These couples would then be paired off until the following year. The Christian church substituted saints' names for girls' names in hope that the participant would model his life after the saint whose name he drew. However, it was once again girls' names that ended up in the box by the 16th century.
Eventually the things we associate with Valentine's today became more accepted. Sending anonymous cards or messages to those we liked became the way of celebrating the Day. Eventually it became an established day, first in the America and then in Canada, in the mid-19th century. Very early Valentine cards made of satin and lace and ornamented with flowers, ribbons, and images of cupids or birds appeared in the 1880s.
There are so many things we associate with Valentine's. Hearts, the colours red and pink, roses, cupids' bows and arrows all symbolise romance and love. Cupid is usually seen as a small winged figure with a bow and arrow. He apparently uses his arrow to strike the hearts of people. People who fall in love are sometimes said to be "struck by Cupid's arrow".
As we said earlier, if we were being traditional you wouldn't find us in Wales celebrating Saint Valentine – instead, it's Saint Dwynwen, the Welsh patron saint of lovers, on January 25th.
St Dwynwen was a fourth-century Welsh princess who lived in what is now the Brecon Beacons National Park. Dwynwen was really unlucky in love, so she became a nun. She prayed for true lovers to have better luck than she did.
Of course we do have one traditional romantic Welsh gift, a love spoon. As early as the 17th century, Welsh men carved intricate wooden spoons as a token of affection for the women they loved. Patterns and symbols were carved into these love spoons, each signifying a different meaning. A few examples include horseshoes, which stand for good luck; wheels, which symbolise support; and keys, which represents the keys to a man's heart.
Today, love spoons are also given at weddings, anniversaries and births.
PLACES TO VISIT
Many places offer vouchers, or even pre-booking. So maybe a nice gift box, with the promise of a night away, or a luxurious spa treatment is the way to go.
One thing we can tell you is that there are some great deals to be had right now. Take a look around, and pick up a romantic bargain while you can.
A DAY AT A SPA
MERCURE CARDIFF HOLLAND HOUSE HOTEL
Spa Naturel Fitness has a full thermal suite, sauna, steam room, a range of treatment rooms and a 16-metre swimming pool. If you're looking for a full day of pampering, there's the Serenity Day, with a range of beauty treatments. They also have Time For Indulgence, including two choices from the massage list. Both include a full day's use of the spa facilities plus lunch.
The Hotel Spa includes a spa pool, sauna, steam room, an indoor heated pool with mood lighting and three treatments rooms. Prices range from £30 for a half-hour facial or £35 for a 25-minute back, neck and shoulder massage.
The Resort has everything you need all in one place. What I can tell you is that right now, they have some really good deals on rooms, spa and golf days. Well worth checking out. Also, they offer promotional vouchers you can purchase and keep for up to 6 months. We have done this many times and they really are great value. We suggest signing up for their newsletters to find our more.
Set in more than 2,000 acres of panoramic parkland at the gateway to South Wales, the five-star Celtic Manor Resort Hotel has everything you need for a romantic Valentine's Day getaway – from luxury spa facilities, delicious dining, a stylish cocktail bar and world-class golfing.
Prices start from £148 for Valentine's Day. For more information and reservations, visit the HERE.
The Forum Spa offers 16 treatment rooms, plus a range of saunas, steam rooms, hot tubs, plunge pools and a relaxation pool overlooking the rooftop garden.
Take a look at the Spa video HERE.
To download a copy of the Forum Spa brochure, go here. FORUM
There is also the Ocius Treatment Rooms, which are in the Celtic Manor Golf Club, just up through the Roman Road golf course from the main hotel.
To download the Ocius brochure, go here. OCIUS
And to see what they have in store for this Valentine's. go HERE.
The Celtic Manor also have other hotels in their collection which also offer some incredible ideas for that special Valentine's someone.
Cardiff's newest and most luxurious destination, the 170-bedroom Parkgate Hotel is a stylish retreat for a Valentine's Day getaway. Featuring a boutique rooftop spa with stunning views over the city skyline, and fine dining at the chic Sorting Room restaurant (which was recently added to the Michelin Guide), the Parkgate Hotel  breathes new life into two of the city centre's most historic buildings – the former Head Post Office and the old County Court.
Prices start from £146 for Valentine's Day. For more information and reservations, go HERE.
We were there when the property opened – HERE and for their first anniversary – HERE. The rooms are stunning, but as you can see, the spa is next level luxurious.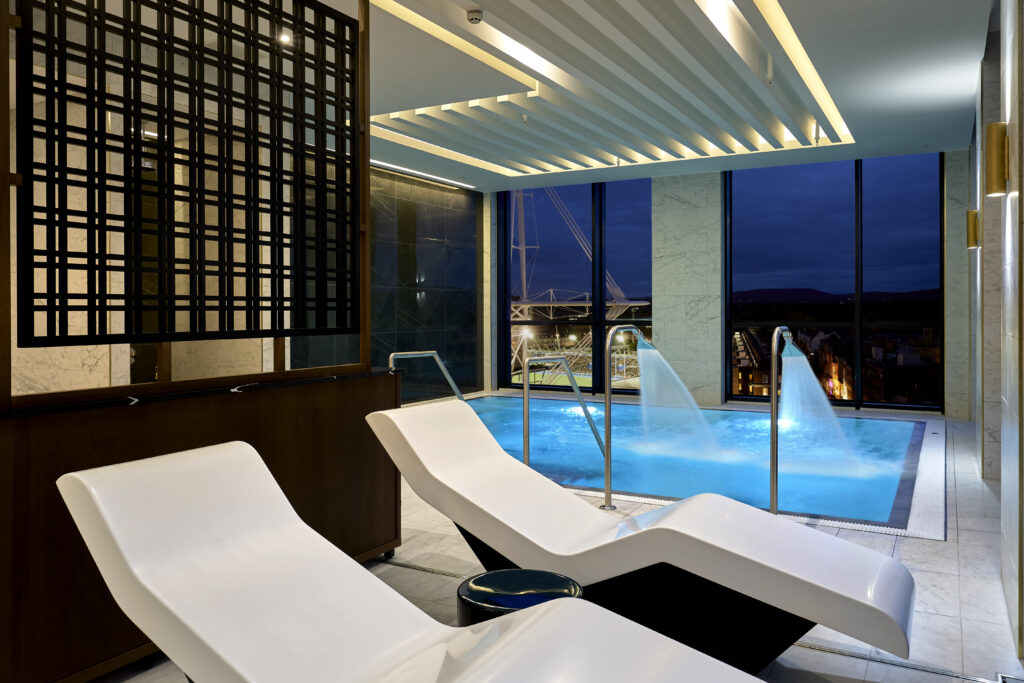 ST PIERRE MARRIOTT HOTEL AND COUNTRY CLUB
The Beauty Rooms include an indoor swimming pool, steam room, sauna and spa bath. There are a range of day packages priced around the £130 mark. The Refresh & Revive gives you a choice of treatments totalling around 90 minutes, plus lunch and use of the facilities. Overnight spa packages are available.
As well as 19 treatment rooms, the Vale Spa contains three relaxation zones – the chill zone (full of leather sofas and glossy magazines), the float zone (think water beds and gently trickling water features) and the slumber zone (complete with shimmering lanterns and sumptuous quilts). You'll also find a pool, hot tub, saunas and steam rooms in Wales' largest spa.
They have so much on offer, including the Vale Full Body Swedish Massage. A Clarins Essential Eyes Facial or a Luxury Elixir Facial. They have plenty for the guys too. At the minute they have some really good deals on both treatments and spa breaks.
Take a look at The Vale Spa Treatments right here. VALE
PLACES
Brimming with life and wreathed in legend, the waterfalls and rapids in the National Park add an exciting, picturesque and thoroughly romantic touch to the woodlands and hillsides.
One part of the Park, at the head of the Vale of Neath, has so many wonderful waterfalls that they call it Waterfall Country. Many of these cascades are easily accessible on foot, as long as you're prepared to walk through beautiful woods to get there.
A unique blend of coast and countryside means this park has something for everyone.There are eight miles of golden sands at Cefn Sidan, 550 acres of woodlands, caravan and camping pitches and picnic and BBQ sites.
You won't be short of things to do since activities on offer include horse riding, the longest toboggan run in Wales, a dry ski slope, adventure playground and outdoor laser tag.
Castell Coch really is the ultimate fairytale castle. It stands in a stretch of woodland on the slopes above the village of Tongwynlais and the River Taff, about 10km from the centre of Cardiff.
The design combines the surviving elements of the medieval castle with 19th-century additions to produce a building which the historian Charles Kightly considered "the crowning glory of the Gothic Revival" in Britain. It is protected under UK law as a Grade I-listed building due to its exceptional architectural and historical interest. Above all else, it's stunning.
A ROMANTIC WALK ALONG PENARTH PIER
Stroll along the pier, have an ice-cream and enjoy Penarth Pavilion which has a lovely small cinema and an art gallery.
They Have……..
Great Teas – imported by Waterloo Tea, with many Organic and FairTrade options.
Great Coffees – they change the coffee weekly, showcasing different roasters, origins and varietals.
Delicious Food – using seasonal local produce, and a focus on creativity. Breakfast, Lunch and Afternoon Teas.
Stunning Views – the teahouse at the Pavilion looks out onto the iconic pier and across the Bristol Channel.
Take a look at our feature on Penarth right HERE.
FOOD & DRINK
Food is the one thing we all expect to enjoy with our loved one on Valentine's Day. Sadly a romantic evening, in a lovely restaurant, isn't going to happen this year. There are other ways to enjoy restaurant food, without the hassle of cooking. Here's a few ideas for now, with more to follow over the weekend.
CELTIC MANOR RESORT
Show your loved one just how much you care this Valentine's with a romantic stay at The Celtic Collection.
Choose from one of the stunning restaurants for the perfect date night and make it extra special with a luxury overnight stay.
You can choose from (the link will take you to the Valentine menu)……..
There's also restaurants in each of their other locations, including the lovely Sorting Room at The Parkgate.
DISCOVER DELICIOUS – WALES
Discover Delicious have the largest selection of Welsh food and drink online and get it all delivered together, direct to your door. Everything you find in their Food Hall has been carefully curated so that you can stock up on the very best kitchen cupboard essentials, foodie favourites and dinner party deliciousness Wales has to offer, all in one simple click.
Discovering deliciously different Welsh food and drink has never been easier. What's more, all Food Hall products will arrive together in 3-5 days and deliveries to mainland UK are FREE over £60 (pre vat).
For more details, go HERE.
GLEN-YR-AFON HOUSE HOTEL
The award-winning Glen-Yr-Afon House offers everything you would expect from a luxury hotel. The Afternoon Tea voucher would give that someone special, something to look forward to on the day.
Afternoon Tea Menu (subject to change)
Selection of savoury sandwiches
Mini quiches
Mini sausage rolls

Scones served with jam and clotted cream
Vanilla mille-feuille
Mini lemon possets
Chocolate covered profiteroles
Victoria sponge
Chocolate brownie
Carrot cake
Freshly brewed tea/coffee
£23.50 per head
Gin Afternoon Tea – £30 per head
Champagne Afternoon Tea
£37.50 per head – based on 2 persons sharing a half bottle Champagne. (Minimum booking requirements – 2 persons).
Fo more details on the Afternoon Tea go HERE.
THE IVY CARDIFF
The Ivy Cardiff is celebrating the season of love with a romantic set menu and bespoke cocktails available from Friday 10th February to Sunday 19thFebruary, making it the perfect place to spoil a loved one.
After receiving a glass of Veuve Clicquot Rose Champagne on arrival, guests can choose from a selection of dishes from The Ivy Cardiff's delicious three-course set menu full of culinary delights. Priced at £75 per person, to start, diners are invited to enjoy a delicious starter, with options including a Duck Liver Parfait, served with caramelised hazelnuts, truffle, pear, and ginger compote with a toasted brioche, or Laverstoke Park Farm Buffalo Mozzarella served with red chicory, clementine, grapes, candy beetroot, and a spiced vinaigrette.
Main course options include Lobster Linguine in a tomato and chilli sauce, with vine cherry tomatoes, parsley, and spring onion, and Chargrilled Halloumi with Farro grains, crushed artichoke, hazelnuts, mushrooms, black truffle, and a plant-based sauce. If diners are looking for something even more special, a succulent, grass-fed Fillet of Beef is the perfect choice.
To finish, those with a sweet tooth can enjoy a sharing dessert perfect for couples or friends. The Raspberry Heart Mille Feuille (above) features decadently layered white chocolate and puff pastry with a warm raspberry sauce, the perfect way to finish a romantic meal.
Alongside the sumptuous set menu, a duo of cocktails inspired by love will be available, designed to make even the cold-hearted blush. Guests can choose from a Heartbreaker on the Rocks (£12); a blend of Maker's Mark Bourbon, Antica Formula, Cherry Heering, Chocolate wine and a dash of Campari, or a sweet Passion Berry Martini (£11), with Citric Blend, Crème de Fraise, and passion fruit syrup topped with prosecco.
The Valentine's Day Set Menu is available from 10th – 19th February and is priced at £75 per person for three courses and a glass of Veuve Clicquot Champagne. To book a table, please visit HERE.
VALENTINE'S MEAL DEALS
MORRISONS
The Valentine's Day Meal Deal is back. Available in stores from 10th to the 14th February, and available to order online from 7th February, the deal includes a whole host of tasty options. Our The Best Dine In deal includes a starter, main, two sides, dessert and a drink, all for just £15.
Kick off the evening with a Tear & Share Bread and Camembert, followed by a show-stopping The Best Beef Wellington with a side of The Best Green Veg Medley and The Best Cauliflower Cheese. Finish on a sweet note with The Best Vegan Belgian Chocolate Brownie Pudding and wash it all down with a bottle of Morrisons The Best Prosecco.
For more £15 Valentine's meal options check the menu below.
For more details, go here, MORRISONS.
SPECIAL GIFTS
There are so many things to gift your other half with. Giving presents is traditionally part of the whole Valentine's thing, and since the day is mostly about love, why not flip it on it's head and get your partner a gift they will truly LOVE. This does of course require a bit of thought and planning, especially in the current climate. It's not always easy to figure out relevant valentine gifts ideas, especially if you extend it to other family members and the kids.
SHOW YOU CARE – Giving presents or gifts is also a way to give more attention to other people.
MAKE OTHERS HAPPY – Happiness isn't measured in value, but from the attention we give to other people.
BE CREATIVE – Use your creativity to make gifts with the heart as the symbol of love.
MAKE SWEET MEMORIES – A gift doesn't have to be expensive, but remember it will be a sweet and precious memory.
There are some common valentine gifts you can choose around the day. Most of them have reddish or pinkish styles. Anything with the heart shape is always good.
Red or Pink Flower
Some love quotes or cards
Cards or game with valentine words
Red or heart theme home decor (cushion, wall, kitchen utensils, etc)
Personal wear (clothes, shoes, makeup, jewellery, etc)
Books
Food
Toys
DIY and craft
Entertainment (music, movies, etc)
LUSH
The Lush Valentine's Day range is something very special. Gift yourself or someone you love with a collection of gifts that will spark joy and kindness for yourself and others. Decadent, limited-edition bath bombs, bubbleroons and bath melts made with ingredients like Fair Trade organic cocoa butter and luxurious essential oils – from Sicilian lemon to Pakistani rose absolute, will soothe the mind and body.
The Valentine's Day collection is available now LUSH.
Lush Co-founder and Product Inventor, Mo Constantine invented the bath bomb over 33 years ago. These fizzing bicarb beauties provide an immersive aromatherapeutic bathtime like no other. All this and no packaging too!
If it's an adventure you're after, you don't have to go far to be somewhere else! Why not try one of the new Valentine bath bombs. Prepare to float away and reconnect!
TOP TEN THINGS TO DO
BREAKFAST IN BED
Oh come on, we all love a little brekkie in bed but try and step away from the norm. Bacon Sandwich and toast can happen any day. Whip up a delicious breakfast – or brunch spread on Valentine's Day and enjoy it lounging in your bed. It'll definitely be a nicer way to start your day together and a change from all the usual running around.
HAVE A BLUE MOON DAY
In telling you this, I'm going to have to let you in on one of my little secrets. A BLUE MOON DAY was something we came up with a long while ago. In simple terms, once in a Blue Moon, you take a day off work and do nothing. PJs, Food, TV. So why not take the day off from work, have breakfast in bed and remember how and why you two first fell in love.
RECREATE YOUR FIRST DATE
This will take a bit of planning, especially if you've been together a while. Go right back to where it all began. To the time when you first started falling for each other with a second shot at your first date. If your memory isn't great, you could even order the same food and drinks as that one memorable night.
COOK DINNER TOGETHER
Going out for dinner is of course fantastic (expensive and tricky right now) but it can be so much more romantic going DIY together. Even if one of you doesn't have chef-worthy skills, you can still make a memorable dinner you'll both enjoy. And remember, it's not about the food but all about the sharing.
HAVE A ROMANTIC MOVIE DAY/NIGHT
So you've taken your BLUE MOON DAY, had your romantic home-cooked meal, now all you need do is grab the popcorn and settle on the couch for an evening filled with your favourite rom-coms.
Here is the IMDB list of the twenty most romantic movies of all time. We'd like to be there's a few in there you haven't seen or even considered. MOVIES
No guesses as to what is at Number One. It's CASABLANCA, undoubtedly one of the greatest romantic films ever. Just because it's old, and in black and white, shouldn't put any of you 'newbies' off. This is the movie you know without even watching it. Each scene is like an old classic song, we instinctively know every line and scene.
Here, Rick is telling Louis to go, and when when she started crying, he said "Now, now; Here's looking at you kid." When you are in love and you miss someone when they are away, you think about those moments you looked at each other; seeing the face you remember so well.
"Here's looking at you kid" is: Beautiful, I will always remember your face so when you miss me just know I'm always looking at you just as I did when you were near me.
WRITE A LOVE LETTER
Don't you dare send a Valentine's Text. I'm sorry, but it's lovely to get a cheeky little message from your loved on when you least expect it. This is however Valentine's Day so we expect more. If you've never done it before, now's the time to put in writing why your partner is so special to you. Tell them how they make you feel, and why you fell in love with them. Trust us, a proper letter (and it doesn't have to be long, will really hit the spot). Here's a few of our favourites.
Marilyn Monroe to Joe DiMaggio
I don't know how to tell you just how much I miss you. I love you till my heart could burst. All I love, all I want, all I need is you—forever. I want to be just where you are and be just what you want me to be. I know it's lousy of me to be so late so often, and I promise to try a million times harder, I promise. Love, Marilyn.
Johnny Cash to June Carter
Princess, We get old and get used to each other. We think alike. We read each others minds. We know what the other wants without asking. Sometimes we irritate each other a little bit. Maybe sometimes take each other for granted. But once in awhile, like today, I meditate on it and realise how lucky I am to share my life with the greatest woman I ever met. You still fascinate and inspire me.You influence me for the better. You're the object of my desire, the #1 Earthly reason for my existence. I love you very much Princess. John
Elizabeth Taylor to Richard Burton – written a short while before their first divorce.
My darling (my still) My husband,
I wish I could tell you of my love for you, of my fear, my delight, my pure animal pleasure of you – (with you) – my jealousy, my pride, my anger at you, at times. Most of all my love for you, and whatever love you can dole out to me – I wish I could write about it but I can't. I can only 'boil and bubble' inside and hope you understand how I really feel.
Anyway I lust thee, Your (still) Wife.
P.S. O'Love, let us never take each other for granted again!
P.P.S. How about that – 10 years!
GIVE EACH OTHER A MASSAGE (A PROPER ONE)
Here are the rules, no 5 minutes and my hands hurt, or moving the massage along – if you know what we mean. Grab a bottle of body oil, set the mood with candles and soft background music, and give your partner at least 30 minutes of massage therapy. They can thank you by returning the favour. Here's 3 hours of perfect music to play as you massage. RELAXING
TAKE A BATH TOGETHER
To make it extra special, surround the tub with candles, sprinkle rose petals in the water, and set a tray of chocolate-covered strawberries and a bottle of champagne within arm's reach. And for goodness sake, don't argue over who gets the tap end, there really is no need.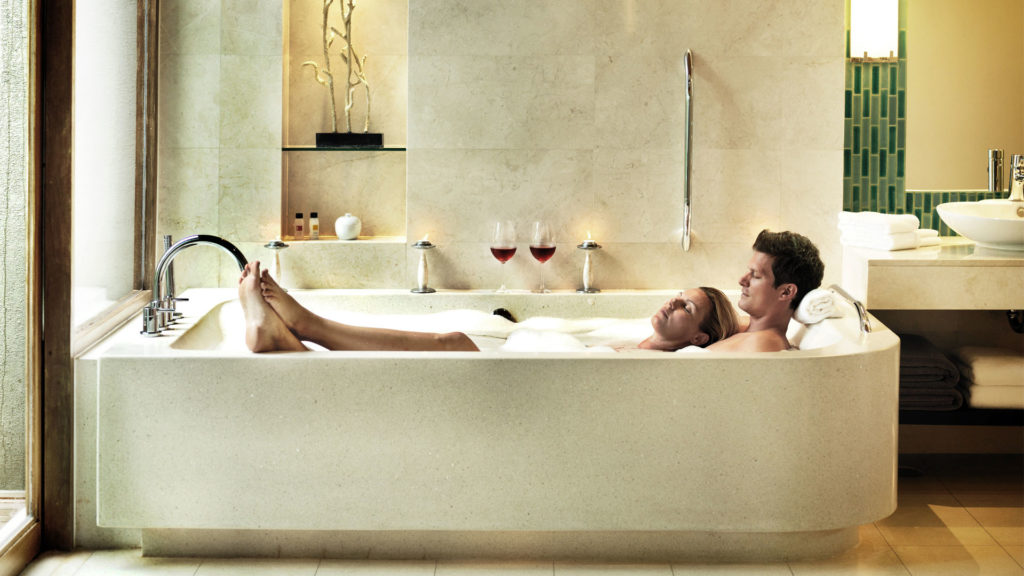 GIFT EACH OTHER SOMETHING MONEY CAN'T BUY
February 14th doesn't have to be all about the money or presents, but it is nice to give and receive a little token. Like a lot of us, we've done the excess route, gifts, flowers, dinner, night away and yes, each of them is lovely and very well received. I do remember watching my then partner, getting a handmade card from our child, the joy on her face was better than any expensive gift I could have come up with.
So perhaps we can take a lesson from this and do something special, from the heart and definitely personal. Consider getting something your loved one has always wanted, not what you think they want. Listen to what they say over the year and make a mental note.
You may not be a kid anymore, but that doesn't mean you can't still craft your heart out on February 14! In fact, in our opinion, crafting is even more fun as an adult, which makes it the perfect thing to do on Valentine's Day. Here are a few simple ideas where the pictures really do say it all.
This one we love from the States. It is such a brilliant, simple idea but we reckon one of the most fun and romantic you can do. Why not adapt it yourself.
Hallmark has a handful of free Valentine's Day colouring pages that you won't find anywhere else. There are colouring pages of flowers, animals, hearts, robots, rainbows, and even unicorns. Click on the link below and the file will download to your device. Simply open them up, print them off and get the kids (or you) colouring them in.
We also have a simple Wordsearch puzzle for you to download and print.
With so many of us having spent more time with our loved ones, in the strangest of situations, it can put a strain on any relationship. While it's essential to spend quality time with your partner to strengthen your bond, keep the love alive, as well as make the relationship itself grow, that is never easy, especially if you are spending 24/7 together.
What's a healthy amount of time to spend with the person your partner?
Where's the balance?
What is a healthy amount of time to spend with a significant other?
If you'd like to delve further into your loving relationship, why not take our 'Love Compatibility Quiz.'